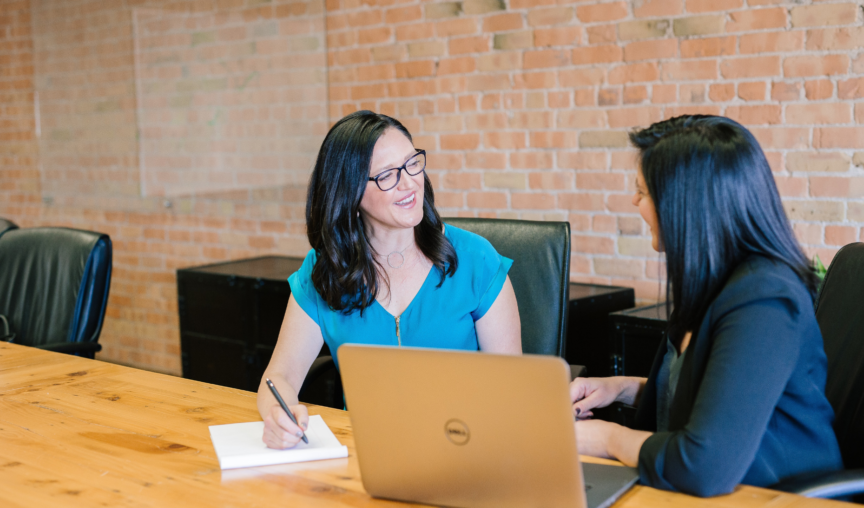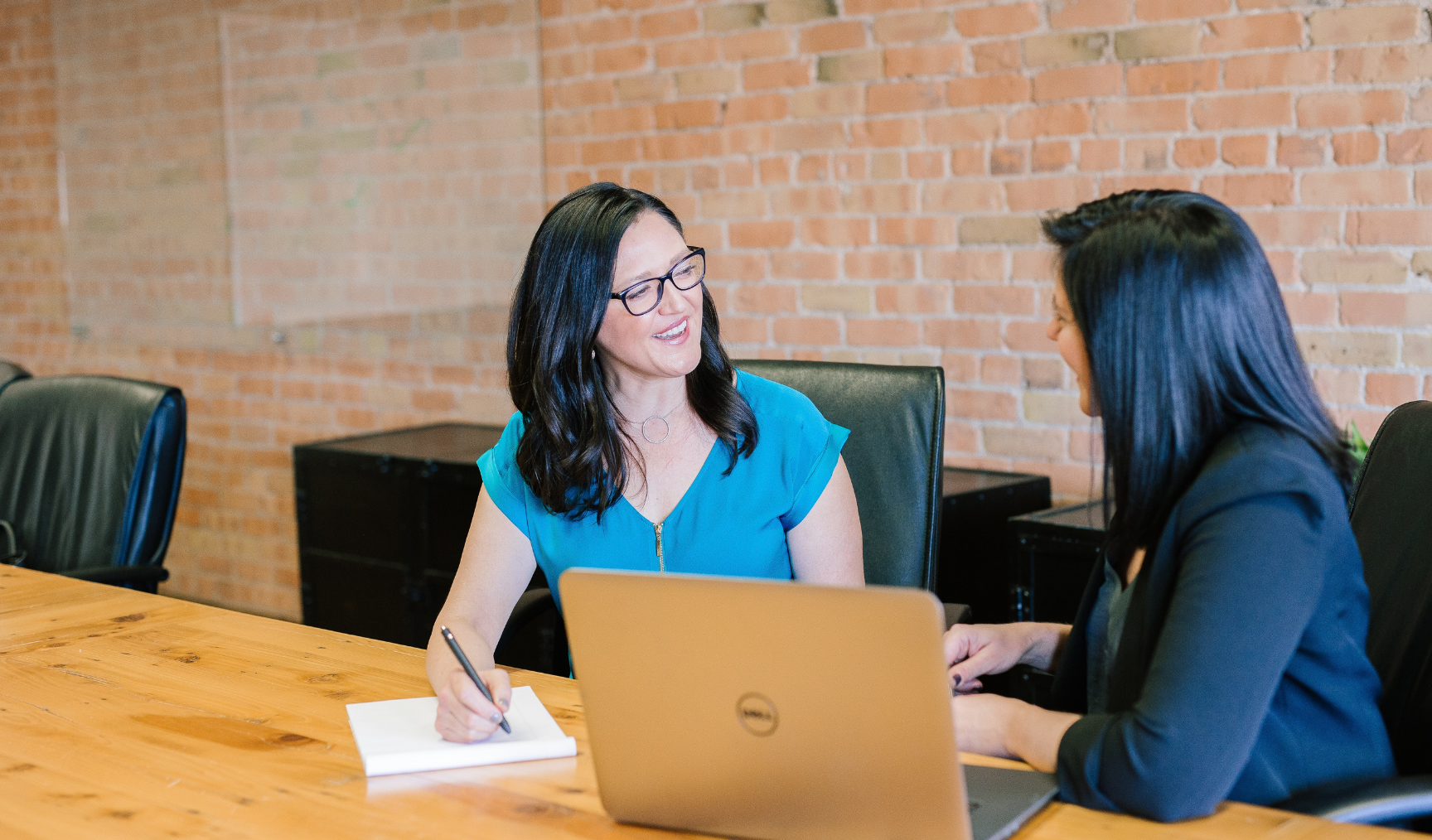 If you want to improve at work, there's nothing more useful than genuine insight. For businesses, ensuring their employees have a review process so they can grow in their role and learn for the future is crucial. After all, if you don't know where your weaknesses lie, how can you work on them?
Conversely, it's essential to know where you've succeeded, so you can know where you're going right. There's a reason why performance management has been around as long as it has – it keeps teams on the right track and aligned on the company's future.
Traditional methods of workplace feedback normally follow a chain, from the top down. Leaders measure the employee performance of those they manage, and it continues throughout the organisation. However, change is upon us and we're starting to see a trend of different ways to provide meaningful feedback. The traditional annual performance review is out, and giving regular, intentional feedback is in.
One of those feedback methods? 360-degree feedback. 
Intrigued? We'll take you through how to introduce it to your business, and how to collect 360-degree feedback in a way that is constructive for professional development. Let's get started.
What is a 360-degree feedback review?
As the name suggests, 360-degree feedback compiles the insights of numerous people. Along with the traditional top-down manager feedback, 360-degree feedback also comes from direct reports and peers. How that information is compiled varies from organisation to organisation, but it's designed to give employees a more rounded view of their professional development.
It's becoming increasingly popular, especially in recent years. It's now estimated that 85% of Fortune 500 companies incorporate 360-degree and multi-rater feedback as part of how they measure performance.
However, the concept of 360-degree feedback is not new. The first use of multiple-source feedback can be traced all the way back to World War I, amongst the German military. Although the context was very different in those days, the idea was the same. It incorporated feedback on soldiers from a variety of ranks in the military, with recommendations on how they could improve.
How effective is 360-degree feedback?
All feedback, when delivered well, can be effective. It can help inspire, coach and transform your team, and the way they work. In fact, 40% of workers have been shown to become actively disengaged when there's no feedback provided in their workplace. Giving feedback is not just a 'nice to have', it's crucial for retention and personal development.
360-degree reviews offer additional dimensions that standard manager feedback can't. For example, a peer might notice that their colleague has been taking extra time to support a new recruit. A direct report might see ways that their manager could improve the team culture. A colleague who has worked with an employee on a specific project could see exactly where they contributed.
Those different perspectives can illuminate performance wins or areas of improvement that hadn't even been considered by direct line managers. It's also a crucial way to ensure you're enabling employees to upskill and develop in their role. This feedback process works across a range of business sizes and structures too – it's not just for big corporations. Small and medium-sized companies, particularly those going through significant growth or change where daily individual work might go by unnoticed, will benefit from the rounded perspective of 360-degree reviews.
Pros and cons of 360-degree performance reviews
Like any form of performance management, there are pros and cons to multi-rater feedback. Here are the main points to consider: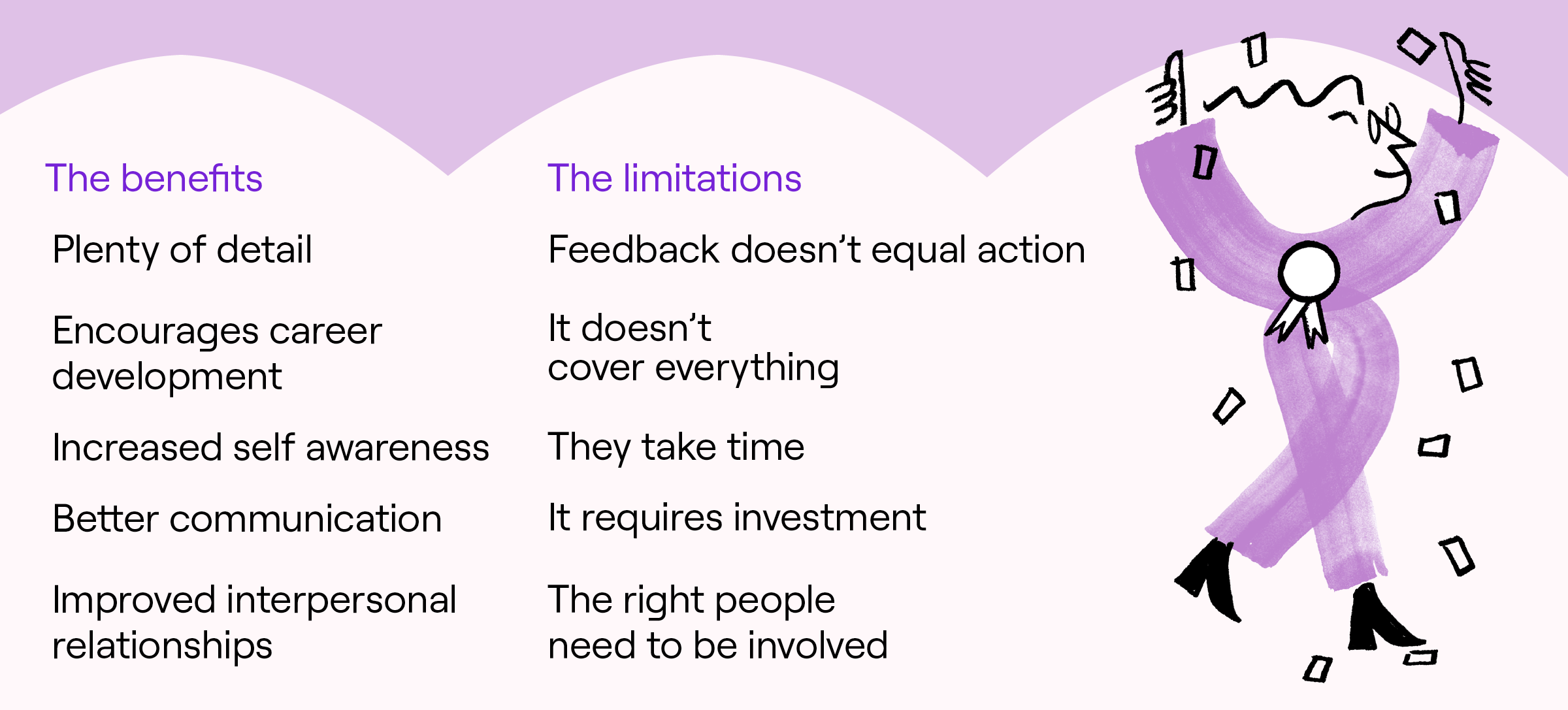 The benefits of 360-degree feedback
Plenty of detail – the more information and feedback provided, the more insights there are for the employee
Encourages career development – employees have an idea of what they need to work on for the future
Increased self awareness – it's easier to understand how they're perceived by others at work
Better communication – open communication channels with employees build trust in the organisation
Improved interpersonal relationships – positive feedback from peers fosters a strong sense of belonging
Creates a culture of feedback – the benefits of providing feedback are clear, and both your team and business will benefit
The limitations of 360-degree feedback
Feedback doesn't equal action – what the employee chooses to do with the feedback is up to them
It doesn't cover everything – other forms of feedback are still necessary for a complete picture of performance
They take time – companies and their employees may need some time to get these reviews completed
It requires investment – HR teams often need to get their leadership team's buy in to get 360 reviews in place
The right people need to be involved – it's important that those running the reviews are picking the correct people for feedback
The key to success is to fully invest in the feedback process – ensure that human resources has buy-in from top management, and the time or software on hand to ensure it's done properly. These are both really important, because getting new processes in place and off to a flying start does require a little help.
Social reinforcement is also crucial, since the more people get involved, the more routine it gets. Make sure you're encouraging everyone to take part and consider offering incentives to feedback providers. If time is an issue, ensure you've considered how people are going to find the time to complete reviews for their peers, managers and reports –even if that's just streamlining the feedback process.
How to conduct a 360-degree performance review
The quantity of data and the questions asked varies by organisation. It usually includes a list of statements about the individual, which the reviewers will rate in terms of accuracy. Alternatively, there might be space for ratings or comments. The results can then be averaged by the group, allowing for some top-level data.
If it all sounds like a lot of admin and paperwork, the 360-degree feedback process doesn't have to be. Performance management software like Employment Hero brings a level of automation into the picture, allowing for easy requesting and receiving of feedback. Those in charge of the reviews can set the performance metrics (such as key performance indicators (KPIs) or objectives and key results (OKRs) for the employee to be graded against, and choose the specific criteria they want to check – such as leadership, teamwork or communication.
There's also the opportunity for colleagues and leaders to provide feedback unprompted at any time as well, which allows for a more up-to-the-minute picture of performance. Check out how our Feedback module works on the Employment Hero platforms: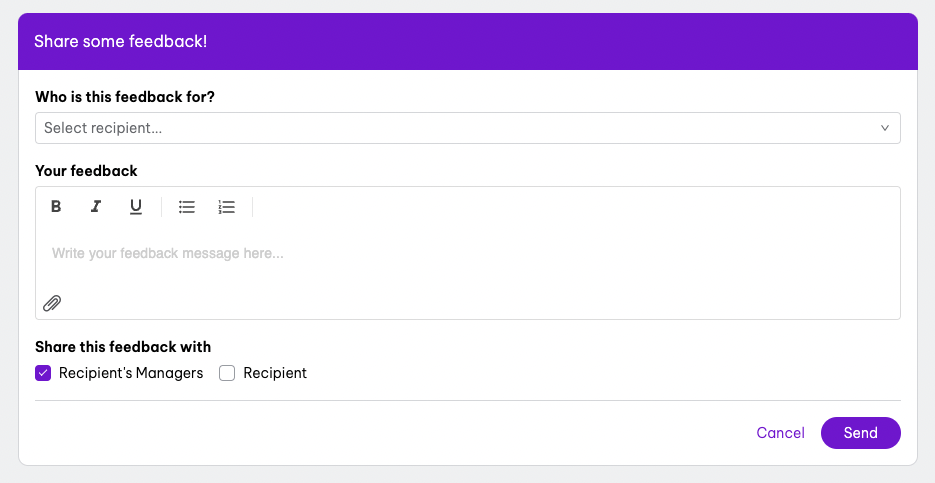 Unlike a traditional gathering of papers, the information won't get lost. When stored digitally on the platform, feedback forms are there for review and comparison well into the future, so you can monitor change or performance over time.
Once all the reviews have been collected into a 360-degree performance appraisal, it's time for the employee to sit down and discuss the results with their manager, or the review administrator. Make sure you're using the best practices for a strong performance review, including a constructive, two-way discussion and clear outcomes for professional development at the conclusion of the meeting.
For more information on completing effective performance appraisals, including those that encompass 360-degree feedback, download our performance review guide. The guide includes recommendations for review frequency, meeting preparation and easy to use templates.
What questions should I ask for 360-degree feedback?
Whether it's a casual weekly 1:1 with a manager or a 360-degree feedback survey, it's important to structure opportunities for feedback carefully. Leaders and review administrators should think carefully about the kind of questions presented in the survey. If they're not relevant enough for the employee they're reviewing, or miss massive aspects of the role, the feedback won't be as useful as it could be. You want to make your feedback as intentional and effective as possible.
Here's a few examples, grouped by topic:
Work performance
What do you think are [NAME]'s strengths in their role?
Where could they improve their performance?
Do you feel like [NAME] is using their skills in their role, and if not, how could that be improved?
Communication skills
Would you say [NAME] listens well to others' suggestions?
Are they clear when they communicate?
Do they ask for more information if they don't understand something?
Teamwork
Does [NAME] work well with others on tasks?
Do they demonstrate the core values of the organisation?
Is [NAME] someone people will turn to for help and advice?
These are just the start and generally applicable to many. As well as standard survey questions, think carefully about the type of specific prompts that will apply to the role. Specialised feedback will benefit the employee in the end, so it's helpful to get information that's really relevant to them.
Will anonymous feedback lead to more constructive feedback?
Many 360-degree reviews are conducted anonymously, whether that's through collecting feedback and ensuring names are removed, or getting a wide enough collection of information that specific reviewers can't be defined.
It makes sense that businesses find employees are more trusting if they're allowed to provide anonymous feedback, especially if they're providing information on peers or managers. They may speak more freely and honestly than if they put their name to their feedback.
That said, whether the feedback is constructive isn't just up to whether it's anonymous. The presentation and format of the feedback form can affect the quality of the information, and if the wrong people are involved in the review (say, someone who has barely worked with the employee they're reviewing), the feedback can be unhelpful or inaccurate. Likewise, if the pool of reviewers is too small, the information is unlikely to give the wide-ranging perspective that this type of feedback is supposed to provide.
In the end, while anonymous feedback can lead to more honest feedback, it doesn't necessarily mean the feedback will be more constructive. A lot of that is down to the way the information is contributed and collected.
Getting feedback is easy with Employment Hero
360-degree feedback can be very useful if done well. Give your teams and colleagues the benefit of improved self awareness and the opportunity for personal development by branching out your feedback channels.
Introducing this kind of feedback doesn't have to be challenging either. It doesn't necessarily require hours from everyone, or a twice yearly administrative challenge. Employment Hero makes sharing feedback really easy, allowing for both ad hoc and structured feedback loops. All information can be asked for and submitted online as well.
There's also the opportunity for employees to publicly recognise their colleagues in the organisation with a dedicated feedback channel, which can be great for building a positive, encouraging culture. It's the benefit of the 360 performance review, without the formidable threat of a lot of paperwork.
Stay across employee happiness
It's also easy to gather how employees are finding their work and their environment, continuing that two-way conversation between leaders and their teams. Employment Hero comes with the option to set Employee Happiness Surveys, for quick reviews that easily collect a snapshot of a team, or entire company performance.
With Happiness Surveys, your team will be able to anonymously submit feedback, including their happiness score out of 10. It also allows for leader's and HR managers to ask for more information for those who submit low scores – all while maintaining anonymity for the employee.Think of it as an anonymous online feedback form.
Here's how the Employee Happiness Surveys look on the Employment Hero app: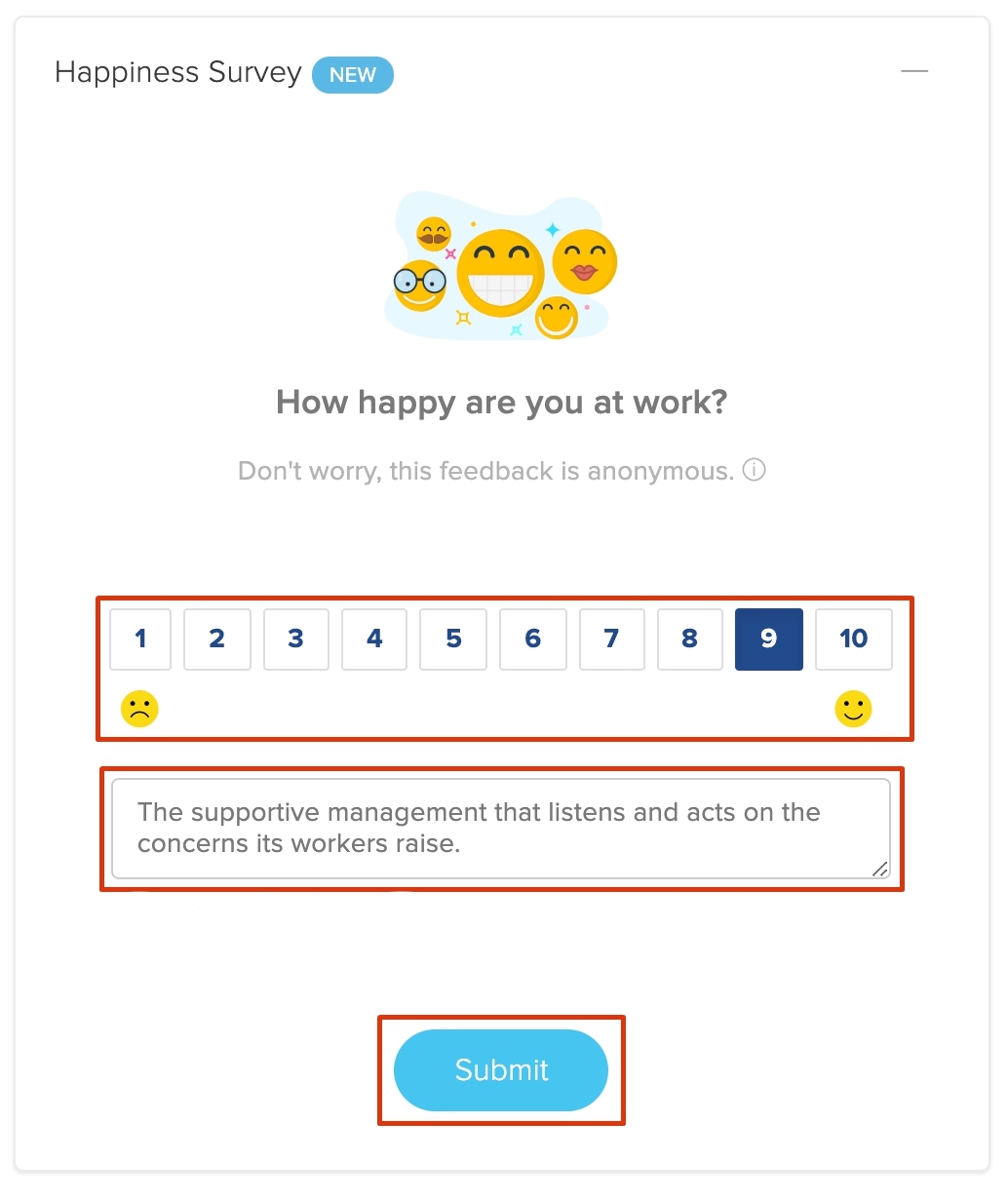 Excited by 360-degree feedback reviews? Watch this space…
We're working on something exciting at Employment Hero that will help take your 360-degree feedback to new heights. Stay tuned for our monthly product updates where we'll be sharing a new feedback development tool in the not too distant feature.
The ROI on feedback
In the end, feedback helps in a myriad of ways – it benefits your teams, improves performance and trust and it makes a difference to the bottom line. In fact, it's been reported that there's 14.9% lower turnover rates in companies who implement regular feedback. To keep your company in great shape, feedback has to be a part of how you operate. Make it useful and make it regular.
See how effective performance reviews can help your teams
A manager's guide to performance reviews.