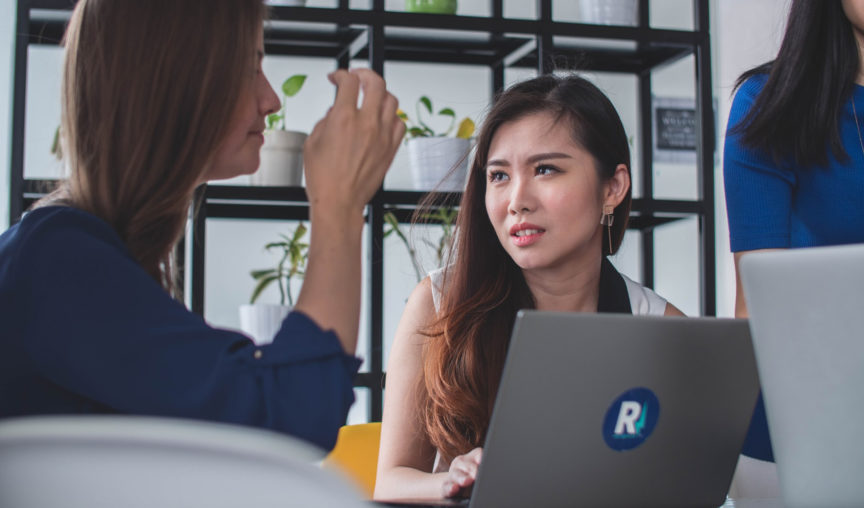 According to a study by SHRM, HR Managers view skill gaps as the biggest concern when recruiting talent, with 75% of saying there is a skill shortage among applicants. With so many human resources trends taking off over the next decade, we're beginning to see a major shift in priorities.
While we've recently seen a heavy focus on upskilling technical skills such as computer programming and data science, the development of soft skills has taken a back seat.
According to Deloitte, two-thirds of jobs will be soft-skill intensive by 2030, confirming that the skill gap doesn't only exist within technical roles. Additionally, research from Deloitte revealed "the average worker is missing around 2 of the 18 critical skills that are advertised for a job".
If we compare this to 2010, where the average worker lacked 1.2 of the skills, we can see the skills gap is widening over time. As the leaders of tomorrow begin to enter the workforce, it's never been more important to be aware of the most in-demand skills for the future of work.
Read on as we share the skills you need to continually develop to future-proof yourself and your team.
1. Innovation and creativity
Technology is at the forefront of every industry, so it's crucial you remain creative and innovative. When we were younger, we got told that thinking outside of the box is a great skill to have, and this continues throughout your entire career.
When you have the ability to see projects in a new way, you'll be able to be creative.
According to LinkedIn, creativity is the most in-demand soft skill of the future. This is due to technology replacing many of the mundane, process-related work that doesn't require much thought or creativity to perform.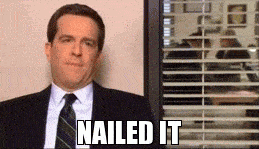 Me when I think of something creative.
However, according to Adobe, 78% of employees over the age of 25 wish they had greater creative ability and equally, 78% of hiring managers believe that creativity is critical to economic growth.
With many people putting themselves in the 'I'm not creative' basket, it's crucial to remember that being creative doesn't just apply to the arts, and thinking this way instantly creates a roadblock. Being creative can be as simple as thinking of challenging the status quo to try new things.
STEM fields can benefit from creative thinking just as much as the arts.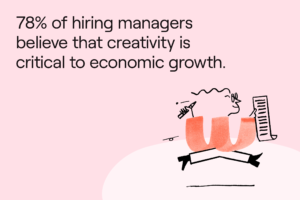 2. Problem-solving and critical thinking
According to the World Economic Forum, one in three jobs require complex problem-solving skills and the ability for employees to think critically. While specific professions like engineering and science require critical thinking in their day-to-day, they're not the only ones!
It's become apparent that roles outside these areas need to do the same to create a true competitive advantage.
Machine learning and artificial intelligence enable better access to data, so you have the ability to make strategic decisions. If you're scared of automation taking over your role, don't be! It's important to shift your view to see how it can actually improve your ability to make decisions and solve problems.
If you want to take a look at how automation is impacting the human resources industry, you can read our blog.
3. Growth mindset
Having a growth mindset follows from the two points above. In the constantly changing work environment, it's crucial that you're agile and able to pivot easily.
So, what exactly is a growth mindset? It's the ability to continually improve so you can be great at anything when you put your mind to it. Not only this, but having a growth mindset involves continually being on the lookout for the latest trends and innovations that can help you be better and perform better.
For example, if there are two employees and one displays a growth mindset, and the other does not, there will be an obvious conflict of opinions. We've put together two examples below, and we definitely know which employee we would want in our team!
Employee A: Constantly thinking of ways to innovate and strongly believes that challenges are simply opportunities to be better.
Employee B: Close-minded to change and prefers to kick it old school with manual processes.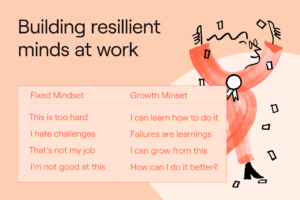 4. Leadership
As Gen Z begins to enter the workforce, it's essential we prepare the leaders of tomorrow.
Teaching important skills can make all of the difference including:
Decision-making
Public speaking
Delegating
Communication
How to take ownership of the task at hand
According to Forbes, four out of ten leaders in the tech industry are failing. This is the most significant failure rate across all industries. Where is it going wrong, I hear you ask?
One reason is due to the tech industry putting very little resources into developing leaders. Another contributing factor is that technology is the fastest-growing industry. It's also been reported that only 32% of leaders in this industry meet with their teams to discuss performance, a vital component of employee engagement.
At Employment Hero, we pride ourselves on going against these trends. Every employee has weekly 1:1 meetings with their direct manager to discuss performance and any other concerns. It's a great way to discuss work in a relaxed environment.
If you want to join a fast-growing tech company, check out our open roles here.
5. Interpersonal skills
When the future of work is faced with so many changes on the technology and automation front, it's important to remember that having strong interpersonal skills is always in demand. The ability to communicate effectively is an important skill that can be the difference between a manager and a leader.
Whether it's communicating with co-workers to complete a project or working with clients, communication is a skill that should never be underestimated.
"People, and their unique interpersonal and creative skills, will be central to the future of work. How we structure this future, and prepare our workers, will say a lot about us as a society. Our decisions now will be a key driver of our economic success."
– Chief Executive Officer Richard Deutsch – Deloitte Australia
With this being said, it's important that we never push interpersonal communication skills to the side. At the end of the day, this important skill could be the deciding factor in your success.
6. Data analysis
With technology prevalent in every industry, it's demanding a shift for people to become more analytical. Traditionally, roles that may not have ever needed to look at data are now making decisions from insights. This is necessary so they can prove ROI and subsequently plan for growth.
Having the skills to analyse data is something well sought after in the ever-changing job environment. For example, traditionally, a content writer may have never looked at data. However, today they must look at the performance of their content and capitalise on trends to improve reach.
"A lifelong learning approach to skills development will be valuable for employees seeking to reskill and upskill their analytics capabilities as required." – Deloitte
Did you know Employment Hero has a data-driven learning management system? Learn more about it by having a chat with our business specialists.
The Australian gig economy and the future of work
According to the Actuaries Institute, $6.3 billion is the amount attached to the Australian gig economy between 2015-2019. Fairwork defines the gig economy as any individual that provides services to consumers for a fee via a digital platform.
It is important to keep this module of working in mind when considering what skills can be in-demand in the future, with considerations for new ways of working that may also be popular/
From Airbnb hosts to Uber drivers and crypto-earning marketplaces, a range of platforms can provide greater choice and flexibility in the way we live and earn.
Common gig economy services in Australia include:
Ride-sharing services
Delivery services (food, drinks and consumables)
Personal services (creative or professional services, e.g. graphic design and web development)
Handy-person services like yard work and repairs
The future of work goes beyond standard skillsets and considers an entrepreneurial way of thinking as people place importance on being their own boss and enjoying work/life balance.
Key takeaways
With technology leading the way in every industry, it's important you keep your soft skills up to scratch. Skills for the future such as creative thinking, leadership, communication and having a growth mindset can set you apart from the rest.
These skills allow for innovation in your work and preparation for the future of work.
Future Working Trends
Future Working Trends