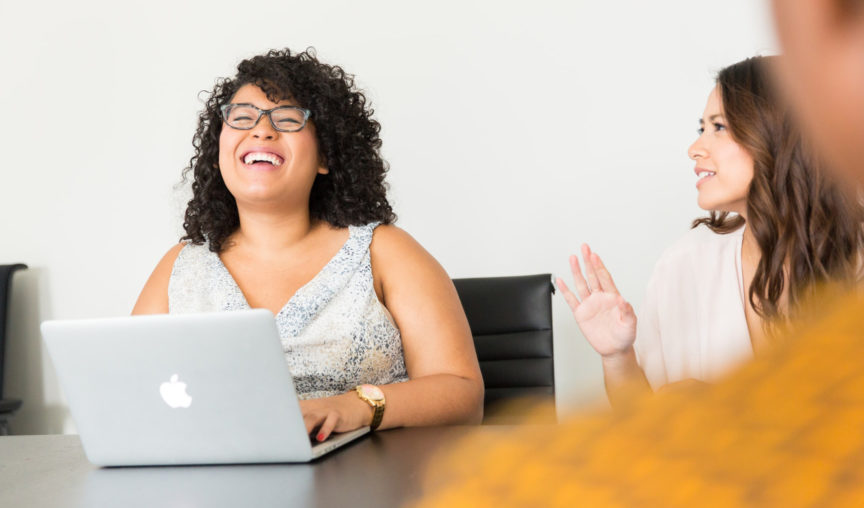 Have you ever thought about the end-to-end experience of your employees? Do you think they'd reflect on their experience positively? From onboarding right through to offboarding, designing your employee experience can make a huge difference when it comes to keeping your team happy, engaged and loyal. These days, we're busier than ever. We know it's easy to get caught up in the day-to-day operational side of your role and overlook the people side from a holistic perspective. At the end of the day, the experience your employees have at your organisation is instrumental to business success, as research shows. Ready to learn about the employee experience (EX) and how it can help take your business to the next level? Let's dive in.
What is employee experience?
The employee experience (EX) can be defined as the overall experience an employee has over the tenure of employment at a company. This refers to the entire experience throughout the employee lifecycle, right from the initial attraction stage through to exit. Regardless of whether you've designed your employee experience or not, each employee has their own thoughts on your company. Without consideration for this, you may find that your ex-employees share negative views of your organisation with their personal and professional networks. An employee's poor experience can contribute to a negative reputation for your workplace. This could ultimately deter top talent from applying because of what they've heard from others — and no one wants that! Before we dive into the employee lifecycle, let's go back to basics and unpack the employee lifecycle. Once you have a grasp of each stage, you will understand how the employee experience can be improved through different touchpoints of an employee's tenure.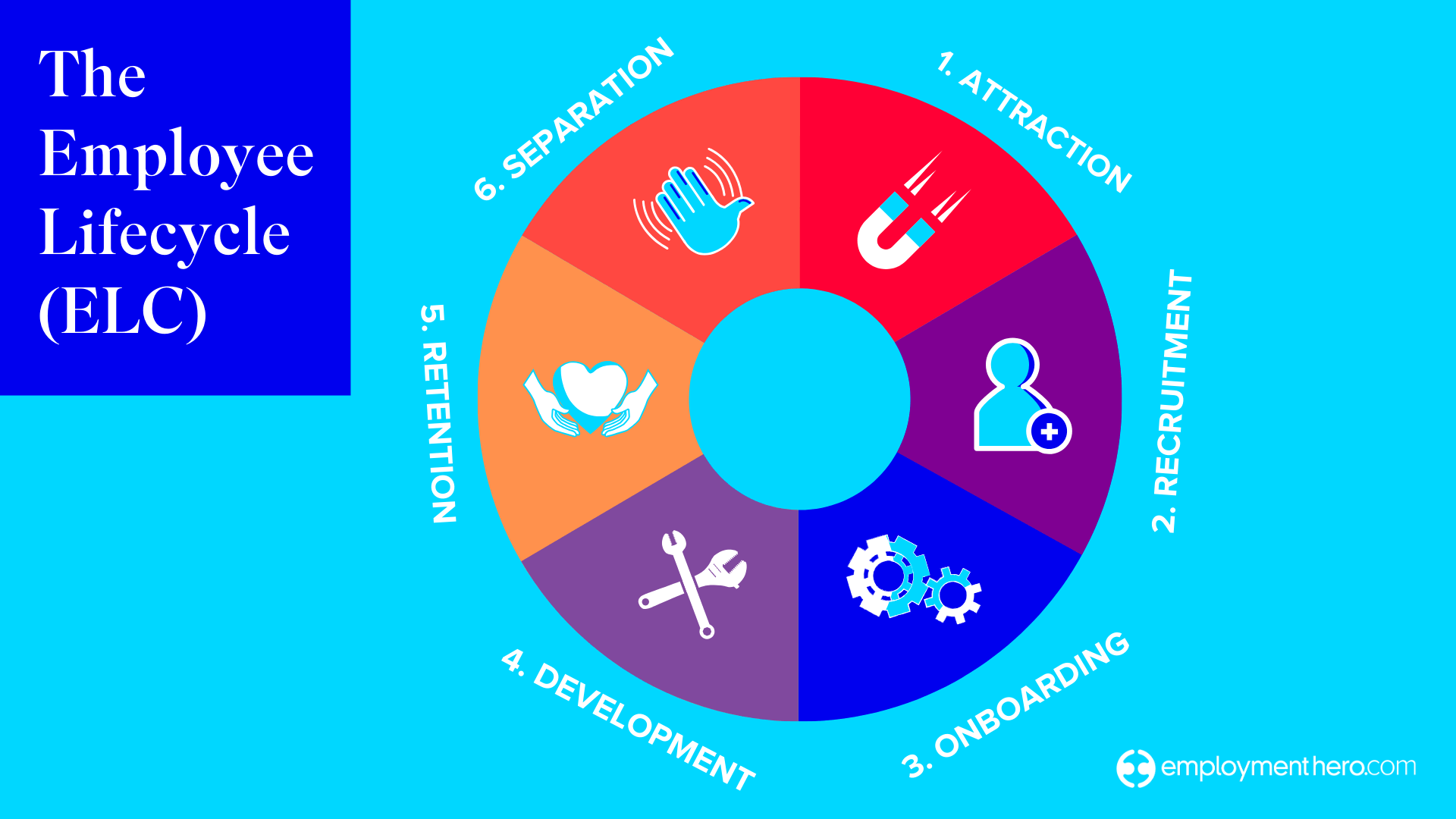 1. Attraction
This is the first phase of the employee lifecycle and arguably the most important for attracting top talent. In this stage, you should consider your employee value proposition (EVP) and employer branding. You want to position your workplace as a great place to work and let your candidates know that you can offer them just as much as they can offer you. Do you provide great career progression opportunities, wellness programs, or bonuses? Highlight these! Remember, attracting talent is a two-way street.
2. Recruitment
The recruitment stage is a very people-focused stage of the employment lifecycle. This is where the candidate and the hiring manager explore whether they are the right fit for the role and company. It involves getting to know what drives and motivates them, whilst assessing the culture fit. This is also the stage where professional relationships begin and continue throughout their tenure.
3. Onboarding
This is where the workplace experience begins, whether on-site or remote. On an employee's first day and in their initial weeks, they will gain a sense of the culture and get an overall feel for the company. Nailing this stage of the employee experience is critical for setting them up for success in a way that makes them feel confident they've made the right decision to join your company. Starting off on the right foot means all of their equipment is ready to go, logins sorted and induction meetings scheduled. If you want to go one step further, why not create a personalised welcome kit for them with a welcome note from their manager. You could also include company merchandise, water and snacks. It's the small things that can really make an impact!
4. Development
Career planning, learning and professional development are essential components of the employee engagement puzzle. When your team feels they are learning and growing in their role, they're more likely to have a positive experience. When learning and career growth are stunted, this is where they can begin to come disengaged — something you want to actively try and avoid.
5. Retention
Retention is often one of the hardest parts to get right when it comes to the employee experience. If you get it wrong, you run the risk of top talent walking out the door (and potentially into the open arms of a competitor). In this stage, you need to focus on reward, recognition, career growth and engagement strategies to effectively retain your team of superstars. If you nail the retention stage, you'll create a team of high-performing, loyal contributors that will continue to go above and beyond in their role — AKA, the dream employee!
6. Separation
When it comes to parting ways with an employee, the employee/employer relationship is often considered done and dusted once that resignation letter gets handed it. But it doesn't (and shouldn't) have to be this way. When it comes to the end of tenure for an employee, it's important you actively listen to their feedback from their exit interview. This can help you improve your employee experience so you can make things better for your current team. Not only this, you should aim to keep your ex-employees in your professional network. Why? They could become a very valuable member of your team again later down the track. More often than not, it's easy to forget about the entire employee experience. With this already back of mind, it's no surprise that finding time and prioritising making improvements most likely isn't on your agenda… until now.
How do you create a positive employee experience?
Designing a positive experience is dependent on multiple factors such as the type of industry, the type of work performed and the location of your workforce. With so many factors at play, designing your employee experience is not a one size fits all approach. If you're looking for more information on designing the employee experience, you're in luck!
Why do I need to consider my employee experience?
In addition to the many benefits that come with designing a great employee experience, it also contributes to improved business performance. According to research, you can improve profitability by up to 25%, if you actively design and develop the employee experience. In this case, even the slightest improvements can have a positive impact on business success. Sounds good, right? The employee experience should be viewed holistically. Once you have a general overview of how your employee experience is, you can dive in deeper and break it down according to the employee lifecycle. It's important to remember that the employee experience can 'make or break' your business. Your team is your greatest asset and at the end of the day, the ones that steer the ship!
Does my employee experience really matter?
Yes! Remember that your employee experience can be the difference between attracting high quality talent and retaining it. If you've got top talent but they hate going to work, they're not going to stay around. And what happens when these people leave? They tell people about their experience. And then their networks tell people and word gets around that you're not a great place to work. The result? Top talent deterred from even considering applying to your business. Eek! We've all heard of companies who have reputations based on their employee experience and it's something that you can't afford to be a part of. It's a domino effect — and when that first one falls, it's difficult to rebuild. The employee experience is something you need to continually develop and get right.
The wrap up
We know that those who enjoy going to work are likely to be more engaged and innovative in their roles than their unhappy counterparts. Whilst it can be easy to overlook the entire process, going back to basics and reviewing each phase of the employee lifecycle can help nail your experience for your team. When you're determined to create a positive employee experience, you can be on your way to creating a team of engaged, high performing employees in no time!