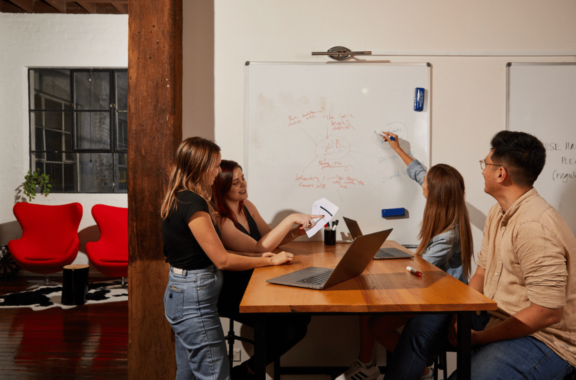 Each year, a new group of university and college graduates descend on the job market. Bright-eyed and bushy-tailed, these ambitious graduates are ready to jump into the deep end and prepared to do whatever it takes to succeed in their first role.
As we head into the new year, do you think your business could benefit from some fresh thinking? How about some new energy and enthusiasm?
Welcoming the next generation of recent graduates to your business this year could give you the boost you've been looking for.
What's included in this graduate program guide?
This whitepaper has all the information that you need to know to create your own graduate program from scratch.
It covers:
Recruitment needs in 2022
The basics of graduate programs
What a successful graduate scheme looks like
How to find and attract graduate talent
How to fine-tune your graduate recruitment process
Graduate program interview template
Graduate program 1:1 template
Disclaimer: While due care has been taken in preparing the document, no responsibility is accepted by the author for the accuracy or suitability of the information contained. All liability is expressly disclaimed for any loss or damage which may arise from any person relying on, using or acting on any information contained therein.
What is a graduate program in a company?
A graduate program is an opportunity for recent college graduates to work in a company for a set period of time, usually one to two years.
Graduate roles are offered alongside training and professional development opportunities by graduate employers, as well as allowing graduates to network with other professionals.
Many graduate programs offer career progression to graduates, and they may be placed in a full-time position within the company or given the option to pursue further education.
Graduate programs are becoming increasingly popular among large companies as they provide a way to identify and groom future leaders of the organisation.
Why should you create a graduate program?
While graduate programs shouldn't replace any employee retention strategies, it's a high-impact addition to any recruitment drive. You can also feel fulfilled, knowing you're supporting the next generation of talent.
If you welcome them to your team, you're capturing them in a complete 'sponge' state of mind. They can hit the ground running and develop skills and attitudes that are fully aligned with your business objectives and company's culture.
What does a graduate program look like?
Graduate programs should provide structured training and have a clear plan from the outset. But, it can be flexible to accommodate the changing needs of your business.
Here is a graduate program example we have included in this guide:
Stage One: Recruitment
The recruitment drive for candidates begins. Graduates are asked to apply and then moved through the interview process.
Successful graduate candidates are given the necessary tools and information to prepare for their entry into the company.
Read more: Using employer branding to attract talent
Stage Two: Learning and Shadowing
Your graduate program participant will need a lot more training than your regular new employee in the early stages.
The first couple of months should be all about showing them the ropes.
The more training you give them, the stronger foundations you set for their work with you.
For this reason, we recommend pairing them up with a more senior member of staff for them to shadow, on a rotating basis, for up to eight weeks.
One-on-one mentoring is particularly effective as they can learn key skills directly from their manager.
If this doesn't make sense for your working model, have them instead, be a fly on the wall at all meetings and set them up with reading material or very basic tasks.
Stage Three: Basic Work
At this point, your program participant should have a basic understanding of how your business operates. They will also know who's who around the company.
It's the perfect time to set them up with some basic tasks under the mentorship of a more senior staff member.
Stage Four: Independent Work
This is when you will see your program participant take ownership over their work. They might be briefed on their own projects and assigned goals related to business objectives.
They are now a proper entry-level employee at your business.
Stage Five: Progression
Our graduate is now working as a fully-fledged team member; their initial training and development are complete.
It's time to think about their next steps with the business. Move them beyond the graduate program and sign them up for a permanent position.
Can smaller businesses offer graduate programs?
Don't be intimidated by the administration of a graduate program.
Yes, it does take time and effort to set up a program, but you don't need to be Microsoft or Netflix to get one off the ground or to attract star graduates.
Pro tip: Utilise your resources efficiently by using recruitment software, as it can help streamline the hiring process and reduce recruiting costs.
SMEs can establish effective and high-yield programs too; they just need the know-how.
Download our graduate program guide now to learn more.