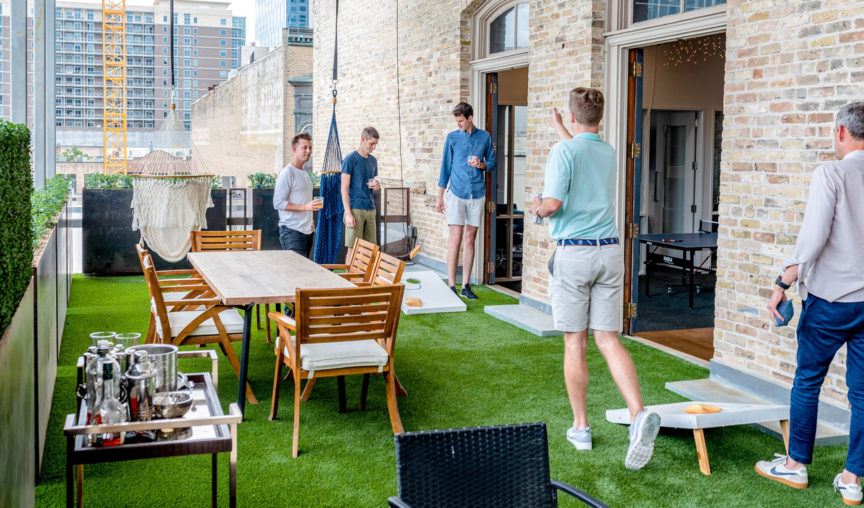 There are many benefits to your organisation when you have engaged employees. Not only do they perform better, but you'll also have a reasonable retention rate, and the workplace will be a much more pleasant spot to be. Employee engagement is the enthusiasm and connection your staff hold for your business. It' is the determining factor of motivation, effort and commitment; three elements all owners and managers want to see in their staff. This outcome really depends on the actions of a company's leadership. Read on as we take a deep dive into how you can improve employee engagement, what it is made of, and how to ensure adequate levels of it at your organisation.
What is employee engagement and why is it important?
Employee engagement is a measure of motivation, and whether or not your team is willing to put in the extra effort to help your business perform and grow. It is also a sign of commitment. Staff who are highly engaged offer higher value and contribute to a better work culture, which then improves morale and enjoyment for other team members as well. Engaged employees are energised and passionate about their work and find it much easier to achieve and maintain positive mental health. They are more willing to go the extra mile, often without being asked, and raise the bar of the service offered by your company. The benefits work for both employer and employee. Staff will not only be happier and more fulfilled by their job but feel as though time in the workday passes much quicker. They are focused on their work instead of waiting for the clock to allow them to go home.
The 10 types of employee engagement
There are many ways to ensure your employees are engaged at work. You may decide to run with a few options, or hone in on a specific set and really put effort into making it an area in which your organisation excels. The top ten main types of employee engagement include:
Clearly defining your

organisation's values

Making a shared purpose

Ensuring a positive and safe work environment

Motivating

employees with rewards

Caring for

health and wellbeing

(physical and mental)

Defining individual employee roles

Nurturing employee relationships

Maintaining clear communication channels

Creating and fostering leaders

Fostering personal development

Psychological Safety

: Allowing the employees to be themselves in the work environment
A genuine and dedicated approach to the above actions from higher-levels of management will create a workplace primed for positive engagement between employees. When all employees buy into the core company values, a sense of shared goals and purpose can be a driver to succeed. A company with individual employees that strive to achieve grows as a whole.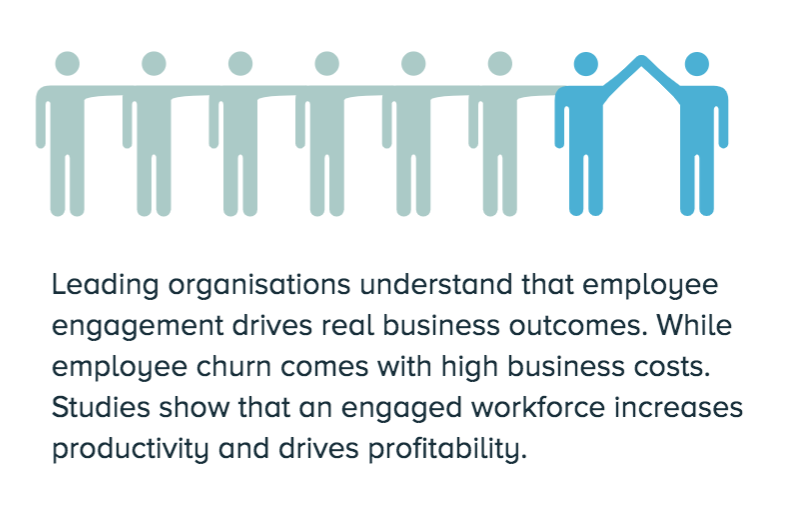 5 Key Benefits of implementing employee engagement practices
As a business owner or manager, you likely understand that customer satisfaction results in customer loyalty. The same applies to your employees. According to a study performed by Deloitte, 85 percent of HR professionals in Australia listed the creation of positive employee experiences as a top priority in the quest for better engagement. If you take the time to implement successful practices in the workplace, you'll see a range of benefits, including:
Higher productivity

Improved relationships between team members and clients

Greater profitability

Greater retention of talent

Dynamic teamwork
The chance of achieving a workplace with successful employee engagement directly correlates to the quality of your employee engagement practices. The more time you are willing to spend designing, implementing and managing them, the greater the outcome.
How do you build employee engagement?
To build and improve employee engagement in your workplace, you'll need to do more than just offering remuneration and perks. One option is to move away from monitoring and measuring input or hours worked, as this can add undue stress on staff who genuinely want to engage. Employee success isn't always directly correlated with the measurements, which is why focusing instead on measuring outcomes may be more beneficial for all involved. The number of hours your employee is in the office is not as important as the work they deliver. An outcome-focused workplace puts more emphasis on the result, shifting more responsibility to employees while allowing them to work in a way that is more conducive with their lifestyle. This is a great way to provide job satisfaction and increase engagement. The option or remote work, which we have seen a rise in now more than ever, can be a great way to see more productive work while offering a benefit to staff who can enjoy a more flexible schedule.
Examples of employee engagement
A good example of an employee engagement strategy is a corporation that offers its staff more than just a job. It can be easy to lose sight of the goals of a role when you are performing it every day. This is why leaders should make coming to work more than just a nine-to-five. This is correlated with the rule of providing meaningful work. If the work you are doing is not engaging, you simply will not be engaged. To bring back a bit of history, the notion of the 9 to 5 workday began during the British Industrial Revolution where factories were looking to maximise output in production lines and required fixed schedules for their workers. For some reason, we've held onto this antiquated idea as a rule of thumb when really it holds little relevance in the modern workplace. Another example can be as simple as your communication style. This is something that should be customised to each employee, which can be difficult for larger companies, which is why every level of management needs to be engaged. Sit down with each employee and spend the time learning how they like to be communicated with. Changing your style of communication to suit will be more effective than trying to make the employee change their way. A great way to do this is by conducting regular one-on-ones. Regular feedback is essential to ensure staff reach their full potential and move up in your company structure. Whether you're a manager or early on in your career, the need for constant communication is an important part of a well-functioning team.
Increasing employment engagement
The actions of senior leadership affect engagement. Engagement is dependent on team leaders following through with their promises. For example, if feedback is asked for, and received, it should receive actioned, tangible change. To ensure this is done, you need a 360-degree feedback process to not only understand the pain points in your organisation but to show how you plan to develop a way to action changes. Employees will judge managers on what they do in response to their feedback. Asking for feedback but ignoring it is more damaging than not asking in the first instance. Sometimes you won't even need to ask. Employee turnover figures are a litmus test for employee engagement, and a churn rate greater than 10% means your internal practices need some work. An employee survey can be the best way to find out where you're going wrong and how best to improve.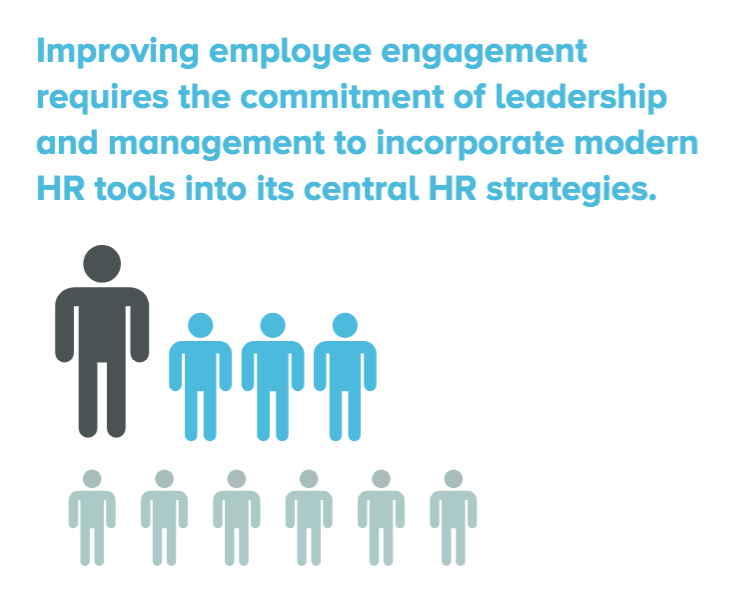 What are the key drivers of employee engagement strategies?
The key drivers for employee engagement will differ based on organisation, but there are a few constants that drive employee engagement in almost every sector. These include:
Leadership

Learning and development opportunities

A sense of meaning at work
Pay and benefits are essentially the one basic rule for every employee at work. The next level up features development opportunities in your company and the chance of a promotion. In addition to this, leadership style and whether or not the management team makes an employee feel respected in their role and an alignment of values and meaning are paramount in every industry. The rules as to what drives employee engagement are not set in stone, they will differ based on the dynamic, age and size of your workplace, but leadership, development opportunities and a meaningful shared vision are employees across the board.
Strategies and ideas to engage an employee
There is a range of strategies and ideas for how to assist employee engagement, but they all come down to placing a high value on your employees and ensuring they are happy. Focus on proactively developing the employee experience, and this journey begins before someone even applies for a role in your organisation. It includes the physical (even if remote) environment and your company's culture. Have you set your employees up for success with the right tech tools? Do your workplace policies resonate with today's workers or just company leaders? Employee experience is the most direct way to achieve better engagement.
What does employee engagement look like in practice?
Reward and recognition are the best ways to put your employee engagement into practice. For every piece of criticism an employee receives, six pieces of positive reinforcement should counteract it. If your employees do not feel recognised or appreciated, they will be less engaged, less productive and disloyal. Implementing a reward and recognition plan goes beyond the occasional gift card, it must be part of your company's culture. To do this, you need a leadership framework for reward and recognition that encourages employees to be part of it. Both managers and employees should be armed with the tools to reward and recognise each other, as this will actively encourage positive behaviours. At Employment Hero our version of a gift card is Hero Dollars, an easy way to offer gifts or bonuses for employment anniversaries, new clients or the Christmas bonus. Hero Dollars make it easy to reward or recognise with discounts on something staff will actually want or need.
Employee engagement survey: How do you measure employee engagement?
The best way to keep a pulse on employee happiness is via an employee happiness survey. It gives your team a chance to be honest about the culture in your workplace, identify critical areas of improvement that you otherwise may not know about, and see which areas of improvement mean the most to your team. The specific survey questions you ask are crucial, as you'll want to ensure they will give you the information you need, while also being actionable, one critical importance that was mentioned earlier. You will not influence employee engagement if you do not act on the feedback they provide. There are some essential employee well-being questions that you should ask, while also tailoring some of the questions to the specific and unique elements of your workplace. All of this can be made easier with Employment Hero engagement software. This software simplifies your process and offers measurable ways to track the levels of employee engagement in your company all through one website experience. Some of the advantages of the software include:
An Employee Portal that helps reduce employee procedures by providing access to a self-service portal where employees can request leave, view payslips and update their details easily, building trust and heightening employee engagement

The Employment Hero mobile app through which employees can manage leave and timesheets or find contact details on-the-go

The Manager Dashboard which is a reward and recognition tools where members of your organisation can publicly thank each other and show of appreciation with emojis with insights that can be used in wider schemes of reward and recognition

Custom Surveys where you can create and send Custom Surveys to employees to collate, track and analyse feedback, comparing it with your business outcomes.

Happiness scores which provide insights via an anonymous, monthly score that gauge the vibe of your business

Peer to Peer Feedback

through which staff can recognise the efforts of one enough to establish greater camaraderie and performance
Just remember, achieving great engagement levels cannot be done by one process. It requires a mix of communication styles and channels, defining purpose, collaboration, and learning. Make use of the tools available to you to help your team communicate openly and collaborate seamlessly in turn creating a positive change in your company culture.