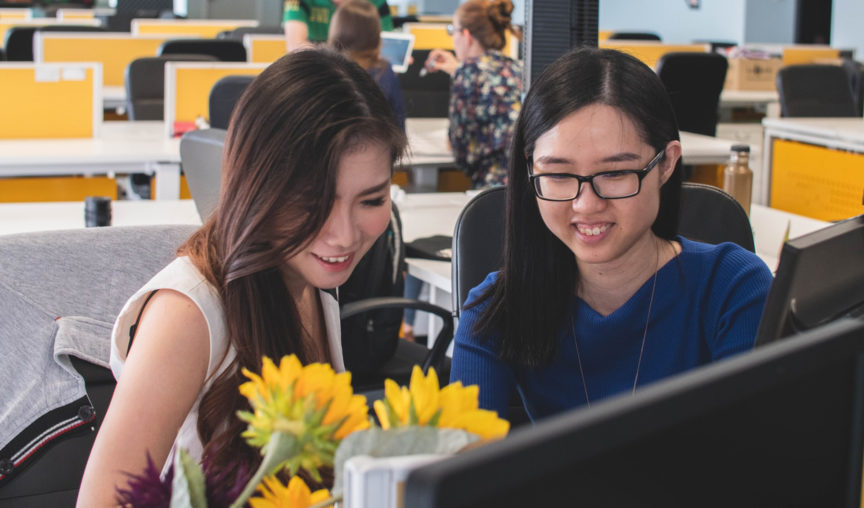 Every 8 March people worldwide celebrate International Women's Day (or IWD for short). It's a great time to reflect on the progress society has made with gender equality, celebrate women's achievements and recognise how far we still have to go.
This year's IWD theme is #ChooseToChallenge encouraging everyone to call out gender bias and inequality because by challenging these norms, change can happen. This idea shouldn't just be implemented on one day but continued all year to unify purpose and create true action.
We have put together four meaningful ways to champion this mindset and celebrate IWD in the workplace all year long.
1. Lunch and learn
It wouldn't be a celebration without some nibbles, so buy your staff lunch for the day. Instead of sitting around chit-chatting, encourage employees to learn about the significance of IWD.
This could be through playing an educational TED talk in the meeting room where lunch is being served (if COVID-safe, of course), presenting the official IWD 2021 slides to display how to fight bias and/or encourage your team to participate in the #ChooseToChallenge social media campaign.
This creates a fun atmosphere in the office and helps to reinforce the purpose of the lunch.
2. Buy your team tickets to women in business event
It's important to foster a healthy environment where the women in your team can develop their skills as professionals, creating an inclusive workplace that creates better results in the long term. There are plenty of ways to encourage development, such as buying employees tickets to women in business events to network or creating training days internally.
According to a survey by Robert Half Finance & Accounting, 40% of professionals said their managers never discussed their career paths with them – but the same research revealed a whopping 93% are desperate for this type of information and management.
By encouraging your employees to attend events or implement training days designed for developing women in the workforce, you're showing you care about equality and ensuring the women in your team thrive.
3. Lend a helping hand
Another way to celebrate IWD is to ask your staff to vote for a women-led charity to raise money for. You could sell raffle tickets or hold a bake sale on the day to raise funds. Charities liked Fitted For Work helps disadvantaged women get back into the workforce are some of the many charities you could support this IWD.
Another way to show your support is by encouraging your employees to volunteer with initiatives like the Sister 2 Sister program, a one-on-one mentoring and educational program for teenage girls in need of a positive female role model to help them overcome their circumstances.
4. Build an inclusive workplace
IWD, of course, is a celebration of women's achievements and fight for gender equality. However, it is also important to consider how your business can further implement ways to truly make an impact that goes beyond celebrating just IWD.
Some ways you can ensure your work environment is inclusive and equal are:
Research has revealed that inclusive workplaces are 1.7 times more innovative than those with lower diversity and inclusion initiatives. Ask yourself this question: is my organisation fostering an inclusive environment for all peoples?
The wrap-up
It's important the conversation extends beyond the day to ensure true impact. By implementing these 4 suggestions, you won't just be celebrating IWD but also championing a culture of inclusivity and equality in your organisation.
More helpful diversity and inclusion resources:
⚡️ Keen to learn more about why diversity is so important in the workplace? Check out this useful handbook below.
Diversity and inclusion handbook