Employment Hero is still going full steam ahead when it comes to helping Australian businesses build a better world at work. With everything else that's going on, we're grateful that our remote workforce can keep finding new ways to support the employers and employees using the platform.
Here's the latest from the product team at Employment Hero.
Desktop Updates
Wellness Widget – The next time you sign in to Employment Hero, you'll see the Wellness Widget. The widget was created to provide employees with access to content that will improve their financial, mental and physical wellbeing.
This is more important now than ever before and we're grateful to be able to support employees as much as employers during this time.
You can read more about the Wellness Widget in our CEO's letter to admins/owners sent last week. The widget is currently only available to Australian organisations with My Benefits enabled.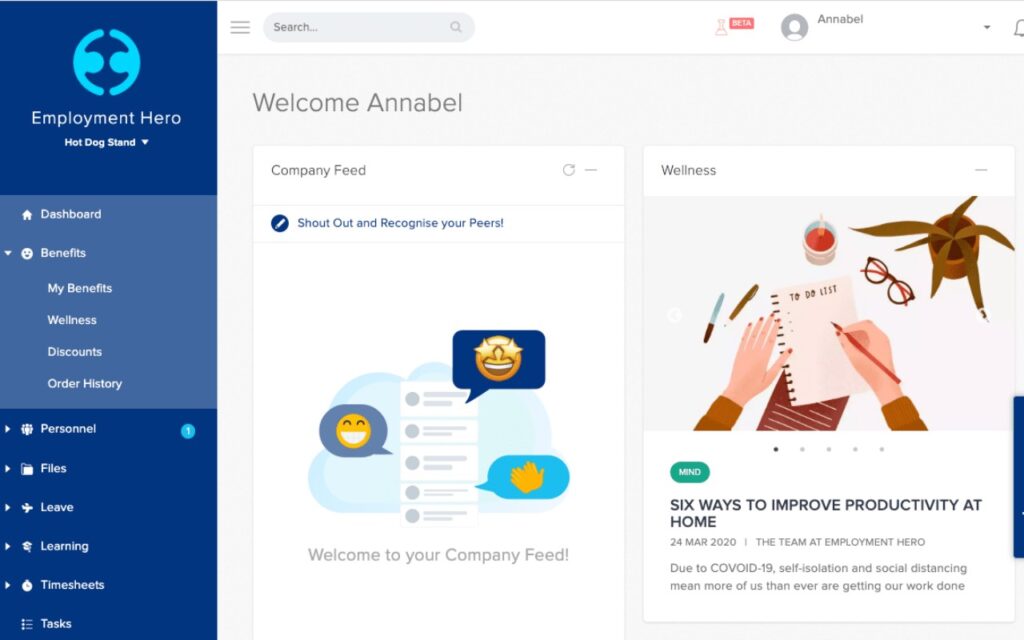 Custom Branding (Platinum) – Our latest feature to be publicly released is Custom Branding.
For those who want their employee experience to be as personalised as possible, Custom Branding will ensure your company brand is front and centre.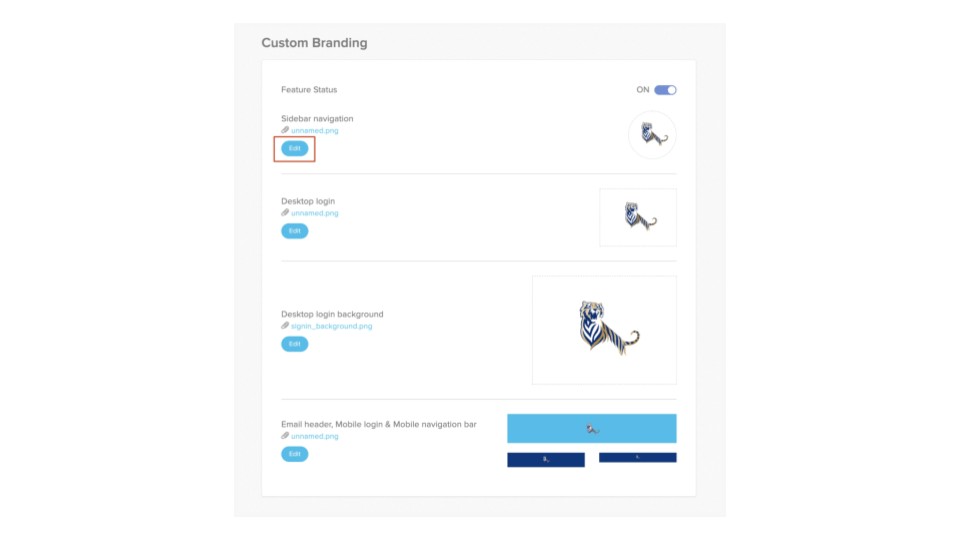 On desktop, admins and owners can apply their company logo in the header of all emails sent from Employment Hero (i.e. contracts reminders, policy acknowledgements, timesheet updates and more!), on both the sign in and Password Reset page and on the top of the main menu in the Employment Hero dashboard.
For the app, Custom Branding lets you add your own logo to both the login page and the main menu. Platinum users can enable Custom Branding today by following the instructions here.
Mandatory 2FA – If you haven't heard of 2FA before, it stands for 2-factor authorisation. Ever used your mobile banking app and had to use a code sent via text message to sign in to your account? That's 2FA.
Using 2 modes of authentication (your login details AND your mobile number) to confirm that you are who you say you are.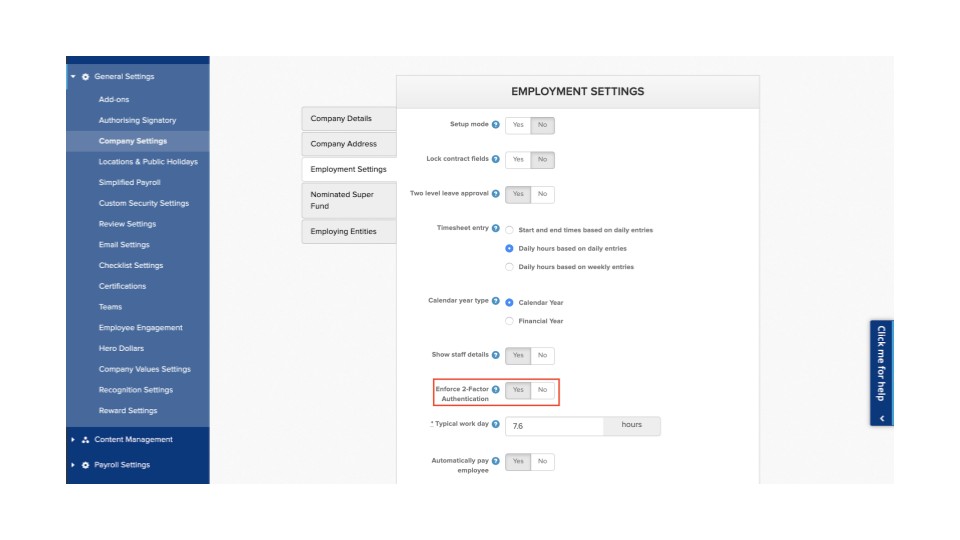 2FA has been available on Employment Hero for some time but until now, there was no way for employers to enforce their employees to use 2FA. For customers on our Premium or Platinum subscriptions, admin/owners can now enforce 2FA for their organisation, meaning that all users will need to set up 2FA to access their employee portal.
To enable this, own/admins can find it under General Settings > Company Settings > Employment Settings > Enforce 2-Factor Authentication > Switch to "Yes" > Save 2FA Report Maybe not all your employees need 2FA, but some of them definitely do. In that case, you can use the new 2FA Report.
Available to customers from Standard to Platinum HR, running the 2-Factor Authentication Report will show you who has and hasn't set up their 2FA.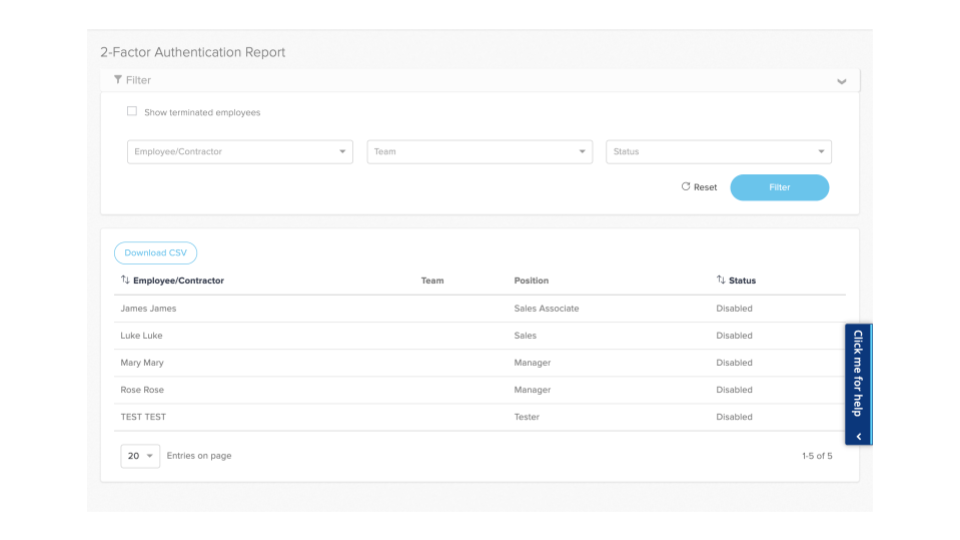 Email Templates (Beta*) With Employment Hero, you can onboard staff easily and quickly, but is it too quick? If you like a more personalised onboarding experience, the latest feature available in open beta may be of interest to you.
When it's time for admin/owners to issue a contract and send it via email, they're able to insert a personal message. If you're onboarding lots of people at a time, it can get pretty annoying typing out the same message again and again!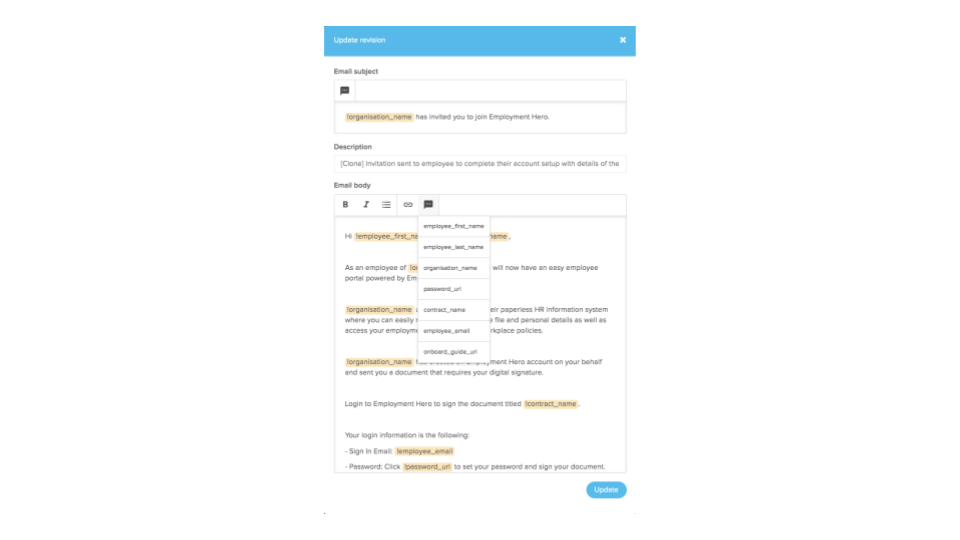 Email Templates will let admin/owners insert pre-written templates to send with their contracts.
Whether it's different templates for different employees (i.e. different locations or work types) or the same template that reflects your company culture perfectly, Email Templates are going to be a very popular feature for people managers. Sound good?
Go to the 'Beta' menu towards the top right and click the toggle next to 'Email Templates' to enable email templates, then follow these instructions.
App Updates (available on Version 1.47.0 or above)
Activity Feed – Users can now see a history of all the push notifications they've received via the Activity Feed widget on the main page. These push notifications will include leave request updates, policy and induction content acknowledgement prompts, rostering notifications and more.
Announcements in the Company Feed (i.e. Recognitions, Shout Outs, birthdays) and Goal notifications won't be visible in the Activity Feed.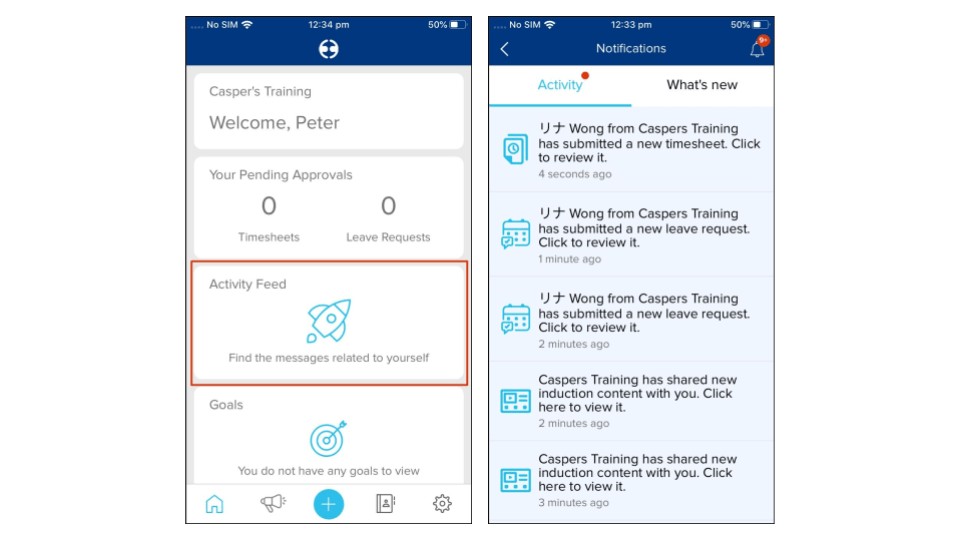 Calendar Enhancements in App The events widget now uses a calendar view for employee leave, birthdays and work anniversaries. You can also use the calendar to scroll through different days and months to see which events are occurring on a given day.
For example, if an employee has asked to take leave on a given date, you can easily see whether any existing leave requests would make this unfeasible.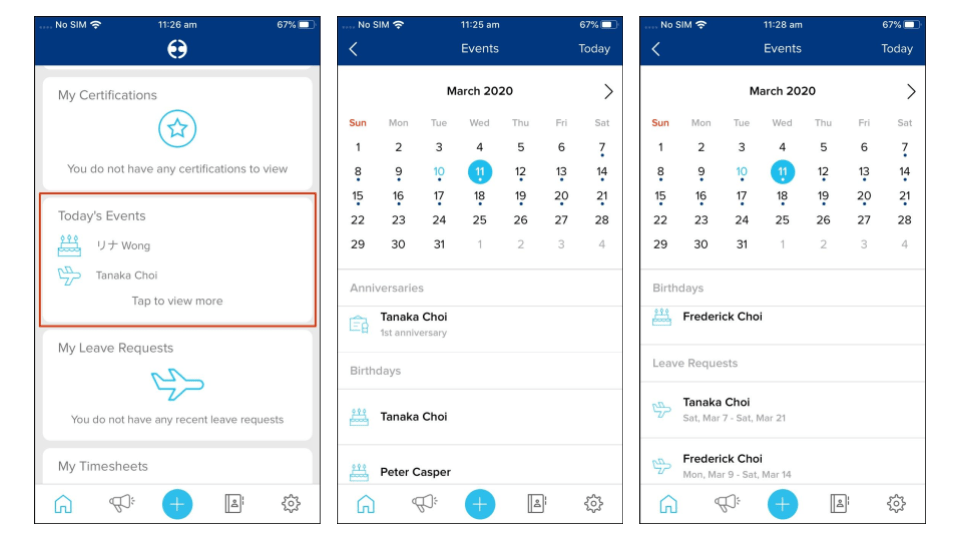 The calendar enhancements also gives organisations the option to disable all staff visibility of future events in the calendar. Currently, all events like annual leave are visible to everyone. The disabling of the Leave Calendar permission in Custom Security Management will remove future events from the calendar.
Admins and owners will still see all staff leave, whilst managers will still be able to see accepted leave for their direct reports.
This will make it easier for employees and managers to see the future events that are relevant to them.
What's next?
The entire Employment Hero team is dedicated to supporting Australian businesses during this time. Our product team is working day and night to develop features that will empower employers and employees alike as they find new ways to get the job done.
In case you missed it, existing Employment Hero customers will have access to Platinum for the next three months.
Keep an eye out for the Platinum upgrade prompt in the platform this week.