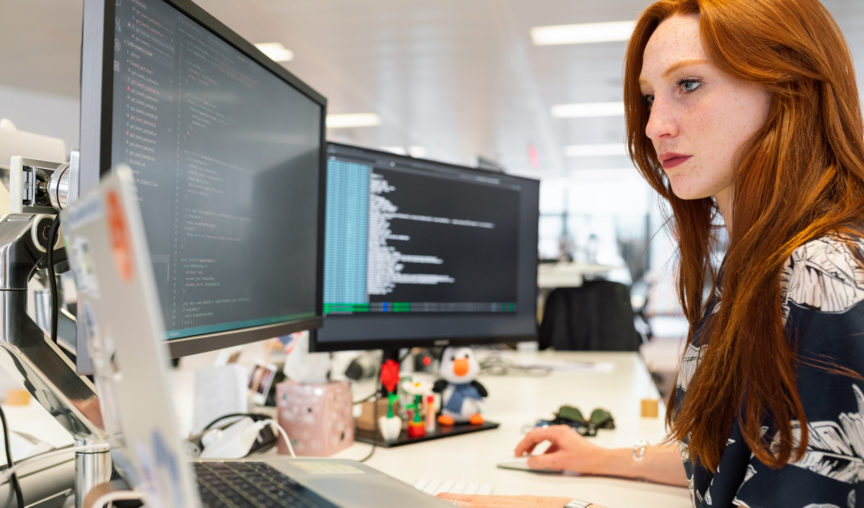 Over HR admin? Yep, so are we. Being bogged down with mindless and manual HR admin is never a fun time. But unfortunately, this is the reality for many HR and people managers who are still kicking it old school, and are yet to make the switch to digital.
While we might be biased, HR and people managers are the unsung heroes of a business. They work tirelessly to find, attract, recruit, retain, engage and manage the end-to-end lifecycle of the most important part of any business – it's employees. However, in between juggling the many tasks they have to complete on the daily, reality is that HR managers spend a lot of time on repetitive admin tasks – and it can be those repetitive tasks that leave them feeling uninspired and craving a more strategic approach to people management.
Our advice?
Ditch those paper documents and filing cabinets for good and go digital with a piece of new and shiny HR tech. Trust us, you'll have wished you switched sooner – oh, and the numbers don't lie…
A digital transformation is happening right before our very eyes. According to KPMG's 2019 The Future of HR Report, two-thirds of HR professionals said the sector was undergoing a digital transformation. Despite this, only 40% had a roadmap to approach this new style of working. Not only will it free up your days to spend time on things you've always wanted to do in your role, but it will also allow you to be more strategic.
The future of human resources is here, and it's capabilities are only getting stronger and stronger. From gathering employee data and unveiling the world of people analytics, right through to managing employee benefits, the world is your oyster when it comes to HR tech.
Ready to learn how you can get back 80% of your time by making the switch to a human resources information system (HRIS)? Let's get to it!
Paperless onboarding
We know that onboarding is a time-consuming process that involves many different forms, policies, procedures, and without an HRIS in place, each process involves stacks of paper.
A paperless onboarding solution can see those piles of paper be gone, freeing you up to focus on creating a killer onboarding strategy for your new hires. If you're ready to ditch the filing cabinets and the hours spent on mindless HR admin, an HRIS could be just the thing you've been looking for.
Compliance confidence
Time and time again, we see companies who have gotten their HR wrong – and often when they do, it's front page news. This is a huge stressor for small businesses, especially those who are doing it manually in-house. With Employment Hero, you can have confidence that you're remaining compliant with our award interpretation, single touch payroll and work engine rules.
💡 Employment Hero has over 45 modern awards built into our system, so you can feel more confident you're doing the right thing. Don't become a company that gets caught up in a payroll scandal!
Seamless collaboration during the candidate management process
Recruitment and onboarding can be a time-consuming process, especially if you're managing multiple roles at the same time – not to mention all of the email trails, applicants and cover letters you need to manage. With Employment Hero, we want to give the power back to hiring managers to be more efficient and collaborative than ever before.
With our Applicant Tracking System (ATS), you can manage the entire candidate journey from attracting, right through to onboarding. Not only can it improve the process, it can increase your pool of candidates by over 40%. Our ATS and candidate management system enable you to post to multiple job sites with a single submission. We integrate with many different job boards including SEEK, Indeed, Jora and many more. But it doesn't stop here. Your entire team also has an overview of the candidate profile. Everyone can write notes, easily move candidates between stages, and onboard the successful candidate straight into Employment Hero, all with a few clicks. Finding and onboarding the perfect candidate for the role and your business just got easier.
Learn more about Applicant Tracking Systems👇
Simply manage and approve leave requests
Managing leave can be a long and difficult process if you're doing it all manually. With Employment Hero, you can empower your employees to submit their leave requests all from the mobile or desktop app. Managers will be automatically notified when an employee submits a leave request and able to view their leave balance before approving. Gone are the days of tracking leave on spreadsheets!
Easily keep track of company assets
Hybrid and distributed work is the way of the future, but how do you track company assets? Whether your employees are in the office or working remotely, it's important people managers track and record all assets employees are using. This can reduce confusion and ensure that everything is returned to the company when an employee leaves the business.
With Employment Hero, you can track company assets from within the platform using our Asset Register. Laptops, phones, iPads, furniture or tools, the Employment Hero Asset Register takes the headache out of accounting for company items. Spreadsheets are out and HR tech to track your company assets is in.
Keep all employee details in one secure, cloud-based platform
Ensuring your employees data is stored safely and securely is a number one priority for any business. The last thing you want is for sensitive and personal information to fall into the wrong hands.
With Employment Hero, you can have peace of mind knowing all of your employee information is stored securely. Employment Hero has achieved ISO 27001:2013 certification. This is an international standard on how to manage information security and requires significant effort to achieve and maintain. It's one of the best indicators that an organisation takes security seriously and has reached globally recognised levels.
Let Employment Hero improve your company culture, performance and employee engagement with our range of benefits
Managing employee engagement, benefits, whilst creating a great company culture is hard work. We want you to focus on boosting your employee engagement, designing initiatives to create a standout company culture and providing an employee offering that potential candidates just can't say no to. Employment Hero has a full suite of tools and features that can put your business ahead of the rest. Our Benefits entitle your team to:
Discounts

– Employment Hero's online store with discounts on thousands of everyday items including gift cards, health insurance, gym memberships, technology and more

Wellness

– A content hub written by experts full of education, advice and tools to help employees be financially, physically and mentally well

Savings

– We want to empower employees to be better financially. Our savings tracker allows you to set goals and track your progress.

InstaPay

– Give your employees access to their earned wages in real-time when they need it without having to wait until payday.
Ensure company-wide strategic alignment
For many businesses, staying aligned across the entire business is no easy feat. It involves processes, tools and software in place to achieve it – and ensuring this only gets harder as your business grows.
According to Forbes, company alignment can increase employee engagement and contribute to overall improved business success. To ensure strategic alignment, people managers can implement initiatives to help employees get the most out of their work. At the end of the day, everyone working at your organisation is on the same team and reaching one common goal.
Whether it's introducing a new goal framework like Objectives and Key Results (OKRs), one on ones (1:1s) or developing a culture where regular feedback is encouraged, there are so many ways you can ensure your employees and business goals are aligned – and you can see it all from within your Employment Hero Manager Dashboard.
Ditch the paperwork for good and let Employment Hero take you digital
Making the switch to a digital HR and payroll solution can seem daunting at first, but our team of small business specialists and HR education managers will be with you throughout the entire process. If you'd like to learn more about how Employment Hero can take your HR and people management to the next level, get in touch today.
Looking to take your HR digital? Download our guide. 👇
Guide to Choosing The Best HR Software