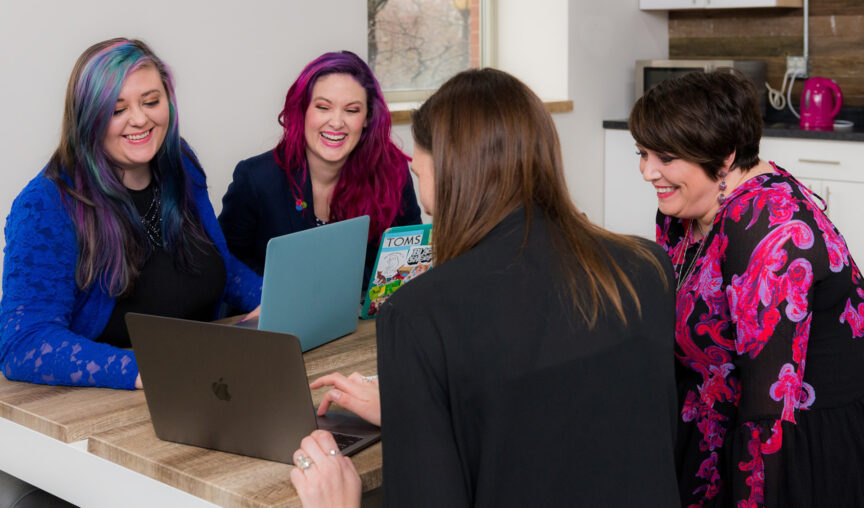 For any employees (regardless of their experience), the first few days at a new job can leave a lasting impression. There are dozens of people to meet, skills to learn, and questions to be asked. Onboarding isn't just about providing the tools needed for the job, but also providing an overview of an organisation's culture and an opportunity to build new connections.
Ideally, businesses want to make their onboarding as memorable as possible to prevent top talent from running out the door. Dynamic employee onboarding programs can help bolster employee retention by 25% and make recruits 69% more likely to stick with their new employer for three years.
What is an employee onboarding program?
An employee onboarding program is a process for welcoming new hires and helping them transition into their roles. The goal is to speed up the integration of new employees, reduce turnover, and improve job satisfaction. Onboarding programs can range from simple checklists to more extensive initiatives that last several months. Some common elements include:
A welcome pack from HR
An introduction to the team
A tour of the office
An overview of the company's history, culture, and values
Training in the company's systems and processes
Onboarding is an important part of the employee lifecycle, but it doesn't stop after the first few days or weeks on the job. Many businesses continue to support new hires as they settle into their roles with mentorship programs, lunch and learns, and social events.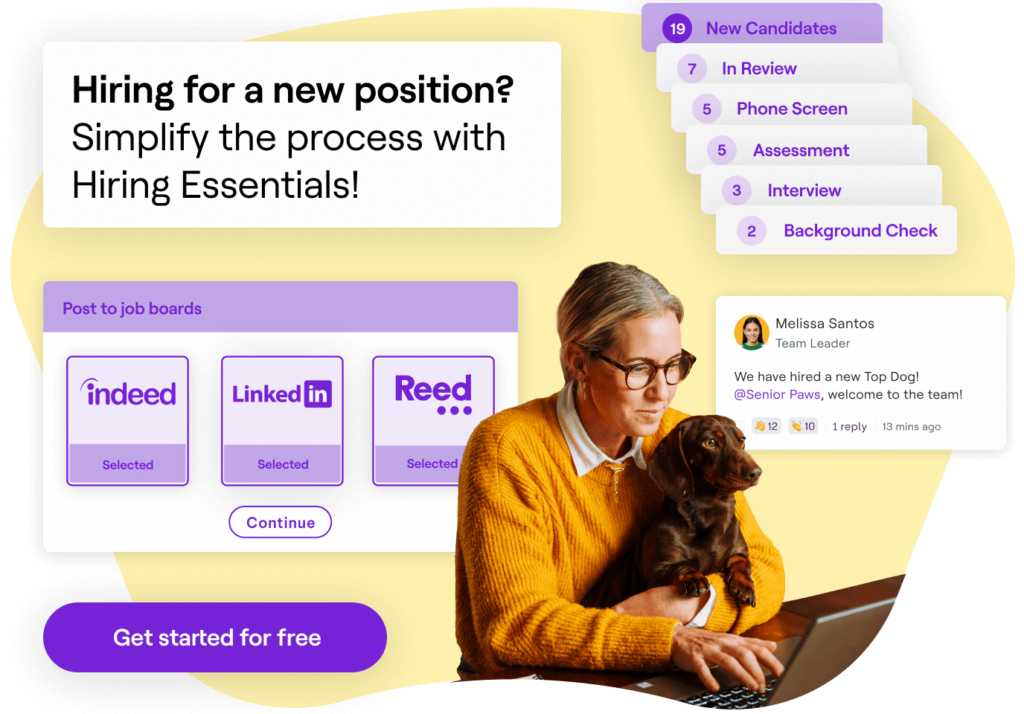 Tips to create the best employee onboarding experience
1. Use paperless onboarding
To make the onboarding process more streamlined and efficient, try a paperless onboarding solution like Employment Hero. Paperless onboarding stands to transform traditional, complex and paper-based processes into an automated and seamless digital experience.
Paperless onboarding has also been proven to reduce costs and the time associated with manual processing, all the while helping set up your new starter for success.
With paperless onboarding, paperwork like employment background checks or employment contracts can be sent and completed days or even weeks before the new employee starts – making it one less thing to worry about on day one. It also allows you to quickly send vital documents to your new starters at the click of a button.
Having all paperwork completed days or even weeks before the new hire starts will make for more a fun, engaging and memorable first day on the job. The sooner your new starter fills out all the necessary HR and payroll forms, the better. What once was a mountain of paperwork, can now be done online. Each form is filed and secured in one place, making the process easy to manage.
💡 Pro tip: If you have multiple new starters, have them start in cohorts. At Employment Hero our new hires start on a Wednesday in groups, so induction sessions are held together. We find inducting new starters in groups is an excellent way for them to build connections while making the process easier to manage.
The ultimate recruitment and onboarding guide
2. Prioritise team level onboarding
The majority of onboarding programs focus on centralised onboarding. Here HR managers brush over corporate values and company culture while placing little emphasis on team-oriented goals. However, the highest impact on productivity stems from onboarding occurring at the team level. At a localised level, onboarding programs should inform a recruit of the goals, priorities and success measures of their new team.
A lack of alignment within a team can negatively impact a task or project. Familiarising a new employee with the team's dynamics and workflow can help reduce any nerves. This will also allow for a better understanding of who they will be working alongside. Be sure to let new hires spend time with their new team members.
7 Companies with great onboarding programs
1. Twitter – Ensure your new starter feels welcome
What better way to make a new staff member feel right at home than a welcome pack? When it comes to onboarding programs, these are often considered an essential part of welcoming recruits to the team. A starter pack doesn't have to cost your business millions, and in the case of a hiring rush, you may well need a budget. It can be as simple as providing them with some company merch and a welcome letter signed by their hiring manager.
If you want to get a little fancier, perhaps some office snacks or a bottle of wine (to be consumed after work of course). If the budget allows, suggest that the hiring manager takes them to a team lunch or maybe just to grab a takeaway coffee.
A welcome package is a simple yet sure-fire way to excite new hires and calm the nerves before they've even walked through the office doors. It's also an excellent way to reassure them of their decision to join your company.
💡 Pro tip: The products you choose to include in a welcome pack should reflect company values. Say your business values sustainability, throw in a reusable water bottle or a Keep Cup. If one of your core values is learning and development, perhaps include a branded notebook and pens for any note-taking they may do. These small touches can show your new team members that you're going the extra mile, while showcasing your company culture.
Taking a 'Yes to Desk' approach, Twitter aims to make the period from saying 'yes' to a job offer, all the way to arriving at a 'desk' as welcoming as possible for a new hire. On their first day on the job, Twitter recruits have their login credentials, a branded t-shirt, tote bag and a bottle of wine waiting at their new work station. The day kicks off with a complimentary breakfast, followed by a tour of the company office, before receiving group training relevant to their role.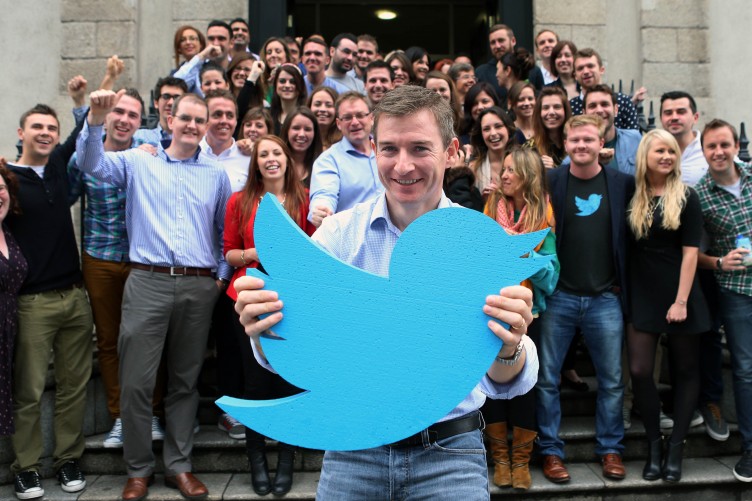 Source: Afterhire
2. Google – Prepare the people in charge
Since onboarding can often involve multiple people throughout the company, hiring managers are at risk of overlooking key details when facilitating a smooth onboarding experience. Onboarding is only one aspect of a hiring manager's role. Usually, there are 101 other tasks to juggle simultaneously.
Luckily, onboarding checklists provide a viable solution to this challenge by detailing each step involved in the onboarding program. Having a new employee onboarding template prepared can also remove some of the pressure on the hiring manager's shoulders, as team leaders can quickly take over when following the checklist themselves.
Google's analytics team closely measured each onboarding feature to determine what has the highest impact on a new hire's onboarding experience and productivity levels. Google found a simple reminder email sent to the hiring manager the night before a new employee starts, has improved onboarding results by a massive 25%. The concept of a 'just-in-time' reminder was established and implemented into Google's onboarding program.
Still to this day, Google's approach proves to be one of the most effective strategies. Rather than limiting managers to a structured regime, the just-in-time approach encourages a voluntary process that is decided upon by the new hire's manager. The checklist prompts the manager about the five small tasks that are proven to have the most significant impact on productivity. The tasks are:
Have a role and responsibilities discussion
Match your new hire with a peer buddy
Help your new hire build a social network
Set up onboarding check-ins once a month for your new hire's first six months
Encourage open dialogue
The recommendations cover everything from two-way communication, to building support networks and meetings with the new hire. By sending the checklist just 24 hours before the recruit's arrival, Google can ensure each component is fresh in the manager's mind.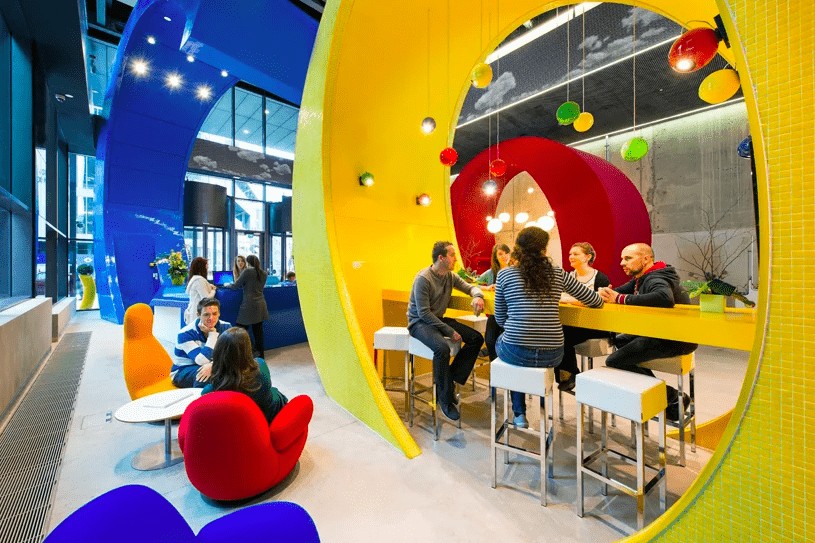 Source: Designboom
3. LinkedIn – Make them feel comfortable before they've walked through the door
If you can recall the last time you accepted a new job, you probably remember the whirlwind of emotions. From excitement to nerves to relief that the search is over. The first day of any new job is exciting. But for some people, the days leading up involve sitting in a puddle of nerves and anxiety. It's important to recognise the stress new hires endure when starting, and what strategies can be put in place to reduce this.
Ideally, you want your recruits to feel comfortable, excited and engaged in their role from day one. Consider providing new hires with a virtual tour before their start date. The tour can walk them through the onboarding process and any critical information or FAQs. Another idea involves sending your new hires some branded merchandise they can wear on the first day, so before they've even stepped foot in the office, they already feel a part of a team.
When designing their onboarding program, LinkedIn has poured their efforts into understanding what a new hire would look like from their onboarding experience. LinkedIn sends congratulatory emails to all new hires. This is followed up with an interactive PDF detailing their role and what to expect on their first day.
New hires also receive the LinkedIn Culture Code, which introduces them to #LinkedInLife. The campaign offers a sneak peek into the company's workflow and workplace culture. This onboarding strategy is an excellent way for new hires to feel comfortable, familiar and welcomed before they've even started.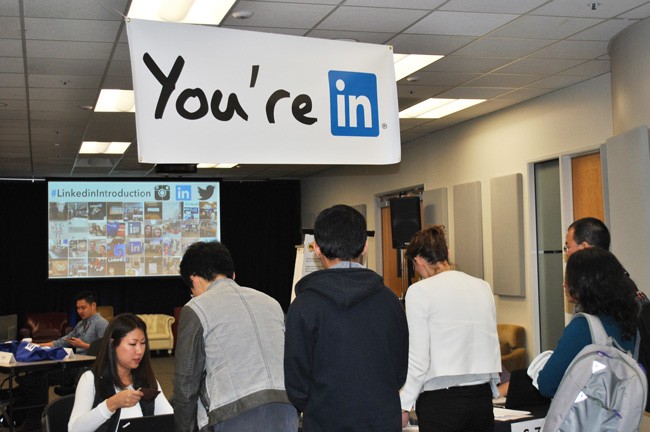 Source: Afterhire
4. LinkedIn – Ensure that the new starters have a dedicated workspace set up for their first day
Before a new hire begins, check to see if everything has been organised so they can jump straight in. Do they need a uniform, a laptop, stationery and logins? If their work involves a computer, make sure they can log on without having to call IT.
New employees should have access to all the accounts and login credentials they need. When they want to print something out, wouldn't it be nice if they instantly heard the reassuring 'whirrr' of a printer springing into action? Rather than the usual "Ah. You haven't received your printer ID yet? Call IT."
Or if you have recently hired someone who works remotely, do they have the right remote work setup for the role? At LinkedIn, hiring managers aim to immediately align recruits to their new role by providing all the necessary resources for work. Employees at LinkedIn receive a laptop with all the required software and communication platforms installed.
5. Microsoft – Implement a buddy program to help build connections
Who doesn't appreciate having a familiar face to connect with at work? Providing new hires with a buddy or mentor can significantly impact the level of productivity and retention in the workplace. There is no arguing the critical role managers play in shaping a new hire's adjustment period. However, a more comprehensive team approach can help build a broader support network.
While a buddy program may seem obvious to some, it is still often missing in a new hire's introduction to the company. Meaning one-on-one meetings with managers is the only form of relationship-building during their first week on the job. These days, it's becoming more and more common for employees to work collaboratively with other departments or office locations.
So, having strong workplace relationships and connections is the key to success. Getting your team members involved in onboarding programs is as simple as reaching out for volunteers. It's likely your employees remember what it felt like to be the new kid on the block. In this case, they will be more than happy to extend a helping hand.
💡 Pro tip: a buddy program works best when the mentor has a well-rounded and detailed understanding of the organisation. That way, they can answer any specific questions and provide useful advice.
A pilot study conducted by Microsoft revealed onboarding programs with buddies help to provide context, boost productivity, and improve new employee satisfaction. Microsoft also found a mutual exchange of value, as buddies can develop key leadership skills.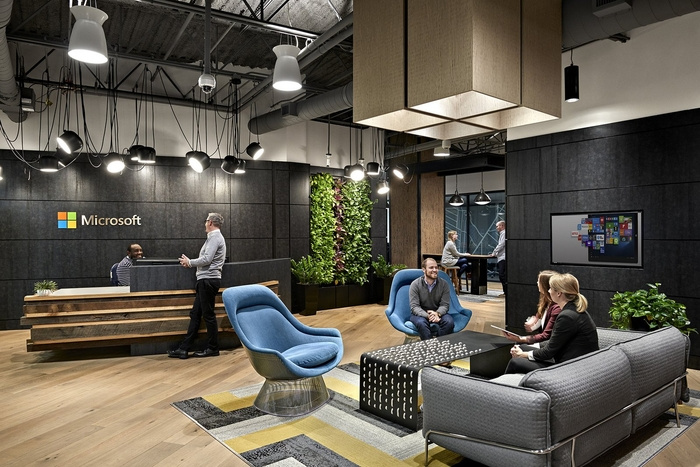 Source: Office Snapshots
6. Pinterest – Make them feel a part of something important
On a more centralised level, onboarding should cover your company's mission, vision and goals. At the core of each business, their functions are relatively similar. What sets each of them apart is their unique company culture. It's critical to infuse your organisational culture into onboarding processes. That way recruits have a clear picture of who you are, what you do and most importantly – why.
One of the most successful onboarding programs is Pinterest's 'Knit SF' strategy. Here the term 'knitting' is a core part of Pinterest's culture, which focuses on collaboration and unification. New hires at Pinterest engage in activities like peer-to-peer icebreakers and meetings with cross-disciplinary team leaders.
Pinterest encourages new hires to engage with their colleagues both in and out of their immediate team. This strategy shows how it takes a village to build a thriving organisation.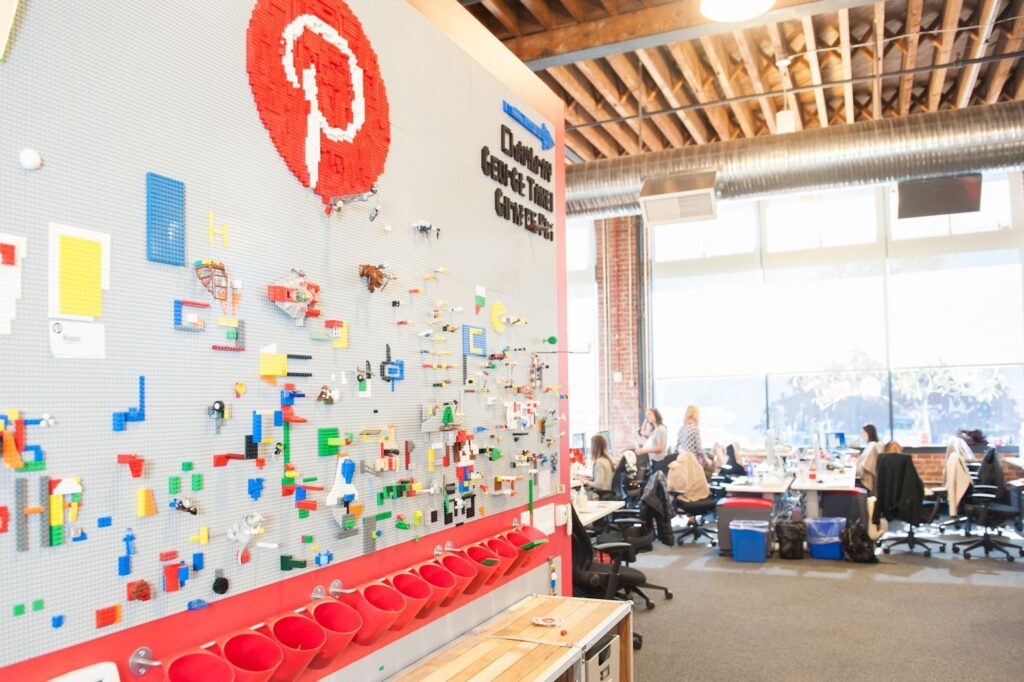 Source: Pinterest
7. Netflix – Encourage learning by doing
it's important for new hires to feel comfortable before starting their work. But in some cases, it's best not to overdo it. Sometimes it's necessary to get recruits down in the trenches while offering plenty of guidance and support. Small, manageable and impactful projects are the way to go when your new employee is starting. This way, they can learn by doing and feel a sense of accomplishment as they progress.
Netflix has one of the most dynamic and hands-on onboarding programs that encourage new hires to get involved from day one. The company places a significant amount of trust in their new hires' expertise by assigning them a project to work on.
Netflix starts the day with an orientation session with executive management. They introduce the technology, culture, mission and visions. All resources and equipment are provided in advance so the new hire can dive headfirst into their allocated project.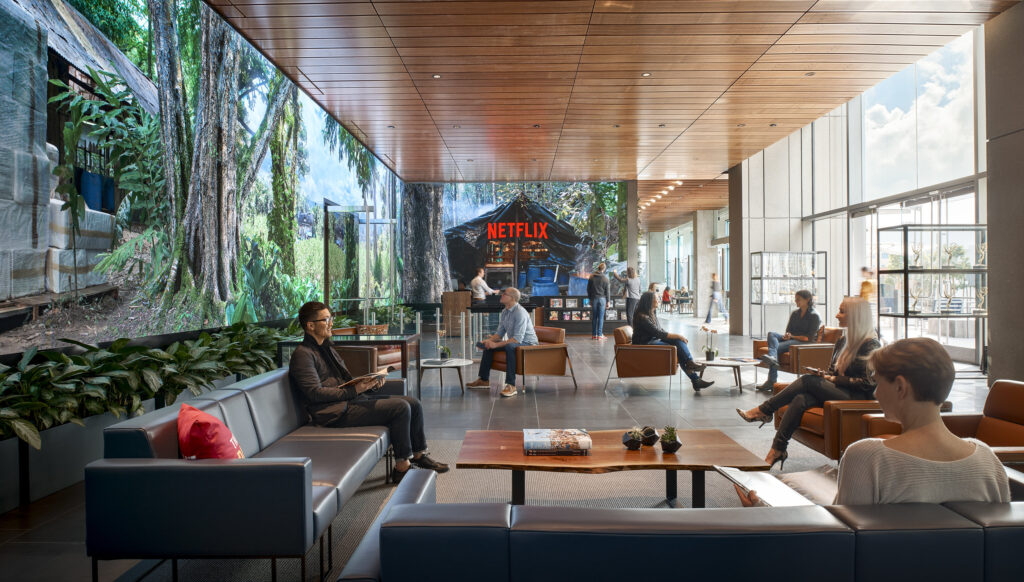 Source: Ryan Gobuty
Activities to make onboarding more memorable
1. Icebreaker activities
Using icebreakers in your onboarding experience is a great way to break the ice and make new starters feel like they know everyone personally (and vice versa). For example, LinkedIn gets new employees to grab sticky notes, and write their names and headline describing them as a professional, alongside an interesting fact about themselves.
They walk around the room sharing unique pieces of information about themselves, finding commonalities and discussing their backgrounds. Later, they write a "fill in the blank" phrase and throw it into a fishbowl. Occasionally, one person will pull a phrase and share their answer, allowing people to get to know each other (and laugh) throughout the day.
2. Scavenger hunt
Creating a scavenger hunt is not just a great way for new starters to understand where everything is in the office – they can also get to know people from various departments at the same time (you could get existing staff involved by making gaining information from them part of the hunt).
Waldorf Astoria in Hawaii took this idea to the next level by incorporating riddles that need to be solved, as well as the task of making an extraordinary lifetime memory for a guest while on the hunt.
3. Scheduled time with senior leadership
Part of getting a new employee embedded into the culture of the business is understanding the company's vision. This is why it's so important to involve senior leadership in your onboarding process. Twitter gets new team members to have breakfast with the CEO on their first day.
Additionally, they have a monthly new hire Happy Hour with the senior leadership team, and a rotating schedule of presentations on Friday afternoons where employees can learn about other team projects.
Effective onboarding can go a long way for your business
It's important to see other onboarding programs so you can understand the various approaches. While each program is unique, they all acknowledge the importance of providing fun and engaging experiences for new employees. In doing so, these companies can ensure that their workers feel valued and comfortable in their new working environment.
Nailing your onboarding can help to improve several significant business components, including employee productivity, performance and retention. As our economy begins to ramp up, it's time to start thinking about onboarding again.
💡 Pro tip: Our cloud-based HR software allows you to send contracts, policies and gather essential information such as bank and superannuation details before the start date of your new employee. The best part? It's all stored online and you're ready to hit the ground running from day one!
11 reasons to switch to Software as a Service (SaaS) HR