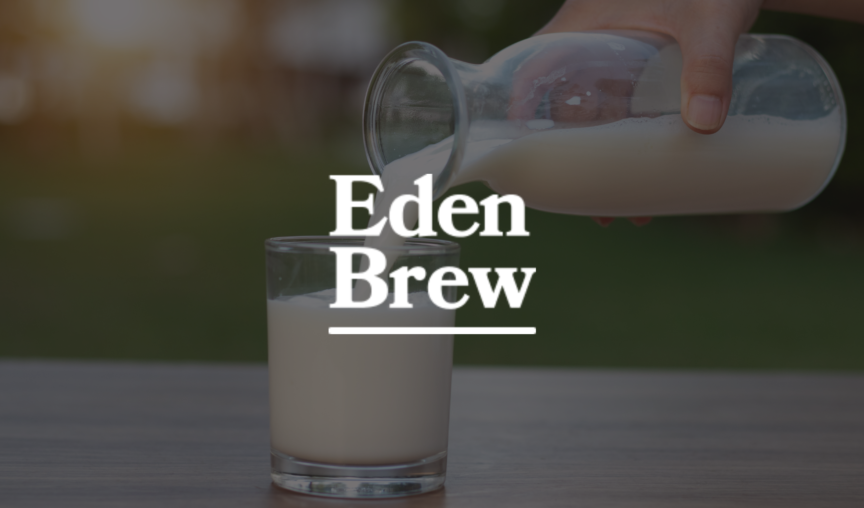 Eden Brew
Mittagong, Australia
8
Sustainable Milk
Explore this case study if:
You're struggling to find specialist talent
You run a rapidly expanding start-up or small business
You've identified a perfect team member internationally
About Eden Brew…
Eden Brew is an Australian-based company that's changing the way we think about milk. Their mission is to create delicious animal-free, precision-fermented milk the whole world can enjoy, sustainably. 
We spoke with Anna Oxley Rintoul, Head of People & Culture, about the difference Employment Hero's Global Team's service has made when it comes to their international hiring.
Challenges…
Big ambitions
Driven by a powerful mission and market demands, Eden Brew is growing quickly. As they scale up their production, their team also has to expand rapidly.
"Eden Brew is a pretty early scale-up with a lot of ambition and already has achieved a huge amount in a short time," says Anna. 
"We're still a pretty small team, but we have very big ambitions to grow quite quickly. We are really excited about building out our science team to start with and then building out the team that we require to scale up the production of our product."
Accessing great skills 
Every savvy business knows the importance of creative direction, and Eden Brew found the perfect person to bring their brand to life. The only problem was that he was located in New Zealand.
"Pete Chen is our creative director who currently lives in Auckland," says Anna. "He's very passionate and he's a committed vegan. He's also very passionate about sustainability. He's got a real personal connection with the product and he really wanted to get involved with us, which is great because he's a genius creative director."
"He is a New Zealand National. And so we weren't really familiar with the employment obligations of hiring someone living in New Zealand."
Specialist talent beyond borders
Eden Brew's international hiring needs weren't limited to one international employee. The future-thinking company has already identified additional specialist talent requirements. 
"The talent that we need to find for our science team are highly sought after, and they are all across the world," says Anna. 
"You know, they're in northern European countries and in the UK, they're in Singapore, they're in Israel, they're in the US. And so we want to get the best people out there, but not everyone wants to move to Australia. You know, we'd love it if they did, but that makes it harder, if that's the condition of hiring them."
Solutions…
Easy global hiring
Hiring someone internationally, especially when you don't have a business entity in your employee's country, can be an incredibly challenging task. With so many legal requirements to navigate, global hiring hasn't previously been accessible to an emerging scale-up like Eden Brew.
But services like Global Teams are changing things, and evening the playing field for small businesses when it comes to global employment.
"Rather than us spending the time working that out ourselves or engaging expensive lawyers to do that for us, we understood that we could employ people through Employment Hero," says Anna. "So we got to understand the process. And it was really, really easy."
International currency confidence
It's not just international hiring regulation that can be complex, international payroll also requires specialist knowledge. Our Global Teams experts are across everything relevant to your team member's employment, and can guide you every step of the way.
"It was really nice that we could have faith and confidence that we were employing Pete according to all the obligations that he was entitled to as a New Zealand citizen," says Anna. "We made sure that we were doing all the right things by him."
"Another thing that we didn't really have to deal with was thinking too much about currency changes. I mean, obviously, the Australian dollar and New Zealand dollar are not that different, but still knowing that there was a solution already in place, it was great."
Support whenever you need it
Navigating new terrain in your business can be intimidating, but the Global Teams specialists can make sure you're feeling confident and informed from day one. We take the time to understand your business' unique needs, and provide plenty of support.
"I felt like the process for me to understand how the system worked was really good," says Anna. "You had someone who understood the product and who could talk about it. And then once we agreed what we needed, we had an implementation manager come in and take us through at all." 
"If we wanted to follow particular processes of how to do something, there was a follow up. There was lots of support, and it was clear to me who to contact if and when I needed to. So it really felt easy."
Talent is everywhere
When you're building innovative new businesses, you need incredible talent to bring your vision to life. Sometimes, especially when your HQ is located in a remote area, specialist skills won't just be on your doorstep. But that shouldn't stop you from hiring the world's best. 
"Employment Hero understands the idea of talent being everywhere," says Anna. "It's a solution that allows us to really start to look offshore without thinking about whether that's too much of a problem."
If you'd like to learn more about how Employment Hero's Global Teams can help your startup or small business gain an incredible competitive edge – speak to one of our business specialists today.