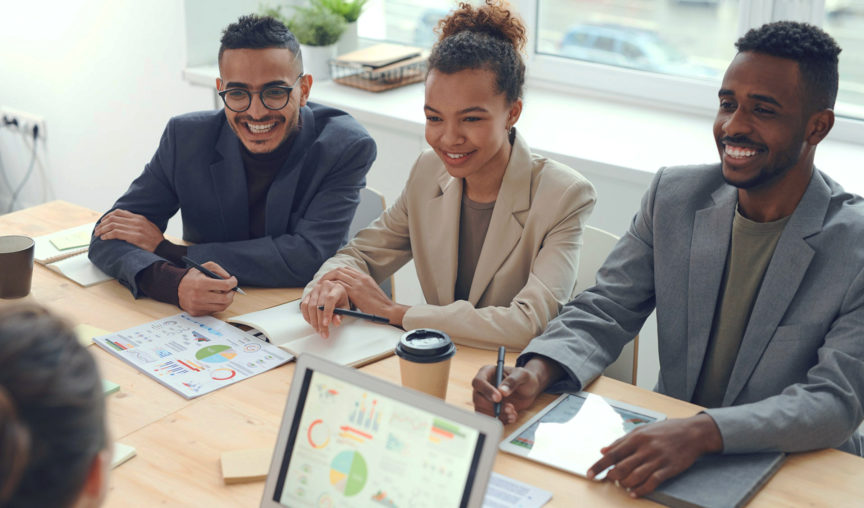 Welcome to our employee recognition feature, Shout Outs. It's widely accepted that employees who feel recognised and appreciated make the best employees.
They tend to be happier (translating into happy office vibes), they're more engaged in their work and the business and they are more likely to stay with the business longer. All round wins. As humans, we want to feel appreciated.
The problem is, our lizard brains are so trained to look for danger that when we hear negative feedback, someone has to give us four pieces of positive feedback for us to actually feel appreciated.
So with all this in mind, we created an employee recognition tool… Shout Outs.
What are Shout Outs?
Shout Outs are an employee recognition feature and are displayed on the Company Feed inside the Employment Hero app where anyone in the business can thank someone else for helping them out. They might have saved the day on a massive project, stayed behind to teach someone a new skill or just been there to make them feel better.
The whole company will be able to see the feed and can show their appreciation and support with emojis. It's a great way to help call out all those quiet achieving Heroes and say thank you for their hard work.
How do Shout Outs work?
When you log into Employment Hero on your desktop, you'll see the Company Feed on the main dashboard. Simply click on "What would you like to share?" at the top of the feed.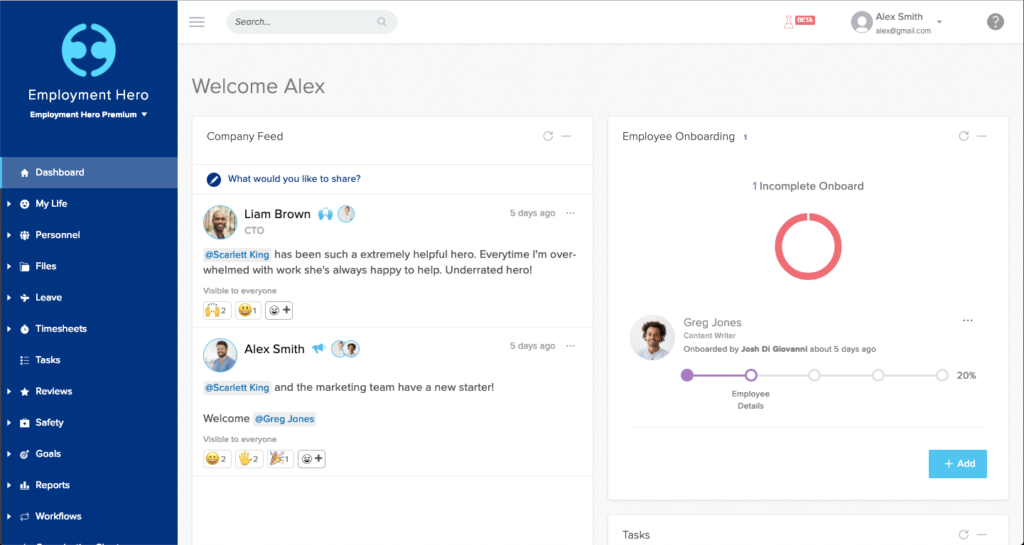 Shout Outs ScreenshotFrom there you'll be able tag the person you'd like to thank typing @ followed by their name, then writing your message of thanks. Once the message is live, other team members can like, smiley face or add any standard emoji to show their support.
(P.S. Managers also have the option to write a whole company message without needing to tag someone). On a mobile device it works exactly the same, but you'll find the feed by clicking on the speaker button at the bottom of app screen.
Understand who's appreciated and who's appreciating
We've also enabled some pretty cool reports with this employee recognition software. Employment Hero admins, who control and run their systems, will be able to see who from inside the company is being thanked the most and why using this handy report.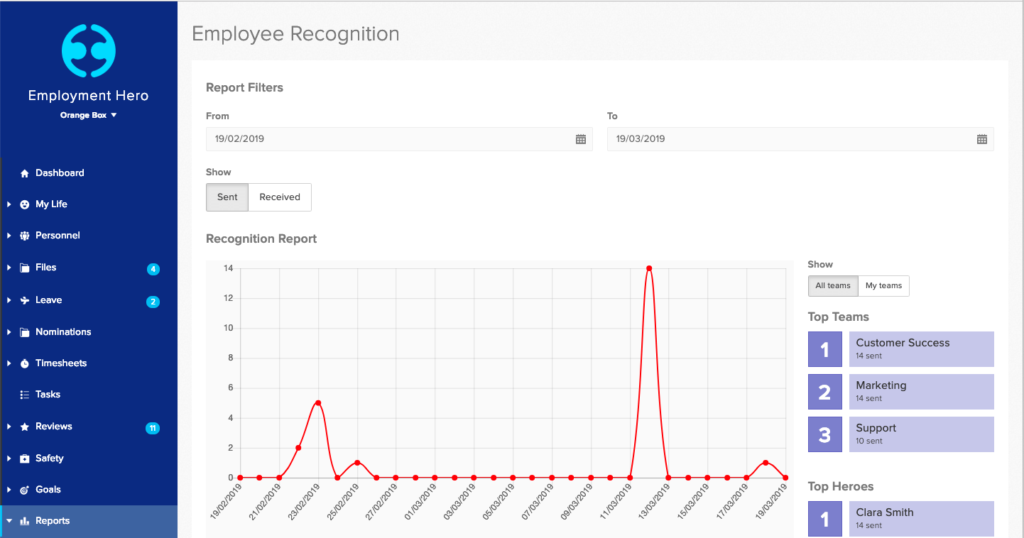 Shout Outs ReportAbility to see top teams and top heroes, as well as the number of 'thanks' given over the last month.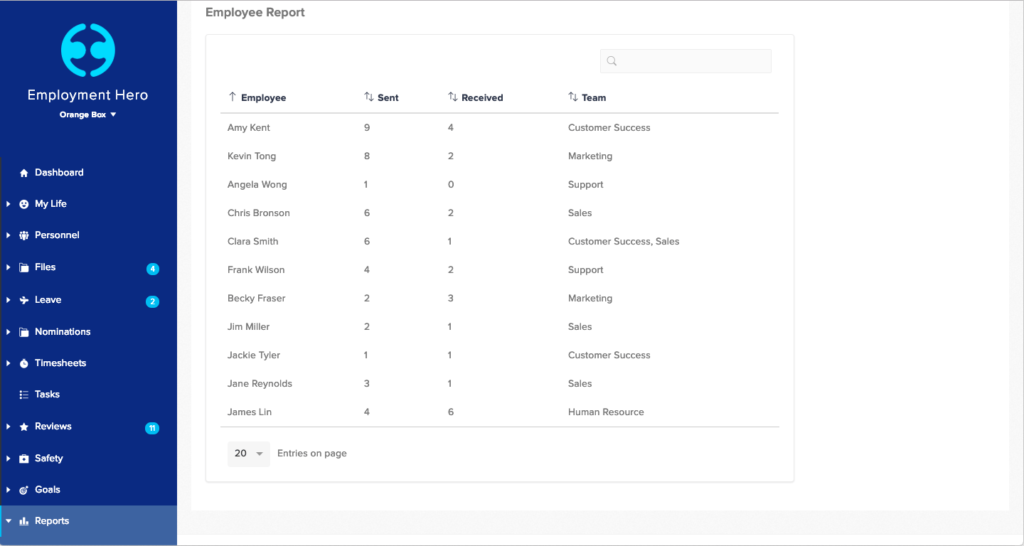 Shout Outs Leader BoardThe ability to see the top users who have sent and received Shouts Outs, as well as the team they are located within. You'll also be able to see exactly who is thanking people the most to understand which team is the most engaged and showing appreciation for their colleagues. Admins can filter reports by individuals or teams.
Managers will have access to the same reporting, but exclusively for their teams rather than the whole business.
Can we moderate the feed?
While we believe in transparency, we know sometimes things need to be moderated (or a spelling mistake corrected). That's why we've given Employment Hero administrators the ability to edit or delete comments on the company feed.
What's everyone saying about Shout Outs?
We've been in open beta with Shout Outs since 9 October 2018 to make sure we got it exactly right.
Some of our customers who are already using it say:
Mikaela Jessup – People Operations Manager at Molonglo Group

"I love the idea of Shout Outs! I think that public recognition from managers and peers is incredibly valuable."
Chantal McCrae – HR Director at DBM Consultants

"When employees feel that they are valued this has a direct impact on their engagement levels, and in turn the overall success of the business. Having a technology solution that allows for public recognition has helped with our staff motivation levels."
Nano Burke – General Manager at Inspire Administration Services

"I love this feature. I can also send reminders to all staff for a variety of reasons. Birthday shout outs have been well received with all staff getting on board to make a special day even better."
Liana McGrath – Group Accountant at Pickerings Investments

"Gives us an opportunity to thank someone special"
What else do I need to know?
Nothing at all. Shout Outs are live on our platform and is ready for you to use now. We hope this helps showcase some of the awesome Heroes who are working inside your business and build your culture to make a better world at work.
PS – Keen to learn more great ways to thank your team? Check out our blog on ways to foster happiness at work.