Remote work. It's a concept many of us have become very familiar with over the last few months and one that we've been forced to adapt to quickly.
Whether you enjoy working from the comfort of your own home or find yourself dreaming about getting back in the office, it looks like many elements of remote work are here to stay – and for us, we couldn't be happier.
With many companies shifting their entire workforce to remote working, there's never been a better time to embrace this change moving forward.
What's in the remote-first playbook?
As our world at work continues to change, we can expect to see the rise of the hybrid workforce with a remote-first approach to working.
If you're like many, unsure of how to effectively manage your team's needs after the period of working from home, we hope you find this playbook helpful in determining how to manage your team in a remote-friendly first way.
What can you expect to learn from the Remote First Working Playbook?
What is a remote-first model?
A remote-first model is used by remote-friendly companies to allow employees to work fully remote instead of having to go to a physical location (a.k.a the office).
Having a remote-first culture provides your employees with the flexibility they need to work when and where works best for them and their current situation.
Prior to the pandemic, many workplaces had the vast majority of their team in the office every day.
Day in, day out, we'd commute for hours and be left feeling exhausted before we even arrived at the office.
It was a routine that for many of us, was all we'd ever known. But it doesn't have to be this way.
At Employment Hero, we are a remote-first company. Our remote-first approach involves two components:
Work remotely
Socialise locally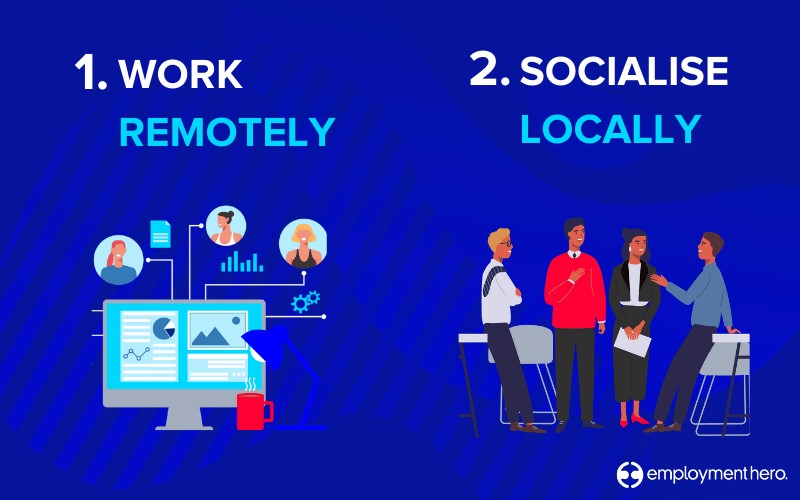 So what does this actually mean? We complete deep work at home and use the physical office location as a place for socialising and collaboration
Without the daily interactions that were once had amongst co-workers in the office, it means that you should invest more time and energy into getting everyone together.
Whether this is holding social events weekly, monthly, quarterly or yearly, the ball is in your court when it comes to finding out what your employees want.
The best part about a remote-first approach? You can still support those who are unable to work from home effectively as they have the option to work in the office every day.
This gives the power to your employees to choose how and where they work most effectively.
Read more: Our insights on remote work in 2022.
Why should you consider switching to remote-first?
The shift to remote work has freed up those empty hours spent commuting.
In return, your employees are most likely feeling more engaged and inspired and have a greater sense of work/life balance – all of which are known to contribute to greater business success.
By now, you will know if the shift to remote working has been beneficial to your team.
If the shift has been positive, you'll likely be nodding your head to these questions. Did you see an uplift in productivity? Did you see an improvement in your employee happiness score? Is your remote team overall more creative and innovative?
With all of these questions now being asked, there's one common denominator at hand – that your employees are enjoying the benefits associated with their newly found flexible work arrangements.
Is a remote-first approach right for my business?
It's important to remember that a remote-first workforce isn't a one size fits all approach and won't be suitable for everyone.
It depends on a variety of factors such as the type of work being performed or the equipment needed to complete the work.
If a remote-first approach isn't suitable for you, don't be discouraged. Instead, use these and continue to develop them moving forward.
Read more: How to win the war on talent shortage
What are the benefits of a remote-first workplace?
1. It instantly opens up your talent pool domestically and internationally
Gone are the days of attracting top talent within a 50km radius of your office. With a remote-first approach, there are no boundaries when it comes to location.
This means that your talent pool instantly increases tenfold, meaning you have more choice when it comes to attracting and hiring top talent globally.
Better yet, this can lead to a decrease in time to fill roles and can save you money in the long run.
Read more: Outsourcing employee hiring with a PEO
2. Allows for greater work-life balance and integration
We know that working remotely instantly grants your team greater work/life balance. If you approach remote first with an open mindset and great trust for your team, you'll reap the benefits.
If you want to attend your child's athletics carnival, do it. That mid-morning ocean swim, go for it. If you want to go out for a yoga class at 4 pm, we trust you.
It's things like this that can make all the difference, and if you're worried about people not making up their hours — this is where you need to trust your team to do the right thing.
The shift in mentality to output over hours can be the best thing you do for managing remote teams.
Instead of micromanaging, the trust you instil in them will allow them to feel empowered to complete their best work. It's a win/win situation, but it doesn't stop there!
In addition to it contributing to increased business profitability, there are many additional benefits of adopting a remote-first approach.
For example, remote employees can now move closer to their family who lives rural whilst still earning a good wage.
This means that this employee can support the local economy whilst still being able to work remotely.
It's a case of supporting your team members with greater flexibility so they can choose where and how they choose to work and live.
Read more: Pro tips for working from home
3. Creates an inclusive working environment
When introducing remote working to the mix, you create the opportunity to improve inclusiveness and diversity within your business.
This approach can help reduce inequality by creating more equitable employment opportunities for those who may not have the opportunity otherwise.
People such as working parents, carers, people with disabilities and those unable to commute to the office due to their geographical location have often been excluded from the full range of career options.
When we also remove physical barriers, personal prejudice and bias can reduce.
The whole person is considered beyond what they look like as employees will be judged on their output rather than in-person assumptions.
Essentially, remote work can create a more diverse and inclusive workforce, and we know that this has many long-term benefits.
Your business will perform better, and more importantly, you'll be creating a more just future for all, no matter their background.
Read more: Implementing a hybrid working policy at work
But what about those who are hired who don't live near the physical location?
This is where our second part of the remote first approach comes into play – actively organising social events so that your remote workers still have the opportunity to socialise with their remote team members.
Whether you bring everyone together once a quarter or once a year, it's up to you and your team.
Read more: How to improve the relationship between remote team members
4. Improved employee retention
Based on our recent remote working survey of over 1000 Australian employees, the general outcome was that remote employees are enjoying the experience of working from home.
By introducing flexible work policies, businesses stand to improve their desirability, increase retention rates and create a healthier (and thus more productive) work culture.
In fact, 55% of remote employees would look for a new job if the remote working option were taken away.

Read more: Benefits of having a distributed workforce
Learn more about remote-first working
At Employment Hero, we believe that a remote-first workplace is a way forward. It allows greater flexibility, improves employee happiness and productivity.
So, with all of these benefits front of mind, it just makes sense to embrace the remote first way.
Download our remote-first working playbook now.
Already a remote-first workplace and want to expand globally? Using an employer of record service like Employment Hero helps navigate complex employment laws when hiring internationally.
Reach out to our business specialist today to find out more!