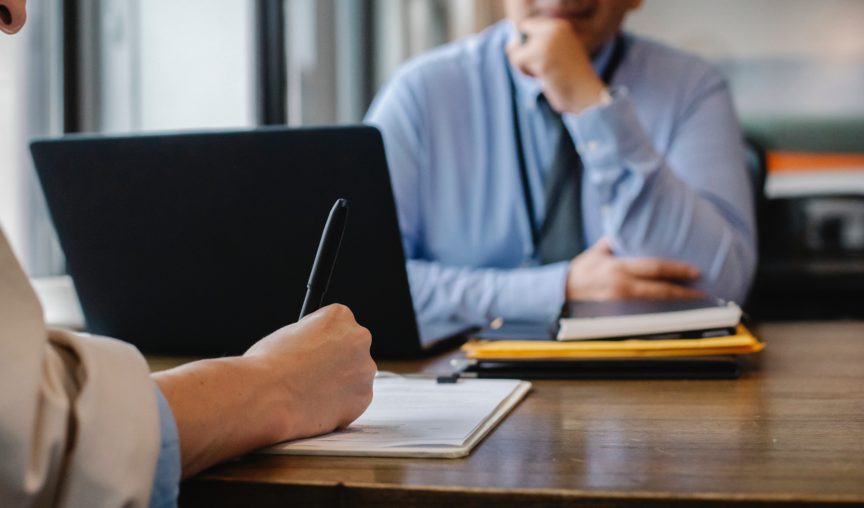 Money is a taboo topic and let's face it, whether you're an employer or an employee, conversations about employee salaries and compensation can be uncomfortable.
For most of us, we were raised with the belief that talking about money was never a good idea and even rude. We were taught that your salary should be kept private and not be discussed in public.
With these thoughts ingrained in our minds from a young age, it leaves us with very little experience when it comes to talking about compensation in the workplace.
While it can seem like a difficult and awkward conversation to have, if you're in a management position, it's one that you'll continually face throughout your career.
With some practical tips and preparation under your belt, we'll help you feel prepared when walking into a compensation conversation with your direct report.
How should you approach a compensation conversation?
Talking about employee compensation and pay ranges as a manager can feel like a difficult topic to breach. You'll have to be prepared for all outcomes when you discuss pay with your employees. Approach the topic gently and ensure that you're actively listening when it comes time for the employee to respond.
Pay and compensation are one of the most common ways that employees feel rewarded for the work that they're doing, so it's critical that you approach it professionally and with consideration.
According to Harvard Business Review, you need to "remember that how their employees feel about compensation matters just as much as what they're actually being paid".
How do you prepare for discussing employee's pay?
The last thing you want is for your employees to feel that they are undervalued and are not being paid fairly. Employees end up losing trust in you and the company because they don't feel adequately appreciated.
Heading into a compensation conversation, you want to make your team feel as comfortable as possible. Try to be mindful and understand the employee perspective when it comes to discussing their pay rate.
It's important to remember that the last thing you want is your team being scared or extremely anxious at the thought of having a compensation conversation!
1. Do your research and have market examples prepared
With any compensation conversation, you need to be prepared for your employee to ask how management arrived at the decision.
You want to reward your team for the contribution they've made and let them know that they are a valued part of the team.
Whatever you present to your direct report, you should prepare to provide reasoning on why that particular compensation decision was made – whether or not a pay raise is in place.
Harvard Business Review suggests "employers today should arm managers with accurate market data reflecting talent markets to base the conversation".
Information to include when researching industry pay
You should consider the current pay range for the employee's role, what competitors are paying for similar positions and also what the general talent market is doing.
Remember to include other important elements such as employee benefits and leave entitlements offered by other organisations.
If your company can't reach salary expectations or have low compensation budgets, you should be as transparent as possible, letting them know of the situation at hand.
The most important part is providing pay transparency with valid reasoning to back it up.
Having the industry standard pay compared to their current salary will allow employees to make informed pay decisions when it comes to negotiating employee compensation.
By including the standard pay and all the other factors in the industry, you show your team that you've done significant research and that you aren't just pulling a number from out of thin air.
Looking for salary guide examples? Check out Hays, JobStreet, Michael Page, Robert Walters, and Persol Kelly.
2. Be prepared for questions employees have on salary expectations
If your employee has done their own research and believes that they're worth more than the initial compensation package presented, they may want to negotiate. Be aware that you might not have the authority to decide on the actual amount available for negotiation and may need to submit it to the leadership team for review.
With this in mind, you should encourage your employee to make a document with reasoning why they're asking for salary adjustments, ensuring them to be as specific as possible.
After all, you should be the biggest cheerleader for your direct reports, and if they present a fair and compelling negotiation to be approved by the leadership, you should be as supportive as possible.
From here, book in time with the leadership team and discuss the outcome of the negotiation.
Once you've come to a decision, meet with your employee to discuss the final compensation plan and again, explain the reasoning behind the decision.
3. Follow up with a professional development plan (PDP)
Whether your employee has just received a promotion or not, you should always have a plan in place for career progression and professional development.
Training and development benefit not only the employees personal growth but also the entire business. Not to mention the benefits that they'll personally experience, like feeling more empowered, effective, satisfied and committed.
So, what exactly is a professional development plan? A professional development plan (PDP) is a roadmap that outlines the new skills, strategy, and education your team members need to further themselves in careers and life to achieve their professional goals.
How to coach and develop employee potential
Managing employee career goals with a PDP
Having a professional development plan in place for your team can help managers guide conversations for career growth, including things like:
Helping them move up in your company or to leadership
Bringing their area of responsibility to the next level or scaling it
Working towards a promotion (and salary increase)
Helping them improve their technical or interpersonal skills
The secret to getting your team to step up to the next level is to have a professional development plan and implement it.
If you're looking for a professional development plan template, we've got you. It will provide you with an actionable plan to help your team develop their skills in the workplace.
Download the professional development plan template here. 
4. Ensure all changes to employee compensation are documented
When changes occur to employee compensation, it's important to keep everything properly documented. You'll need to update your finance team to ensure that their base pay increase is reflected in your payroll system.
If you decide on a salary increase that doesn't come into effect immediately (e.g. 5% increase in six months' time), you should also document the dates in your people development software.
This ensures that all details are in one place, and if they're changing roles with a new job title, you should have them sign a new contract, reflecting the changes in the salary range and any new performance requirements.
If your company offers additional compensation such as bonuses, additional training or share options, you should also outline whether there will be changes to this part of their package and also document this data.
5. Hold a training session with managers around compensation conversations
As a whole, you want your team to be prepared for these conversations. It's likely that you have many managers in your company at all stages of their career journey. Some might have years and years of compensation conversation experience, whereas others might be facing them for the first time.
If you have the time and resources available, ask your HR or leadership team to schedule a training session or lunch and learn about compensation conversations. It will help everyone develop their skills and prepare them for when salary review time comes around.
It's time to talk to your team about compensation
Having productive and transparent conversations about pay can make the topic less scary for both you and your direct reports. It all comes down to preparation and effective communication.
You want to discuss salary and benefits professionally and be prepared for negotiation conversations, and with a little bit of practice, you'll be navigating compensation conversations like a pro in no time.
Payroll Guide: The Basics of Payroll In Malaysia
Learn more about payroll in Malaysia with our complete guide.