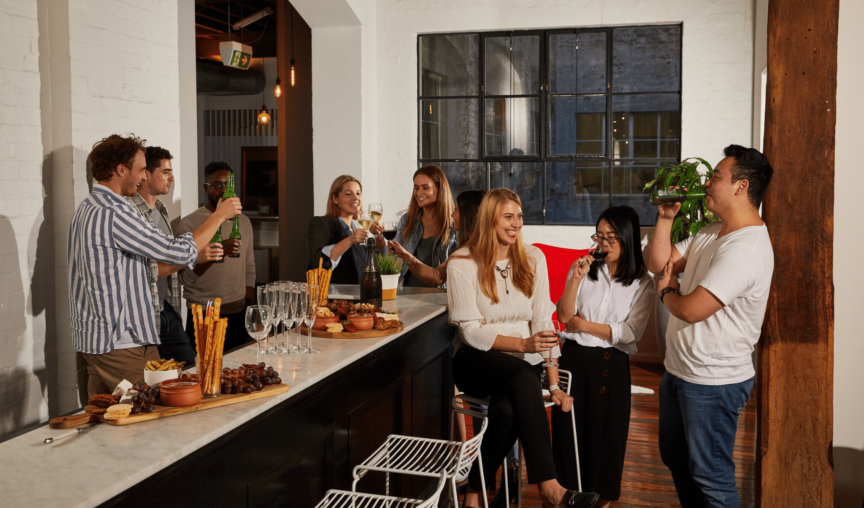 Nothing sparks more excitement than getting a calendar invite to a team-building activity, don't you agree? With sunny days aplenty here in Singapore, and the loosening of restrictions — it's the perfect excuse for a change in environment and some good fun.
What is team building and why is it important?
Team building is essentially the process of creating a connected and cohesive team by bringing people together to foster strong relationships. This is important to businesses because it improves communication, productivity and performance — resulting in a better company culture and enhancing employee engagement, ultimately spurring the company's growth to success.
It's also a great retention tool. According to our Employee Movement and Retention Report, one of the top three reasons why Singaporean workers are looking to change jobs is the lack of appreciation in the workplace. Team building is a great way for the company to show appreciation for their employees' hard work.
What makes a great team building event?
Planning a team building event can be difficult with so many different personalities and preferences to cater to, but hardly anyone would decline a company-sponsored activity if it's interesting, engaging and fun.
It's best scheduled during work hours — no one wants to be taking extra time off their weekends or after work. Here's a pro tip: schedule it on a Friday so employees can ease into the weekend.
Going offsite to a whole new location allows employees to interact more freely in a more casual, relaxed setting so try not to hold it at the office itself. Anything that encourages collaboration, conversation and a healthy dose of competition can't go wrong.
The best team building activities in Singapore
Here are our top picks for the best team building activities in Singapore — even if you're a small company, fret not, we've got every budget catered for. From affordable options to more luxurious ones, find the team building activity that best suits your company on this list. You're welcome!
1. Picnic at the Botanic Gardens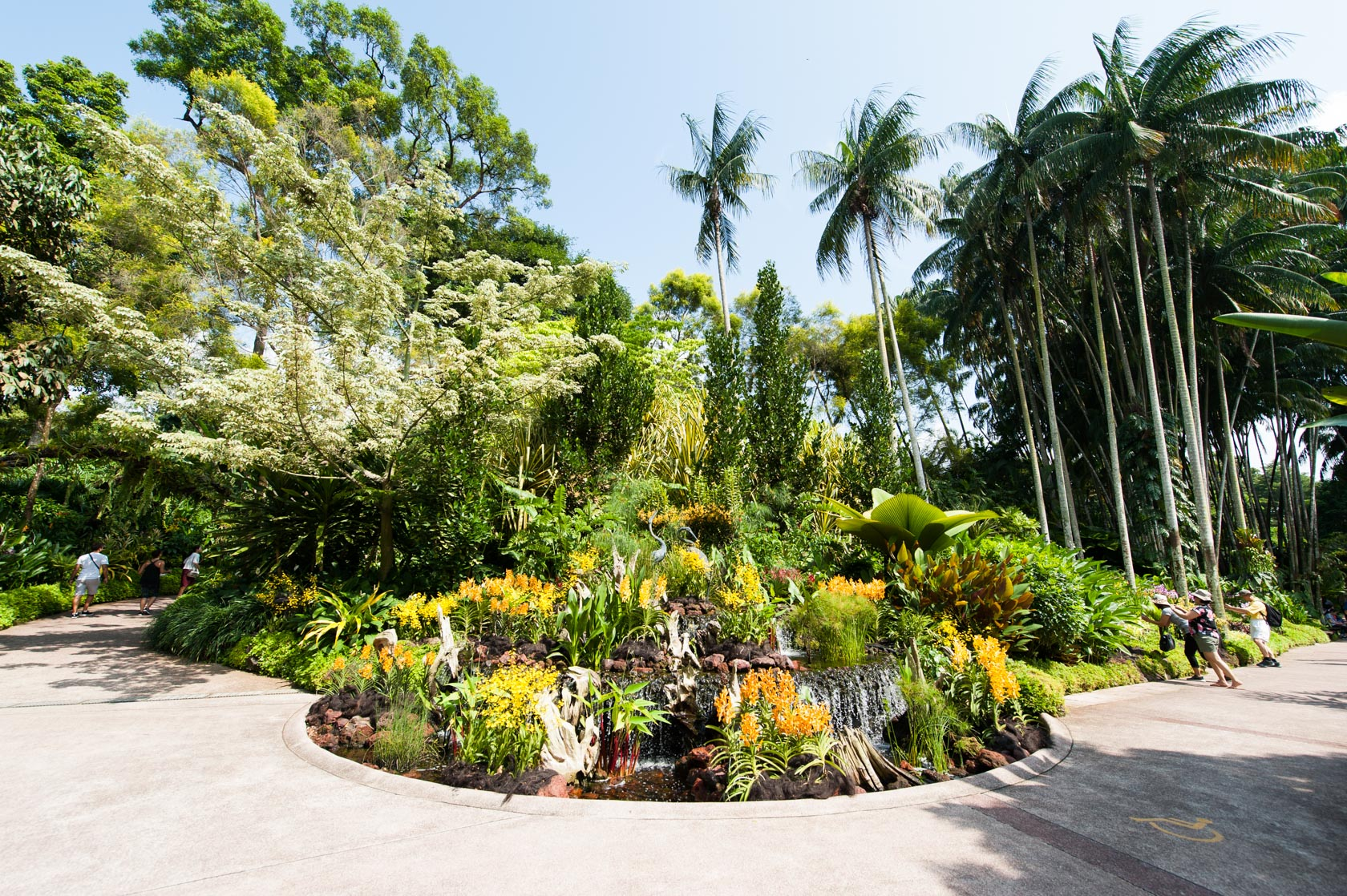 Boasting open green spaces with all kinds of flora and fauna, fresh air and picturesque views, the Singapore Botanic Gardens is the perfect place for a leisurely afternoon of team bonding. The best part? Admission is free. There are plenty of spots to explore such as the Ethnobotany Garden, Ginger Garden, and the National Orchid Garden — ideal for learning and sharing new botanical fun facts.
Head to a gazebo for some shade or lay out some picnic mats to soak up the sun, indulge in good food, and play a round of frisbee or two — the sky's the limit with what you want to do! If there are any avid bakers or cooks in the team, a potluck picnic would be a fabulous idea as well to share delicious home cooked treats with each other.
Budget: $
Address: 1 Cluny Rd, S259569
Group size: No limit
Pricing: Free
Opening Hours: 5 am to 12 midnight daily
Website: https://www.nparks.gov.sg/sbg
2. Cycling around Pulau Ubin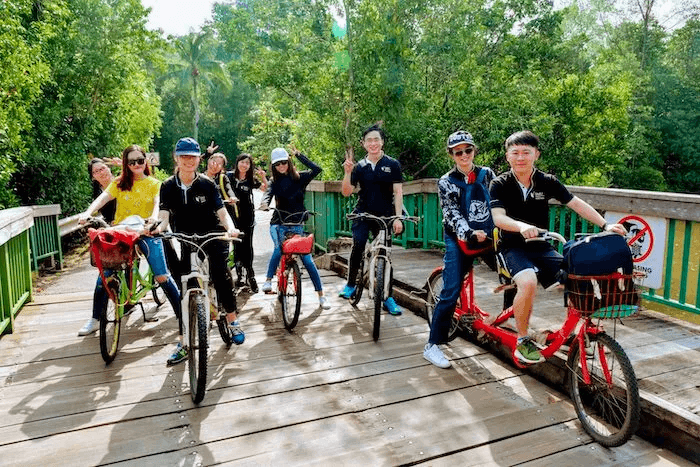 A rustic haven off mainland Singapore, Pulau Ubin is a lovely island frozen in time — offering breathtaking views and a glimpse into life in the olden days. Accessible by bumboats via the Changi Point Ferry Terminal, each boat leaves once there are 12 passengers on board. Cycling is the best way to explore the island with no vehicles around — it makes for a fun team building activity that gets your exercise quota sorted, and everyone can explore the area at their own pace.
Bicycle rental shops are located near the jetty, and there are plenty of options for all ages and sizes — basic bikes, tandem bikes, mountain bikes, kids bikes and more! Highlights include Pekan Quarry, Puaka Hill, Chek Jawa Wetlands and Jejawi Tower. Shops at the Ubin Village centre sell refreshments and desserts, or everyone can head to any of the restaurants for a sumptuous seafood dinner together.
Budget: $$
Address: 40 Jln Endut Senin, S508291
Group size: 5 to 100 pax
Pricing: Dependent on group size
Opening Hours: Last ferry usually leaves Pulau Ubin at 6pm
Website: https://teambonding.com.sg/programs/amazing-race-pulau-ubin/
3. Dragon boating in the Kallang River/Marina Bay
Want some adrenaline-pumping fun? Dragonboat Innovate provides 1.5 to 2 hour sessions of dragon boating in a casual and relaxed setting, ideal for strengthening bonds and creating wonderful memories. Trainers will be around to guide you through an introduction to this sport, regardless of your skill or fitness level.
You'll not only learn the basics and commands used by professional teams all over the world, but feel a thrilling rush as you compete in a race with your fellow colleagues! Good team work is needed for sure. Do I hear someone say 'bring it on'!?
Budget: $$
Address: Tong Lee Building Block A, #08-03E, 35 Kallang Pudding Road S349314
Group size: Flexible
Pricing: Dependent on group size
Opening Hours: N/A
Website: https://www.dbi.com.sg/dragon-boating/dragon-boating-programs
4. Graffiti fun at Heaven Spot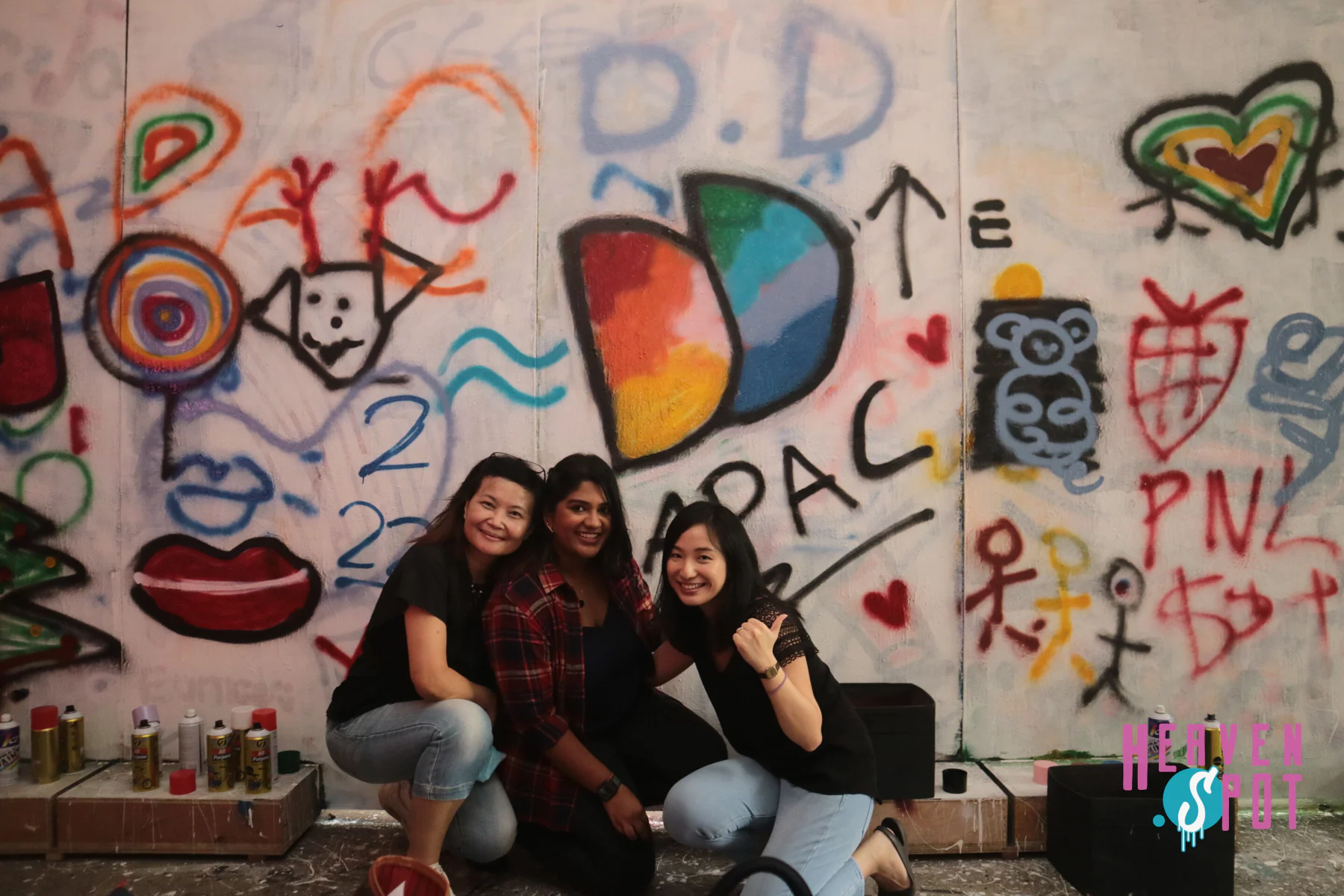 It's always an eye-opening experience when your colleagues unleash their creativity, and you never know what skills you'll find! Here at Heaven Spot, there are various package options that involve facilitated team building games like Graffitictionary, an introduction to the history of graffiti and graffiti styles, as well as the opportunity to create your own team tag design.
With two spray cans provided per pax, and the entire space available for you and your team to create your own unique artwork, it's the best way to let loose and decorate the walls in technicolour. Quality photos will be taken and sent to your team as well so you can keep those memories forever.
Budget: $$$
Address: 3 Lorong Bakar Batu, #03-01, S348741
Group size: 13 pax or more
Pricing: Depends on group size
Opening Hours: Tues to Thurs (5pm – 10pm), Fri to Sun (10am – 9pm)
Website: https://heavenspotsg.com/pages/corporates-and-large-groups
5. Karaoke at K.STAR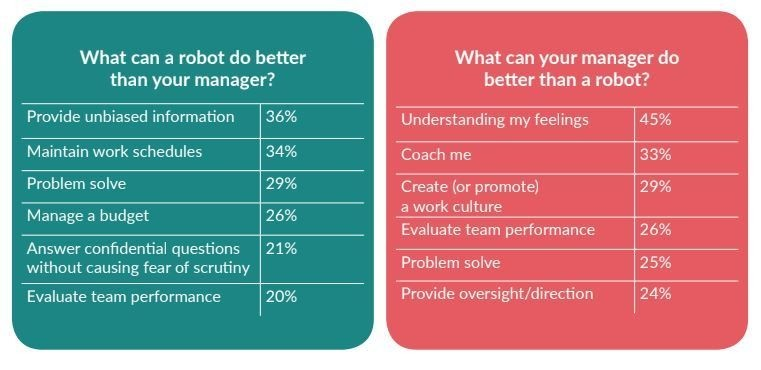 There's always a team member with a stellar singing voice or insane dance moves, and this is their time to shine. K.STAR has a huge selection of karaoke rooms ideal for team building, and some even come equipped with panoramic projector screens, dart machines, and a pool table to keep everyone entertained.
Each room is designed to be bright and colourful, with themes featuring bright pink flamingos, tropical palms, and even a faux bakery. An extensive food and drink menu is also available, which means everyone can have a turn at the mike singing their hearts out and never worry about getting hungry or thirsty. Get your playlists ready!
Budget: $$$
Address: 181 Orchard Road, #05-01, S238896
Group size: Rooms can house 6 pax (Mini) to a maximum of 35 pax (VIP)
Pricing: Starts from $20+ per room per hour
Opening Hours: Fri to Sat (6pm – 4am), Sun (12pm – 2am), Mon to Thurs (6pm – 3am)
Website: https://kstar.com.sg/corporate-events/
6. Escape Room at Bugis Village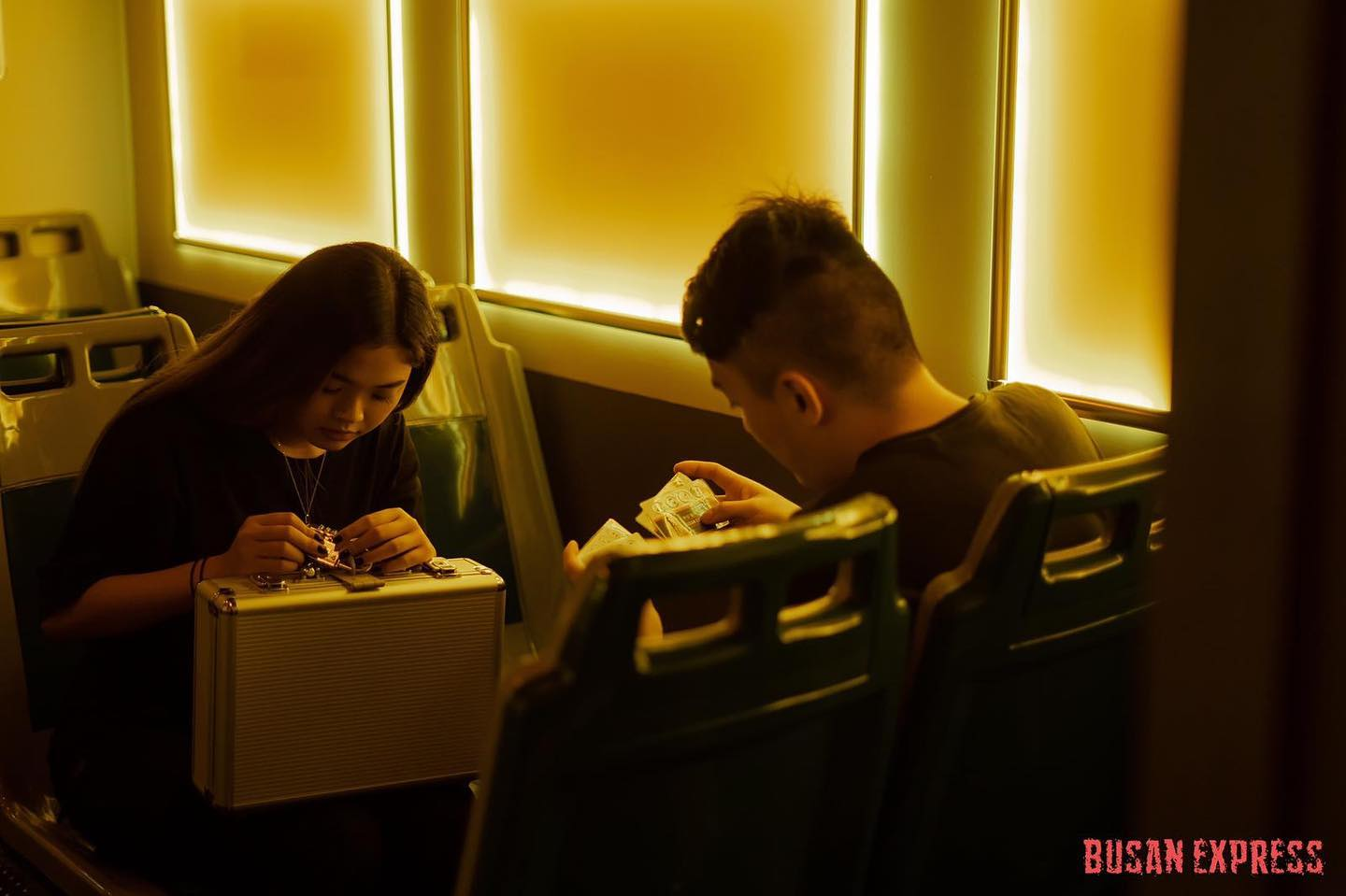 The perfect way to get teams to tap into their creativity, communication, problem solving, and time management skills, escape rooms are always a thrilling experience. Ideal for small teams who love a challenge, Xcape Singapore provides the best team building games inspired by iconic movies such as Annabelle, Shutter Island, Train to Busan and more.
Collecting clues to solve puzzles and figure out mysterious elements certainly helps to build team work, along with attention to detail and abstract thinking. This demonstrates and reinforces how different team members all have unique skills that can contribute towards a common goal — escaping! It's a great activity that will keep team members talking for hours after.
Budget: $$$
Address: Bugis Village, 161 (Ground Floor) Rochor Road, S18843
Group size: Each room can accommodate a maximum of 7 to 9 people
Pricing: Dependent on duration of game, prices start from $22 per pax
Opening Hours: Mon to Thu, Sun (11am – 11.30pm), Fri & Sat (11am – 1am)
Website: http://www.xcape.sg/corporate/
7. Laser tag at FunEmpire HQ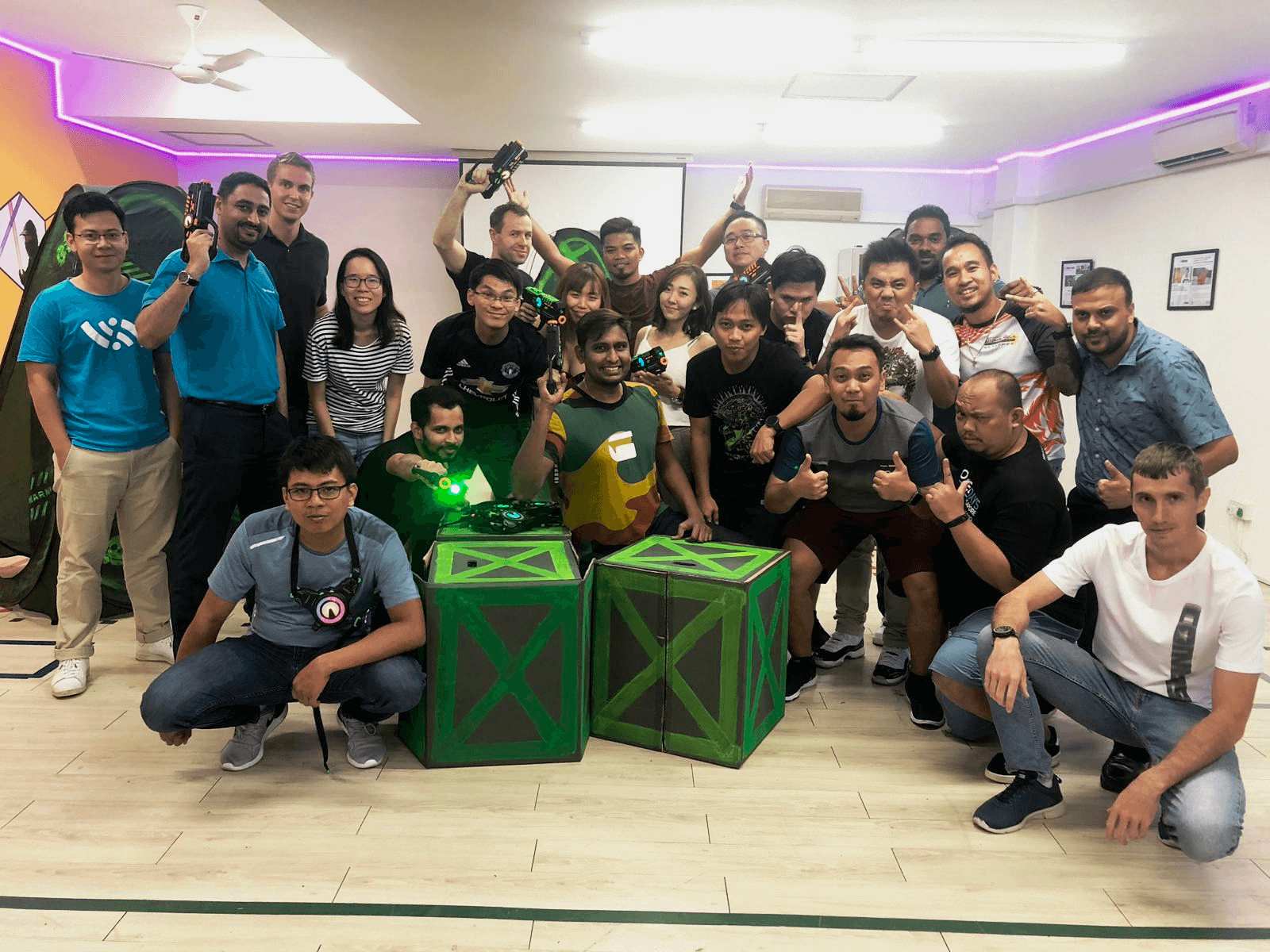 A fantastic and dynamic team building game that promises there will never be a dull moment, laser tag is suitable for players of all ages with exciting mission scenarios. It can be played indoors or outdoors, regardless of the time of day.
Teams will enjoy more fun in big groups and grow closer because laser tag requires strategic thinking, team work, communication and a dash of creativity to win. Plus, a little healthy competition between teams never hurts.
If you're keen to take it up a notch, there's neon laser tag available too — teams will get to zap away at each other in black-lit arenas filled with fluorescent lights. The entire experience definitely makes for cool group photos!
Budget: $$$
Address: 5B Guillemard Road, Level 3 Wing Fong Building, S399685
Group size: Minimum 8 pax, maximum unlimited
Pricing: Starts from $15 per pax
Opening Hours: 9am to 10pm daily
Website: https://www.lasertagsingapore.sg/
8. Art jamming at the Istana Park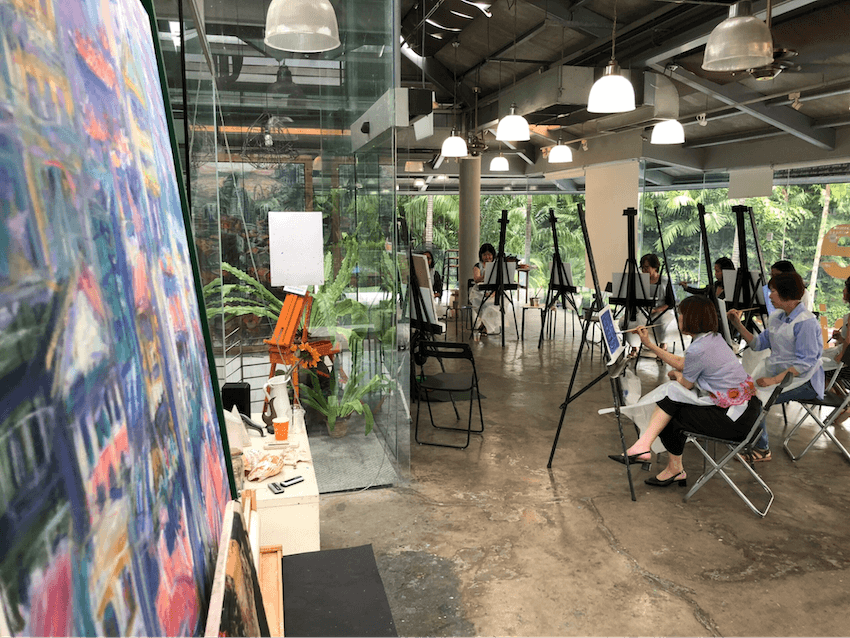 Set in the heart of the city amidst lush greenery and tranquil surroundings, My Art Space is an ambient waterfront studio that provides the most incredible setting for canvas painting. A carefree and therapeutic experience for all who partake, teams can enjoy the freedom of painting anything they like as a keepsake.
All materials are provided, along with soothing background music to help you get in the focus zone, so all you really need to do is turn up and enjoy the session! Facilitators will also be around to run an engaging session around your business goals and team development — there's the option to create joint paintings or work in teams as a way to improve bonding.
Budget: $$$
Address: Istana Park, 31 Orchard Road, S238888
Group size: Flexible
Pricing: Dependent on group size
Opening Hours: Mon/Tues/Fri (10.30am – 3pm), Sat & Sun (10.30am – 11.30am, 1.30pm – 4.30pm), Thurs (10.30am – 7.30pm), Closed on Weds
Website: https://myartspace.com.sg/team-bonding/
9. Paintball at Red Dynasty Paintball Park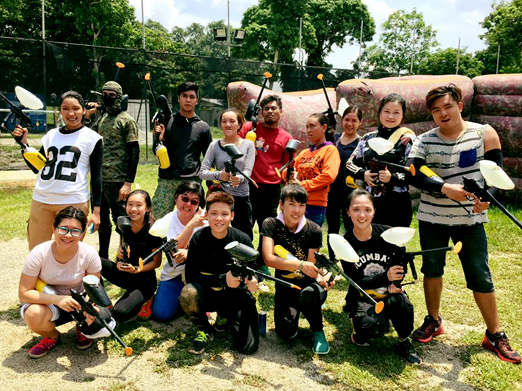 Get ready for a messy but fun team building event with paintball! The Red Dynasty Paintball Park in Bukit Timah can hold up to 500 participants, promising a truly memorable experience especially for larger teams. If you're wondering how paintball helps with team building, it's all about strategizing together and the camaraderie between members whilst battling against the opponent team.
With well-designed game plays and trained instructors to guide you along the way, you're in good hands. Be prepared for an adrenaline rush with paintballs whizzing by as you create unforgettable memories!
Budget: $$$
Address: 220 Turf Club Road, S288001
Group size: Up to 500 pax
Pricing: Dependent on group size
Opening Hours: 9am to 7pm daily
Website: http://weplaypaintball.com/corporate-package/
10. Nerf action at Marina Square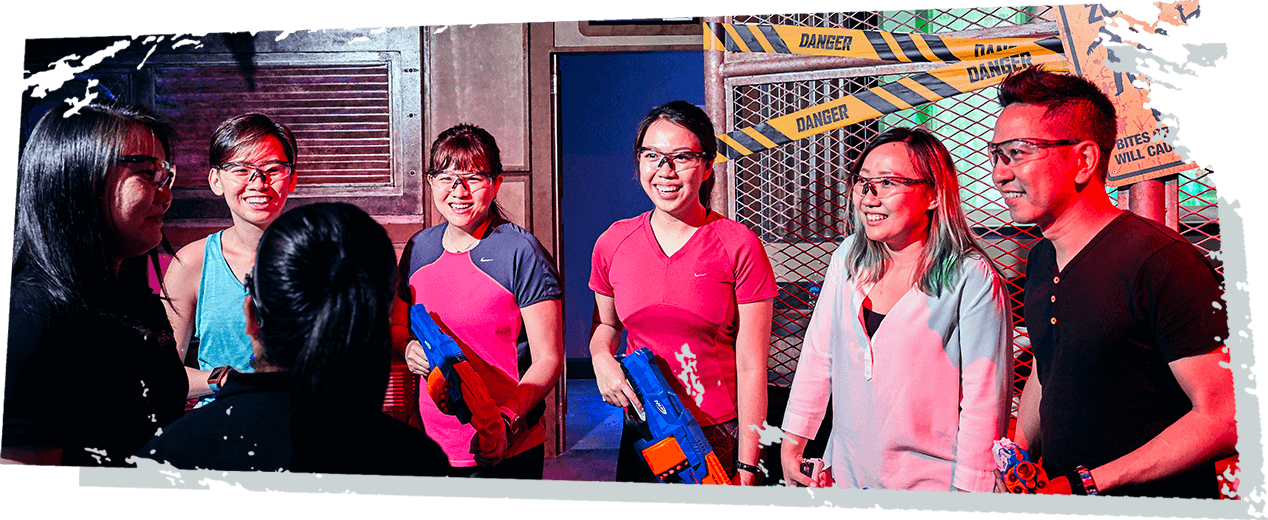 Whoever said nerf guns were only for kids? Gear up for a great team building game like no other in the Nerf Action Xperience arena, packed with multiple activity zones and challenges. Foster strong connections with your teammates while you're at it and let your day be filled with tons of laughter.
Package options are available for full day or half day events, along with customised programmes or exclusive use of the entire arena, depending on the group size! This team building event is absolutely one for the books, an atypical experience not to be missed.
Budget: $$$
Address: Marina Square, 6 Raffles Boulevard #01-208, S039594
Group size: No limit
Pricing: Dependent on group size
Opening Hours: Mon to Fri (12pm – 8pm), Sat & Sun (10am – 8pm)
Website: https://www.nerfax.com.sg/group
11. Spin class at Absolute Cycle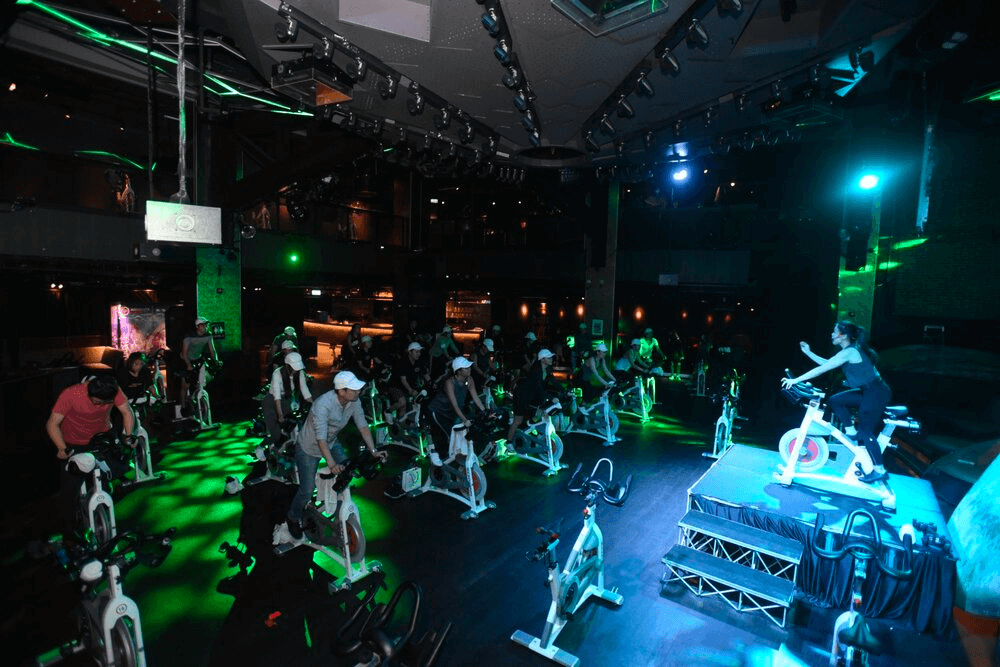 With everyone sitting at their desks for a long period of time each day, exercising together at a spin class is another great team building activity. You can book the entire studio for a private class with any instructor of your preference (subject to their availability), and just rock up to have a blast.
Expect rhythmic beats, challenging runs, fun choreography and constant motivation at each ride, while working up a good sweat. There are 4 locations to choose from, but the biggest one would be Absolute Cycle at Millenia Walk with 63 bikes. Take note — bookings need to be made at least 4 weeks in advance before the intended date.
Budget: $$$$
Address: Millenia Walk, 9 Raffles Blvd, #02-43, S039596
Group size: 40 to 63 pax
Pricing: Depends on group size
Opening Hours: Private booking slots are 1:30pm or 3:45pm on weekdays
Website: https://www.absolutecyclesingapore.com/private-ride
12. Perfume-making at Scentopia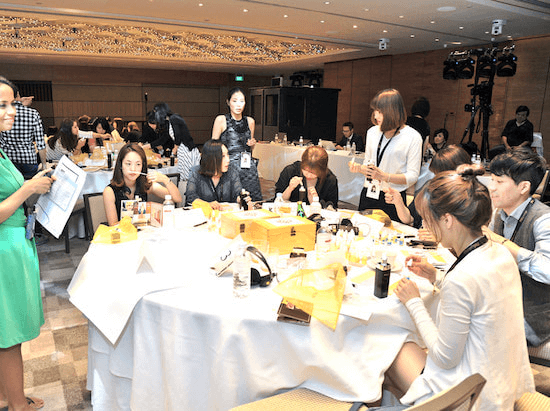 A chill and casual corporate team building activity that enhances an employee's mind, body and spirit, aromatherapy is a great way to help your team destress through the power of scent. Scentopia's essential oils are also incredibly unique because they are infused with native Singaporean Orchid scents.
A team building perfume workshop will not only allow you to learn more about yourself and your colleagues through a perfume personality test, it also allows you to create your very own custom perfume scent that lasts 3 to 5 years. There are exciting team building games you can play too such as quizzes and auctions, so get ready for a fun time ahead.
Each person will leave with their own 100ml perfume bottle, but there are other options such as reed diffusers, room fragrances, hand or body soaps, and hand sanitizers that you can opt for.
Budget: $$$$
Address: 36 Siloso Beach Walk, S099007
Group size: 5 to 220 pax
Pricing: Starts from $85 per pax
Opening Hours: 11am to 6pm daily
Website: https://www.scentopia-singapore.com/team-building-sentosa-siloso-beach.html
13. Buffet lunch at Royal Plaza on Scotts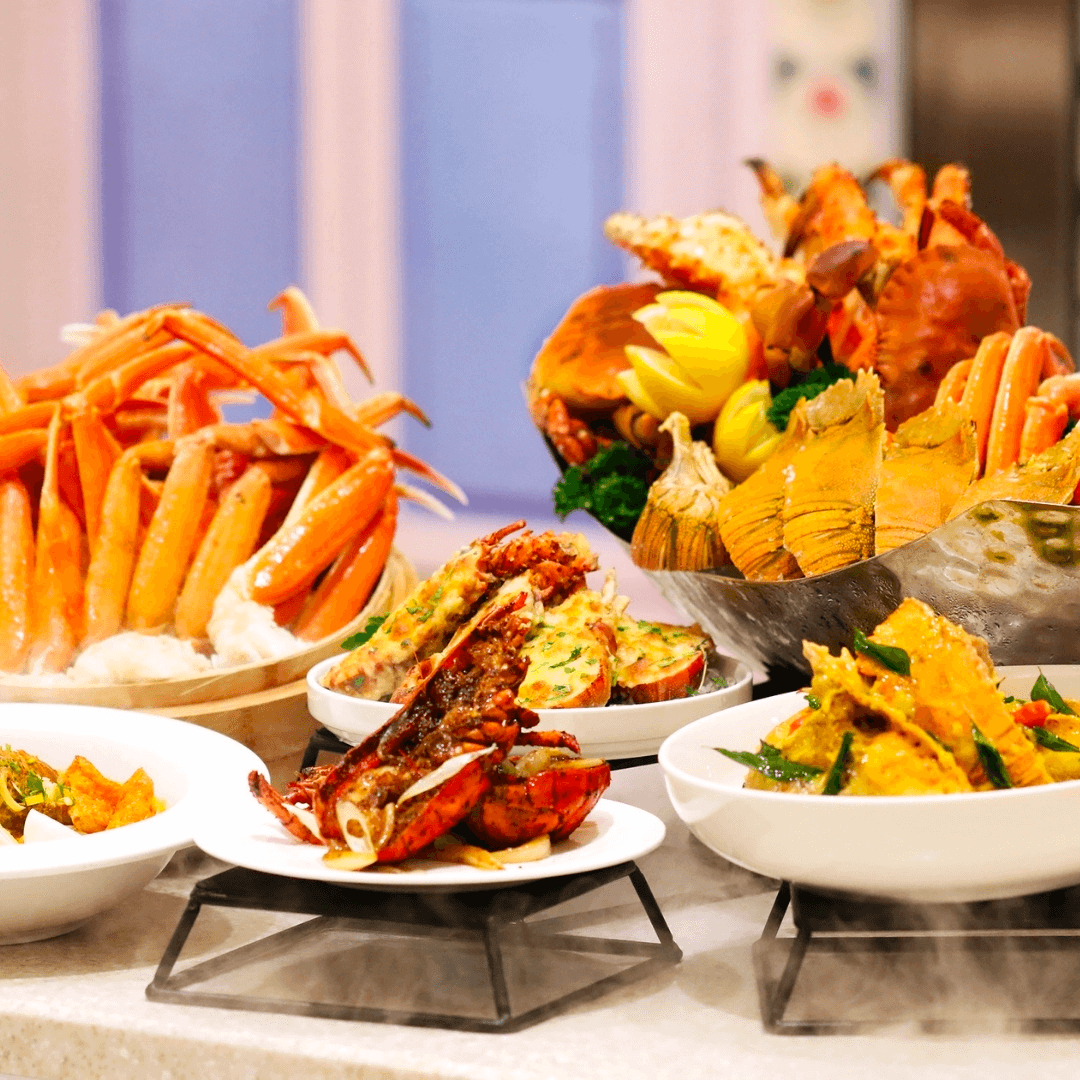 If there's one thing that employees can't resist as a team building event, it's definitely a buffet! After all, no one says no to delicious, free food. Voted the Best Buffet Restaurant in Singapore at AsiaOne People's Choice Awards for 7 consecutive years, Carousel at Royal Plaza on Scotts is not only halal-certified, but serves up an incredible spread of global cuisine which will leave you spoilt for choice.
Best known for its array of fresh seafood, teams will also be treated to Mediterranean, Asian, and Japanese fare, along with a lavish French rotisserie spread and desserts including a massive chocolate fondue fountain. Nothing gets people comfortable and talking like good food, so we'd say it should be a top contender for your next team building event.
Budget: $$$$
Address: 25 Scotts Road Singapore, S228220
Group size: Availability depends on date and time
Pricing: Starts from $62++
Opening Hours: 12 – 2pm, 6.30pm – 9.30pm daily
Website: https://carouselbuffet.com.sg/
14. Go-karting at the Karting Arena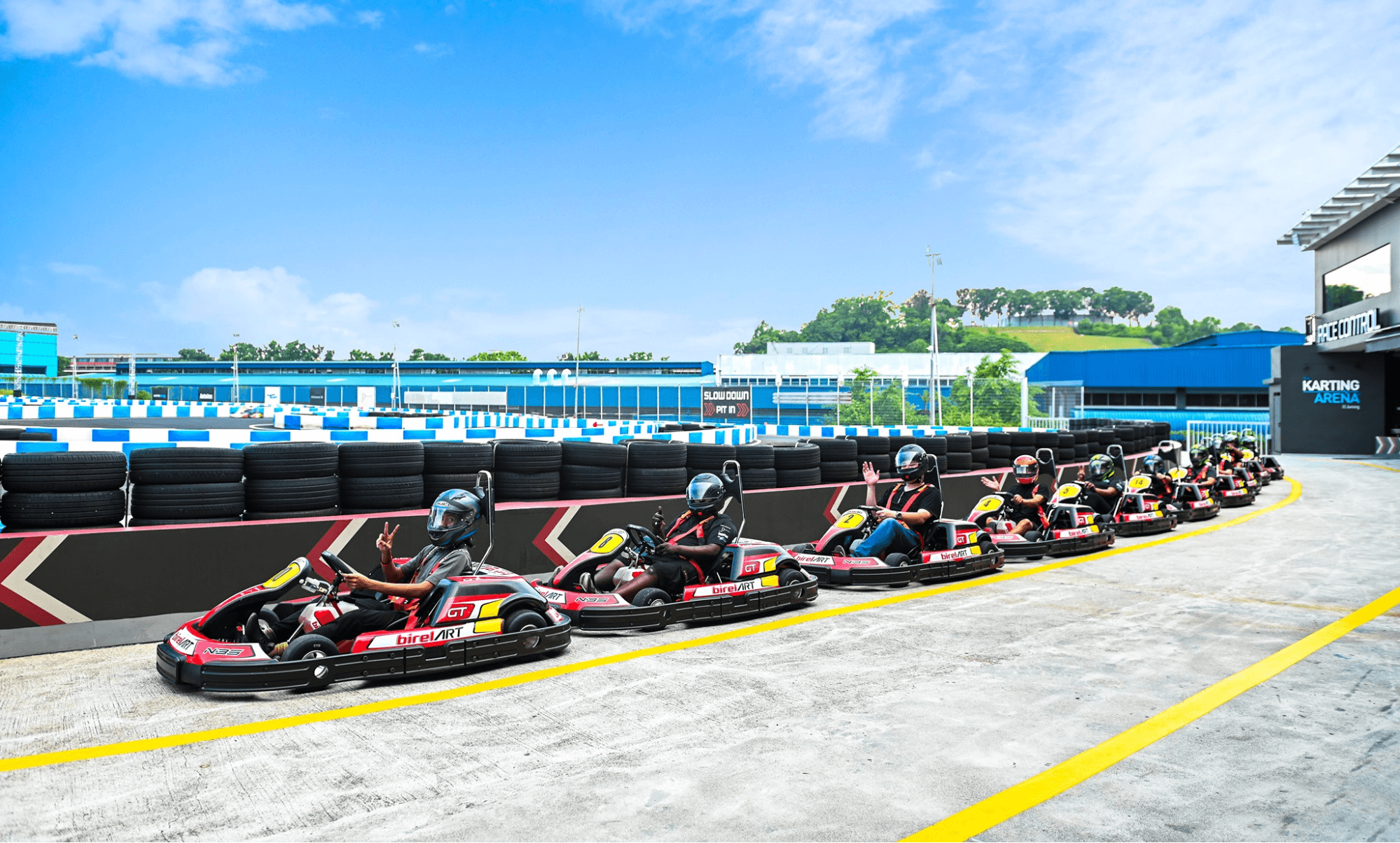 Experience squeals and thrills of delight from the whole team with go-karting at the Karting Arena! An adrenaline-pumping activity set in a friendly, competitive atmosphere, this will have everyone speeding down the course with glee and getting a taste of how it feels to be an F1 driver. For those Drive To Survive fans out there, this team building activity definitely hits the spot!
There are 2 locations available — the Jurong one is slightly larger with 11 turns and a 700m track compared to Bukit Timah which has a 500m track with 9 turns, so it's up to you to pick which one best suits your team. It's time for some racing action and don't forget to snap lots of pictures while you're at it.
Budget: $$$$$
Address: 511 Upper Jurong Road, Singapore 638366
Group size: Up to 400 pax
Pricing: Hourly rate starts from $2,500
Opening Hours: Closed on Mon, Tues to Fri (1pm to 9pm), Sat to Sun (9am to 9pm)
Website: https://thekartingarena.com/corporate-private/
15. Party on a yacht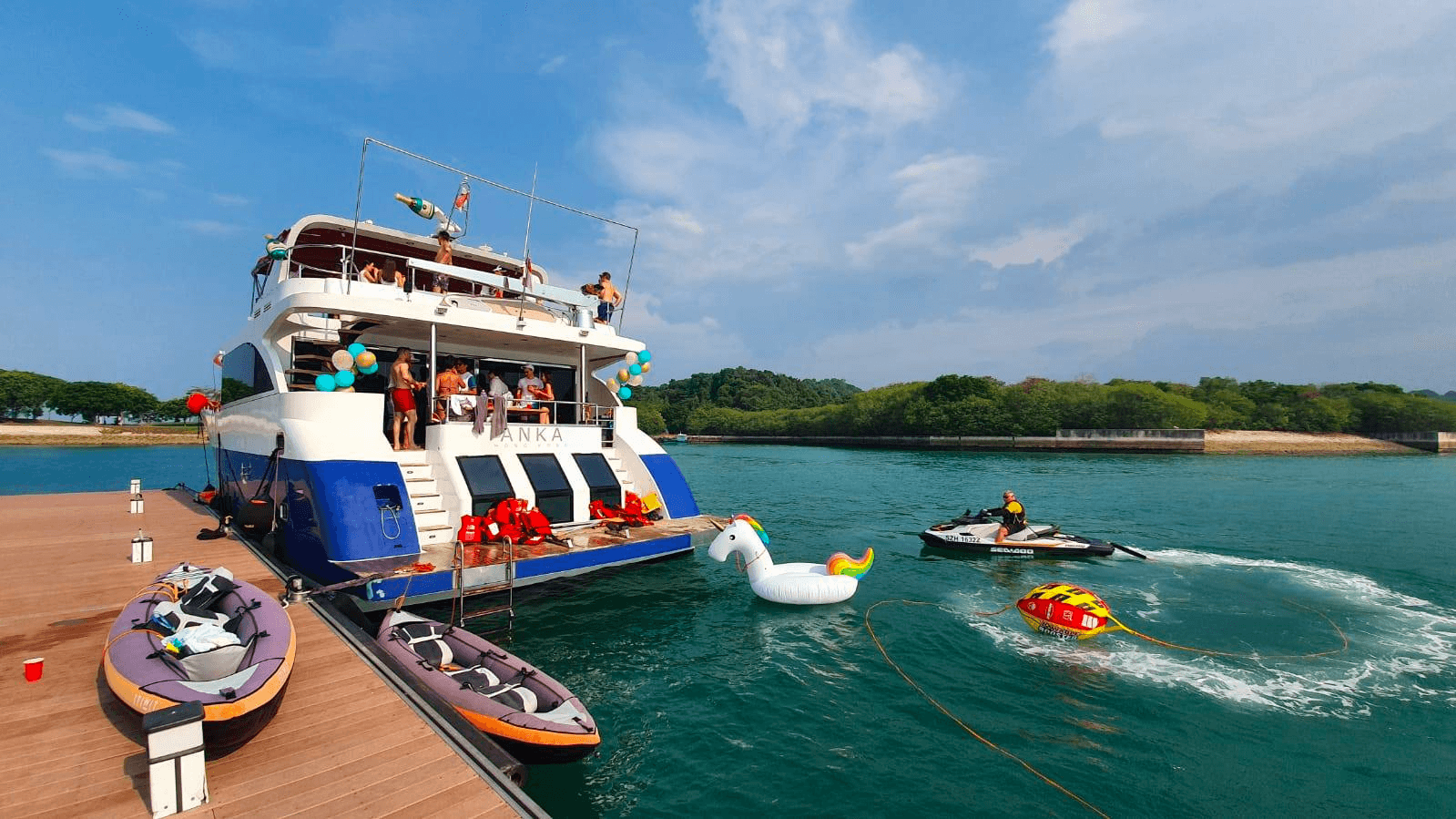 Want a team bonding event that your employees will talk about and reminisce on for years to come? Look no further than a corporate yacht charter. It's the ultimate escape away from the hustle and bustle of the city, and a fantastic reward for everyone's hard work.
Giving everyone a much-needed breath of fresh air and the chance to relax and rejuvenate outdoors, everyone's guaranteed to have a huge blast bonding over karaoke on board, kayaking, riding on banana boats, or just floating around on all kinds of funky inflatables in the sea.
Opt for food and beverages to be included in your package, and set sail for Kusu, St Johns and the Sister Islands, before anchoring at Lazarus Island. Teams will have the option to get off the yacht and go for a walk or explore the beach at Lazarus Island, so it's a flexible, free-and-easy schedule suited for everyone.
Budget: $$$$$
Address: N/A
Group size: Maximum of 50 pax
Pricing: Dependent on group size
Opening Hours: N/A
Website: https://www.yachtly.com.sg/booking-journey/step/1?occasion=corporate
What about team building activities for remote employees?
Team building is still important for remote teams — don't forget about it! There are plenty of virtual team building activities to try out, with individual packs or kits available to be sent out to each team member.
We've curated the most popular options in Singapore to make your remote team building experience special.
Still looking for more virtual team building ideas? Check out our blog on free online team building games for fun activities to try together with your colleagues.
Build your best team culture in 2022
Employee engagement is important in creating a work culture your team loves — and team building activities help to do just that. Your business is only as strong as your employees, so don't forget to invest in them and remind them that they are your most valuable asset.
If you're keen to improve your workplace culture in every way possible to build trust, mitigate conflict, encourage communication, and increase collaboration, check out our leader's guide to company culture or our comprehensive workplace culture bundle which will help you achieve a better work culture with practical tips and templates.
The workplace culture bundle