Have you heard of the term the 'Great Resignation'?
It's not just a buzz term, this mass employee movement is happening around the world right now – and it's headed for Australia in the next six months.
What is in this employee movement and retention report?
'The Great Resignation' is on everyone's minds. When the prediction of mass manpower movement and employee turnover is on the cards, it instils fear for any employer.
In an employment landscape where finding, hiring and retaining top talent is already incredibly challenging, the thought of this getting even more so is a hard pill to swallow.
What's fuelling this incoming exodus? We surveyed 1,000 workers from around Australia between the 30th of August and the 7th of September to find out.
In this exclusive workforce movement and employee retention report, we share the essential findings including;
Workers intentions for switching roles
The main reasons for job-seeking
Strategies for retention
How to win over job-seekers
How to boost your EVP for recruitment opportunities
much more
Actions over the next 6 months could have a huge impact on your business's retention and recruitment. Download the exclusive staff retention report now.
Disclaimer: While due care has been taken in preparing the document, no responsibility is accepted by the author for the accuracy or suitability of the information contained. All liability is expressly disclaimed for any loss or damage which may arise from any person relying on, using or acting on any information contained therein. If you are unsure about how this information applies to your specific situation please seek expert advice.
Download our employee movement and retention report now for more insights.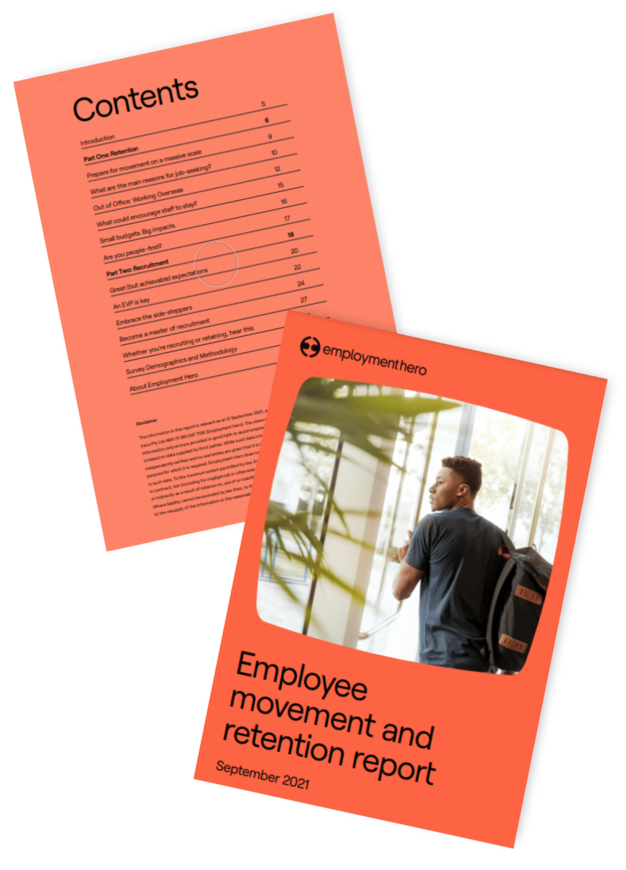 Key takeaways on recruitment and retention statistics
To take a lay of the land, we took it upon ourselves to find out what the current state of employment looks like. We surveyed 1,000 workers from around Australia between the 30th of August and the 7th of September, 2021.
We asked them about their plans for job movement, their career objectives, what would attract them to a business, what would make them stay in their current role, and so much more.
From the findings of this staff movement report, we were able to gather a complete snapshot of the current state of play.
We've handpicked the most interesting recruitment and retention statistics to help prepare your HR team for the very unique hiring period that is 2021.
Retention statistics
Retention should always be a key priority for employers. A high turnover rate is not only damaging to a business's bottom line, but it can also be representative of a wider discontent within. Consistent turnover can conceal low levels of employee engagement, a toxic work environment or an issue with management.
To reduce turnover, we want to optimise our employees' work experience. We want them to feel valued and appreciated. If they are feeling satisfied within their roles, they're less likely to seek fulfilment elsewhere, and we have the data to show it.
Let's take a look at the findings.
Almost 50% of Australian workers plan to resign in the next year.
66% of those aged 18-24 are planning on changing roles within the next year.
55% of managers and senior executives intend to move within the next 12 months.
Employees in Victoria are 14% more likely than in other states to want to change roles within the year.
Those aged 25-34 are 26% more likely to select 'lack of career opportunities as their top reason for wanting to leave their current role.
2 out of 5 Australian workers would consider taking a job overseas, with the leading motivator being to travel.
47% of people said a salary increase would encourage them to stay in their current roles.
28% of workers currently feel that their next step is within a different industry to what they're in now
Recruitment statistics
Recruitment can be one of the most difficult things on an employer's to-do list, but it can also be the most rewarding. Whether you love it or hate it, getting talent acquisition right is critical to achieving business success.
As we mentioned above, almost half of the employees are looking to take on a new role in the next year. If you're trying to retain staff, this is a chilling statistic. But if you're trying to recruit, it's one hell of an opportunity.
If you're looking to grow quickly following the pandemic, consider these statistics and get planning.
Overall, 34% of people are expecting a 10% increase in their next role.
Those aged 35-44 want a 30% pay increase in their next role.
41% of people are looking for something they enjoy / something they like doing in their next role.
39% are looking for a salary increase in their next role.
29% of people would like their next role to be in their current organisation (e.g. a promotion or lateral move).
42% of people would like their next role to be in a similar industry but a different organisation.
28% of people would like their next role to be in a different organisation and a different industry.
Start planning for 2022
Armed with these facts, take a step back and reflect on what you want to achieve in 2022.
Are you focusing on hiring, retaining – or both? Go back to basics and create a plan for each quarter. Decide how you're going to distribute your team's time and energy.
Know what you're looking for, communicate it with your team, and you'll be on the road to your most successful year of recruitment yet.