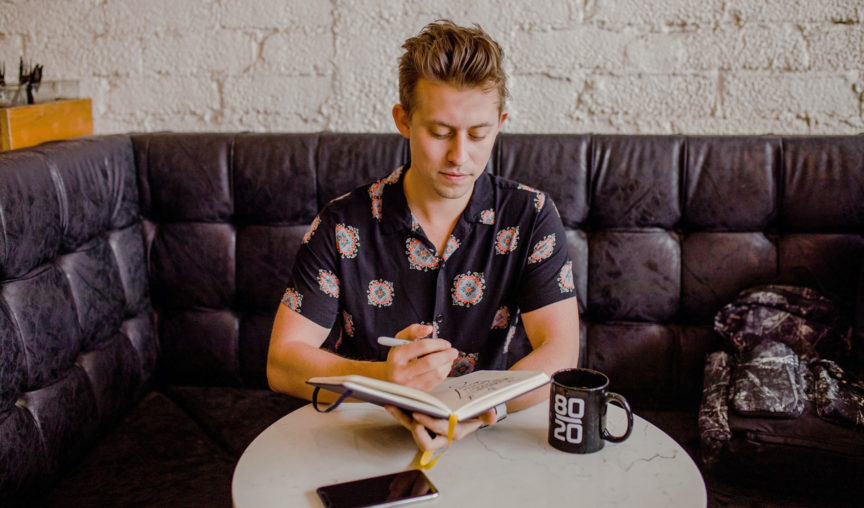 What is an employee value proposition? What does it stand for, and why should you care?
Well… this HR buzzword is critical for your business, so we've written this to give you the low-down on employee value proposition and what it means for your business. And hey, even if you know what EVP is, you may learn something new. Ready? Let's go!
We can't stress this enough: as we navigate this post-pandemic Great Resignation or Great Reset, getting your employee value proposition right is downright essential for attracting and retaining top talent.
What is an employee value proposition (EVP)?
Employee Value Proposition is the balance of rewards and benefits that a company can offer its employees in return for their amazing performance within the workplace.
An EVP includes everything an employer is doing to attract and retain employees, which is hugely beneficial for the success of a business.
The employee value proposition concept as we know it today was formed from the marketing idea known as 'Unique Value Proposition'; the value the company provides to customers that makes it stand out from competitors.
Employee value proposition examples
In the same way, an employee value proposition is a unique value that a company can offer its employees.
An EVP should also shift focus from compensation to other things, such as employee development paths, internal reward and recognition programs and community initiatives.
✅ Swanky offices? Bike to work scheme? Generous leave allowances? This is part of your EVP.
✅ Proud of the work-life balance in your team? That's also part of your EVP.
✅ Strong diversity, equity and inclusion culture? Definitely part of your EVP.
✅ Got a global gathering or extra snazzy team-building events on the regular? Yes, that's your EVP too.
Your employee value proposition covers all the incentives, perks, benefits and support systems that as an employer you put in place or facilitate that make working for you attractive, especially in relation to your competitors
What is an employer value proposition (employer brand)?
An employer value proposition is also known as your employer brand.
We previously looked at how important employer branding is for a business and EVP goes hand in hand with this concept. Your employer brand is your external reputation, while your employee value proposition is your internal offering.
An employer brand is intangible – it is how potential candidates perceive working at your company based on your company's EVP.
An employee value proposition is tangible – it attracts job candidates and top talent to your business and ensures that your people stay! It makes you stand out against competitors and shows that you care about your employees.
How To Create a Standout Employee Experience
Why is a strong employee value proposition important?
So now we've got you wondering why an employee value proposition is important.
Well, your EVP is what sets you apart from the competition in terms of hiring top talent.
Helps attract talent
It's crucial you have a strong EVP that will help you attract and retain the best employees possible to help grow your business.
Having an effective EVP can help to attract new employees that have goals and values that are in alignment with organisational goals and values.
When done well, a compelling EVP offers a comprehensive look into each job role, making sure the role is attractive to candidates and shows them more about the company culture to ensure they will be a good fit from the offset.
Here are some great locations to hire employees:

Improves company reputation
A good employee value proposition will also elevate your entire employment brand, making your business a more desirable place to work.
Everyone has, at one point or another, heard whispers of a business that may have a shiny facade but conceals a crappy workplace.
Employees (and customers) talk, and you want them to say that at your business, everyone has a wonderful experience.
Reduces employee turnover
As Hubspot reports, a whopping 86% of workers would not want to work for a company that has a bad reputation with former employees. By contrast, 75% of active job seekers are likely to apply for a job if the employer actively manages its employer brand and their company's EVP.
With such a large percentage of job seekers actively looking for positive employer branding, this is definitely something to pay attention to.
According to Gartner, companies with a strong EVP reduce annual employee turnover by over two-thirds (69%) and increase new hire commitments by nearly 30%.
If you're having trouble recruiting talent, maybe it's time to do things differently. That could very well include overhauling your EVP.
Things to consider when developing an EVP
When developing your EVP, there are a few things to consider… To start, ask current employees why they think working at your company is so great.
Send out anonymous employee surveys to gain valuable feedback and figure out what you already do well. Why start from scratch when you might already be doing some amazing things that employees and candidates love?
Could it be because you champion employee career development? Or perhaps you promote a great work-life balance with flexible working arrangements.
It might also be worth including questions on this survey that reveal what your business doesn't do so well and areas where current employees feel you could work on.
Now, here are some of the main things to consider when developing your employee value proposition:
Employee salary expectations
Salary is one of the key factors for any new role – people have bills to pay, mouths to feed and the latest trainers to buy. A big no-no when building out your EVP is inflating salaries because of huge competition.
You can't compete with a competitor for talent purely on financial rewards, it's also an easy way to burn through any budget you may have set aside for new hires. By considering other parts of the EVP, salary is no longer the sole focus. On the other side, you don't want to undervalue potential employees.
A big mistake from HR is not monitoring employees' core skills, development and learning. By losing track, you run the risk of undervaluing your team. This will essentially lead them to feel and encourage them to look elsewhere.
As a general rule, review employee salaries against industry benchmarks on an annual basis to make sure they are earning what they deserve.
Rewards and recognition
Recent studies by our friends at Seek show that candidates don't just look first at salary but also at reward and recognition, employment benefits and all the perks associated with a job.
In other words, top candidates are looking at the entire compensation package rather than just the monetary amount.
Rewards and recognition, or employee benefits, come in three forms:
Supplementary compensation – free coffee, health insurance, gym memberships, flexible working, company-sponsored holidays, employee share schemes (the list is endless, just budget-dependent).
Values, mission and purpose – making them feel like their job really matters, which is a key driver to boosting employee engagement.
People and culture – Great people want to work with great people, and creating a positive work environment is a surefire way to make people feel excited about coming to work every day.
We created an in-depth insights report to delve into what employees really want from their employers. We collected this data from a nationwide survey.
Take some of these points into consideration when developing your EVP and deciding how you want to compensate workers.
Company culture
We've previously put the spotlight on the importance of company culture within a business and included a few insider tips on how to showcase your amazing efforts to the world.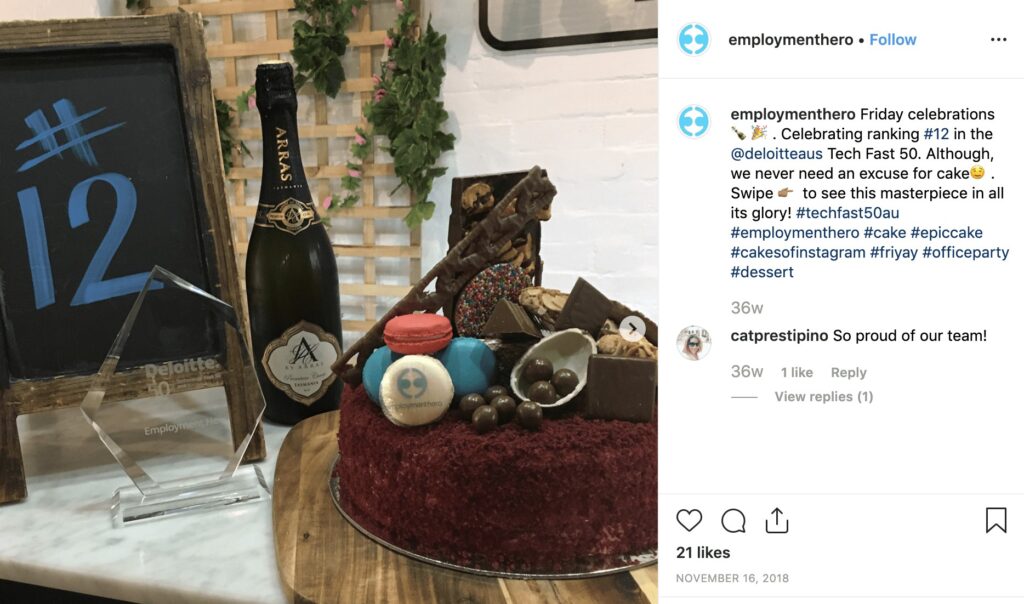 Source: Our very lovely Instagram
In terms of your organisation's EVP, candidates want to know what a day in their job will look like, not just in terms of what their job role will involve on a day-to-day basis, but also what the workplace culture is like.
If you host regular staff events and activities they can get involved in, employee incentive schemes, rewards or competitions that might interest them, showcase these from the get-go.
Express these clearly in your EVP, and you'll instantly notice the volume increase of top-quality candidates applying for your job opportunities.
Avoiding the common pitfalls of an EVP
The Australian Government Department of Skills and Employment offers some further insights and tips into the value of an EVP Stating that a strong employer brand is crucial in helping you to attract, engage and retain high-quality employees.
It lets potential applicants know why they should choose your business and makes a promise about the employee experience.
It continues to explain that there are two traps in the EVP landscape:
Under-selling the things that differentiate them as an employer, such as certain qualities, behaviours and experiences
Selling an experience that isn't accurate or aligned with reality
The best way to avoid these pitfalls is by asking your current employees via this three-step approach:
Step 1: Get feedback from employees
Perform focus groups or run employee surveys to gather input on your business's qualities, motivations, and behaviours.
Step 2: Consolidate and test
Consolidate and test the findings with new employees to see if your employee proposition aligns with their experience so far.
Step 3: Validate and iterate
Attain further information from the broader community and seek input on whether the advertisement confirms the organisation is a great place to work. Always use feedback to adjust and adapt!
By implementing these factors into our business, your employees will feel recognised and rewarded for all of their hard work.
Rolling out your employee value proposition
To get started, your EVP should be clearly defined. By doing this, you can easily communicate this to every potential candidate. This means you can easily attract talent and retain employees like never before.
Start to get your EVP down on paper, even if it has already been defined by your company in the past. Work closely with your marketing team as well to ensure your EVP ties nicely in with your company's mission and overall brand.
This is also when your employer brand is important, how do you want to communicate your EVP through external channels? Once it's reworked and defined, make sure you communicate your new employee value proposition with the entire company.
Even current employees should be reminded about why it's so awesome to work at your company! Also, make sure you are reviewing your EVP regularly.
If there are certain initiatives that you have that the team isn't engaging with – cut them. Then, identify what your employees would appreciate more.
Companies with great employee value proposition
Let's look at some employee value proposition examples from companies leading the way with their EVP.
Unsurprisingly – (*cough*) – we're nominating ourselves here at Employment Hero for having a top-class EVP.
1. Employment Hero
Our EVP is bold, clear and centre stage on our website. It's enshrined in our values which we share transparently. Our benefits are world-class (if we may say so ourselves), and we are unambiguous when we say we are looking for trailblazers, who we will amply reward with perks.
We provide regular wellness activities that employees can take advantage of. We also have HeroThanks – a feed inside the Employment Hero app where anyone in the business can thank someone else for helping them out.
And did we mention our Global Gathering already? We flew our team from around the world to Thailand in August for a week of learning, team-building and fun.
Even though we are remote-first, we still recognise the value of coming together. So that's part of our EVP.
The result?
 Super fast growth with a team of trailblazers who are as committed as our CEO to being the best.
 A top rating on Glass Door. 94% would recommend us to a friend, and 99% approve of the CEO.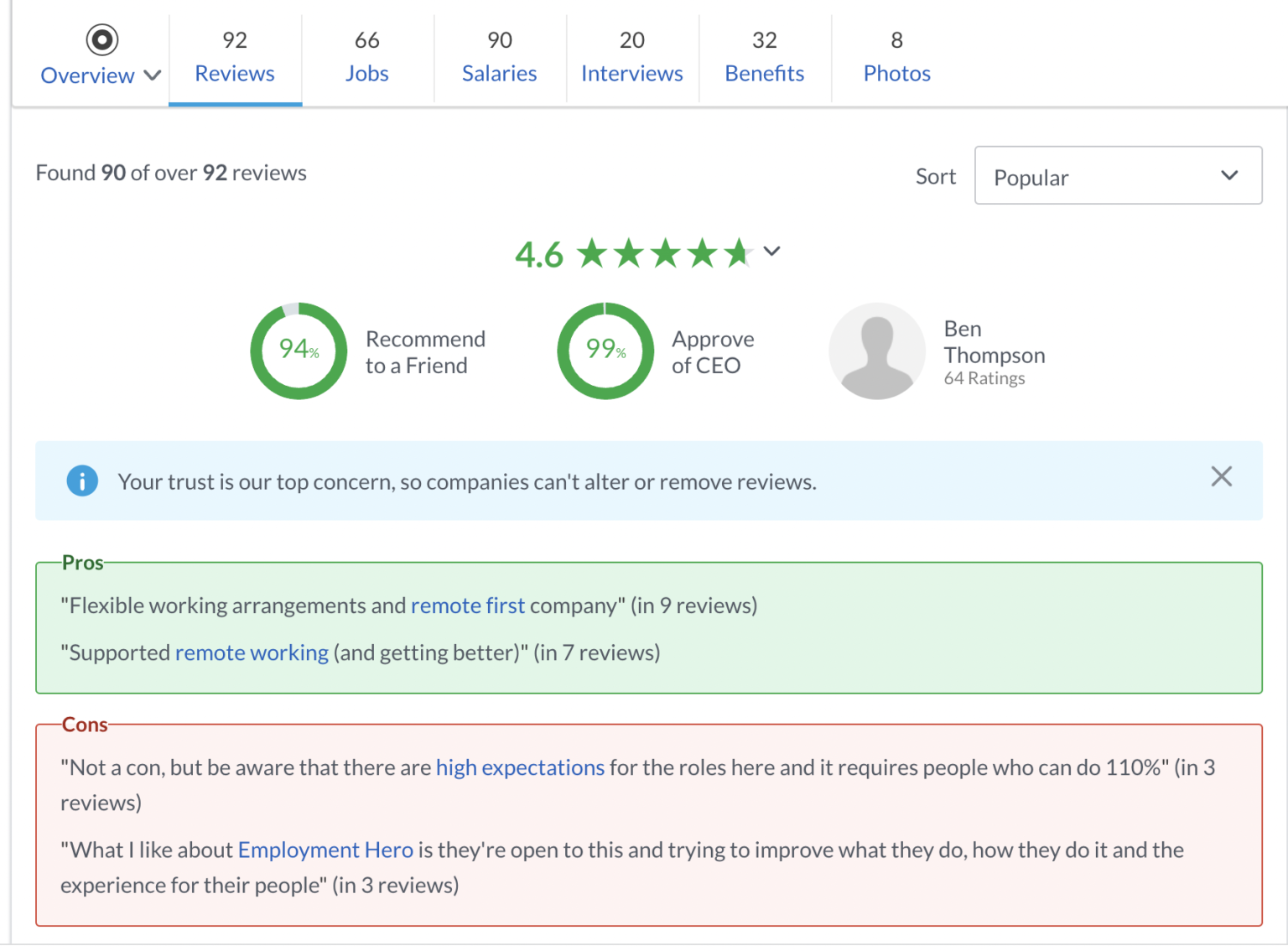 Even the top 'cons' are actually just reflections of our values: we work hard, we're bold, and we're innovators. We're always looking for a better way.
It won't be everyone's cup of tea, but for the right person, it's the perfect fit, and we're not afraid to be clear about it.
P.S. if this sounds good to you, we're just going to leave a link to our careers page here (wink wink).
2. LinkedIn
LinkedIn's EVP and employer brand is summed up in their slogan, #LinkedInLife. It represents the company's shared sense of belonging and among other things, a welcoming and inclusive environment.
They are proud of their culture, and they want applicants to know all about it. They are also clear about their aspirations.
"We aspire to create a trusted, caring, inclusive, fun, and transformational experience for each other at LinkedIn, and through our platform for every member of the global workforce."
The company offers a diverse set of benefits divided into categories such as health, family, passion, must-haves, and extras. This is a comprehensive benefit and compensation package, covering everything from childcare, eldercare, and pet care subsidies to education reimbursement and life insurance.
Employees get a "paid shutdown" at the end of the year, in which the company closes for a week to celebrate.
3. Innocent Drinks
Innocent's EVP is strong. They're smart, fun and hilariously honest, and they celebrate their people – even after they've left.
Their "Life After Innocent" part of their careers page is a tribute to the impressive achievements that their former employees have gone on to accomplish after they left the company.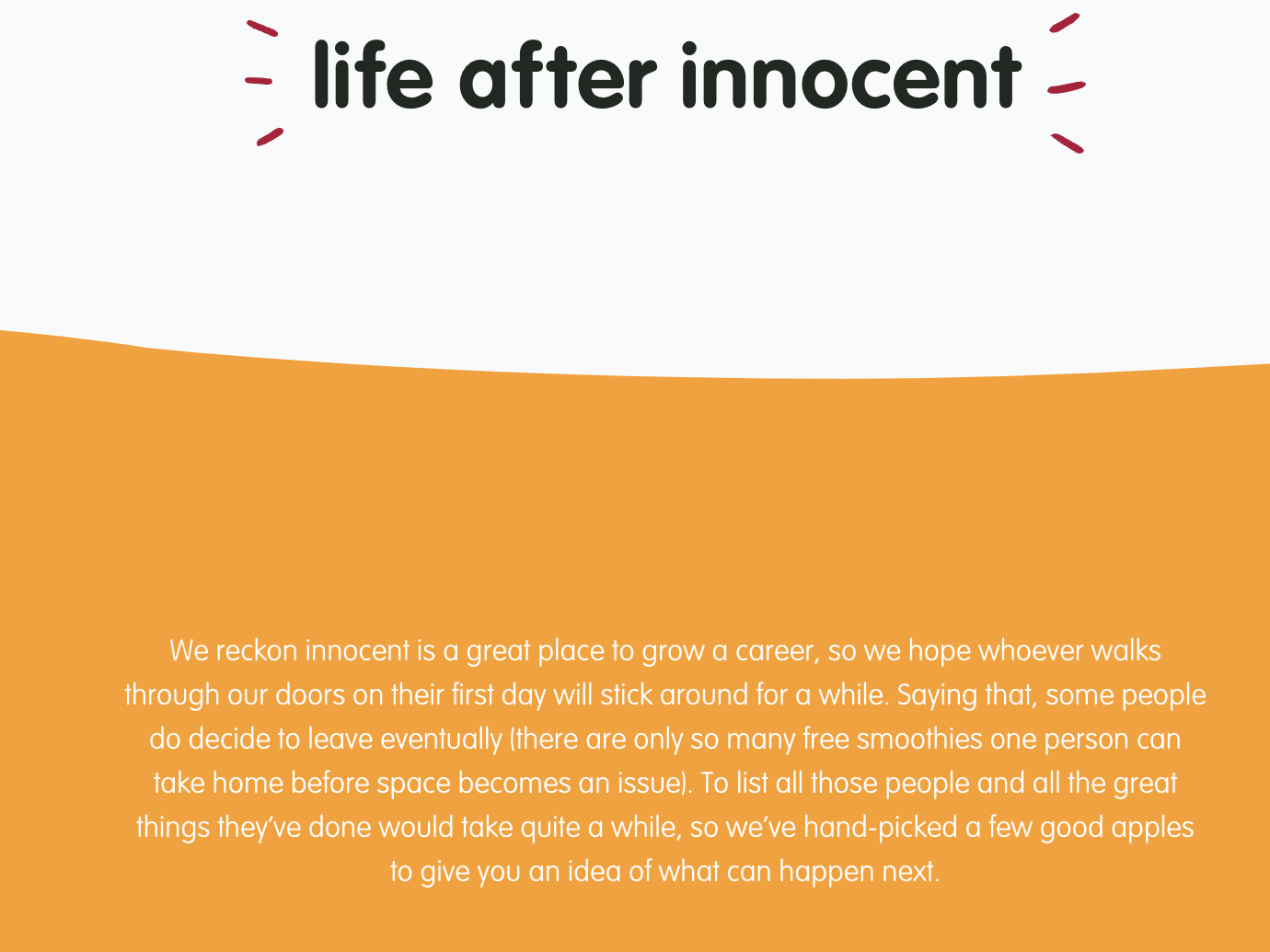 Innocent's EVP appeals to game-raising candidates who want to make a positive impact in this world – their B Corp status is just part of their employer brand.
Their mission is clearly stated, loud and proud, ready to grab the attention of their ideal candidate.
4. Canva
Canva is an online design and publishing tool with a mission to empower everyone in the world to design anything and publish anywhere. Such a mission statement is a persuasive element in their EVP, calling in applicants sharing similar values.
Their perks and benefits are also compelling. Who wouldn't want free lunch and breakfast prepared by in-house chefs, free memberships to local fitness studios, clubs and sports, relocation benefits, and more?
On their "Why Canva?" page, they tell a powerful story of why it's so great to work for them.
In their own words, they're "empowering people to design anything, and publish anywhere."
Canva's EVP is about empowering each and every employee and providing immense opportunities to work on unique and exciting projects.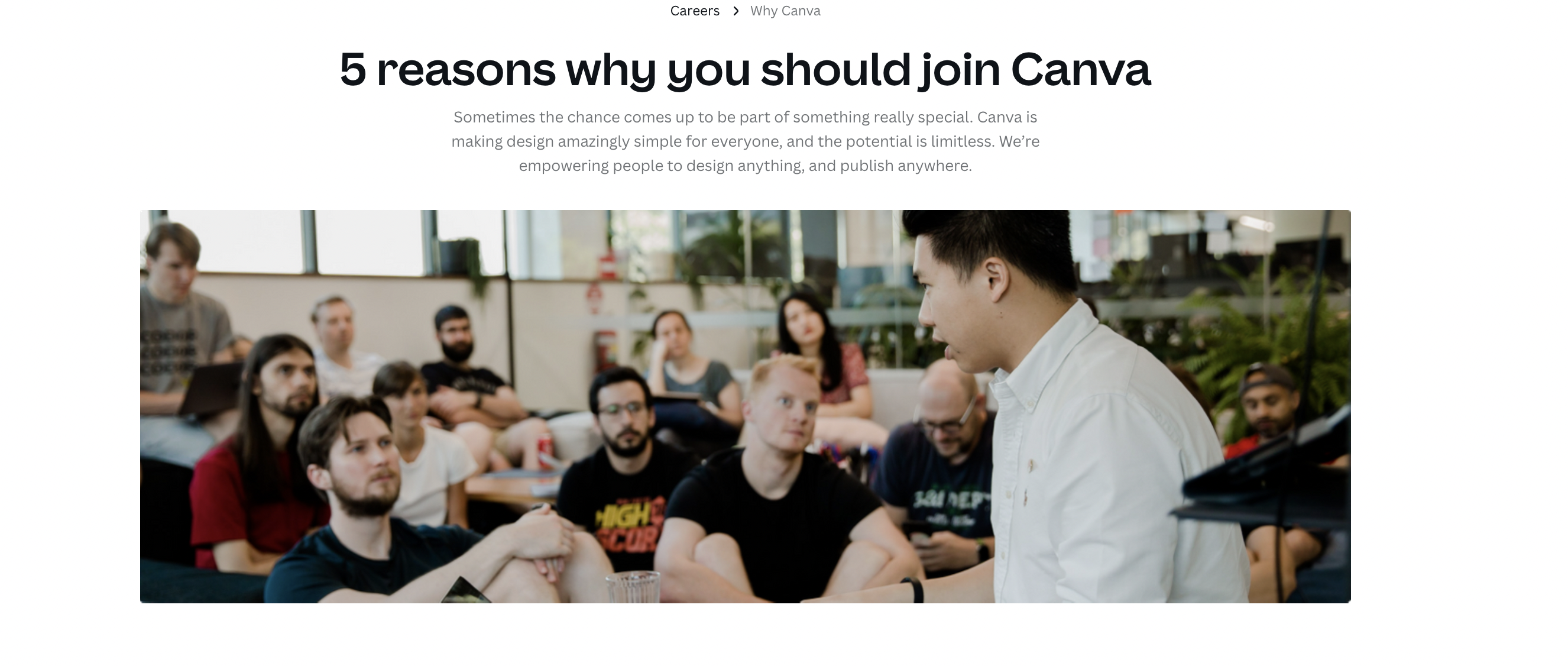 5. Made Tech
Made Tech provides digital, data and technology services to the UK public sector, and they have a great employee value proposition.
Their careers page sports a catchy header which embodies both their mission and company culture: "Use your skills to transform our society. Join a team with a purpose."
Further down the page, they include testimonials which serve to emphasise an inclusive, supportive and welcoming team culture: "The team at Made Tech are some of the friendliest, smartest and most helpful people I've come across. Their willingness to teach across all manner of levels and expertise is inspiring!"
Their success in workplace engagement and employee empowerment is proven in their certifications from Best Companies to Work For, and their open source handbook is a testament to their commitment to transparency.

On their website, MadeTech highlights a handful of perks that make their EVP memorable, like flexible holidays, flexible hours, flexible parental leave, remote work, paid counselling, financial and legal advice, help to buy tech, and many more.
This is an EVP and a half, even if we do say so ourselves.
The wrap up
This was a deep dive on everything employee value proposition, with the rationale for why you need one and actionable advice to develop a strong EVP to boost your business.
It might seem daunting to start with, but that's what we're here to help with. Managing your EVP is easy with tools like our smart applicant tracking system (ATS), paperless onboarding and performance reviews within Employment Hero's HR software.
If you need some help with employer branding, then check out our guide to employer branding.
And don't miss our essential EVP strategy worksheet.
The workplace culture bundle