According to a 2020 Glassdoor survey, 76% of employees and job seekers reported that a diverse workforce is an important factor when evaluating companies and job offers.
Fostering diverse and inclusive workplaces opens your business up to invaluable diverse thinking. Diverse and inclusive workplaces can also make a significant impact beyond the office door, creating better professional lives for people from minority groups and driving change in society-wide inequalities.
What's in this diversity and inclusion handbook?
How can you supercharge your diversity and inclusion (D&I) strategy?
Together with industry experts, we've created a complete guide to help.
In this handbook, you'll learn about:
The current context of diversity and inclusion
How have events like the Black Lives Matter and #metoo movements contributed to a discussion around D&I
The key principles of D&I
Everything you need to put together a complete D&I strategy
How you can support specific minority groups in the workplace
and more!
Interested? Download the handbook now!
The current status of workplace Diversity and Inclusion (D&I)
Following the events of 2020, there's no better time than 2021 for employers to embrace Diversity and Inclusion (D&I) as a key business priority. 2020 brought many issues to the forefront of our collective consciousness.
The global Black Lives Matter movement had a huge impact, rippling through society from a social to a corporate level. Discussions of sexual harassment around #MeToo continued to see leaders be called out for discriminatory behaviour.
The US Supreme Court banned employment discrimination for transgender and queer workers. Covid-19 and the remote working boom triggered a global discussion about the distribution of home and workplace labour between male and female employees
It was a big, difficult, important year. "We've had two really good prompts in the form of #MeToo and the Black Lives Matter movement," says Nareen Young, Professor of Indigenous Policy at the University of Technology Sydney. "I think we need to be talking honestly about what happens in workplaces."
The way that employers structure their workforces, communicate with their employees, and construct their company cultures can be a massive driver in changing society-wide inequalities. Fostering diverse and inclusive workplaces also opens your business up to invaluable diverse thinking.
The numerous mutual benefits for employees and businesses are well known among business leaders.
"The most successful firms in the world right now are the ones who are running with this [diversity and inclusion] and have gotten on board with this a couple of years ago," says Steven Asnicar, CEO of Diversity Australia.
"These are the firms that have had extraordinary growth in the market and they're the ones that are attracting the best talent and they're the ones that are retaining their talent as well."
Every good strategy should start with an understanding of the current situation. While each business will have its own areas to examine, let's have a look at where the global workplace community stands overall on diversity and inclusion.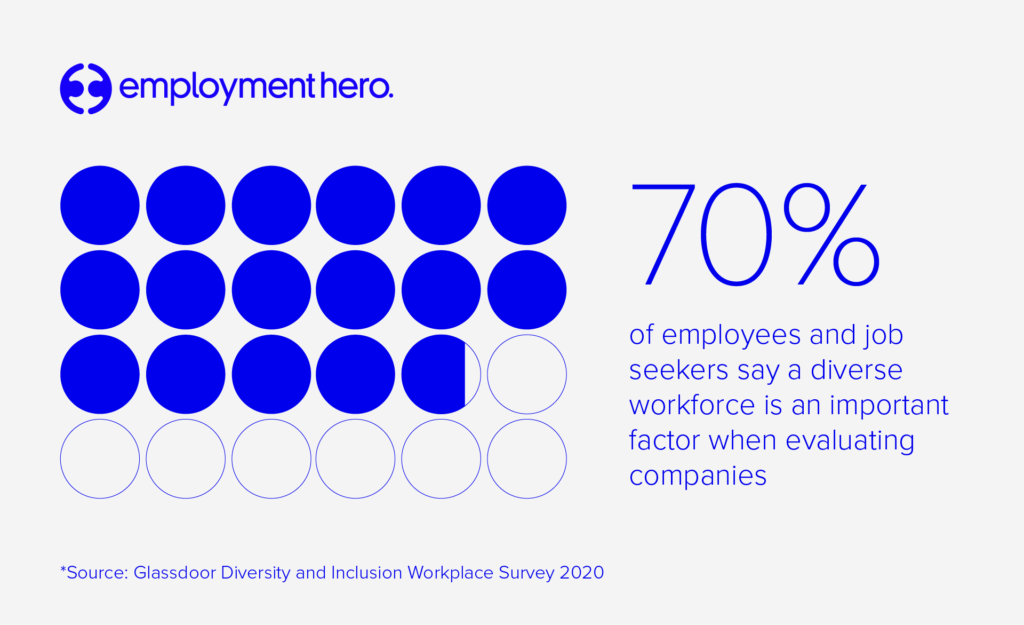 The Millennial and Gen Z effect
Why is 2021 a year where workers are more galvanised for change than any other? Apart from the events of 2020, we're currently experiencing a major generational handover of the workforce. This year, over 70% of global employees will be millennials, and Gen Z (people born after 1996) are a rapidly growing part of the workforce. The new generation wants change, and fast.
"They've been raised differently", says Nareen. "They've been raised to be far more accepting of diversity and employers have to respond to that."
Millennials take a much broader approach to D&I than their predecessors, looking at a broader set of issues, experiences and backgrounds. Millennials are less likely to accept their employers skirting around D&I issues in the workplace, they want to have conversations with managers that have clear knowledge in the area.
SurveyMonkey also found that 69% of millennials working for diverse companies indicated that they were likely to stay on for more than five years, with only 29% indicating the same for non-diverse companies.
Building on the priorities of millennials, Gen Z are seeking truly diverse workplaces. The digital native, 'change-minded' generation will make up over 1 billion members of the global workforce by 2030, according to a report from Intel.
The report cited that diversity and inclusion are almost as important as salary for Gen Z, when choosing between employers 36% note a diverse and inclusive workplace culture as the deciding factor and 38% note remuneration as the deciding factory.
56% of Gen Z said they would be hesitant to take a job if the workplace did not have any underrepresented minorities in senior leadership positions.
📲 Gen Z is ready to get to work. But, is the workforce ready for them? Learn more about a new generation of employees with our Gen Z at Work Report.
Are employers afraid of being 'cancelled'?
Experts are telling us yes. Cancel culture – where businesses or individuals are rejected in social circles due to intentional or unintentional actions or comments – boomed in popularity as a term in 2020. Increasingly the idea is weighing heavy on the shoulders of employers, and often causing inaction on important issues.
Cancel culture can have good and bad outcomes. In some circumstances, it can provide much-needed criticism of powerful bodies and individuals. In other circumstances, it can lead to a mob mentality that heaps hate onto people who are not ill-intentioned.
Calling in and calling out culture can act as responses and alternatives to cancel culture. To call out is to make a person or group aware that their discriminatory behaviour or comments are being acknowledged and won't be tolerated.
To call in is to make a person or group aware that their discriminatory behaviour or comments are being acknowledged and to invite them to see their errors and better understand the situation.
When you're working on creating a better diversity and inclusion strategy, you're probably going to make some mistakes, and you certainly won't get it right every time. Don't let the fear of making a misstep stand in the way of trying to create a better culture for all of your employees.
If you're open to constructive criticism, take feedback on board and are ready to apologise if needed – you'll be able to create a great D&I strategy. Be ready to be called out and prepare to call in.
What have been the recent experiences of different groups in the workplace?
2020 was difficult for everyone, but marginalised groups have faced a unique set of challenges over the last 12 months.
Racial equality
The Black Lives Matter (BLM) movement has been active since 2013, following the shooting of African-American teenager Trayvon Martin, and the subsequent acquittal of his murderer George Zimmerman.
Seven years later in May of 2020, the murder of George Floyd by police in Minneapolis triggered global fury surrounding racial inequality, seeing the movement hit critical pitch. Around the world, communities protested the murder of George Floyd and racial discrimination, police brutality and colonialism in their own countries
In Australia, protests revolved around the continual discrimination against Aboriginal and Torres Strait Islander peoples, including the deaths of Indigenous peoples in police custody.
In the UK protesters marched against the murder of citizens of colour killed by police including 29-year-old Mark Duggan and removed public statues of historical figures that were slave traders.
The BLM movement clearly reiterated that racism is one of the greatest issues facing society today and that Black, Indigenous and people of colour (BIPOC) continue to experience racism throughout their lives. The movement also caused a change in dialogue around racism, making clear that white members of society need to examine their own privilege in not to encounter racially-driven discrimination and bias.
In the workplace, this can mean having tough discussions to enact real change.
Businesses may have an anti-discrimination policy in place but are they really interrogating their organisational structures? Are they ensuring that they are listening to their BIPOC staff and hiring or promoting BIPOC to their leadership teams? Are they responding properly to racial discrimination and microaggresssions when they see it?
During a year when there was so much public discourse about race, many workplaces still fell short in supporting their employees:
47% of African American job seekers and employees have quit a job after witnessing or experiencing discrimination at work.
48% of Australian Aboriginal or Torres Strait Islander employees have experienced discrimination or harassment at work in the last 12 months.
BIPOC are still very underrepresented in leadership positions.
Caucasian/White men still hold 66% of all Fortune 500 board seats and 91% of chairmanships on those boards.
Disappointingly, only 25% of white employees say they've spoken out against racial discrimination at work.
Gender equality
Despite how far it might seem we've come in terms of gender equality at work, in 2021 the numbers surrounding this issue continue to be troubling. The #MeToo momentum of the last few years has demonstrated how widespread harassment continues to be in the workplace.
LeanIn's Women in the Workplace 2020 study found that 73% of women continued to face discrimination at work on a daily basis. The gender pay gap also endures into 2021, with the UN estimating that the gap stands at 23% globally.
This can be attributed to persistent historical and structural inequalities, poverty that disadvantages women and a lack of opportunities. A common misconception is that of 'if you don't ask you don't get', assuming that women aren't pursuing upper management opportunities at the same rate as men.
LeanIn's Equal Pay Report found that women ask for promotions just as often as men, yet for every 100 entry-level men promoted to manager-level roles, only 72 women are promoted.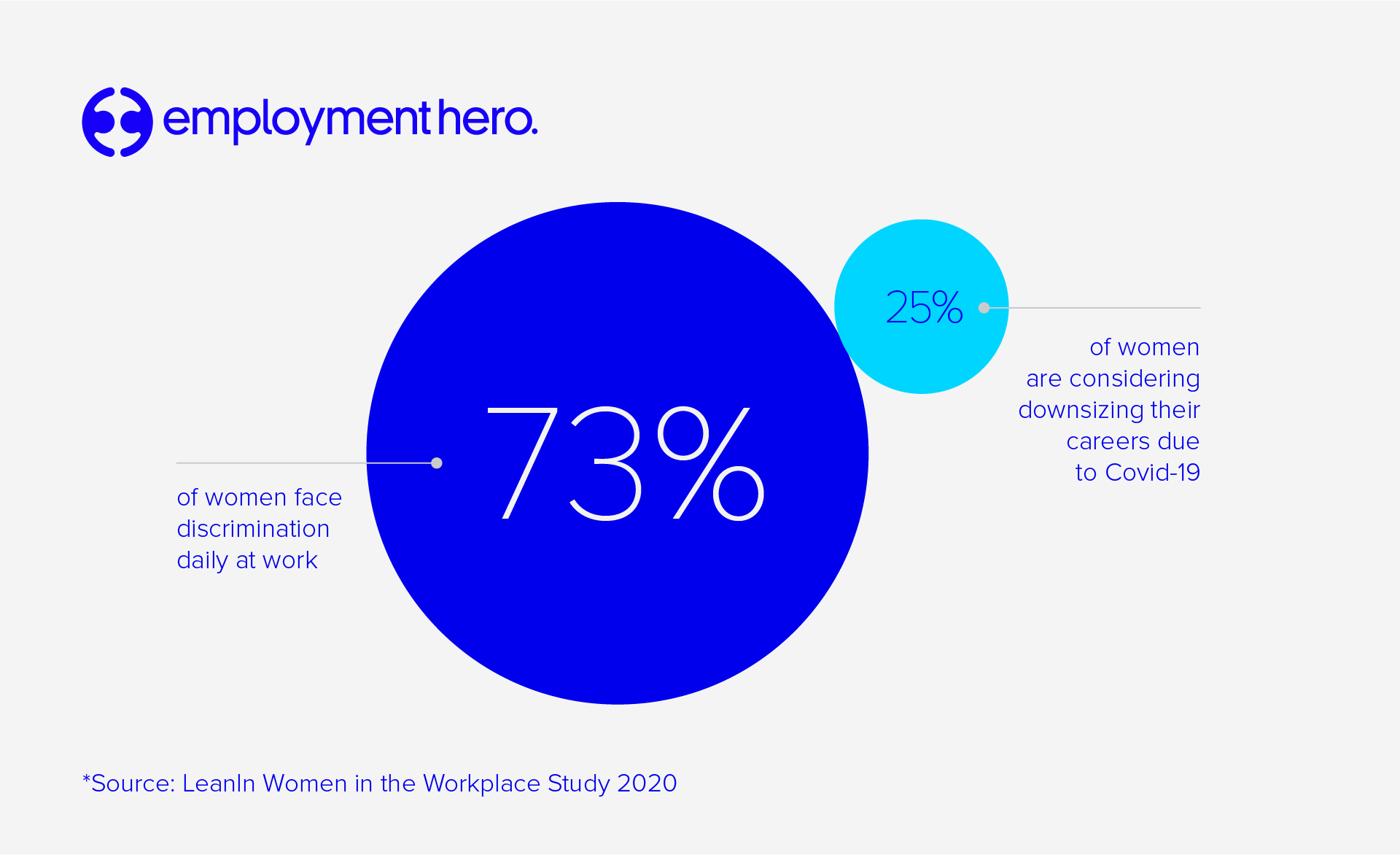 The pandemic has also put extra pressure on women, especially in terms of balancing home and work responsibilities. Although working from home can have great benefits for working parents, the numbers show that the pressure being put on women is disproportionate.
Research tells us that mothers are three times as likely as fathers to be responsible for most of their family's housework and childcare during Covid-19, leading over 25% of women to consider downsizing their careers or leaving the workforce.
Again the numbers show that ensuring gender equality pays off for companies. A 2019 McKinsey analysis found that companies in the top quartile for gender diversity on executive teams were 25% percent more likely to have above-average profitability than companies in the fourth quartile.
On a global scale, $12 trillion (yes, trillion!) USD could be added to global GDP if the gender gap is narrowed by 2025.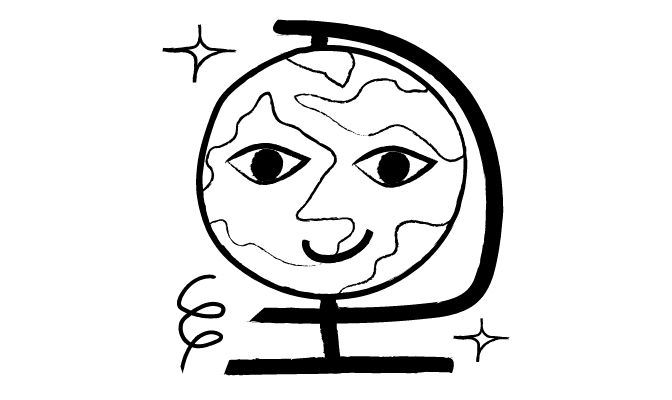 Experiences of LGBTQ+ peoples in the workplace
In June of 2020, the US Supreme Court handed down a landmark ruling that barred employers from discriminating against queer and transgender employees. This was the latest of many fights happening around the world to introduce or strengthen legislation to protect the LGBTQ+ community in the workplace.
As legislation continues to be developed, workplaces can still go a long way in advocating for their LGBTQ+ employees. 47% of LGBTQ+ employees have had people make incorrect assumptions about their abilities in the last 12 months.
Three in 20 LGBTQ+ women believe that their sexual orientation will negatively affect their career advancement at work. For LGBTQ+ men, this number is even higher, at six in 20.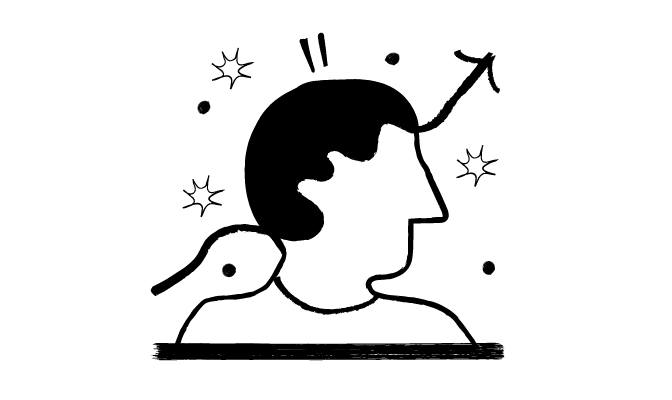 The LGBTQ+ community often finds themselves in an uncomfortable social environment at work, with 50% of employees reporting that they have to come out at work at least once a week.
Trans and gender-diverse employees are almost twice as likely to hear sexist jokes about people of their gender or to hear demeaning comments about people like themselves, and they are more than three times more likely to feel like they can't talk about themselves or their life outside work.
This is likely part of the reason why trans people are much more likely to frequently think about leaving their company.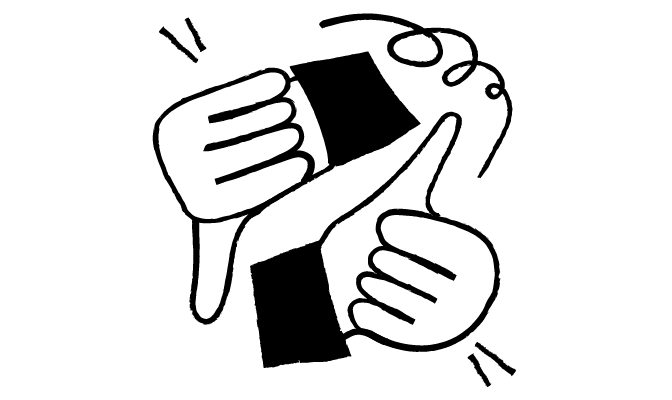 Despite these challenges, research has found that LGBTQ+ employees are just as likely as their straight counterparts to aspire to be top executives.
LGBTQ+ women are often motivated to advance into senior leadership so that they can use their position to be a role model for others like them.
They are also 1.4 times more likely than straight men to seek senior leadership roles to have a positive impact on the world.
Experiences of people with disabilities in the workplace
Employees with intellectual and physical disabilities can often be left out of diversity and inclusion discussions. According to the Return on Disability Group, only 4% of companies that claim to prioritise diversity consider disability in their initiatives.
The UN finds that approximately 386 million of the world's working-age people have some kind of disability, yet often employers assume that persons with disabilities are unable to work.
For this reason, the unemployment rate of people with disabilities is much higher than the non-disabled population.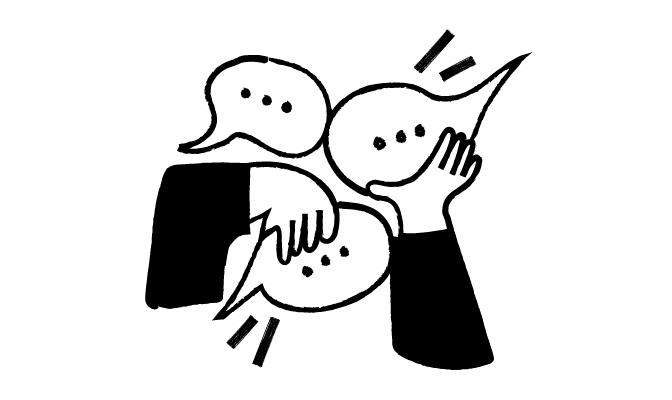 Unemployment issues have led to many people with a disability becoming entrepreneurs or self-employed, with 13.1% of people with disability pursuing this career type compared to 9.2% of non-disabled people, according to a report from the University of Technology, Sydney.
Many of these workers cited the decision as born from necessity rather than the entrepreneurial spirit. For those who are employed, many people with a disability are likely to face discrimination at work.
48% of workers with a disability reported experiencing discrimination or harassment at work in the last 12 months.
Creating a better workplace for everyone in 2021
2020 has given us the framework, language and opportunity to make big changes in diversity and inclusion strategy. Now is the best time to foster all of the positive outcomes that come from having a workforce who know they are valued and embraced.
"You can have the right systems around health, wellbeing and flexibility – we've learned all these lessons from Covid," says Steven. "It's so important now that we don't just lose this opportunity. We can actually create that free flowing workplace which is a social, thriving enterprise which engages people and values them."
This handbook was written to give a sense of where we stand with workplace diversity and inclusion. We've explored some of the positive steps that have been taken and shown that there are still some ways to go about creating great workplaces.
We know that employees want to be a part of diverse workplaces, that businesses can see huge growth when they invest in diversity and inclusion, and that real social change can be made when businesses challenge discrimination
Note: Thank you to our two expert contributors for this article.
Steven Asnicar is the CEO of Diversity Australia. Steven has over 25 years experience in People and Culture, Change Management and Workforce Design. He is a national leader in diversity, inclusive leadership, gender equity, unconscious bias and sexual harassment laws and legislation.
Nareen Young is a Professor, Indigenous Policy at Jumbunna Institute of Indigenous Education and Research at University of Technology, Sydney. Nareen is one of Australia's leading employment diversity practitioners, previously leading two diversity employment organisations, NSW Working Women's Centre and Diversity Council Australia.
More free Diversity and Inclusion resources
This blog is the third in our 2021 Diversity and Inclusion Series, following;
Glossary
Millennial – Millennial refers to the generation born between 1981 and 1996, aged 24 to 39 in 2020.
Gen Z – Gen Z refers to the generation born between 1997 and 2013, aged 7 to 23 in 2020.
BIPOC – An acronym that stands for Black, Indigenous, and People of Colour.
Microaggressions – A statement, action or comment which is an indirect, subtle or unintentional discrimination against members of a marginalised group.
Privilege – Privilege in a social context is a special advantage or entitlement that benefits an individual to the detriment of others.
#MeToo – #MeToo is a social movement against sexual harassment and abuse, which involves people sharing stories and public allegations of sex crimes. Although the movement started in 2006, it was popularised by a viral moment in 2017 when several Hollywood actresses spoke out about sexual-abuse allegations against producer Harvey Weinstein.
LGBTQ+ – A common acronym that stands for Lesbian, Gay, Bisexual, Transgender and Queer. The '+' aims to also include other members of the queer community that sit outside the heterosexual orientation, which could include people who identify as Asexual, Pansexual, Intersexed, Agender, Genderqueer and more.
Gender-Diverse – To be gender-diverse means identifying with a gender outside of male or female.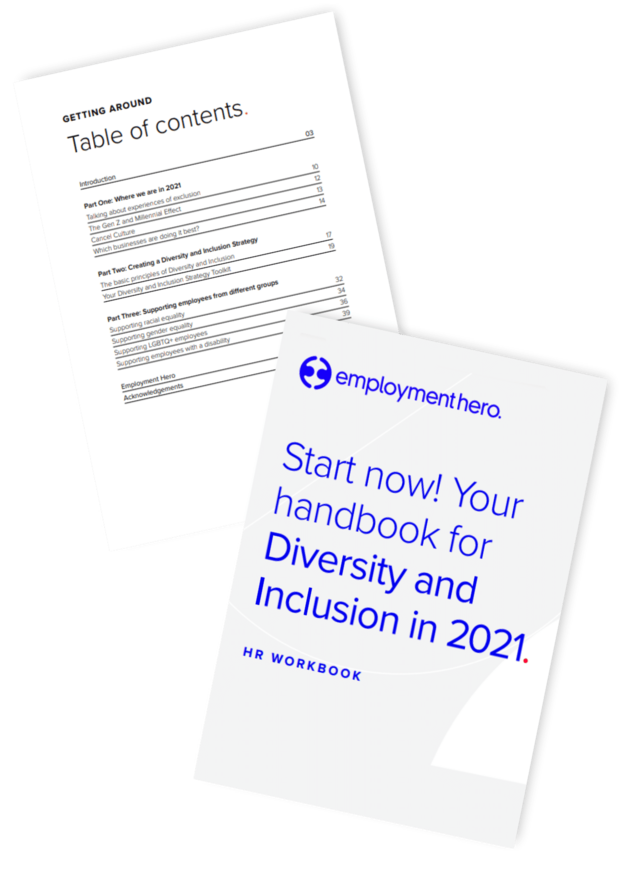 We've included everything you need to know about Diversity and Inclusion in our free HR Handbook. Download now.