Flexible working arrangements are becoming incredibly popular, and businesses of all sizes are looking to keep up with the growing demand for employees who request flexible working arrangements.
Do you embrace and encourage flexible working in your organisation? It's important to have a flexible working policy in place to set the rules.
How can you use this flexible working template?
We've created a free, flexible working policy template for you to introduce to your business.
This policy can help eligible employees learn more about flexible work arrangements whilst setting out ground rules for them to follow.
By downloading the PDF, you have instant access to a ready-to-publish flexible work policy template that can be modified and implemented at your company.
All you need to do is replace the highlighted text boxes with information relevant to your company and get your employees to acknowledge the policy.
Download the template now.
What are flexible working arrangements?
Flexible work arrangement refers to the process that allows employees to have some control over their working hours and where they get work done.
Some examples of flexible work include a flexible working hours template, remote working and job-sharing.
Should you offer flexible working arrangements?
One thing that fills employers with varying degrees of trepidation is implementing flexible working policies. How do you do it? And where do you start?!
When it comes to implementing flexible work arrangements, the first thing you want to think about is what works for your business. Think about the types of flexible arrangements available and what might suit you.
If you're a tech company like Employment Hero, remote working is a very viable option. Want to switch to remote work?
Read more: Insights for employers on how to navigate remote work 
If you're a business that needs boots on the ground, rather than throwing your hands up in defeat, consider what you can offer.
Can you offer flexitime? Or job sharing? What about time-in-lieu?
Once you've thought about what works for your business it's time to craft a policy!
Creating your own flexible working arrangement policy
Having an official procedure working policy in place is super important when it comes to implementing changes. They help manage risk from approving an employee's flexible working request and can be used as evidence in unfair dismissal cases.
When crafting a flexible working policy, clearly outline what the terms are, what caveats there are and any deal-breakers.
Some example questions employers should consider:
Are there any legal requirements and employment laws related to flexible working in your country?
What will be the working hours and finish times for team members?
Will employee productivity be affected?
Can employees fulfil their responsibilities while flexible working?
Do you have a work-from-home policy in place?
Do employees have access to adequate remote working tools?
Read more: How do you build trust while remote working?
Once you've crafted your policy, it's time to implement it at your workplace.
How to implement a flexible working policy
The first step is to get employees to read the flexible working policy and acknowledge they understand the terms and conditions, this can easily be achieved by getting employees to sign off on policies.
By signing off on a policy, an employee acknowledges they have read and understood what is expected of them.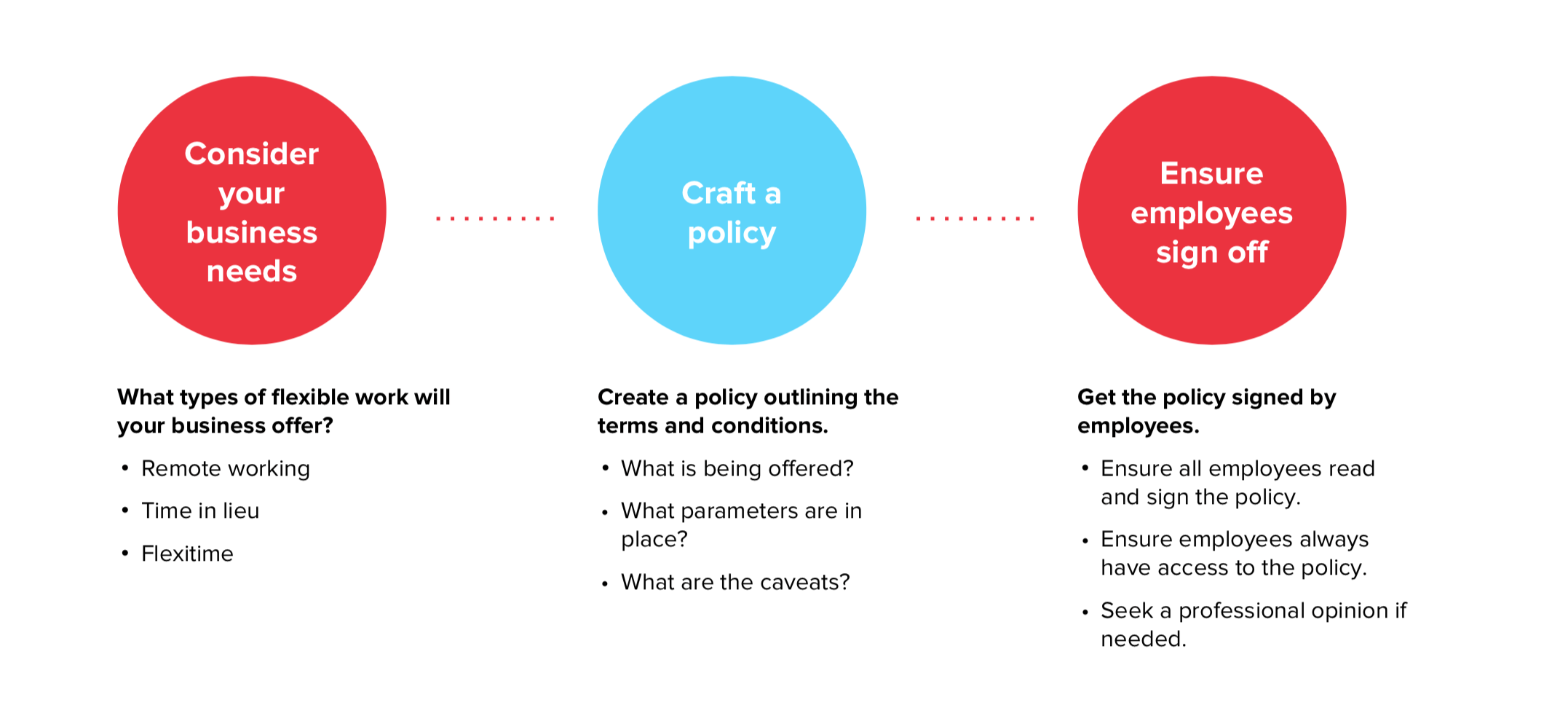 Using your flexible working hours policy template
Aside from the downloadable policy template, Employment Hero's HR platform has flexible work policy templates inside the platform that you can tailor for your use.
These policies have been vetted by lawyers and are frequently reviewed to ensure they are up to date with local law.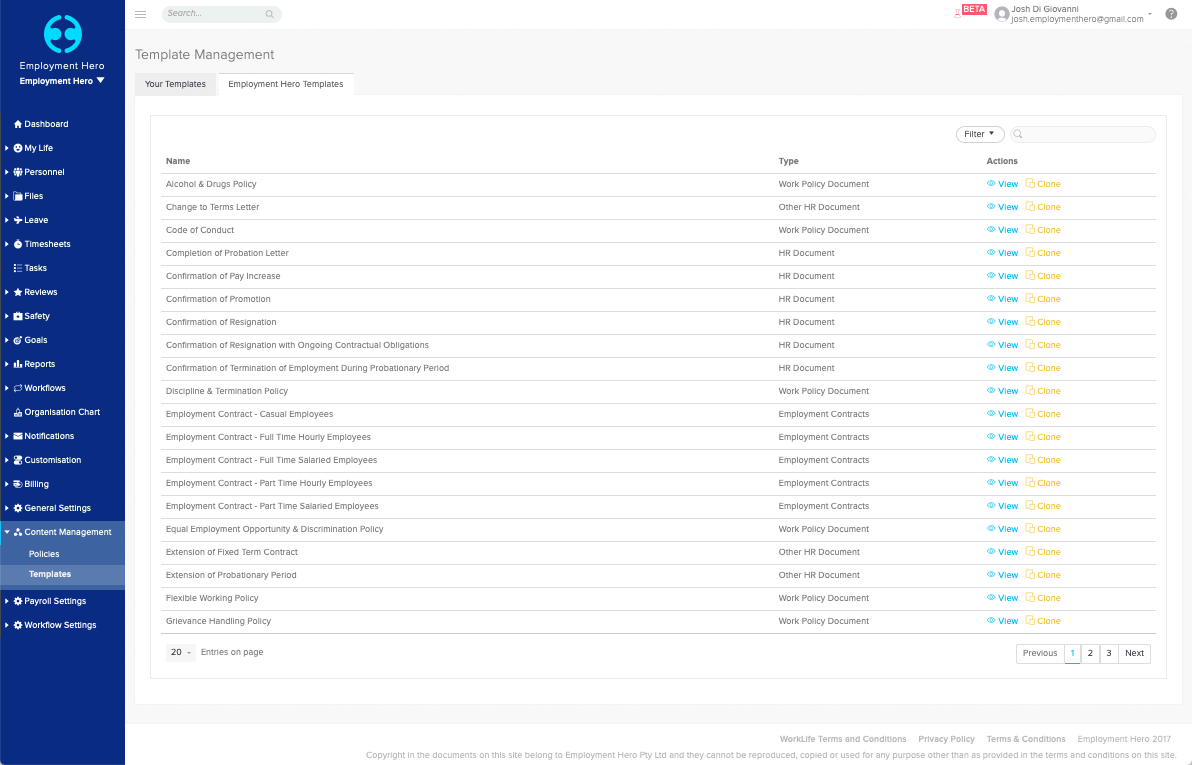 A look inside our policy management platform!
If you aren't using Employment Hero, all you need to do is reach out to us for access to these templates
Download our template today!