Whatever the size of your business, the same rule applies when it comes to payroll – be compliant or face penalties. However, when you're a small or medium-sized business, you most likely don't have the luxury of in-house or external professionals helping you manage your payroll function.
So, how can you ensure you're doing the right thing when paying employees?
Use this New Zealand payroll handbook
Our comprehensive payroll guide takes you through the basics of payroll in New Zealand, from regular Inland Revenue filing to correct record keeping and minimum wage rates.
The NZ payroll guide includes:
The basics of NZ payroll filing

Potential compliance challenges

Record-keeping essentials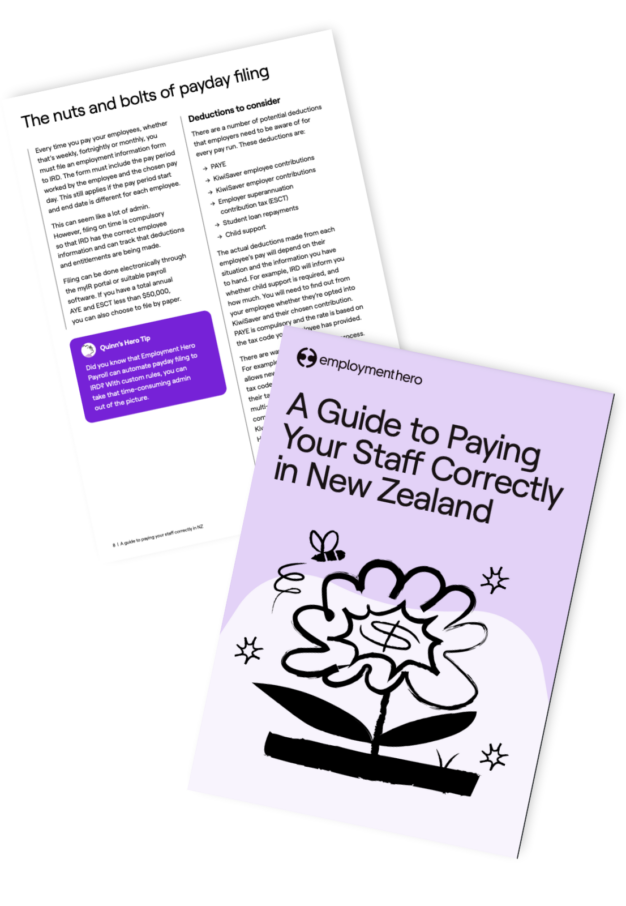 Why is it important for business owners to understand payroll?
It's critical that business owners take the time to understand payroll, for a number of reasons. Here's just a few…
Employees' pay is at the heart of employment
As much as everyone wants a job that they love, work has one main purpose – to earn money. As a business owner, it's both your legal and moral obligation to ensure that employees are paid the money that they have earned. Incorrect pay can deeply affect an employee's personal life and have big repercussions.
Incorrect payroll can lead to penalties
Many people find payroll challenging, but not being across your obligations can be costly. Employment New Zealand can impose significant penalties on owners and businesses who have not paid their employees correctly. This doesn't just affect your bottom line – it can affect your reputation too.
It doesn't have to be time-consuming
If you're not knowledgeable about the payroll process, the monthly pay run can become a dreaded event. Luckily, it doesn't have to be. It can be super easy if business owners choose to embrace payroll software and automate a lot of those key entitlements. Let technology help you understand how payroll works and why.
Examples of payroll deductions
Every employee will have their own set of specific deductions and tax payments, depending on their eligibility, rate of pay and chosen contributions to schemes.
PAYE
All employees in New Zealand who are earning a wage or salary are liable for PAYE (pay as you earn). It is the responsibility of the employer to deduct and pay PAYE income tax on behalf of your employee.
Kiwisaver
The Kiwisaver scheme is designed to support New Zealanders with long term savings. The scheme itself is voluntary for employees but all employers by law must check whether their employees would like to opt-in and if so, what percentage of their pay they would like to put in the fund every month. Employers also have to contribute a minimum of 3% of the employee's gross salary or wages every month.
Employer Superannuation Contribution Tax (ESCT)
All employer contributions to Kiwisaver are liable for Employer Superannuation Contribution Tax, which must be calculated and paid to Inland Revenue with every pay run.
Student loan payments
For some employees with student loans, their student loan repayments must be made from their wage or salary. Employers should make these deductions and can make additional deductions if the employee requests.
Child support payments
For some employees, there may be a requirement to deduct child support payments. As an employer, you will be notified by Inland Revenue if this is the case. They will also clarify how much is required as a deduction with each pay cycle.
What are some important payroll records a business should keep?
According to Employment New Zealand, employee records must be kept for a period of seven years, even if employees have left your organisation. Wages, time, holiday and leave records should be kept for six years. If records aren't kept correctly, New Zealand employers could receive a penalty of $100,000. Records must be kept in good, legible condition and in English.
Employment New Zealand states that the information required to be kept includes:
General
→ Employee's name
→ Employee's postal address
→ Employee's age (if under 20 years old)
→ Employee's commencement date
→ A signed copy of the employment agreement
Pay
→ A copy of their tax code declaration (IR330)
→ Pay rate paid to the employee
→ Gross and net amounts paid
→ Any deductions from the gross amount
→ Details of any incentive-based payment, bonus or other monetary allowance
Hours of work
→ The work expected of the employee
→ Whether the employee is full-time, part time, or casual
→ Whether the employee is permanent or temporary
→ The number of hours worked in a pay period
→ The dates they last became entitled to annual holidays, sick leave and their current entitlements
→ The dates of leave taken, including annual holidays, sick leave and bereavement, and payment received for each
→ Any annual leave cashed up, as well as the date and amount paid for each entitlement year
→ The dates and number of hours worked on public holidays and the payment for these
→ The dates of, and payments for, any public holidays or alternative holidays they didn't work but were entitled to holiday pay
→ The cash value of any alternative holidays they gave up for payment KiwiSaver contributions
→ Amount deducted from pay
→ Pay period
→ Date(s) paid
→ Employer contribution
During employment
→ The cash value for any board and lodgings provided
→ Details of any employment relations or education leave taken
→ The date when employment ended, and the amount of holiday pay they received at the end of employment
Common payroll mistakes businesses make
Every employer has to deal with payroll, so it's unsurprising that the same mistakes often crop up. Here are some of the most common ones…
Not keeping records
It's not enough to know you're doing the right thing with your payroll – you have to be able to prove it. As we've mentioned, New Zealand employers are legally obligated to keep employee payroll information for a number of years. This can be a real challenge for many employers, especially if you're reliant on paper records. Payroll software comes in really useful as a place for digital records that are secure and easy to access.
Misinterpreting the Holidays Act (2003)
If there's one piece of legislation that haunts payroll professionals and employers in New Zealand, it's the Holidays Act (2003). This legislation is designed to support employees but it often causes confusion for employers, particularly in regards to leave entitlements and pay. It's critical that you understand exactly what entitlements your employees have.
Missing out on the latest legislation
There's often new updates to legislation when it comes to employee pay. From varying pay rates for migrant employees to minimum wage increases, employers need to be across what their obligations are. After all, employers that break employment law could be liable for significant penalties.
How can payroll software help?
Payroll software like Employment Hero Payroll can support you in being compliant through a range of features. These include enabling accurate record-keeping, payday filing, leave calculations, deductions and much more. For small to medium businesses, software can also support your team if payroll is proving to be a time-consuming task.
To find out more about how Employment Hero Payroll could support you, book a demo with our team today.
Disclaimer: The information in this guide is current as at 25 August 2023, and has been prepared by Employment Hero Pty Ltd (ABN 11 160 047 709) and its related bodies corporate (Employment Hero). The views expressed in this guide are general information only, are provided in good faith to assist employers and their employees, and should not be relied on as professional advice. The information is based on data supplied by third parties. While such data is believed to be accurate, it has not been independently verified and no warranties are given that it is complete, accurate, up to date or fit for the purpose for which it is required. Employment Hero does not accept responsibility for any inaccuracy in such data and is not liable for any loss or damages arising either directly or indirectly as a result of reliance on, use of or inability to use any information provided in this guide. You should undertake your own research and seek professional advice before making any decisions or relying on the information in this guide.