The potential of cloud payroll
Due to its time-consuming complexities, payroll is notoriously seen in the accounting industry as a "loss-leader". However, by implementing cloud-based tools that automates the compliance side of payroll, accounting practices can open up a previously untapped revenue stream, increase profit margins and free up time to focus on adding real advisory value to clients.
What's included in the guide?
The accountants changing role

Understand the changing role of the accountant and the need for a holistic client relationship

Perceptions of payroll

Consider current and changing perceptions on payroll. Identify the common pain points and consider how these can be resolved

The importance of challenging conventions

Leave traditional conventions behind and uncover the benefits of automation and explore a scenario that emphasises the relationship between time savings and increased revenue
What to look for in payroll software

Identify key features and factors to consider when choosing a payroll provider to suit your specific needs and maximise profit
The information in this article is current as at 9 March 2023, and has been prepared by Employment Hero Pty Ltd (ABN 11 160 047 709) and its related bodies corporate (Employment Hero). The views expressed in this article are general information only, are provided in good faith to assist employers and their employees, and should not be relied on as professional advice. The Information is based on data supplied by third parties. While such data is believed to be accurate, it has not been independently verified and no warranties are given that it is complete, accurate, up to date or fit for the purpose for which it is required. Employment Hero does not accept responsibility for any inaccuracy in such data and is not liable for any loss or damages arising directly or indirectly as a result of reliance on, use of or inability to use any information provided in this article. You should undertake your own research and seek professional advice before making any decisions or relying on the information in this article.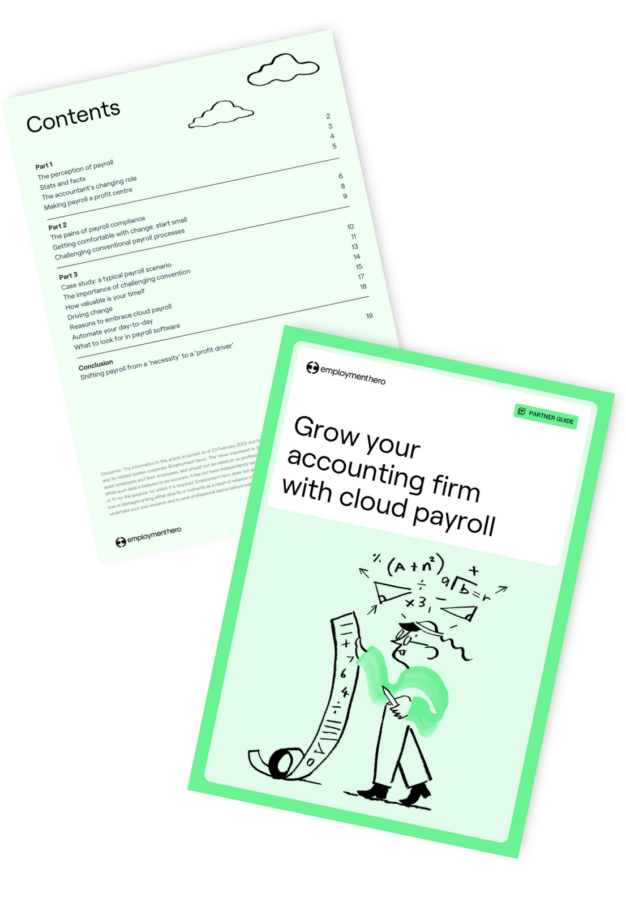 The smarter way to manage payroll and productivity. For accountants, bookkeepers and payroll outsourcing providers on the up.