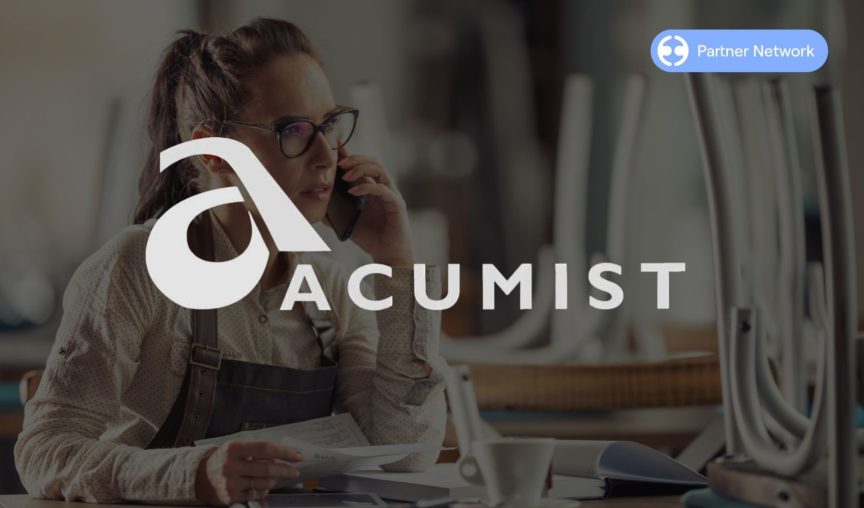 Acumist
Windlesham, United Kingdom
125 (Client Size)
Accountant (Partner Type)
Explore this case study if:
You're looking for a modern cloud payroll solution

You're keen to add value to your clients and foster strong relationships
You're interested in branded payroll and want to learn how to scale your accountancy or payroll outsourcing business
About Acumist
Acumist is a blended financial services company offering the concept of a virtual financial director, cloud integration services, and executive coaching.
They are an award-winning company with a modern approach to the needs of the SME market. They believe the traditional approach of compliance accounting for this market is in its twilight years; and that it's time to embrace the new, value-added approach to understanding and running a business.
Chris's career in accounting started with working in the corporate recovery and insolvency departments of several of the top ten firms at the time. He spent ten years in those roles and a further five years consulting for some of those firms and a few others along the way.
He set up Acumist to help business owners create their own realities and become successful. He is responsible for the organisational change to facilitate a new style of business and the tech stack to appeal to new clients coming on board.
Challenges…
The shift away from desktop software
Before growing to 125 clients in a wide range of industries including construction, wholesale, tech, and arts in 2022, Chris liked to keep in the know of the best-in-breed products to deliver the best service and support their clients. Additionally, sticking to traditional software or a fully non-cloud technology stack made it difficult for the team at Acumist to stay compliant and have confidence in their data.
"We really didn't like working on hosted desktops or part-in-part solutions where we might have had something in the account, much like a client portal, but the rest of the software was maintained on our server or the desktop. It was a constant search to try and find everything that was held within the cloud.
Then GDPR came along and presented some other problems for us in terms of delivering payslips and other documents. Small firms had concerns, so we wanted to tell our clients, we were secure and looking after the problem," shares Chris.
To ease his challenges, make sure Acumist is relevant in the fast-moving tech market, and support his vision to offer finance as a service, Chris was in need of a true cloud solution.
Solutions…
Creating a modern digital payroll solution
Searching for a cloud payroll solution didn't take long, after finding Employment Hero Payroll. "The other solutions we had or had looked at the time were only offering payslips in a portal, but everything else had to be run on a server-hosted desktop. Employment Hero Payroll was the only game in town that provided a truly end-to-end solution in the cloud," Chris shares.
For the team at Acumist, there was no concern when migrating over to Employment Hero Payroll and it was an easy process. "It was just a question of downloading CSV data from one piece of software we were using and uploading that into Employment Hero Payroll," Chris says.
When using Employment Hero Payroll, some of the key features that caught Chris's eye were:
Empowering employees through an Employee Self Service portal
The ability to process payroll data, payslip delivery, P60 delivery, and HMRC reporting
Integration with Xero, Comma, and Telleroo
Easy access to payroll data, no matter the location
Not needing anyone to run payroll internally, since it is automated in the background
100% committed to the cloud after working remotely for over 15 years now, Chris shares that Employment Hero Payroll has helped him support his way of working as an all-in-one solution. "Employment Hero Payroll has just made my life measurably simpler and I don't have any worries about the storage of data, or losing data. It's all kept securely in the cloud and accessible from wherever I happen to be working. The fact that I can pick up data and run payroll from wherever I am in the world is a key point for me," Chris says.
Adding extra value to client relationships
The main business goal for Acumist has mostly been based on client satisfaction KPIs. "I'm very client-centric, so as long as the clients are happy, and we're doing our job properly, then we're happy," Chris shares.
Using Employment Hero Payroll since 2018, the team at Acumist has seen improvements in client interaction due to automation. "I didn't actually have anybody running payroll for me at the time and Employment Hero Payroll has enabled me to stay that way with the automation that is available. It has saved me from having to take anybody on in our payroll capacity in the past. I definitely spend less time processing clients' payrolls, because many are completely automated and I rarely look at them from one payroll to the next. I like the fact that I can bring clients in to collaborate, in the software, where I want to or where they would like to be involved."
Support through expansion
Chris has big expansion plans for Acumist over the next 3 years, and wants to continue his partnership with Employment Hero Payroll to support his journey.
"Investment in Employment Hero Payroll is worthwhile. It's changed the way that I run and look at payroll. While it's seen as a necessary evil by many accounting firms, I can now go out and look for new payroll clients, and also companies that will work with me, under my branded payroll."
For the final say, we asked Chris to share advice with other accountants, bookkeepers, and bureaus who might consider Employment Hero Payroll. Don't hang around, Employment Hero Payroll is a great product. It's an end-to-end solution that I still don't really think exists elsewhere in the marketplace at the moment. There are very few products out there that will be able to deliver everything within the cloud and in one package. Particularly with integrations, it will enable people to keep everything in one place and presents a much nicer, much more consistent approach for clients when they see one solution coming from one place.