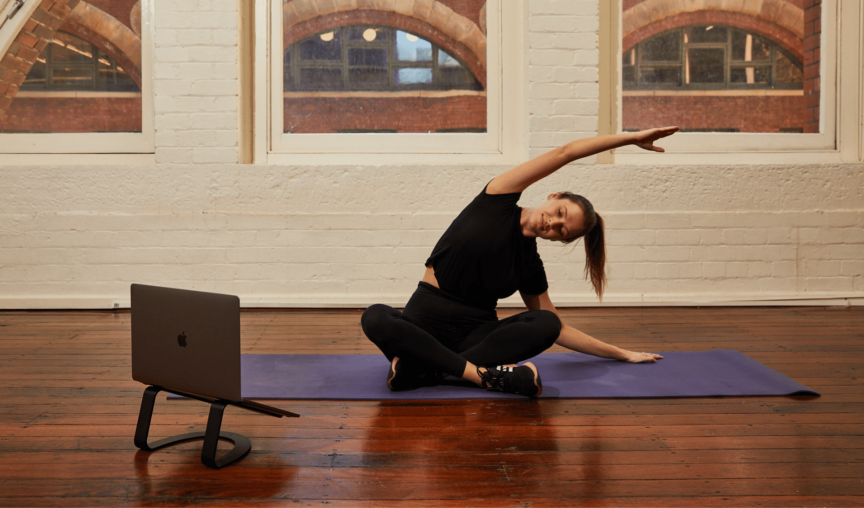 Workplace wellbeing is a hot topic in workplaces around the world right now, and against the backdrop of the continuing Great Resignation – it's set to get even hotter. 
Employees spend almost a third of their lives at work, so it makes sense that they would be seeking some kind of health support from their employer. A well-designed workplace wellness program is a great employee engagement tool, honouring your team's dedication to their work, but it's also a huge drawcard, when it comes to recruitment and your employer value proposition (EVP). 
As businesses enter a post-pandemic growth phase and talent becomes harder to find, prioritising workplace wellness can help your company cut through the noise. So, how can you create one that's memorable in all the right ways?  
Well, wellness programs should reflect your unique values, while also supporting employees in the ways they need it most. Let's take a look at the main risks to employee wellbeing right now, and which British businesses are tackling them in unique ways.  
What wellbeing risks are UK employees facing right now?
It's been a tough couple of years for British employees (care to take a guess why?). 
Restrictions may have lifted around the pandemic, but uncertainty and stress still lingers. The Great Resignation is causing many employees to shift their thinking around career, and skyrocketing inflation is putting pressure on the household purse. 
Our Wellness at Work report found that 54% of UK employees have felt burnt out in the last three months and 59% are stressed about their personal finances. These are just the beginning of our findings, but we think it's safe to say – it's not easy to be a British employee right now. 
But here's the good news. There are many ways that businesses can make a positive impact on their team's wellbeing, all it takes is a little inspiration. Let's have a look at six UK companies offering unique wellbeing benefits right now. 
How To Create a Standout Employee Experience
What do these companies have in common?
We know there are plenty of large corporations offering great workplace experiences, but for this list we've looked to smaller and less established businesses to inspire our community of SMBs. 
What these innovative companies are doing  – whether it be tied to mental, physical, financial, occupational or recreational wellness – is within reach, and it's incredible to see them prioritising employee wellness along with business growth. 
Another thing that these companies have in common are strong values. We believe that company values are one of the most important tools businesses of all sizes have (if you'd like to see ours, you can find them here). 
Values have the power to influence decision-making, attract and retain talent, and motivate your employees. They're the guiding principles that help inspire your team to work towards your mission and goals. Read on to discover how these businesses have incorporated their brilliant values into their employee experience to support team wellbeing. 
Dishoom
Dishoom has a very special place in many Brits' hearts, with their mouthwatering menu delighting visitors at every mealtime (here's lookin' at you, double bacon naan roll). 
While you may know that Dishoom has delicious food, you may not be aware that they also have an incredible internal strategy to support employee wellness. Number 12 on Glassdoor's 2022 Best Places to Work in the UK list, Dishoom has an impressive range of wellbeing perks that set the standard for hospitality businesses. 
Just a couple of features of their program include; competitive industry pay and a total distribution of service charges, fully training managers in mental health first aid and supply a 24-hour confidential counselling helpline, as well as discounted memberships, classes and yoga sessions from local gyms and studios. 
Although slightly outside the 'wellness' realm, their Bombay Bootcamp is a perk highlight. A program for staff who reach a five-year tenure with the company, as well as Head Chefs and General Managers, where participants attend a five-day immersive food tour of Bombay. Where do we apply?!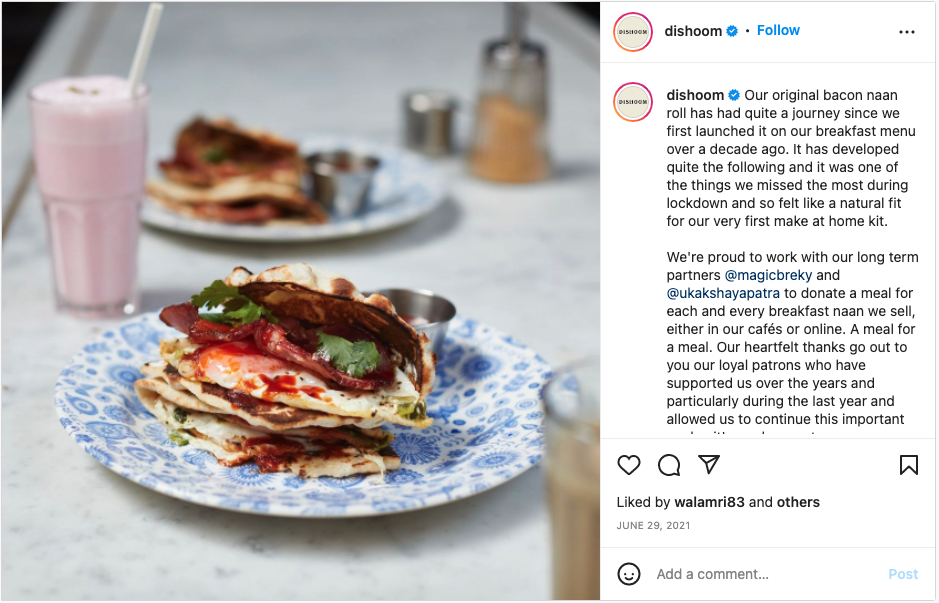 AND digital
AND digital is another feature from Glassdoor's Best Places to Work in the UK list. This digital agency works with some of the UK's biggest to deliver innovative tech solutions and strategies – and they apply the same unique mindset when it comes to supporting their team. 
AND's Social, Ethics and Inclusion committee operates at board level, incorporating inclusive and responsible values into their company fabric. Through their 'Red Chair' initiative, shares of the company are built into every contract, and every person on staff is given the opportunity to apply for the non-executive board of directors each year. 
Additionally, AND provides mental health first aid training, an employee assistance program, mindfulness sessions, dedicated support communities, sustainability initiatives (they aim to be carbon neutral through offsetting by 2023 and through insetting by 2025), and much more. They've really got the seven dimensions of wellness covered. 
Allplants
Allplants is on a mission to make sure that you get your five a day – and then some. The vegan food delivery service has health and sustainable values at the core of it's product, so it makes a lot of sense that they extend the same ethos to their team. 
Just a few of our favourite wellness support perks that they provide include; employee stock options (from day one of their team's employment), a hybrid working model to support flexibility, a £500 yearly learning allowance, a cycle to work scheme, parental leave and pregnancy loss support leave. 
They also share the goodness by giving their employees a free monthly delivery of Allplants food. Now that's really putting your money where your team's mouths are. 
Octopus Energy
Octopus Energy is an independent energy supplier that is making green energy easily accessible and affordable in the UK. As if they aren't doing enough in saving the planet through renewables, they also have a fantastic employee wellness scheme to boot. 
Voted one of the top 5 companies in the UK for work-life balance by Glassdoor in 2020 (a notoriously unbalanced year), Octopus Energy has a people-first approach to working styles. 
We especially liked their support of mental health with Headspace apps provided on a company licence, access to an 'Octopus Money Coach' who helps team members with financial wellbeing, and access to tax free childcare, maternity and paternity pay. They even established OctoKidsTV during the Covid lockdowns to help keep employees' children entertained. Providing extra considerations for parental wellbeing? We love to see it. 
Of course, being a renewable energy company, their perks package is inspired by sustainable living. Employees can enter a workplace salary sacrifice scheme to support the purchase of an electric vehicle, and also participate in a Cycle to Work Scheme which finances employee bikes. 
Fiit
Fiit is a fitness app designed to make exercise accessible for people of all athletic levels. Classes can be done on-demand, and cover exercise styles from HIIT to strength, stretching, pilates, breathwork and more. 
Fiit's mission is to make exercise a habit for everyone, and that's definitely reflected within their wellness program. Along with private health and dental insurance, employees enjoy a personal health and wellness budget, unlimited healthy snacks and weekly team workouts. We also appreciate the activewear-friendly office; give us comfort over corporate any day.
While they are excelling when it comes to physical health support, Fiit also does a great job at supporting occupational health. Their publicly available culture handbook goes to great lengths to understand the why of their mission; from covering the history of the home workout through to uncovering their values and how team members embody them. 
Butternut Box
From food to plants to sustainability to fitness, the businesses we've featured so far show how a company's mission and employee wellness program can complement each other beautifully. However, these missions and programs are slightly lacking in cute-factor. 
The same cannot be said for Butternut Box, a company that delivers healthy food for your four-legged friend. Butternut Box love DOGS so much that their entire set of values is. Their values are;
Dedicated and determined 
Open and honest
Genuine care
Strive for better
How is this reflected in their employee wellness program? Firstly, they have a dog-friendly office, with plenty of pooches to keep morale high. They also provide free Butternut for staff dogs – showing a little love for fur-baby wellness too. 
They also offer flexible working, free counselling, a yearly development budget, pension support and a cycle to work scheme.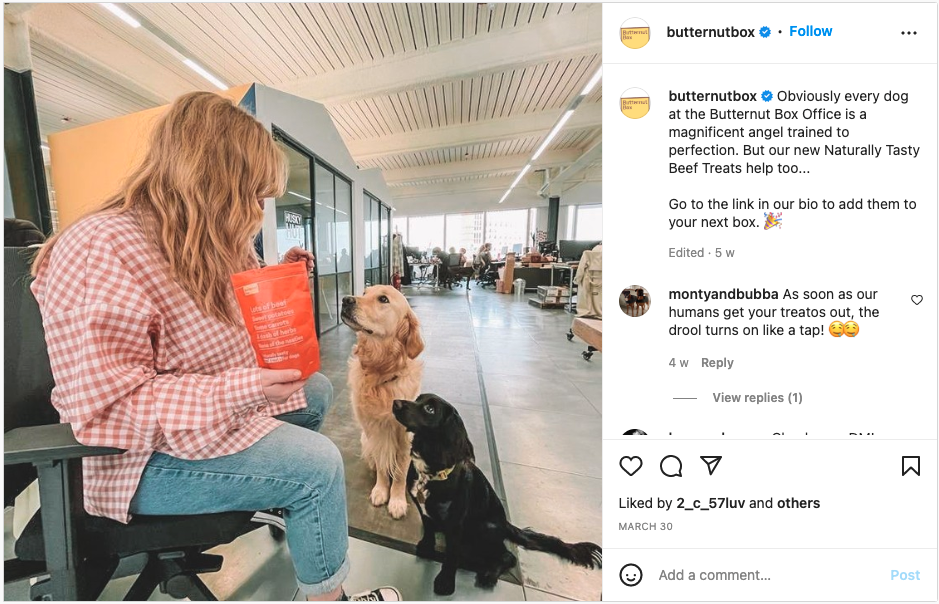 Feeling inspired?
If you're ready to revamp your workplace wellness program, start by reading our 2022 Wellness at Work report. Our insights about employee wellbeing can help you understand how employees are feeling right now. 
Want more? Our interactive wellness dashboard can illuminate more information about employees in your location. Find it here.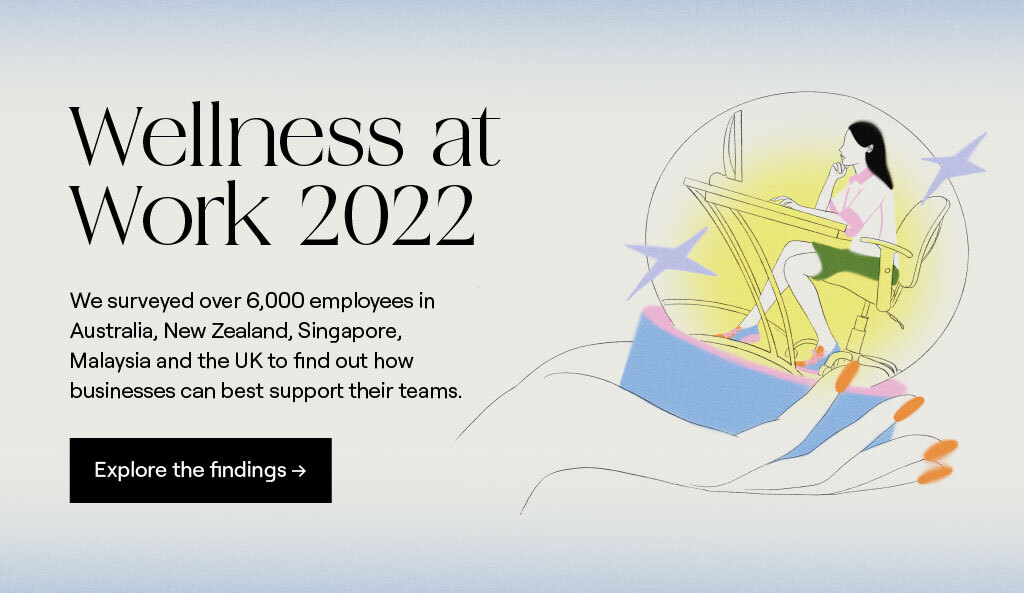 The Ultimate Employee Engagement Guide