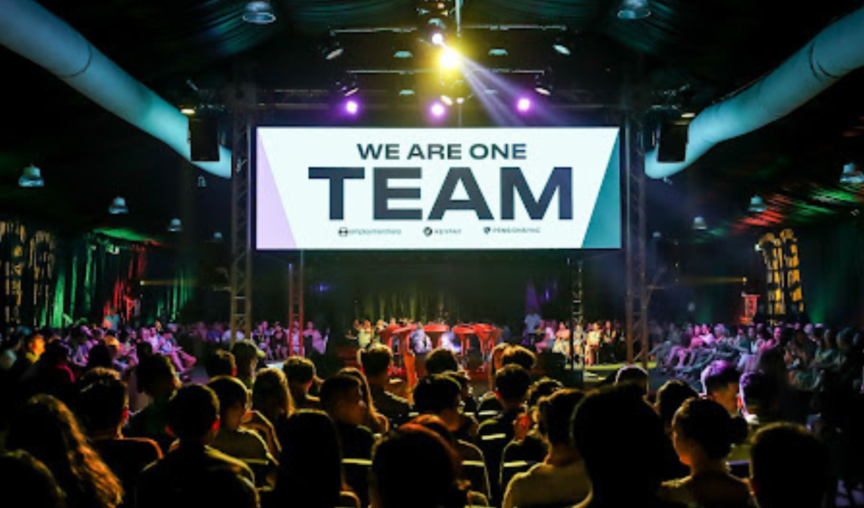 Earlier this year in Phuket, Thailand, over 500 Heroes assembled together in person for the first time since the pandemic, bringing to life Employment Hero's inaugural Global Gathering.
There was magic, excitement, and the chance to really connect with each other.
It was a monumental occasion where many Heroes got the chance to meet their team for the first time. Bringing together the full cohort from Employment Hero, Keypay and PensionSync set us up to move ahead with confidence and kinship while solving our mission to make employment easier and more valuable for all.
We celebrated together, laughed together, inspired each other – and most importantly – got the chance to really dream big as one team on an important mission to support SMEs around the world.
It was truly a huge milestone for a global, remote-first company, who have frankly been too busy to stop and think about the challenges that we overcame and consider what's next.
If you're wondering what the significance of the Global Gathering is, how people felt attending their first major event post-pandemic – and how on earth you assemble over 500 people from Australia, New Zealand, Vietnam, the United Kingdom and beyond – keep reading.
What is the Global Gathering?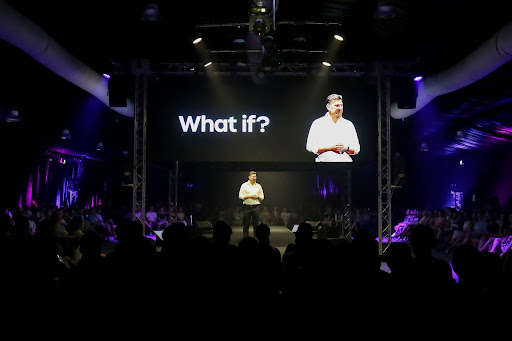 Our Chief Executive Officer, Ben Thompson asking us to think bigger and ask 'What if?'
A lot has changed at Employment Hero in the past three years. We went from a physical office headquartered in Sydney, Australia which had a humble 220 OG Heroes, to an incredible 637 of us around the world. This is thanks to our proactive remote-first approach we adopted in our efforts to scale as we continue to dream big – and continue to achieve big milestones.
Doing so has meant that we were able to (and continue to) significantly increase our talent pool and form a competitive advantage in our hiring strategy as many traditional companies continue to struggle to bring back staff to the office. A lot of Heroes chose to join us on our mission – and remain to this day – because of our flexible work policy and first class, remote-first approach.
The Global Gathering is the brainchild of our CEO, Ben Thompson. Designed as a chance for everyone to hear from our leadership team directly, realign on strategic business priorities – and look ahead to the future as one team by inspiring each other.
How did we set out to inspire our heroes? From inspiring keynotes and learning sessions, to visionary thinking and exploring what the future of Employment Hero looks like – there was a lot for attendees to be inspired by.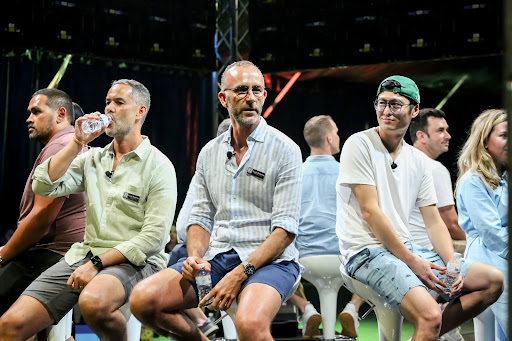 Our Executive Leadership Team getting ready to be grilled by our Heroes
Heroes had the chance to:
Learn. Through workshops facilitated and designed by our very own heroes with lessons which can be used in our professional and personal lives in areas such as personal finance, personal branding development and design.
Connect. Meet new people, and reconnect with old friends.
Have fun. After all, part of the Global Gathering's agenda is to celebrate all the wonderful achievements we've conquered together.
Be inspired. Form your answer to 'What If?' through the experience and relationships you build during the event.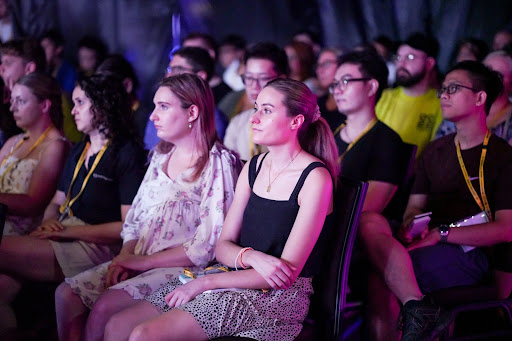 Some Heroes during a keynote session 
Heroes who weren't able to make the event because of personal reasons were not left out by any means. Everything was recorded, or accessible live at the time so that they could celebrate together, with us. We are one team, after all.
And in case you were wondering – Global Gathering isn't an incentive trip or a holiday. It certainly isn't mandatory because sometimes, life happens and you can't make it.
Let's unpack the remarkable considerations that go into creating a successful event this large a scale.
How can you measure how connected and aligned a remote-first business is?
Every quarter at Employment Hero, we aim to deliver on two golden metrics from themes designed to drive our company forward.
As part of this, we wanted to measure how aligned and connected we were as a global company in order to make sure there were no stilos.
Here are some of the questions we asked our Heroes:
I have a strong personal network at work
My personal network at work directly benefits me in my role
I understand our business strategy
I understand how I contribute to our business strategy
I feel motivated to deliver our business strategy
The remote first workplace playbook
A complete guide to remote management.
What does this event mean for business strategy?
When you're a large, remote-first organisation like we are at Employment Hero, alignment and long term engagement are at the core of how you function as one team. Especially when your workforce is global. This way, you avoid those stilos that often create confusion and cause chaos in their wake.
The Global Gathering was a chance for us to hear from our leadership team directly, and realign on strategic business priorities.
Behind the scenes of a large conference designed to inspire
Planning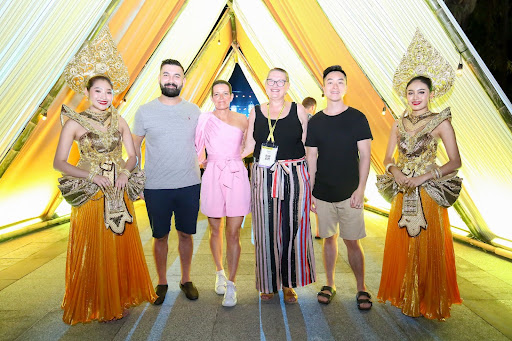 Our secret weapon, aka Head of Vibe Esther spotted here, in pink
Planning an event of this scale starts with the people. And there's no better person to lead the way other than our secret weapon – aka, Head of Vibe and Executive Assistant to the CEO, Esther Mitchell.
"There's going to be a long list of actionables in an event of this scale," says Esther. "The best thing to do is to surround yourself with experts and have a thorough project plan."
When forming a plan of action, Esther went through a few key considerations:
Engaging with a local Hero: look for someone with local knowledge to help execute the vision. Cultural awareness is key.
Enlisting the help of individuals across the business: such as high performers and experts in the pillar of the business to help divide and conquer the long list of actionables.
Engage with a Destination Management Company: seek help from someone with experience in delivering exceptional events.
Logistics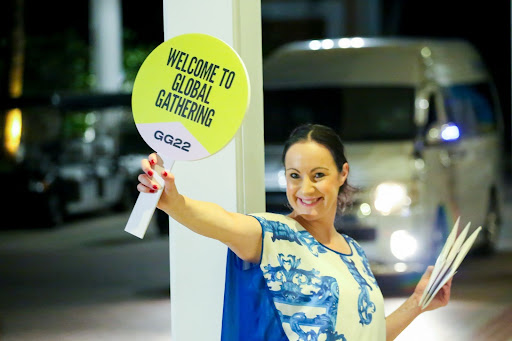 Our Chief People Officer Alex gives the warmest of welcomes
 With 554 Heroes RSVP'ing 'Yes' to Global Gathering 2022, there was a lot to consider in terms of logistics.
From making sure everyone had valid passports, to finding accommodation large enough to house us all in one place.
Worldwide, there are very few locations that could be easily accessible from all the destinations our Heroes were flying in from.
One of Esther's favourite moments was returning home from an exciting site inspection in Phuket. "Our objective for Global Gathering 2022 was to create connections and align in person," she recalled.
"The inspection was so energising. With a group our size, we easily occupied the entire resort meaning we were able to be 'in our own company' which was so exciting." 
Implementation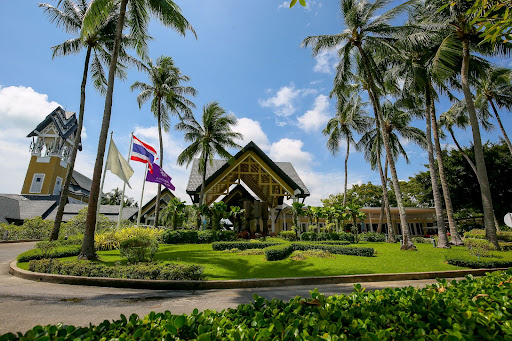 The gorgeous venue Angsana Laguna, Phuket Thailand with the friendliest staff
The key to implementation is engaging with a Destination Management Company (DMC).
"We had a lot of support from Bert and the team at Realm," says Esther. "We also engaged with an event partner who are experts in event organising and management such as Power2Motivate."
Esther also made sure we had exclusive use of The Angsana Resort, so everyone we saw across the property was a colleague – which made it extra special.
Wherever your destination ends up being, make sure you are armed with local knowledge. From things to do, to details such as culture and local customs.
Start building excitement and engage your wider business and by sharing things you have learnt such as any local phrases. In our case? We learnt about Sawadee ka/krap and things to avoid doing from a fun quiz Esther and her team put together to make sure that Heroes will be aware of local greetings and culture.
Activities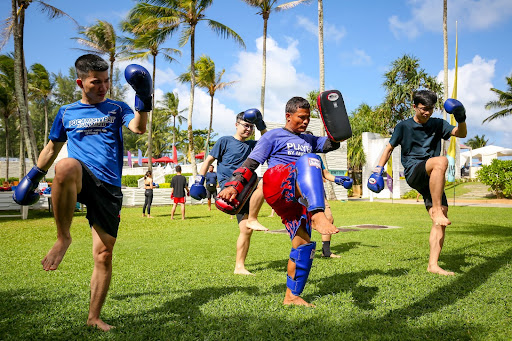 Some Heroes feeling brave, learning the art of Thai Kickboxing. 
Bearing in mind this was, for many, their first major event post-pandemic, a lot was carefully considered. From accommodating the extroverts amongst us, to allowing for time to decompress for the introverts.
The programme was filled with a healthy mix of work-related activities to keep the business running, to interesting key notes, time to hear from the Senior Leadership Team and unwinding sessions such as cooking classes and basket weaving sessions.
There were activities during the keynotes and learning sessions to build connections with teams that you otherwise might not communicate with and common interest groups organised to give Heroes the chance to unwind and build relationships with people sharing a common love for games, furry friends, food, podcasts and more.
We also had a little time to go around town and check out some local destinations.
What's next for our Heroes?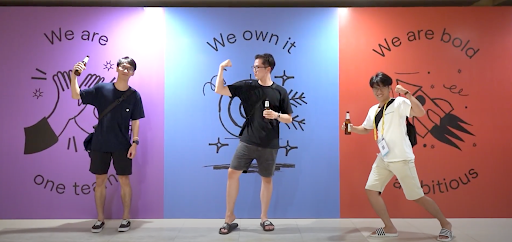 Some Heroes were asked how they found our inaugural Global Gathering. The most common answers were…
Exciting. Invigorating. Inspiring. (And we promise they weren't bribed!)
As we start wrapping up 2022 we look forward to continuing to support ambitious SMEs around the world as they achieve their big, bold ambitions during these tough times.
After all, "We are proud. We're evolving. We are tough, and never give up,"
Interested in joining the ambitious teams at Employment Hero? We're hiring!
The workplace culture bundle