Having a reward and recognition strategy is the key to employee engagement. Studies have shown that for every piece of criticism that an employee receives, whether constructive or not, six pieces of positive reinforcement are needed to counteract it.
Employees that don't feel recognised or appreciated are less loyal to their employers than their appreciated team members, whereas employees that feel recognised are more engaged, leading them to be more productive.
So if you're looking to retain staff, improve employee productivity and have your company perform better, an employee rewards and recognition program is a winning wicket. But recognising (pun intended) the benefits of reward and recognition isn't enough.
Employers who rely on their employees and managers to simply 'start recognising and rewarding' one another will be as successful as the ones who don't bother in the first place.
This is because reward and recognition need to be ingrained into a company's culture – but it won't get there without leadership providing employee reward and recognition programs and encouraging their employees to be part of it.
What's in this employee rewards and recognition guide?
While staff reward and recognition isn't a new function of people management, it's one that's often pushed to the wayside – but this shouldn't be the case.
The reality is that when reward and recognition are not a part of your company culture, it could be costing you big time.
In this guide you'll learn:
What is reward and recognition?
How to create a culture of reward and recognition in the workplace
Different ways you can show appreciation in your team
Putting it all together – how to create a meaningful recognition strategy
Ready to get started? We'll share all you need to know about reward and recognition in the workplace, as well as how to put a strategy together for your team.
Reward and recognition.
Show your appreciation.
Download it now.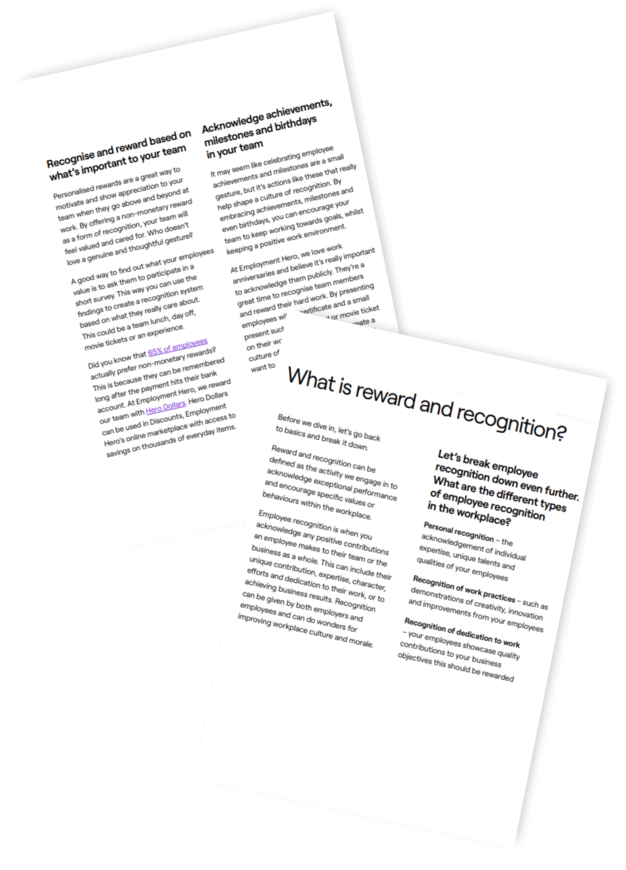 Why should you reward employees?
Employee rewards and benefits can help improve employee performance and motivate employees at both an individual or group level.
By having employee rewards programs in place, you can improve company culture, increase employee engagement and reduce employee turnover.
Creating a successful reward and recognition program
To create successful recognition programs, employers need to provide their managers and employees with the tools to reward and recognise each other, then actively encourage and reinforce positive behaviours using those tools until it becomes a habit.
The good news? It's actually quite simple to create a workplace culture that actively rewards and recognises one another, but like with anything worthwhile – the trick is sticking to it.
Here are our rules for an effective reward and recognition program.
Rule 1: Be transparent with employees
Want your reward and recognition program to take off? Then transparency is key.
For starters, ask yourself these questions:
What specific behaviours do you want to recognise?
Who should be displaying them?
How are you going to recognise them?
And how will you reward them?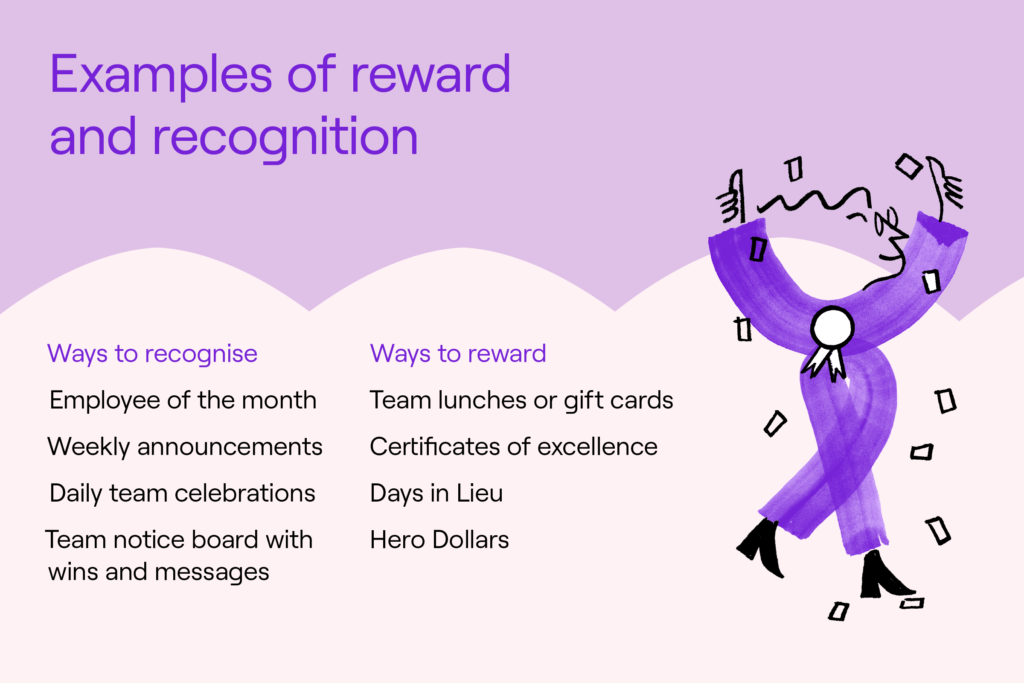 By answering these questions, leadership can create a fair rewards and recognition system and avoid any accusations of bias or preferential treatment.
Introduce your reward and recognition program to the whole company and clearly outline the specifics. The better you articulate what is expected of your employees and communicate what behaviours or characteristics you want them to aspire to, the easier it will be for them to display them.
This is also a good time to address how your employee recognition system will work.
Will you recognise an employee of the month at a monthly meeting? Will you have weekly stand-ups where team leaders can announce employees who have done great work? Will you reward employees with a company certificate?
This is also a great opportunity to promote a culture of inclusivity – some employees may not feel comfortable being singled out in front of a crowd (even if it's for the right reasons!).
Invite employees to discreetly message their manager or leadership team if they would prefer to be recognised in private.
Using HeroThanks
At Employment Hero, we use our employee rewards and recognition software, HeroThanks, to recognise when one of our team does a great job.
Using the company feed, HeroThanks can be submitted on mobile or desktop, making it super easy for us to appreciate one another.
Not only does it make the appreciated person feel more confident, but it's also an excellent way for other employees to see how people outside their teams contribute to the business's success.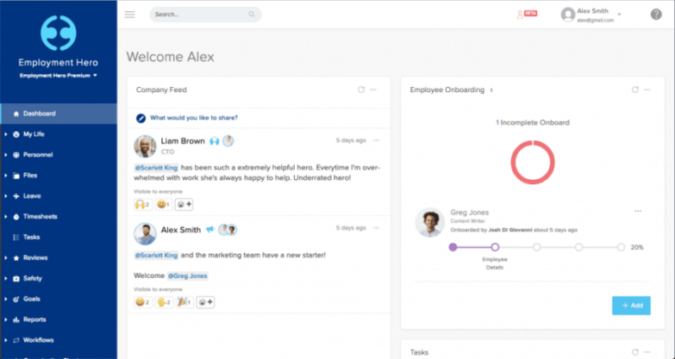 Company-visible expressions of recognition make it easier for employees to communicate with one another, breaking the ice that can sometimes build up between teams that don't often collaborate with one another.
HeroThanks is the reason that the last time I crossed paths with Dan from accounting, I could say "good work finalising the end-of-month stuff". I'm still not actually sure what "finalising end-of-month stuff" means, but I know Dan did it well and I'm grateful that he did.
Learn more about Employment Hero's employee recognition platform here.
Rule 2: Be consistent across the company
For your rewards and recognition program (and you should consider it a program!) to be successful, the leadership team and managers need to be consistent with it.
That means making a concerted effort to reward and acknowledge employees frequently and – if their employees are comfortable with it – loudly.
With leadership walking the walk, employees will feel more comfortable with peer-to-peer recognition for their own efforts, and in time, leadership won't need to play such an active role (though they should continue to do so!).
At the same time, by championing the behaviours that lead to reward and recognition, you're setting a standard for the whole company to aspire to.
Get the leadership team involved
The best way for business leaders to start a rewards and recognition program is to focus on recognising their direct reports each and every day and encouraging their managers to do the same.
When you notice an employee doing their job well, thank them by name. Be specific about what task they have done well and what effect it had on you personally, as well as the effect it will have on the company.
Finally, thank them again by name to really hammer it home. For example,
"Thank you for writing that blog on reward and recognition, Annabel. I really enjoyed reading it, and it made me think about how I can better reward and recognise my co-workers. Well-written content like that will be really useful for future customers too. Thanks Annabel."
Try to recognise at least one person every day to get you into the habit and remember, a compliment costs you nothing – but it can mean the world to the person who receives it.
Set rewards for achieving business objectives
If possible, try to involve each of your teams in the rewards and recognition program. Every part of your business should have its own KPIs, and the teams responsible for them should be rewarded when they meet or exceed them.
For example, the sales team might get all the glory for bringing in the big bucks, but the support team might kick goals under the radar.
Keep all your teams engaged in the rewards and recognition program – and if you don't know what their KPIs are, they probably don't either…this would be a bad thing!
Rule 3: Be tangible
A rewards and recognition program can only last so long before rewards need to offer something more than a sentiment of gratitude and praise. But tangible rewards don't have to cost the earth; in fact, don't consider it a cost at all – it's an investment.
What do we mean by tangible? Well, to be frank, monetary value, but not as much as you'd think. The RM value of the employee reward isn't as important as the fact that the reward has monetary value.
Even smaller token amounts can create more incentive for employees to continue acing their work performance to build up to a higher value reward.
At Employment Hero, employees receive $10 Hero Dollars every time they receive a SuperHero Nomination. Though $10 is a relatively minor cost, employees are motivated to keep up their good work and increase their total amount of Hero Dollars.
Rule 4: Be authentic
No matter how supported your rewards and recognition program is, if company culture and employee engagement aren't actually a priority for your business, a rewards and recognition module won't have the same impact.
Reward and recognition isn't a band-aid for unhappy employees – it's proactive, not reactive.
Giving employees a $250 gift card won't negate poor management and a toxic culture – it will just reinforce how out of touch leadership is with their employees.
Reward and recognition – the secret to keeping your employees engaged
Retaining top talent is tough right now, but hiring is even tougher. To keep your employees engaged and motivated in their role, you need to have robust rewards and recognition program for employees in place.
Not only will it help boost employee morale and retain your employees, but it will also lift your business to new heights.
Download our guide now to learn how to incorporate reward and recognition for employees into your company values.