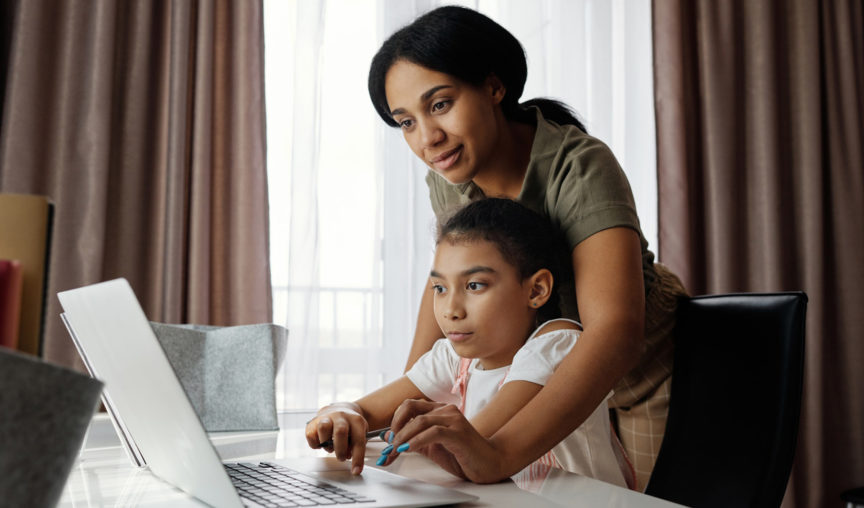 Ah, working from home. It used to be productive and practical. It used to be quiet. Now, if you're a parent, it's a bit of a nightmare. You thought school holidays were hard work. Now, the kids are home all the time. And, so are you.
You're all supposed to be getting work done, but you spend more time arguing than working. You're not only doing your job – suddenly you're also a homeschool teacher.
So, how do you juggle it all?
We've got some practical work-from-home tips for parents to keep everyone sane in this wild new world.
1. Talk to your employer
Most employers get it – raising younger children is a handful. If you need to adjust your working hours or conditions because of kids, talk to your employer.
Perhaps you could start work a few hours earlier, to clock some hours before the kids get up. You might need to have an extended lunch break to check in on the kids' schooling.
Make a work-from-home plan and propose it to your employer. Then, make sure all your colleagues know what your schedule is – so you don't get interrupted.
Read more: Asking managers for support while working remotely
2. Lower your expectations – all round
We're not saying you should stop putting in the effort. We're not advising you to throw in the towel or put up with substandard work. But, we are calling for a reality check.
If you are a new parent working from home, you've got a lot going on. Lower your expectations a tad, accordingly.
Maybe you won't get as much work done in a day as you usually would.
This won't last forever, and while it does – just focus on keeping everyone in your home happy and healthy.
3. Shut the door
Depending on the age of your kids, you might be able to implement some boundaries around your working time and hours. If they are doing online school in one room, it's okay to go into another room.
Leave them to learn, and you can get on with work. This might only work in hour-long chunks – while your kids are 'in' class.
That's fine. Take what you can get. Use the quiet time you do get to work productively.
4. Get an 'ask me later' book
Get a notebook and put it on your desk or kitchen table. If the kids have a question, problem or request that doesn't fall into the 'urgent' category, they write it down.
Then, when you're not on a conference call, you check the book and address the issues.
Have a conversation with your kids about what counts as 'urgent' and what doesn't. That will be different for every family.
5. Embrace play learning
If you can't make your kid sit through a whole day of online school, it's okay. Really. When you don't have the time or energy to have the argument, be prepared with a series of other, perhaps more entertaining activities.
Every homeschooling working parent knows; play is good. Whether that's a documentary on Netflix, a craft activity or a game of football with the siblings. If the kids are content, you'll be able to get more work done.
Don't panic if homeschooling looks a little more relaxed than regular school. We're all just doing our best.
6. Practice being present
Juggling work from home and homeschooling is tricky. Chances are, you'll be a bit distracted from both tasks. Both your kids and your work need you to be present. When you do get a moment of focus, use it well.
Make the most of every opportunity to be present. If you're around the dinner table, put your phone away and give the family your full attention. If you're in an online team meeting, put some headphones on and be as present as you can.
Download a mindfulness app to practice putting yourself into the present moment.
7. Switch hats
This one is going to sound silly. But, we promised practical – and this is practical! Kids don't usually see you in 'work mode'. When you're at home, they have your full attention.
That may not be the case right now. So, you can implement a simple visual queue for them: a hat.
This works especially well for younger kids. Where a hat when you're 'at' work and take it off when you're 'at' home. Eventually, that visual queue will sink in.
8. Start the day right
If you're working on a big project, you'd usually have team check-ins right? Well, implement the same practice with your family.
Start the day with a family 'team meeting'. What classes do the kids have today? When will you eat lunch together? What are your working hours?
Make sure everyone is on the same page. Write the daily plan down and put it somewhere that everyone can see.
9. Work from the bathroom
What parent hasn't spent a little too long in the bathroom just to escape from the kids? Okay, this might not be for everyone. Do yourself a favour though, and give it a try.
Five minutes in the bathroom might just do the trick if you've got an important email to send or a phone call to make (wear headphones to avoid the tell-tale bathroom echo!).
It doesn't have to be germy – just perch on the edge of the bath.
10. Keep weekends fun
Homeschooling while having to WFH is probably not your norm. Give yourself and your family time to adjust. And, don't forget to differentiate between work days and weekends.
Don't work from home on the weekend – and don't make your kids do school work. Mix it up. Cook up a big pancake brekky and watch a movie. Go for a long walk with the dogs. Have a Zoom party with friends.
Whatever you choose, do your best to make weekends a refreshing time for the whole family.
We promise it'll make the work and school week go much more smoothly.
Cheers to the parents!
Working from home has not only changed how we work – but also how we parent. How can we keep a household healthy and happy in all the change?
The first step is simply being mindful of all the changes and working to adjust. Apply a bit of creative thinking and work with your family to create a routine.
Most importantly, take it easy on yourself. In these strange times, simply keeping on top of family and work commitments is worthy of a big pat on the back.
Check out more tips on how to be productive while working from home with our WFH guide here!
The remote first workplace playbook
A complete guide to remote management.