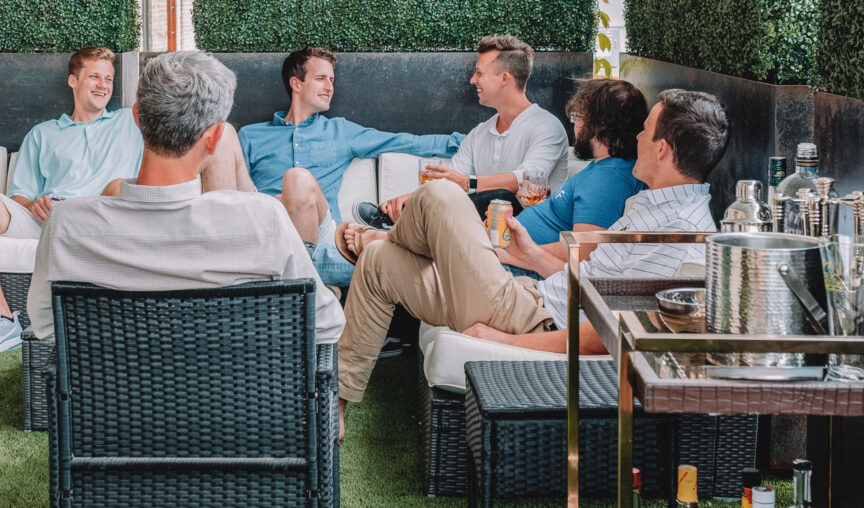 Remember the last time someone made you feel special or treated you to a fun activity? No doubt you were smiling from ear to ear.
The same goes for your employees!
When you take the time to demonstrate employee appreciation, it not only makes them feel good – it also improves morale, builds team unity and can even increase productivity.
Why is it important to make employees feel appreciated?
Taking the time to celebrate and appreciate your employee's hard work is important. Not just for your business but for the health and wellbeing of your team members.
It's only natural for businesses to focus their energy on celebrating and appreciating their customers. In fact, it's what businesses should be doing. Happy customers mean loyal customers, which is great for your bottom-line results and building a strong brand image.
However, your employees are your business's backbone, and without the help and support of your team members, none of the above would be possible.
The best part is, the happier your employees are, the more comfortable they'll be when interacting and engaging with consumers – they'll also be more engaged too!
Being mindful of employee recognition
Before you get started recognising your employee's accomplishments, keep in mind the five key "languages of appreciation" as identified by Bonusly.
These include words of affirmation, acts of service, quality time, physical touch (think handshakes, high fives and fist bumps, or gifts.
Ask around for your teams' language of appreciation to celebrate their accomplishments in a way they value most. It's time to celebrate and appreciate the people (your employees) who keep your business running.
12 Employee appreciation ideas
If you need a little inspiration on employee recognition programs, here are 12 unique ideas that can take your employees' experience to the next level.
1. Karaoke night
Team-building activities are a fantastic way for teams to let their hair down and have fun together every once in a while. And what better way to shake off the day and get your employees breaking out of their shells than some good old-fashioned karaoke?
To make things even more exciting, you could host karaoke contests or group performances – bonus points awarded to those who dress up or act in character.
Naturally, this kind of activity works best with a more extroverted group of people.
Before booking anything, be mindful of your employees and reach out to everyone to see who is comfortable participating. If your team members aren't too keen on busting a rhyme or unleashing their inner MJ on stage, opt for another activity that is better suited to their personalities.
2. Team trivia
Whether you host it at the office, online or in a bar, trivia is a surefire way to get everybody involved. Trivia is excellent for those wishing to challenge their employees and get them thinking outside of the box.
Offer prizes to those who score the most points and consider having a trophy that gets passed down from one winner to the next. If you're a little unsure where to start, you can choose to source predetermined questions online or write a few of your own.
Typically, trivia questions are sorted into various categories like general knowledge, sport, entertainment and history. There are usually around five to ten questions per category with optional bonus questions at the very end.
This is a fun way to show your employees that you appreciate them!
3. Board game tournaments
It's hard to beat a classic board game when it comes to having fun and bringing people together. Try organising a team-wide tournament to get the whole office involved.
Not only will it encourage employees to interact on a more personal level with their team members, but they'll also have time to get to know people from other departments.
Bring on the chess, Jenga and Uno! In terms of structure, it comes down to the size of your workforce. For medium-sized businesses, it might be best to allocate specific time slots for each employee so no one misses out.
As with every competition, it's important to incentivise so don't forget the prizes for first, second and third!
4. Wellness and health programs
Showing employee appreciation can extend beyond awards and accolades. In fact, you can show appreciation using incentives that benefit your overall company culture and the health and wellbeing of each team member.
Offering wellness programs and initiatives speaks volumes to employees about the level of care and value invested in their health. For instance, you could organise on-site yoga and fitness classes or provide healthy snacks.
Perhaps you could organise a monthly step challenge with prizes for those with the highest amount of steps. If you wanted to take it that bit further, you could offer free health assessments and screenings.
Designing and managing the right employee wellness program for your business starts with understanding the needs of your people. Be sure to reach out to your teams to get a feel for what they believe to be the most beneficial to their health.
5. Celebrate hire anniversaries
One of the greatest gifts for any company is the long-term employees who have stayed with you since the word go. These are the people who have invested in the business just as much as your loyal and devoted customers.
Whether it's been five years or twenty-five years, it's important to show your people just how much their commitment means to you and your company.
A simple employee appreciation idea is to celebrate the anniversaries of their hire dates. Be sure to keep track of each employee's hire date so you can surprise them with a unique and thoughtful gift.
Depending on your company budget, a meaningful gift could be something as simple as a bouquet of flowers and a card with employee appreciation messages signed by the whole office.
Whatever it is, showing you appreciate the hard work and commitment of your long-standing employees is the key to a successful organisation.
6. Anniversary desk explosion
If you want to get creative in celebrating an employee's birthday or hire date, anniversary desk explosions are the way to go. It's a fun and amusing way to celebrate milestones and get the whole office laughing.
Surround your employee's desk with a series of decorations and knick-knacks like streamers, confetti, balloons, flowers or pictures. Nothing beats your employee's priceless expression as they walk into work and find their desk has become the number one party spot in town.
7. Celebrate those happy birthdays
Who doesn't love celebrating their birthday with a bit of cake and balloons? Birthday celebrations are an awesome way to make your employees feel valued on their special day.
Depending on the size of your business, throwing together several parties a year can come with a hefty price tag. For a more budget-friendly approach, consider hosting one big monthly celebration for all employees born during that period.
It's important to stay consistent with each celebration, so having a designated staff member or team in charge of organising the food, card, decorations and gifts (where feasible) ensures equal treatment across the board.
8. Alternate working arrangements
Whether it's offering your staff members the opportunity to work from home a few days a week or providing dynamic co-working spaces outside of the usual office setting, a change of scenery never goes unappreciated.
It's an excellent way to reward employees and show them that you trust them to manage their own work in a way that suits them.
9. Bring your dog to work
Dogs are a man's best friend for a reason. If you want to put a smile on your employees' faces, allocate a specific day of the week or month that your staff can work alongside their loyal companions. Something like 'office pet Friday'.
Nothing elevates the office mood quite like a furry friend roaming around the office. Not to mention, studies reveal that pets in the workplace help to reduce stress and anxiety while simultaneously enhancing productivity.
If you're looking to create a pet-friendly office, we've created a guide to help keep our furry friends safe in the workplace.
10. DJ for the day
If you have an office sound system like Google Home, Sonos or Alexa, hand over the reins to a team member who's been working especially hard that day.
Music provides a stress-free environment for your team to work in. Having a rotating DJ is a great way to bring employees together and have some fun.
This is a simple and cost-free perk that can add a special touch to your employee's day. Plus, you may pick up a few new songs along the way! So it's a win-win for everybody.
11. Annual team retreat
We all need a break from the office every once in a while. So depending on the size of your budget, try giving employees recognition by organising a relaxing or action-packed team retreat. Whether you opt for a beach-side getaway or a hike in the mountains, the options are endless!
Take the time to rest and recharge the batteries while talking about your team's long-term goals and plans for the future. Team retreats provide many opportunities for fun and interactive team-building activities that get the whole office mingling.
12. Use a corporate rewards portal
A corporate rewards portal is a great way to show your employees how much you appreciate their hard work.
With a rewards portal, employees can access discounts on items like travel, restaurants, and entertainment. This is a great way to show your employees that you value their work and want to help them save money.
Not only does a benefits portal add immense value to your company culture, but it's also a fantastic way to show your remote employees that you care about their wellbeing.
With Employment's Hero benefits platform, you and your team can access discounts on items like gift cards, movie tickets and travel.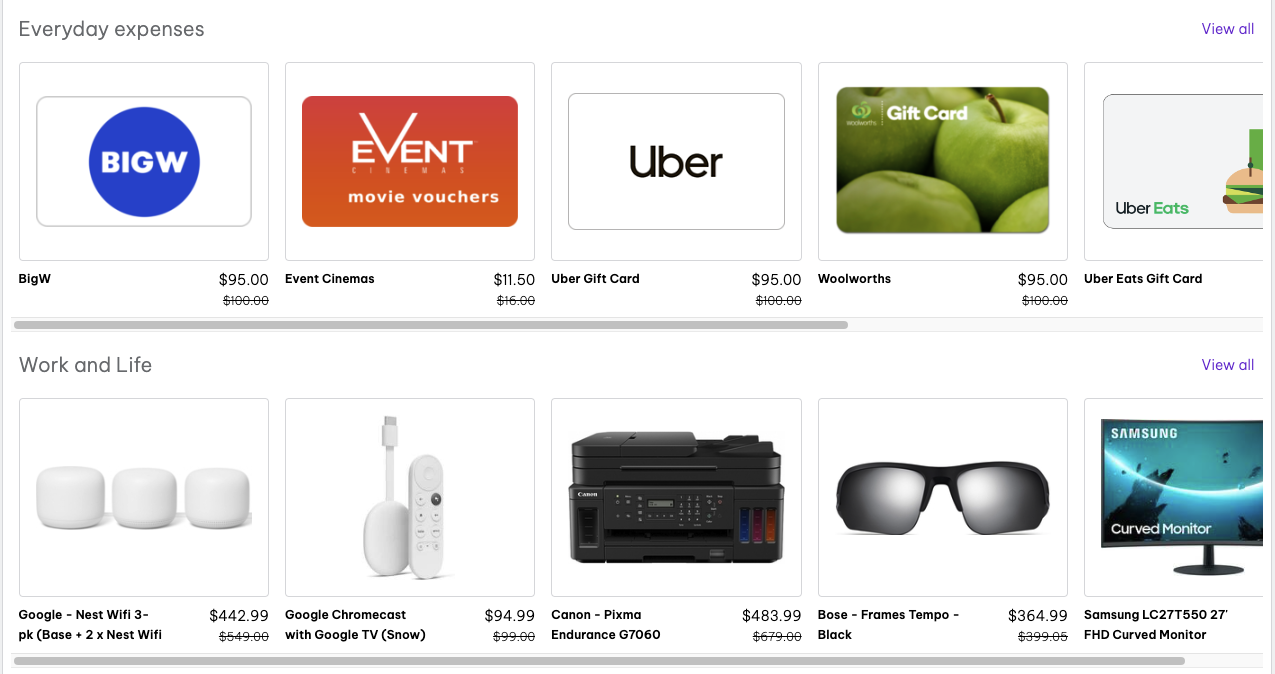 The wrap-up
Recognition makes employees feel valued and that their work matters. Recognition-rich cultures are proven to enhance employee engagement, reduce turnover, and boost employee morale and productivity.
If you want to show your employees that you care, it's time to start showing that you appreciate the hard work they put into your company.
Showing employee appreciation requires thought, time and effort. But it doesn't have to come at a considerable cost to your business. There are plenty of budget-friendly ideas that are sure to put a smile on everyone's face.
The workplace culture bundle