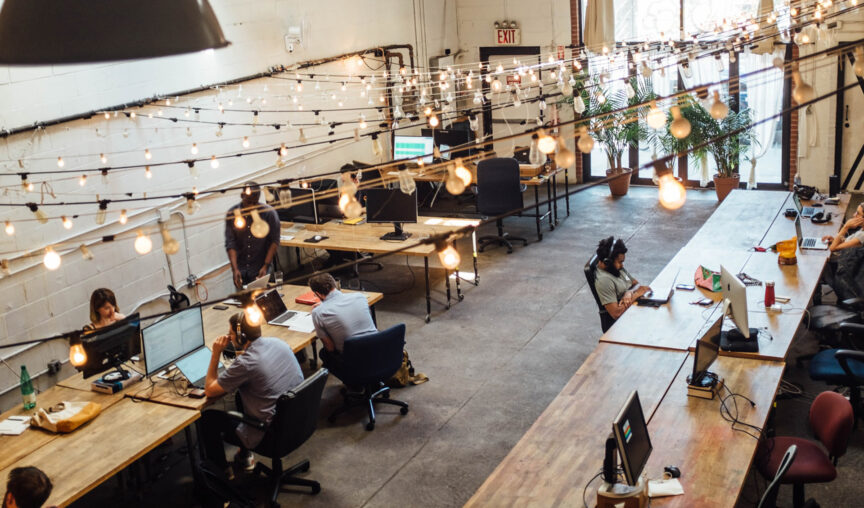 What is onboarding?
Onboarding is so much more than paperwork. It's the process of helping new hires adjust to their new jobs quickly and smoothly by managing the early stages of their employment. Remember, the first days and weeks on the job need to be special for new employees.
Usually, hiring new staff comes with a mountain of onboarding paperwork. However, that doesn't mean your new starter's first day should be all about filling in forms. Far from it. There are much better ways to get your new hire off to a great start. And it's far more likely that they'll stick around for the long haul if they have a great experience from the get-go (plus just quietly, with Employment Hero all onboarding can be done electronically and before an employee's first day – check it out).
Before we run through the onboarding checklist there are a few things you need to consider about how to make sure the onboarding process is the best experience possible for new employees.
Workplace culture within onboarding
Employees are more likely to invest themselves personally in a company's success if they feel aligned with the business. And this starts by understanding the culture.
It's essential to get your new employees involved in your company's culture on day one. The best way to do this is for new starters to spend time with employees from different areas of the business with various levels of seniority. Likewise, implementing a buddy system ensures your new starter has someone to talk to, which is so important in the first nerve-wracking weeks of a new job.
Mission, vision and goals
If you want your new starter to embody the company's mission, vision and values, then you need to share this as part of your onboarding process and show them where the business is headed. It's equally important for everyone to understand their own goals and how they relate to the big picture.
Communicating the goals of their role during the onboarding process will help new hires focus their efforts towards achieving them.
Onboarding new people
Getting to know all the new faces and personalities in a business can seem daunting at first. Your role is to help new employees settle into their new team and get to know the clients, colleagues, managers, etc. they will work with so that they become recognised and integrate naturally.
Employee onboarding is a process
If you're going to ace first impressions, you need to start your onboarding process well before day one. Beyond the onboarding pack, it's important to think about how you're going to immerse your new starters into your company culture and instil in them the knowledge and behaviours that will lead to their long-term success.
So, rather than thinking of onboarding as a one-day orientation, think of it as a continuum: a process that lasts anywhere from 3 to 12 months. Here are some practical ideas to help you to create an onboarding process that helps your new employees get off to a flying start. Now, here's the good stuff…
Your onboarding checklist
Before an employee's first shift:
Work Space
Prepare your new employee's work area and office space and equip it with supplies
Order appropriate access keys/security cards and make sure they work.
Order business cards, if applicable.
Arrange for parking, if required.
Technology Access
Order technology equipment (computer, iPad, phone) and software.
Set up their system in advance and assign them to a printer.
Arrange for access to common drives.
Add their name to relevant email lists.
General Communications
Share the news about the new starter with everyone in the business so everyone's ready for their introduction. It's a good idea to share something personal about your new hire such as their love of coffee or their favourite footy team. In this way, other employees have something they can use to break the ice with them when they meet.
Assign a buddy or mentor the new hire can rely on to show them the ropes and answer their questions, even show them the best place to grab lunch.
First day:
Have a small gift waiting for them such as your company t-shirt, mug or keychain.
Give them a tour of the office or workplace and introduce them to key team members.
If you haven't already given them an onboarding pack before they started, make sure you present it on their first day, and give them time to complete the paperwork over the week ahead.
Meet with them and their manager to explain the expectations of their role. The new starter needs to know what they're supposed to be doing, and how that contributes to the company bottom-line.
Have their manager assign any straightforward tasks.
Take them out for lunch with their manager and buddy or mentor.
First week:
Introduce them to employees from different areas of the business and have them shadow them so they can experience the business from many different aspects.
Meet to check they've signed the paperwork and have accessed, read, and acknowledged your company policies.
Check-in with them and their manager regarding any first tasks.
Have their manager assign them their first project.
First month:
Hold regular check-in meetings and evaluate their progress after a month in the company.
See how they're getting along with the rest of the team and whether they're enjoying their work.
Assess and action training needs.
When onboarding is done well, it sets the foundation for long-term success. This process prepares your new starter for success in your business. The right amount of socialisation and support can make a considerable difference in early performance, social integration, and long-term retention.
There you have it! An onboarding checklist to keep in your back pocket for when you have new employees starting in your business. Remember, first impressions count. Another way of approaching onboarding of a new employee is with the 4 phases outlined below:
What are the 4 phases of onboarding?
Effective onboarding isn't a one-day orientation. Rather it's an ongoing process that can last anywhere from 3 to 12 months. The following phases of onboarding are designed to ensure that your new employees contribute to the success of the company.
Phase one
The first phase is about the employee's pre-arrival to ensure that they have a seamless integration into the business.
One method of doing this is getting all the necessary paperwork out of the way i.e. their employment contract, policies that require acknowledgment, payroll forms, legal documents and any other work requirements like visa forms. That way, you can focus on the more practical aspects of on boarding before their first day which we outlined earlier.
If you're looking for a HR software that can help you onboard your employees digitally, we've put together this handy guide to help you choose the perfect HRIS for your team.
Phase two
Phase two focuses on making the employee feel welcome and comfortable in their new environment.
Just like first impressions, a new employee's first day is important in setting the tone for their experience with the business. Both yourself and other members of the team can do small gestures to make their first few days memorable for all of the right reasons.
Phase three
The third phase is about being conscious to not overload your new hire with information.
Try to think back what it was like on your first day and all the new things (and names) you had to remember. Therefore, extend all the training processes over the first month — everyone learns at a different pace. This also gives the employee a chance to learn more about the company and settle in.
Phase four
Finally, phase four is where you implement your training program so new employees can learn how to do their job. This is also a time for you to have a discussion with your employee and set goals.
Be sure to give feedback, not only for recognition of the work they have done but it also gives them a chance to improve. Following up and checking in even after the training is done is just as important to track their progress and performance. Keep a record of these check-ins so you can have something to refer back to!
What do new hires want from onboarding?
Onboarding can be the make or break how new employees perceive their company and how productive they will be. So it's important that you think about the needs of both your business and employees throughout the onboarding experience. To find out more, we've included the results from a survey LinkedIn did on what new hires want during onboarding: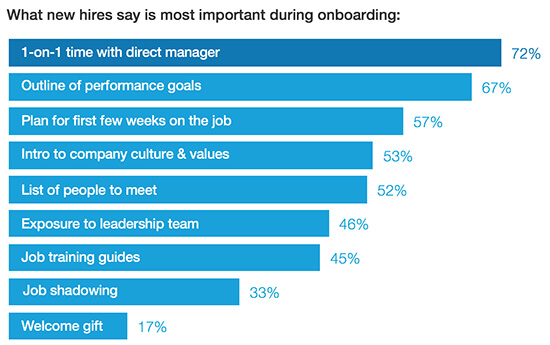 Source: LinkedIn
What do these results tell you about your current onboarding program? In what ways could you improve it to meet your new employee's needs?
How can onboarding improve employee engagement?
Employee engagement is one of the most important factors in achieving overall business success and greater productivity. By investing the time and energy into developing your program you can use it as a means to boost employee engagement.
Certain elements of onboarding can do just this. For example, building strong relationships between your new talent and management, reinforcing the business' commitment to supporting an employee's professional growth, and a chance for management to recognise talent.
Setting the tone for good employee engagement early is vital. Around 73% of UK employees say they are happy with their work, with 55% of workers claiming they are more engaged when their work is recognised. The overall employee engagement rate in the UK is 50%. Employees are more engaged when the tone is set for a friendly work environment, and this begins with the onboarding process; first impressions last after all.
Further to this, 17% of UK employees say they are more engaged if they can participate in a feedback programme. Be sure to explain your company's process for this during the onboarding process.
Why is onboarding an employee important?
When done well, onboarding can set your business up for long-term success. As this process is your opportunity to prepare your new hire for their future success as a long-term employee. The right amount of support can make a difference in their ability to perform, integrate into the team as well as enhance retention.
As we've mentioned before, it's important you look at this as an ongoing process that goes well beyond their first day. As nearly one-third of new hires quit their job within the first six months.
Employee turnover in the UK tends to be costly in terms of employee compensation and business profitability. Excessive turnover can cost an organisation 33% of its employees' compensation package, and companies with high turnover rates lose up to four times as much as offices with low employee turnover. This shows how it is in your best interest to keep staff happy!
How is remote/virtual onboarding done?
COVID-19 has required us to make many adjustments in our lives, and onboarding is no exception. It's shown us that remote first working will become an expectation for many employees (see the results from our survey below). With this in mind, Employment Hero can help you make your remote onboarding experience a great one for your new hires.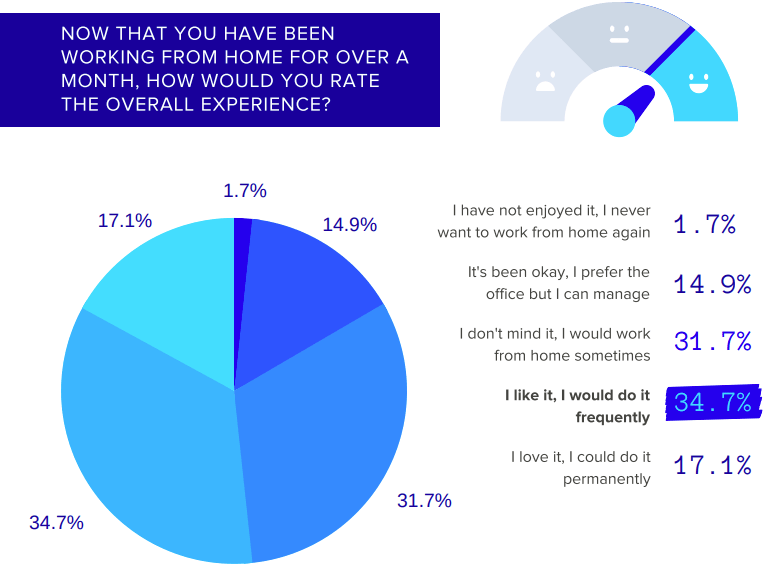 Source: Employment Hero Remote Work Survey 2020
How does onboarding impact the performance of an employee?
There's a lot to take in when starting at a new company, so it's your responsibility to make sure new employees feel settled with their new team as well as introduce them to fellow colleagues or managers they will work with. That way, they become recognised and integrate naturally into the company.
An effective employee onboarding program can make the difference on the longevity of an employee's performance, with 82% of recruits being more likely to stay with their new company for three years. Effective programs are also known to contribute to an 11% increase in employee performance.
How can HR evaluate the success of an onboarding program?
There are several ways for HR to evaluate the success of your program. Both qualitative and quantitative measurements can be used, so we've listed a couple to get you started:
Employee feedback

– Surveys are always a great option to gather valuable feedback. Some questions to ask could be surrounding role clarity, self-evaluation on their competency, social integration, knowledge of company culture. Interviews are also useful for receiving detailed feedback from both new hires and those leaving the business.

Retention rates

– Ongoing measurement of turnover rates allows an organisation to go back can compare with years past. High turnover could be a reflection of your onboarding process and

can cost an organisation up to 300% of the replaced employee's salary

.

The time it takes for an employee to reach productivity goals

– this is something you should discuss with your new employee in the early stages of onboarding. Having goals that are time bound can make this process easier.
Paperless onboarding?
To ensure your onboarding process helps set up your new starter for success, get all the paperwork out of the way quickly and efficiently with a paperless onboarding solution like Employment Hero. Completing all the paperwork days or even weeks before the new employee starts, ensures day one is memorable for all the right reasons.
Businesses in the UK are committing to more and more green initiatives to help lower their environmental impact. Reducing the amount of paper in your processes goes a long way to significant overall reductions, helping to improve your carbon footprint.
Free E-Book?
For more help acing important HR tasks, download our essential guide to choosing an HR System.
The ultimate recruitment and onboarding guide