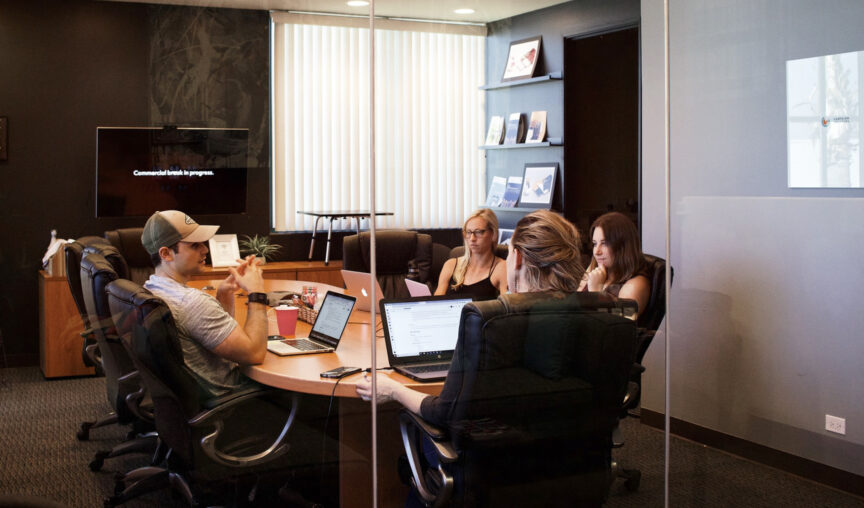 Organic, authentic and genuine are refreshing words to hear, and it's those words that make employee advocacy such an effective strategy. When you have a team of employees who are engaged at work and want to see the company succeed, they're a great asset to use as part of your employer branding strategy due to their willingness to share honest positive feedback.
When it comes to creating a team of highly engaged employees, it's important you make their experience a meaningful one.
Our thoughts? A meaningful employee experience with highly engaged employees is a recipe for success.
Your goal is to make your employees the cheerleaders of your brand, so it's important you create a robust employee advocacy program.
Interested to find out more about what makes a successful employee advocacy program? We've got the inside scoop below.
What is an employee advocacy program?
An employee advocacy program can be defined as the steps you take to make your own employees ambassadors of your brand.
Today, employee advocacy programs are mainly digital-focused (such as resharing a post on LinkedIn or other social media platforms) however it can include any way you inform and engage others about your employer brand; this can either be online or in person.
Whether employees are talking about a recent accomplishment of the company on social media or spreading positive reviews at a networking event, creating an employee advocacy program can be extremely beneficial for your business.
Before you create an employee advocacy strategy
While this sounds great, there's one component of brand advocacy that you need to have down pat to ensure the success of an employee advocacy program – and that's getting your employee experience right.
If you don't have a great employee experience and continue implementing an employee advocacy strategy, you could do more harm than good.
Imagine this – you spend time crafting an employee advocacy plan, encouraging employees to share the best things about your company culture on their personal social media accounts, reaching hundreds or thousands of people outside your company.
But your employees aren't happy.
They're not engaged at work, they don't care about the company's mission or vision, and they definitely don't want to be sharing positive things about the company with their personal networks.
All the resources you invested in your company's employee advocacy program would be a waste of time and effort.
This is why it's important you get your employee experience right, before anything else.
Pro tip: Employee surveys are a great way to learn about what your employees feel about your company. Use Employment Hero's Custom Survey to send company-wide surveys with a click.
Who are employee advocates?
Employee advocates are your employees who already love working for your company and want to share their positive experiences with others.
You can find them by conducting a simple social media audit – take a look at who's sharing your content, commenting on posts or even just engaging with you online. These are the people you want to target as part of your employee advocacy program.
When it comes to creating an employee advocacy strategy, it's important you involve your advocates in the process from start to finish. After all, they're the ones who are going to be sharing your content and talking about your company culture with their networks.
Asking for their input will not only make them feel valued, but it'll also give you insights into what they think is working well and what could be improved.
While your employee advocacy program is focused on your current employees, it doesn't just stop there. The best-case scenario is that even after employees have left the company, they will continue to be brand advocates and share nothing but glowing reviews of their experience.
Read more: The importance of employee reward and recognition.
What are some common employee advocacy platforms?
There are many different platforms you can use as part of your employee advocacy program. The most common employee advocacy platform is LinkedIn; however, other social media platforms such as Facebook, Twitter and Instagram can also be used.
When it comes to choosing the right employee advocacy platform for your company, it's important you consider your target audience and where they are most active online.
For example, if you're targeting senior-level executives, LinkedIn would be the best platform to use as it's a professional network. On the other hand, if you're targeting millennials or Gen Z, Instagram or TikTok might be better suited as they're more informal networks.
It's also important to keep in mind that not all employees will be comfortable sharing company content on their personal social media accounts. While you should encourage employees to participate in raising brand awareness, it's important not to force employees to participate in an advocacy campaign.
Building employee advocacy doesn't have to be limited to social media platforms – it can also include face-to-face interactions such as networking events or conferences.
If you have employees who are attending an industry event, ask them to share their experience with others or even give a presentation on behalf of the company.
This is a great way to get your company's name out there and build up a positive reputation.
What are the benefits of employee advocacy programs?
So why should you create an employee advocacy program?
Read on, and we'll walk you through six reasons to include this in your people management strategy.
1. Helps attract top talent
Did you that companies with an employee advocacy program are 58% more likely to attract and 20% more likely to retain top talent? This is one of the added benefits that come with creating a tip-top employee advocacy program for your team.
When potential candidates see the culture of your company, they'll be more likely to apply for open roles as they've seen insights into the company and have an idea of what it might be like to work there.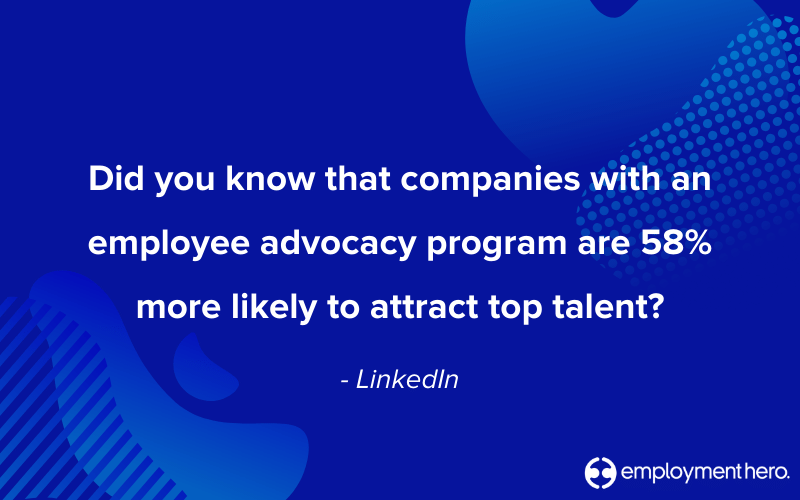 Employee advocacy example
Let's take a look at this scenario.👇
Jessica starts at your company and feels incredibly welcomed on her first day. Her desk is set up to go with a laptop, company merchandise and a welcome gift. She decides to take a photo and share it with her LinkedIn network.
This post generates significant engagement, and her network becomes aware of the culture at her new company. From here, she receives many direct messages from her professional network asking if there are any other positions currently open.
The result? In less than a month, she's already referred an old colleague who's set to start in 3 weeks' time. This is all due to social media and the power of employee advocacy. Sounds good, right?!
2. It's authentic and engaging!
When it comes to marketing your company, authenticity means everything. According to Smart Insights, 86% of consumers prefer an authentic and honest personality on social networks.
Additionally, 80% of consumers said "authenticity of content" is the most influential factor in their decision to become a follower of a brand, so it's time to get your employees talking!
With LinkedIn part of many professionals' lives, it's now easier than ever for your employees to become your brand cheerleaders. They can simply repost company-related content with a few sentences, sharing their thoughts and ta-da…Your employee advocacy wishes have come true!
Employees sharing company-related content makes it more personable compared to a post coming straight from the company profile.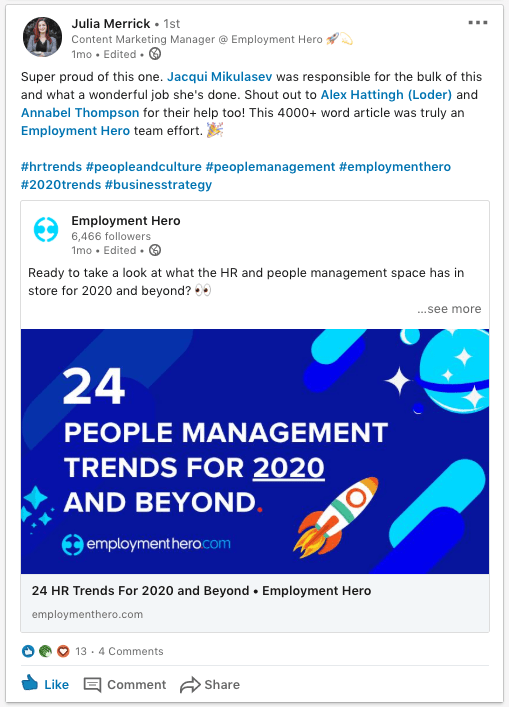 3. Increases social media reach by leveraging employee networks
Did you know that on average employees have networks 10x larger than their company profile? The power of a simple repost from your employees on their social media or LinkedIn profile can be extremely powerful when it comes to the number of people you have the potential to reach.
Not only this, the study by LinkedIn revealed that content has 2x more engagement when shared by employees compared to when the company posts it to their profile page. Hello, increased reach!
Want to hear another added benefit that comes with creating a successful employee advocacy program? When shared organically, you can improve reach and engagement — without the cost that comes with running ads.
Ready to start creating your employee advocacy program? We say go for it! Where else can you get 10x reach with no budget? It's a cost-effective people management strategy that can really set you apart from the rest.
4. Improves brand awareness
When it comes to increasing brand awareness, creating an employee advocacy program is a great strategy to have in place. Whether it's at an event via word of mouth or online through social media posts, you want your employees to be your brand ambassadors and speak highly of your business.
Bonus points if you give your team some merchandise they can show off around town! You'll be surprised how many people will start conversations off the back of your team's branded merch.
💡 Fun fact: T-shirts and mugs are the most popular items of branded merch.
5. Reduces turnover and the costs associated with it
As mentioned previously, when you want your team to share good things about your company either online or via word of mouth, you're going to want to make sure they're having a positive employee experience.
With a good employee experience front of mind and social media a big part of everyone's professional network, it's never been more important to get it right.
How is this related to turnover, you ask?
When an employee is unhappy in their role, they're more likely to share their negative experience with their network.
Whilst this may not be in a direct LinkedIn post to their professional network, it could be in the form of a review on Glassdoor or via word of mouth. This is something that can definitely hurt your company's reputation, and you want to avoid it.
It can also deter top talent from applying for roles at your company, and no one wants that.
When companies are invested in developing their employee experience and create an employee advocacy program, it shows that the company is ambitious, determined and has the qualities that make it a great place to work.
It also supports the findings that companies with engaged employees experience a 67% reduced rate of turnover.
In turn, this means that you don't have to deal with the hidden costs associated with turnover. Employee advocacy makes up only one piece of the employee experience puzzle, so if you're looking at creating a compelling employee experience, it's important to get it right.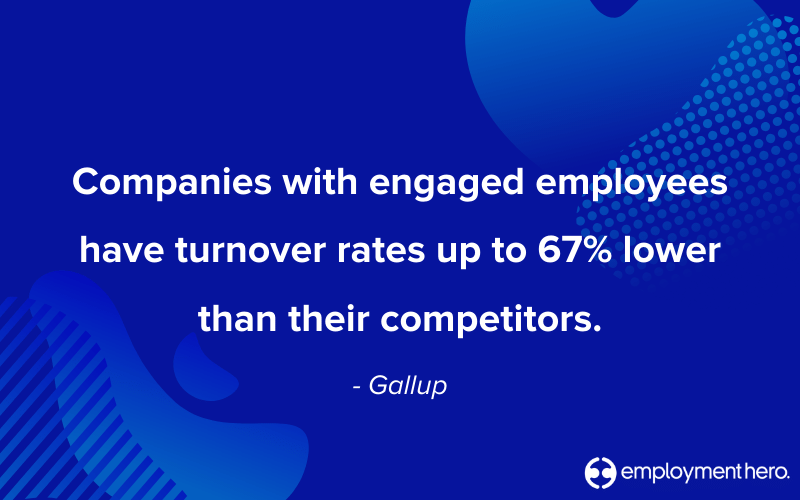 6. It can attract new customers and clients
When your team continually shares company content with their professional networks, those who may not have previously heard of the company will now know more about you. This is a cost-effective way to find potential customers who will benefit from your product or service.
Additionally, when your team is consistently sharing nothing but good things about your company, chances are their personal networks will learn more about your product or service and view it positively. Hello, brand advocacy!
Did you know that LinkedIn members connected to your employees are 27% more likely to respond to an InMail? This makes it a great way to increase your chances of potential customers or clients signing a deal with you!
The wrap up
There you have it; six reasons to create an employee advocacy program. If you're ready to create a team full of brand ambassadors and watch your brand grow, get started today!
Whether your goal for your employee advocacy program is to attract top talent or reach new customers, there are many ways it can positively impact your business.
Want more?
Want to find out more about how employee engagement helps create employee advocacy?
Download our FREE whitepaper here. 👇👇👇
Engaging Employees: A Competitive Differentiator