Employment Hero App Features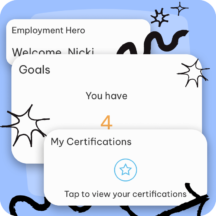 Quickly view your goals, policies, induction content, certifications, pay slips, leave balance and more from the dashboard.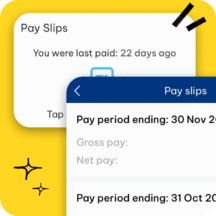 View payslips from multiple pay periods, see hours worked, tax and superannuation paid, and more.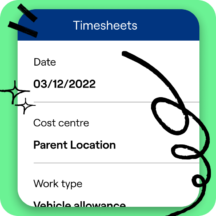 Complete timesheets and submit for hours worked.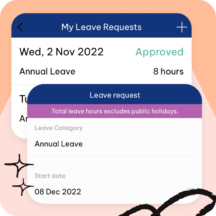 View your annual leave, jury duty, maternity leave and personal leave balances. Submit new leave requests.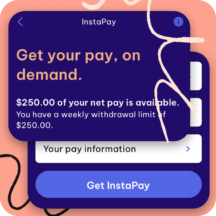 Access your pay as you earn it. No credit, no stress. A small drawdown fee applies*.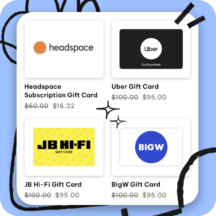 Save up to 5% on gift cards in the Discounts** store at top retail brands.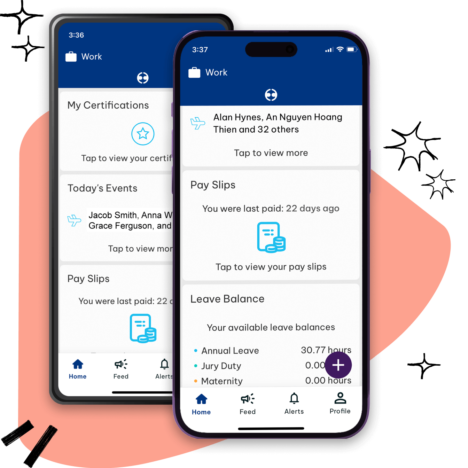 Download the Employment Hero App
Work doesn't just happen inside an office, that's why we've created our Employment Hero app. Quickly manage your work life, pay and benefits anytime, anywhere, all in the palm of your hand.
Terms & conditions
*InstaPay may not be available to all users, depending on what level package your employer has with Employment Hero. Access to InstaPay is via the Employment Hero app only. Instapay is not a credit product, and there are no related interest charges. InstaPay fees are $3 per withdrawal into a Hero Wallet and $4 per withdrawal into an external bank account.
**A merchant fee of 0.99% applies for any purchases using a credit or debit card in the Employment Hero Discounts store. You may not have access to the Discounts store depending on your Employer's product package with Employment Hero.
View Benefits terms and conditions here.
View InstaPay FAQs here.