Talent Wars 2022 | 5-Part Panel Series Helping You Win the War for Talent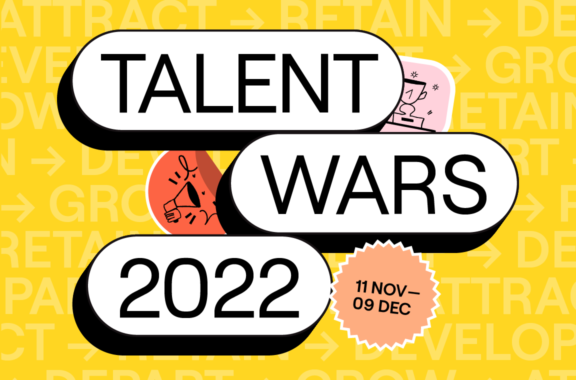 How can you win the war for talent in 2022? Join us for a five-part series with experts in HR, talent acquisition and leadership. Hosted by Employment Hero's Chief People Officer, Alex Hattingh.
The Great Resignation, The Great Reshuffle, Turnover Contagion. Whatever you want to call it, employees all around the world are gearing up to make career changes, with movement already underway in the US and the UK. 
Our latest Employee Movement and Retention research shows that 48% of Australian employees want to leave their jobs in the next 12 months, and 40% are planning to do so by April 2022. Plus, it's not just individual contributors heading for the door, your managers and senior executives are even more likely to want to leave their roles. 
For any business, this is a scary prospect, but for small and medium-sized businesses without the budget or backup headcount – losing employees could be the final blow. With the clock ticking towards Australia's own Great Resignation, now is the time to make meaningful changes to protect your business. The next few months are a key opportunity to boost your retention efforts and capitalise on the incoming recruitment rush.
We want to arm you with the knowledge and insights you need to win the Talent Wars of 2022. Join Alex Hattingh, Chief People Officer at Employment Hero, along with global recruitment experts, employer branding aficionados and HR leaders for this essential five-week panel series. 
What's on the cards?
Episode 1: Attract the Best 
How do you attract and hire the best person for the role? 
This session will cover:
Episode 2: Retain Top Performers
How do you retain and engage your top-performing employees?
Reward and recognition

Flexible and remote work

Employee feedback

Identifying at-risk employees
Episode 3: Develop Rising Stars
How do you identify and coach employees with great potential?
Learning and development (L&D)

Developing future leaders

Career mapping
Episode 4: Depart with Care
How do you manage voluntary and involuntary turnover with care?
Communicating employee departure

Creating great lasting impressions

Navigating difficult conversations
Episode 5: Resourcing for Growth
How do you effectively manage recruitment in fast-growing companies?
Learn from the best and win the War on Talent in 2022. Register to access the free panel series now.