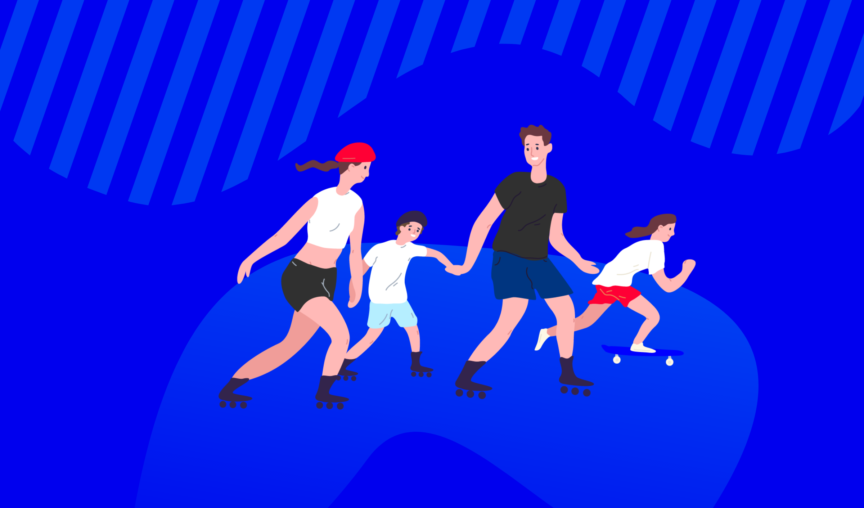 Australia is ranked 27 out of 35 OECD countries for work-life balance. In 2015, 20% and 7% of Australian men and women, respectively, worked at least 50 hours per week. These worrying figures highlight the unhealthy state of work-life balance in Australia and the need for change. You as employers have an important role to play in curbing this work-life imbalance. So how can you go about making the necessary changes in your workplace? It's important that you adopt a number of strategies that promote the importance of employees spending more time with family and friends. There's no doubt that making these changes will benefit employee wellbeing and the success of your business.
Ways for employers to promote family and friend time
Giving employees greater flexibility, encouraging parental leave and adopting a use by date on employee holidays can help prevent presenteeism and other disruptions to productivity.
Create a more flexible workplace
Working remotely For many of you, your employees may be working from home. This has become the norm since the COVID-19 pandemic hit. Whilst it may not be possible for some workplaces to make the change to remote working, for many it presents a more flexible option. Working remotely is flexible in a sense that it enables your employees to attend to non-work responsibilities that they might not otherwise be able to do if attending the office. This gives employees the option to spend more time with their family or even catch up with friends during their work break. For example, a parent will be able to attend to their child or children from home. Job sharing By promoting job sharing in your workplace, you're allowing your employees to divide one job between them. In other words, you will have two part-time workers completing the same job that would be assigned to one full-time employee. Job sharing provides an appealing approach to your employees by reducing their working hours. This will enable them to spend more time with family and friends. Employees can also engage socially if they are working on the task simultaneously. The bottom-line is that if possible, the implementation of job-sharing can facilitate a healthier work-life balance.
Parental leave
Mothers that have given birth, partners or spouses of birth givers and adoptive parents are all entitled to parental leave. It's important that you encourage your employees to take their parental leave, whether paid or unpaid. Parents can take 12 months of unpaid leave and two periods of paid parental leave. The first is a fixed period of 12 weeks that must be taken within the first 12 months of child birth or adoption. The second can be taken at any time within 24 months of the birth or adoption. The latter option allows parents to take up to 30 days of leave. Employment Hero have put together a comprehensive guide to give you the power of knowledge when assessing your parental leave options. Understanding your rights to parental leave will enable you to cherish your child's earliest days on earth with you.
Holiday expiry date
It's possible that some of your employees never or rarely take their holidays. In this case, they may be acquiring a bag-full of holidays without any intention of using them. These employees may be suffering from poor work-life balance. One way to break this unhealthy employee lifecycle is to implement an 'expiry date' on workers yearly holidays. In other words, any unused holidays will expire at the end of year. This way, employees that usually aren't keen on taking holidays may consider otherwise. Having this expiry date creates a sense of urgency around taking holidays and cues employees to take time off to relax and recharge.
Benefits for employees and your business
So why should you encourage your employees to put more emphasis into the 'life' aspect of work-life balance? There are a number of benefits for both your employees and your business.
Stress relief
Spending more time with family and friends can act as a buffer for your employees' stressors or concerns. There are two main sources of stress. The first derives from employees' personal lives, while the second stems from work. Supportive family and friends can provide a pair of listening ears for any personal issues. This can be beneficial for you as it may mean personal concerns aren't being brought into the workplace. On the other hand, speaking to family or friends may provide your employees with a different perspective of handling their workplace concerns. This may lead to more proactive means of problem solving in your workplace.
Increased productivity
Happy employees are productive ones. Research has found that happy workers are 20% more productive at work than their unhappy counterparts. A big part of this happiness comes from living a healthy and fulfilling personal life. Not only will happy workers produce better output in meeting their benchmarks, they will also create a more vibrant and positive workplace to work in. This will firstly improve the productivity of those around them. Second, it'll make employees' jobs more enjoyable and enhance the performance and profitability of your business.
Reduced absente
eism
In Australia, 91% of workers compensation claims lodged in 2010/11 and 2014/15 were related to workplace stress. With this comes higher rates of staff absenteeism. Alleviating this stress by encouraging employees to take more personal time out will reduce the high number of sick days taken. Your employees will thank you later for it. More best practice ways of reducing absenteeism can be found here.
Mindfulness
Mindfulness enables your employees to be more self-reflective of their lives by asking themselves questions like "Am I happy with my life" or "What do I value the most in life". More positive evaluations to these questions are likely if your employees are spending more quality time with their family and friends. This is good news not only for them, but for you. Mindfulness is an effective strategy that can help your employees reach a state of self-actualisation. Achieving this means your employees are closer to reaching their full potential as a person. Doing so will have great benefits for employee performance, including increased morale, productivity and improving on areas of weakness. In-turn, your business will reap the rewards.
Wrap-up
There is nothing more important to many employees than family and friends. Unfortunately, employees are spending less time with them in favour of more time at the office. As an employer, you have the ability to promote better employee work-life balance. You can firstly do this by creating more flexible working arrangements, that includes giving employees the option to work from home or job share with another colleague. Encouraging employees to take paid and unpaid parental leave and inserting an end-of-year expiry date on holidays are also effective approaches to take. Taking these steps will help both you and your employees. Employees will enjoy spending more time with family and friends, which will decrease their stress levels and enable them to reach their potential in the workplace. This will benefit your business through increased employee productivity and reduced absenteeism. The bottom line is, your employees wellbeing is a priority. Implementing strategies that enable them to spend more time with their family and friends will be beneficial for them and your business.