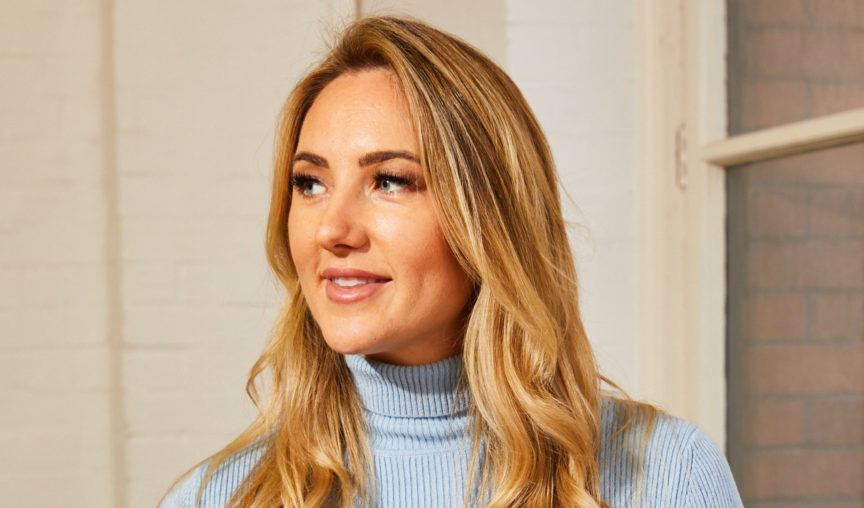 Small and medium businesses can often struggle to compete with the salaries, benefits and perks offered by larger employers, but it's more important than ever for employers to offer employees more. Over one million employees look for added benefits when looking for a new job. A further one million would consider leaving a role if benefits with tangible financial value (like discounts on petrol and groceries) were not on offer. So, to recap…
Since many small and medium businesses haven't had any experience with perks and benefits provided by employers, we thought we'd explain some common misconceptions around My Benefits.
My Benefits: Fact vs. Fiction
Fiction: "You're sharing our data with third parties!"
Fact: Nope, we're not. My Benefits and Discounts are owned and operated by Employment Hero. The brands you see in Discounts are suppliers who bring their products to Discounts. They have no access to our data, your personal information or anything else you don't want them to see until you purchase a product from them. After all, they need to know who to charge and where to send it!
Fiction: "My Benefits is selling to my employees to make more money off us; that's not what I want from an HRIS"
Fact: First off, benefits like these are stock-standard for enterprise businesses. For example, a global company can strike a deal with another large retailer to offer discounted stock to its employees. The idea is that by offering these discounts to a company with 1000s of employees, the retailer can recover the cost of the total discount because there are so many people to sell to at a reduced price.
Any company with that many employees has these discounts available to them; it's a fact. We also know that more than 1 million employees would consider leaving their role for another company with better benefits. And when large corporates can already afford bigger salaries, it's not fair that they can offer better benefits as well — how are small and medium-sized businesses meant to compete? And that's why we developed My Benefits; so that small and medium businesses could compete with enterprise-level companies for top talent. By using the collective power of every employee using Employment Hero, we can negotiate the same discounts from hundreds of retailers on thousands of everyday items.
My Benefits is not about consumerism. The discounts offered are merely a bargaining chip for small and medium businesses to attract potential candidates to their company. For employees with access to My Benefits, it's an opportunity to save money on everyday items they need, not want. Now more than ever, every dollar counts. My Benefits offers savings on everything you can think of: groceries, home loans, gym memberships, health insurance. Again, things your employees need, not want.
Our discounts are aimed at saving people money on these expenses. And if the financial wellness of your employees is neither here nor there for you, think again. Financial stress alone costs the Australian economy an estimated $31.1 billon per year in lost revenue. How? Loss in productivity, turnover costs and the physiological and psychological effects of stress leading to absenteeism.
In a nutshell:
My Benefits is free with your Employment Hero subscription. If you use Employment Hero, you should be including My Benefits as part of your overall employee compensation package (and letting candidates know about it too!)
My Benefits saves your employees money on everyday expenses. While wages aren't growing, living costs are, with 1 in 2 Australians saying they've previously struggled to pay their bills on time. Financial stress also contributes to employee presenteeism – they're there, but they're not working productively. Of course, you could just pay them more, but if that's not achievable, introduce them to My Benefits and help make their pay check go further.
Fiction:"InstaPay promotes irresponsible spending"
Fact: For Australian Employment Hero Payroll customers, InstaPay gives employees access to a portion of their pre-earned wages in real time when they need it. My Benefits also actively promotes financial wellness to your employees, so hopefully they won't need to use it, but InstaPay is an alternative to payday loans. Over 2.5 million Australians have taken out a payday loan and these loans are nothing less than predatory, sometimes incurring an interest rate of over 50%.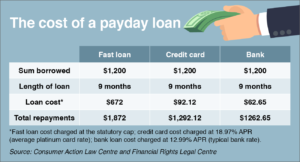 So why do people use them? Because they need to. And there are two scenarios in which they need it;
It's a one off, unexpected expense that can't be ignored (like Jess, who just spent $3,000 when her cat suffered complications from desexing).
They're financially challenged
In the latter, payday loans can (and do) create a self-perpetuating cycle of debt ending in bankruptcy. My Benefits is there for both. Our Wellness content helps educate employees about the best way they can achieve financial wellness. How to create a budget,how to stick to it, how to set financial goals, the habits of successful savers, how to manage financial stress; all these resources are freely available to your employees.
But the reality is, that even the most fiscally responsible of us can get hit by an expense we didn't see coming – and that's what InstaPay is for. When those one-off, unexpected expenses that need to be paid ASAP hit, we see two options: InstaPay or a payday loan.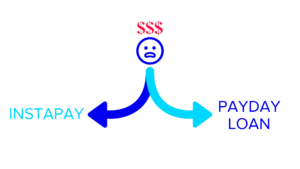 InstaPay allows employees to withdraw the earned wages they have already accrued before payday. That's it. Payday loans on the other hand? Interest is charged up to 47% of the loan amount. So far, InstaPay has saved 8,000 people over $450,000 in payday loan interest repayments.
Feeling better about My Benefits?
If you already have a Standard, Premium or Platinum HR subscription, these benefits are already available to you and your employees. If you're the account administrator, let your employees know that these benefits are available to them.
If you're not a customer and want a personal tour of My Benefits, tell us how we can connect with you and we'd be more than happy to show you around.