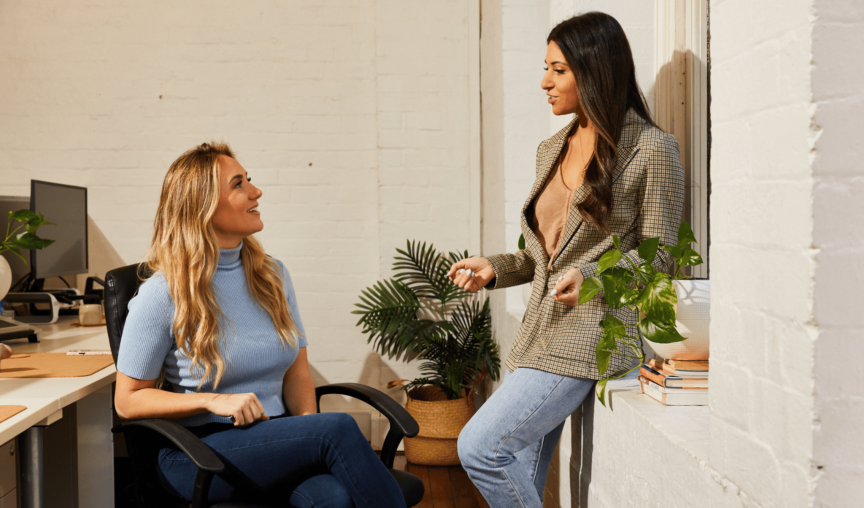 Chances are, if you've tried to recruit lately, you'll know that it's more difficult than usual. In many countries, business owners are facing heavy competition for great talent, and the pandemic has played a part in that.
In Australia, we're currently heading towards the 'Great Resignation'; a point of unexpected, mass turnover. A rush of employee movement has already started to hit businesses in the US, the UK and New Zealand, and experts are saying that it's headed for Australia in March 2022. In our Employee Movement and Retention Report, we found that 40% of Australian employees are looking to move roles within the next six months.
Whilst turnover is costly and scary for companies, the 'Great Resignation' could be an opportunity for businesses that are prepared. An influx of talent will enter the market, and companies that have robust recruitment strategies will be well poised to snap up great candidates. We found the top tips from the best recruiters to help you get ready.
Why is effective recruitment so important?
Every employer knows that having great people is essential for business success. Let's quickly cover why it's so essential to get recruitment right.
1. Propelling growth as a team
Your people will ultimately be responsible for propelling your business' growth. Your company is far from a one-person operation. You need people to take ownership over different areas of your business and drive their success. If your business' mission resonates with your team, and if they can associate with your company values, they are your best asset.
2. Accessing valuable skills
Company founders are often highly skilled people. Take Employment Hero's founders, for example; Ben Thompson was a former employment lawyer who had worked with SMBs for years, while Dave Tong was a technology expert with a thorough understanding of the software industry.
These are skills that can establish a product and create a company, but growth occurs when you build up your team with diverse knowledge beyond a founders skill set. When recruiting is done right, you fill the gaps of skills within the company, and opens the business up to know-how you never knew you needed.
3. Creating company culture
It's an awkward but true fact, we've all worked with some painful personalities. A few bad eggs in your team can throw off the whole company culture, disrupting work life and making turnover more likely. Thankfully, there are lots of places in the recruitment process to identify toxic employees, making assessing culture fit an essential part of hiring.
What are the common challenges of recruiting?
We can't talk a big talk about getting recruitment right without highlighting the challenges that everyone encounters in hiring. Here are the most common things that keep recruiters and talent acquisition specialists up at night.
Finding great people
This is probably the #1 issues encountered by recruiters and hiring managers; how do you find those unicorn candidates? It's true, finding someone that has the necessary skills, experience, attitude, and all-over 'vibe' can be challenging, and sometimes recruiters have to be creative to get their role out there in the eyes of the best talent.
Attracting great people
Which brings us to attracting great people. If you can build up your company's appeal and present yourself as the best place to work, you'll naturally draw in fantastic candidates. This is much easier said than done, which is why mastering an Employer Value Proposition (EVP) and employer branding is essentially an artform at this point.
Competing with other companies
Do you have your eye on a stellar candidate that you think could be great for a role? Chances are, a few other companies do too. Competing with other companies can be a real difficulty for recruiters, especially when you're a smaller business competing with the resources of a big corporation.
Interviewing (and now, virtual interviewing)
Interviewing is another art form that recruiters have to navigate, and virtual recruitment has made this even more difficult. You may be able to sell the company in the jazzy office surrounds, but can you convey a great workplace over Zoom?
Creating a great recruitment experience
Even if you've mastered interviewing, have great employer branding, and are keeping up with other companies; is your recruitment experience slick enough to win over candidates? Any slip up, from poor communication to missed feedback, can give a bad impression on candidates. With so many stakeholders feeding in, this can really be the most challenging part of the process.
What are the top tips of the world's best recruiters?
Now we've unpacked the ins and outs of recruiting, let's get inspired! We've found tips from the best-of-the-best to help kick start your recruitment revamp.
Alex Hattingh, Chief People Officer, Employment Hero
Alex is the head honcho when it comes to recruiting our very own Heroes. She brings years of experience, expertise and knowledge of all things interview to our team. Having recruited hundreds (if not thousands) of great employees over the years, she was naturally the first person we wanted to get top tips from.
Luckily, Alex has just given a free HR Masterclass on essential virtual interviewing skills that you can watch here. We've pulled out just a couple of great tips that relate to this tricky part of recruiting in our modern digital world.
"A virtual interview can absolutely be an extension of your brand, just like it used to be when you were in the office," says Alex.
"The look and feel of your interview should align with the culture of the organisation. Do you want to use a branded backdrop on your Zoom or video or, like me, do you want to invite the candidate into your home office?"
"Be really conscious of not being a brand detractor. Make sure you're respectful, you log in on time, communicate frequently – if you're a hiring manager, get back to your recruiters with feedback as soon as you can."
"A really good trick that I find useful is that if I have a 45-minute interview booked in, I'll book an hour for that interview to allow me 15 minutes immediately after the interview while everything is fresh in my mind to complete my notes in our ATS system."
What's an ATS? It stands for Applicant Tracking System, and it's your best friend in recruitment. Employment Hero's ATS provides easy-to-use shortlisting tools, a clear candidate pipeline, a place for all stakeholders to leave feedback and the ability to flow successful candidates straight through to onboarding.
Alex's Key Takeaways: Don't forget about your brand in your virtual employee experience, candidates take note, and they're looking for an experience with company character. Plus, schedule some time immediately after an interview to help capture the most accurate and useful information.
Cynthia Burkhardt, Global Head of Talent Acquisition, Philips
Working for health giant Philips, Cynthia Burkhardt oversees the hiring of about 15,000 employees a year (cue our heads exploding). In a recent interview with the Harvard Business Review, she highlighted the need to be flexible when recruiting in the current environment .
"We try to help them [hiring managers] think more strategically, instead of reflexively trying to find a replacement candidate with the same credentials as the person who previously held the job," she says. "We say, 'Let's not talk about the job title; let's talk about the objectives of the job and the skills needed to achieve them.'"
She also reflects on the current talent market; what can hirers do to cut through the noise to speak to hard-to-fill roles? Be ready to tailor your language and proposition, and be conscious of the candidate's other options.
"You have to be aggressive, particularly with hard-to-fill roles," she says. "You also have to tailor your recruitment approach and communications to the position; an engineer cares about different things than a sales executive does."
"We equip recruiters with "battle cards" on companies where we commonly look for talent. The cards provide continually updated information about the companies—press releases, Glassdoor and LinkedIn content, stock price, and so on—and highlight the areas in which we are the more attractive employer."
Cynthia's Key Takeaways: Don't take a cookie-cutter approach to recruitment. Just because the last person in a role was great, it doesn't mean that someone with a different set of experience and skills won't also be a wonderful team member. Be mindful of different candidate priorities in different parts of your business, and conscious of the offerings of the wider market.
Helena Karlinder-Östlundh, Head of HR, MECCA Brands
MECCA is consistently showing up on great places to work lists, and it's not by chance that they have a fantastic reputation. Head of HR Helena Karlinder-Östlundh talks about their employer branding as a big reason for this. Rather than talking about recruitment as a stressful back-and-forth, she likes to think about it as more of a dance.
"We want to make sure that we get to know the candidate but, equally as important, that the candidate understands what she or he would be signing up for by joining our MECCA family," she told Seek.
"We of course talk about the culture and the benefits during this process but it's more about making sure that candidates get a feel for what it would really be like to work here, so that they can decide if it's right for them or not. We take great care to ensure we get to know each other properly while waltzing, rather than thinking of it as a sales pitch."
"When we talk to longstanding team members, the value proposition for them tends to be more about working with people that they would choose as friends outside of work, being surrounded by creativity and fun pretty much every day, and really believing in our purpose of enabling our customers to look and feel their best."
Helena's Key Takeaways: It's never too early in the recruitment process to start the discussion around employer value. Bring a sense of ease and personality to the recruitment process; you are trying to sell your company just as much as the candidate is trying to sell themselves. Plus, talk to your existing team members about what they love about the company – they can be a great source of inspiration for employer branding.
Edan Haddock, Senior Manager of Talent and People Development, Flybuys
Like everything else, the pandemic has also changed the game for recruiting. Now that the scales have tipped firmly in the job-seekers favour, recruiters are having to think further outside of the box to get the attention of passive candidates (professionals who may not be currently seeking a role). During a period of growth last year, Edan Haddock of Flybuys teamed up with their marketing department to bring their EVP to life.
"Now our big strategy has pivoted to passive sourcing and tapping into our talent communities because many people aren't applying for jobs at the moment or if they are, they've got so many options to choose from," he told HRD.
"The Flybuys program is all about everyday activities so we reward things like doing your grocery shopping… it's all those things that you regularly do." He continues, "Arguably, applying for a job or going through a recruitment process is an everyday activity too so for us to make that rewarding for our candidates is a very similar strategy."
Edan's Key Takeaways: Is your recruitment process rewarding for the candidate? Could it even be fun? Taking this often-daunting task and turning it into something engaging could be the incentive a non job-seeker needs to start their search. Bonus points if your fun point of entry, whether that's a quiz, a fun question or something special in your interview process, is inspired by your business' brand.
Ready, set, recruit!
Over the next few months, while Australia heads towards the 'Great Resignation', recruitment could start to feel a bit like a race. With so much employee movement on the horizon, it pays to be organised. We hope these tips from top recruiters have got your mind turning over new ideas that will supercharge your hiring strategy.
Looking for additional tips on recruitment? There's a lot more where that came from. Download our Ultimate Guide to Recruitment and Onboarding now to get started.
The ultimate recruitment and onboarding guide