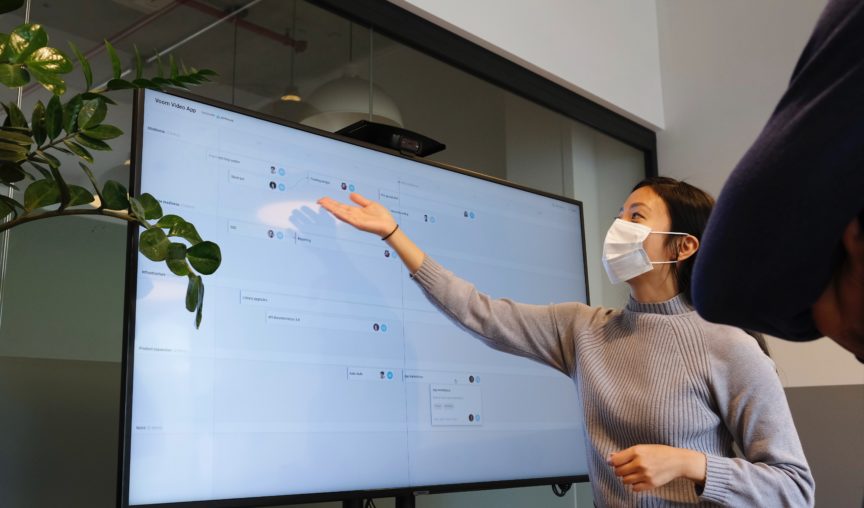 The last two years have been full of twists and turns for everything HR. Covid threw us many curveballs, and human resources professionals were at the front of it all. Managing redundancies, reduced hours and shifting entire workforces to remote work were just some of the challenges.
While we're still navigating living with Omicron, it's clear to see that under pressure, gold has been produced. HR professionals have led the way for remote working, asynchronous management and dynamic distributed teams – and it's just the beginning of the shake-up that's yet to come.
HR professionals have had to step up and flex their agility. While it might seem like we're through the thick of it, we're not completely out of the woods. Now, we're manoeuvring widespread staff absenteeism, the Great Resignation, supply chain issues and question marks around the role of the physical office.
If one thing is for sure, it's that HR leaders in NZ are a resilient bunch – and the industry is booming with movers and shakers. Here are five fearless HR leaders in NZ you should follow in 2022.
Top HR Leaders in NZ
Annamarie Jamieson
Head of Change & People and Culture Director, Stuff
Annamarie is an HR business leader who has years of experience leading large, complex teams in various organisational structures. She's passionate about creating diverse workforces to deliver cultural and commercial change, being an advocate for inclusion.
In 2020, Annamarie hosted her own TedxTalk on how to build inclusion into the everyday. In her role at Stuff, she's launched the award-winning Creative Spirit programme, which gives young adults with intellectual disabilities a chance to contribute to society in a meaningful way. In 2022, she also sat on the judging panel for the NZ HR Awards 2022.
Follow Annamarie on LinkedIn here. 
Katharine Collins
Change Manager, Partners Life
Katharine is a human resources professional with a strong background in HR and change management. In 2021, she was announced HR Manager of Year (HRD Awards), where she was recognised for her leadership, communication, strategy and the results she's produced.
Currently contracting as a Change Manager at Partners Life, Katharine has worked at some of New Zealand's most well-known companies – The Warehouse, New Zealand Post and Westpac. Her passion for intentional and transparent communication has helped her develop sustainable and winning teams.
Follow Katharine on LinkedIn here. 
Loren Thomas
Head of People Strategy and Experience, Trade Me 
With over a decade of experience in HR and people management, Loren leads people strategy and experience at Trade Me.
Announced NZ HR Manager of the Year in 2022, Loren is one HR business leader to watch this year. In her role at Trade Me, she's helped rediscover their company purpose, managed a strategy roadshow, and created new learning and development tools. Plus, she helped bring their employee value proposition (EVP) to life.
Loren likes to see the big picture and figure out how to operationalize it. From understanding the commercial drivers of a business, right through to the experience people want to have at work. She knows how teams need to lead internally and externally to achieve the best outcome.
Follow Loren on LinkedIn here. 
Natalie Nicholson
Chief People and Corporate Affairs Officer, Humm Group 
Named NZ HR Director of the Year in 2022, Natalie is another HR professional to watch this year. With over 20 years of experience in HR and people management, she brings a unique combination of skills to the table. Her vision, clarity and ideas, combined with a depth of knowledge to build high performing leadership teams, drive her goal to create a performance-driven culture with increased productivity.
Natalie isn't only making waves in New Zealand, she's also one to watch in Australia, recently being listed in the HRD Australia Hot List for 2022. This list recognises the top 40 HR figures across Australia who have been highly influential over the past 12 months.
Follow Natalie on LinkedIn here. 
Transform your LinkedIn Profile
Top HR professionals have a well-maintained and engaging LinkedIn profile. Here, you're at the forefront of your brand, so it's critical to be an advocate for your people. From uploading a branded cover banner, through to creating your very own custom URL, LinkedIn has many features that you can utilise to be a person of influence in your field and attract top talent.
Ready to up your LinkedIn profile game? We've compiled 13 things you can do to create a standout profile here.
Know the leaders, know the trends
Now you know about great HR leaders in NZ, let's talk about HR trends.
2021 was one for the history books. It was a year that transformed the HR and people management space. As we look to the new year, we can tell you one thing – 2022 is forecasted to be even bigger. More technology, new ways of doing things and one of the biggest shake-ups in employment history.
Download our free e-book about the top HR trends you can expect to see in 2022 and beyond.