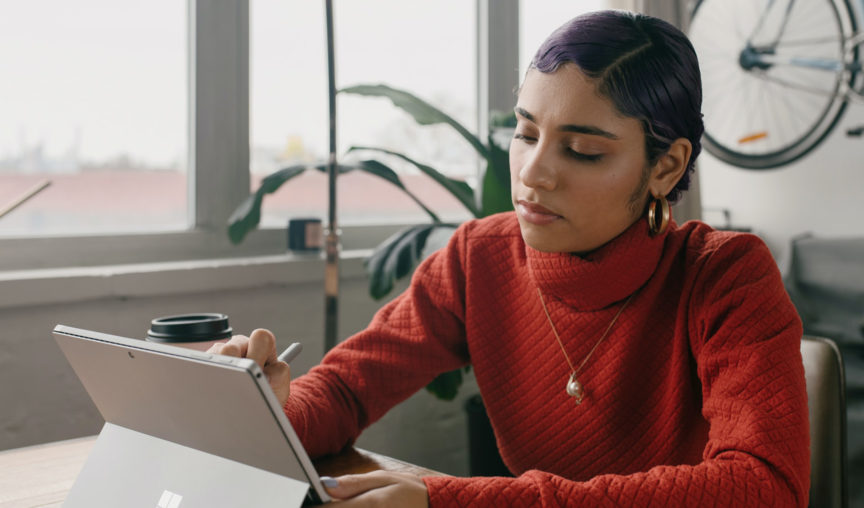 The timesheet is a crucial tool for every business, no matter its size. From tracking the size of a shift to using them to help create a project-management strategy, your timesheets give you vital data on your employees and operations. Measuring time and attendance can be a task that many managers let slip down the to-do list. This can be made much simpler and more efficient with cloud based HR management software, and it's much easier to get started than you might think. Many businesses think you should only use timesheets for tracking time, but they have a range of other project applications that prove extremely beneficial. Let's dive into this important business tool and understand precisely what timesheets are, their benefits for managers and employees, and the best ways to optimise their use.
What are electronic timesheets?
The simple answer to what are time sheets is that they're a way to track when your employees work. Basic timesheets record date and the time, and are most commonly used to record a single shift's start and finish. More complex time tracking can be far more detailed and explicit. They can record specific activities during the workday, which is very helpful for businesses with numerous clients and projects. If your company operates this way, you probably need to know how much time is being spent on specific tasks to determine marketing budgets, how long creation, distribution, and customer service takes, and more.
A cloud based timesheet can be an efficient tool and a critical requirement that many companies find invaluable. Remote working software is making business operations more efficient. This is the easiest way to monitor time, keep project management on track and ultimately help your business to thrive.
The many applications and uses of timesheets
The most basic application for employee timesheets is the calculation of payroll. While this is often a simple equation of the hours worked in a week multiplied by the employee's pay rate, it can be a cumbersome task for businesses with more than a handful employees. It's also not something you want to get wrong. The correct keeping of employee work records is also in most cases a legal requirement. An electronic timesheet handles this task accurately and automatically, saving you time and ensuring your staff are paid correctly. Once the process of how to use timesheets is simplified, their adoption throughout your business will be far less of a burden, eventually becoming standard practice. Other time tracking and timesheet applications beyond this include:
When it comes to project management, timesheets can help to monitor how your employees are working which provides insight into their efficiency and qualifications for certain tasks. This is crucial information when planning new projects.
Timesheets will accurately report all hours worked, which is a requirement if you invoice your clients based on the number of hours specific tasks took to perform.
If an employee is taking more time than they should for a certain task, the timesheet will show this. This can help to identify training gaps and give you the information you need to improve your workforce.
The timesheet is where you'll gain an understanding of how much each employee has on their plate. This allows you to distribute workloads fairly and therefore increase productivity.
Employees aside, there may be areas of your workflow that could be improved, and timesheets offer the necessary data that will allow you to improve your processes.
Timesheets essentially give a numerical value to each task which is crucial when planning timelines for future project management. This can help to improve client communication, pricing and dedicated resources. This is the data you'll need to provide the most accurate estimates you can.
Being the most essential tool for management accounting, timesheets help managers truly understand certain tasks and identify areas that experience significant delay.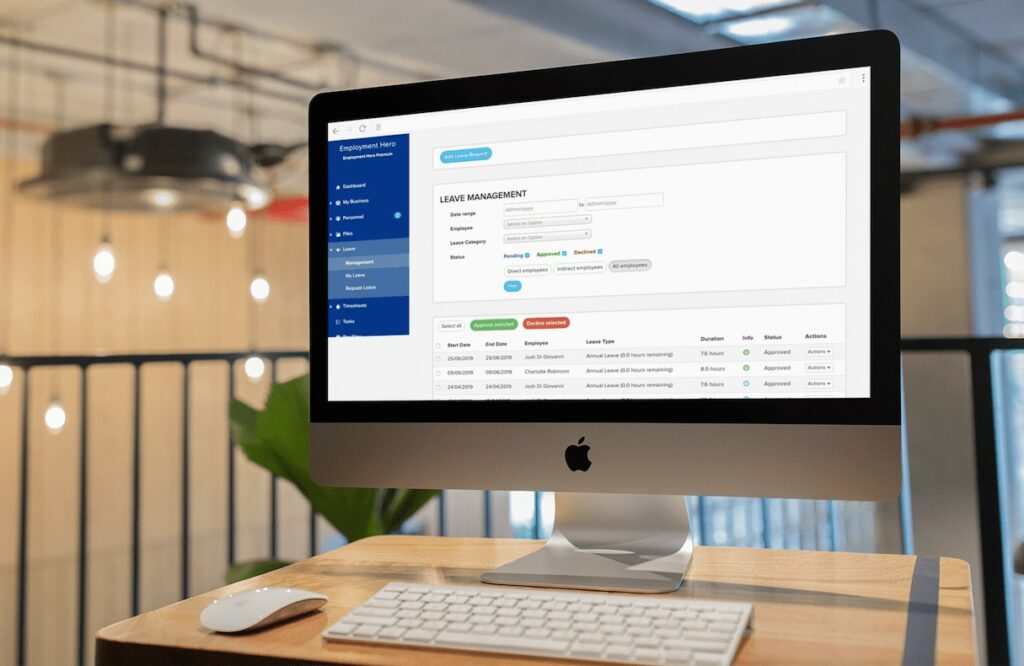 Time tracking applications per industry
Certain industries will use their timesheets in different ways for various applications. Some examples include:
Service-based industries e.g. digital agencies
It's important to maintain up-to-date records of specific hours, shifts and various other details of services and how long they take compared with their associated cost. Timesheets allow you to monitor employee shifts or track bills based on client service hours.
Freelancers
Time is a crucial calculation for freelancers who get paid for every minute they work. In most cases, clients are charged by the hour, which makes the accurate tracking of time a vital activity. Knowing the exact amount of time that's being spent on projects is also crucial for how a freelancer schedules their day or week. A time tracking system allows you to measure time spent accurately either for sharing with clients or just for your own time management.
Accountants
Another heavily time-based industry, accounting businesses require efficient workers and time tracking software is the best way to keep on track.
The benefits of using online time tracking software
Using online timesheet software is the most efficient process available right now. There are three essential tool sets this time tracking software provides to make your work life much simpler, including:
Scheduling
Time tracking
Cost reporting
This type of online tool is suitable for every business, no matter its size. You can create employees' work schedules quickly, manage time off, organise shifts and keep track of availability. Along with many other benefits, employees can also submit their timesheets online with managers having the easy ability to approve them anywhere and anytime. Employment Hero allows all of your employees to complete their online timesheets daily or weekly, then submit them to management via a mobile device. From here, it's easy to check the approval status with Managers also being able to approve the timesheets on the go. The Employment Hero app will provide a push notification to inform managers that they have a timesheet giving complete viewability and the chance to action pending timesheets anytime to minimise delays to payroll.
Additional benefits of online timesheets
Employment Hero also provides full access to all businesses timesheets via a simple-to-use online portal that negates the need for spreadsheets and manual admin tasks. This makes it much easier to monitor employee activity, saving hours of admin work in the process. Additional benefits of online timesheets include:
Real-time tracking and scheduling
Employment Hero online timesheets provide the ability to publish rosters straight to all employee's devices and assign jobs to singular staff members that are alerted with a notification. For the employees, they request time off easily via their mobile.
Have a casual pool of workers? You can advertise available shifts to all employees via the Employment Hero app through which workers can respond and accept promptly.
Accurate mobile time tracking
Employees can clock on and off with ease via their mobile, removing the need for paperwork, excel sheets and lessening the chance of discrepancies. Capture the exact time a shift begins and ends, and use the geotagging feature that shows where your staff clocked on and off. It is also easy to record breaks, submit timesheets and request leave.
Enhance the quality of your communication
Employment Hero timesheet software will send an alert when a staff member is approaching overtime or when a timesheet requires approval, keeping everyone on track. Instant message alerts increase the quality of your communication with instant notifications when a new schedule or shift is available so staff can schedule accordingly.
Significantly reduce admin time
The use of an online timesheet system that can integrate with other business management software allows for the automation of tasks that are otherwise performed manually. From data flowing to your payroll system for the automatic and accurate calculation of tax and pay to the updating of your accounting management software, every automated task is one less thing you need to have on your to-do list. Paperless timesheets like Employment Hero provide built-in scheduling functions that will make all employee management tasks much more straightforward. They create high-quality data that allows you to automate payroll, gain new insights and efficiently run your business.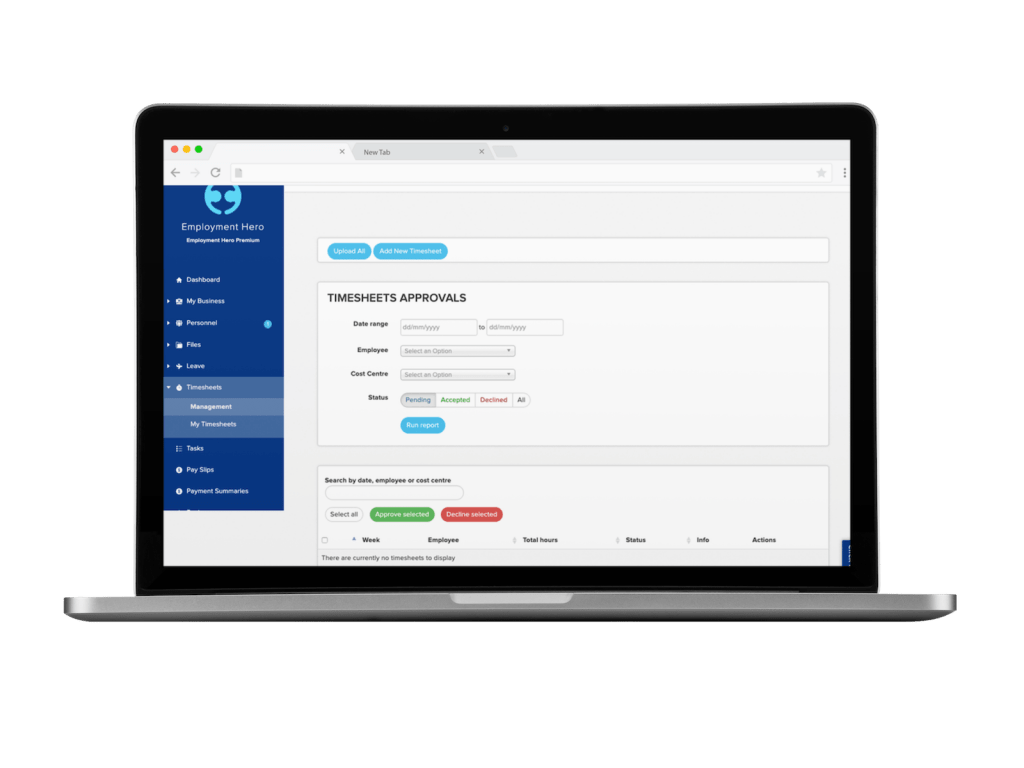 How to track your employees with timesheets
When it comes to accurate project management, timesheet software has a range of integrated features that make it much easier to track how your staff spend their time. The best ways to track your employees involve the recording of the following data:
Staff name: Who is completing the timesheet? A simple yet crucial way for managers to separate timesheets and compare people in the team.
Date: Depending on how you set up and record your timesheets, you often show a week by week view. The date makes it easier to navigate through the calendar.
Project name: You can group tasks by project to see which packets of work have been specific to the overall project scope.
Task: Grouping by task will show time allocated for certain work and its status.
Notes: You may wish to have an additional field to add comments and upload files to remind yourself of task specifics.
You'll also want to allow tracking for things like sickness, appropriate leave management, team meetings, training and more. This way, you can account for all time used during the working week, as opposed to just work tasks or jobs that contribute directly to a project. All of this is valuable information that will assist in time tracking and management.
Online timesheet templates
The Employment Hero timesheet template is a blueprint to get you started. You can customise to suit the information that you need specifically, but as a whole, the crucial info is already there waiting. This template is set up as a standard one-week timesheet with cost-per-hour calculations, overtime and leave considerations.
For ease of use, link your timesheet automatically to your project schedule, this will save a lot of time when it comes to manual recording or entering task data. Taking advantage of automatic scheduling or pre-population fields on your timesheet help to make your overall process much more efficient.
Making the most out of timesheets for your organisation
The best thing to do if you're not already using some form of timesheet, is just to take the plunge and get started. The many benefits of tracking time mentioned above will become very clear, very quickly. The hardest is getting used to the habit of recording time and attendance, but timesheet software like Employment Hero makes this much easier to manage. Any software tool that helps make the management of employees more efficient, should seriously be considered by every business, regardless of their size.
Everyone from project managers to employees will see the benefit of knowing how much time is spent on tasks during the day. When used correctly, timesheets will quickly become standard practice in your team, and a true benefit for your business. Completing them will make it much easier to run your projects and perform other business functions thanks to the quality data they provide. Improve estimates, make it easier to hit deadlines and achieve greater project success with the proper use of timesheets today.