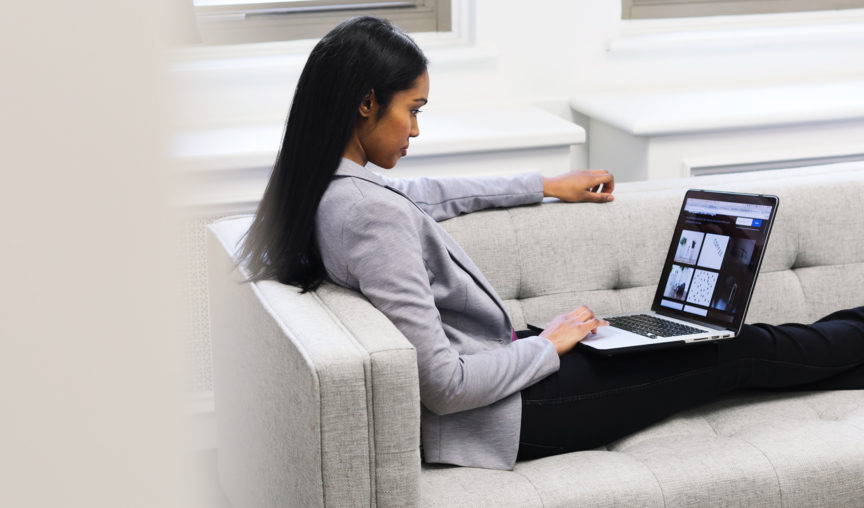 What is a mobile workforce?
A mobile workforce isn't limited to a fixed location, such as an office, – instead, teams are connected through technology no matter their whereabouts. Employees are no longer confined to office hours nor a building to get their work done. The sudden shift to remote work as a result of the pandemic caused conflicting responses from workers. While some thrived in the flexibility and freedom working away from the office, others found it isolating and overwhelming. Companies like Twitter have stated that this change to a cloud-based working environment is a permanent transformation and will allow their employees to work from home forever. So, what were the outcomes of this shift? We have gathered five key results from the mobile workforce revolution.

Inclusivity
Greater diversity has been the result of a mobile workforce as employers are not restricted by location. This means that people who wouldn't have likely applied for jobs such as working parents, carers, people with disabilities and rural residents are now being considered in the application process. On a larger scale, it has been argued that a mobile workforce can assist in alleviating poverty worldwide. Initiatives like the Kenyan government creating a new digital workforce by equipping one million young adults with basic computer skills to contribute to the mobile workforce are examples of this change. The process of modernising employment with technology is in its infancy. For example, in the next 12-24 months SpaceX's planetary internet,Starlink, will enable 3.2 billion more people to participate in online employment from anywhere on earth. This technology combined with modern employment has the potential to lift more people out of poverty more rapidly than anyone can possibly imagine.
Wealth redistribution
Instead of buying their daily cappuccino from a CBD cafe, workers are now supporting local businesses by purchasing from cafes and restaurants. WFH employees are also utilising third spaces like local libraries and cafes, further boosting the local economy and community wellbeing. The lifestyle of 'working from holiday' has become a popular trend amongst WFH employees. The flexibility of remote work has given the option to work from anywhere with a stable internet connection. Many have travelled to and worked from destinations like regional areas that have been severely impacted by the lack of tourism the bushfires and pandemic caused. This redistribution of wealth from metropolitan cities to suburban and regional centres has enormous benefits for both the local economy and personal wellbeing as the injection of funds into these areas will see less small businesses shutting down.
Improved quality of life
The major advantage of remote work is the flexibility of balancing work and life responsibilities. Instead of structuring your life around a work schedule, employees can now fit work around parts of their life. For example, completing simple errands like running up to the shops at lunchtime or being home for a package to be delivered can be done easier. This flexibility also creates less stress surrounding commute (the average daily commute is 66 minutes) and working parents can look after children on school holidays, instead of taking leave. This improvement in the quality of employees' lives results in more productive and happy workers.
Encouraging growth mindsets
The shift to remote work was slow and disputed for a long time, then the pandemic hit and everyone was essentially forced to WFH in order to stop the spread. This sudden change and experience have created a new perspective on working styles. This transformation has fostered an environment of growth into what was once a static and traditional mode of work, allowing new ideas to flourish.
Hope for the future
Speculation around the future of work post-COVID-19 has been a hot topic of conversation for many employers and employees alike. There has been research into hybrid workforces with outcomes saying that more Australians would like to have flexible working arrangements continued and 75% of workers think that their employers will support these wishes. The possibilities are endless with a mobile workforce with Regional Development Australia (RDA) researching smart work centres, a model similar to that of co-working spaces but located closer to where people live. Essentially, a 'work near home' space will enable workers to reap the benefits of WFH while gaining additional benefits of co-working spaces such as a well-serviced work environment and creative interaction with other workers in a similar position. This, alongside remote-first businesses, shows the flexibility and potential of the future of work as an exciting prospect that puts both employee and employer first.
The wrap-up
As we know the complexities and challenges of a largely mobile workforce exist; however, the advantages outweigh the cons. With the right systems businesses can flourish — no matter their location. 🌎