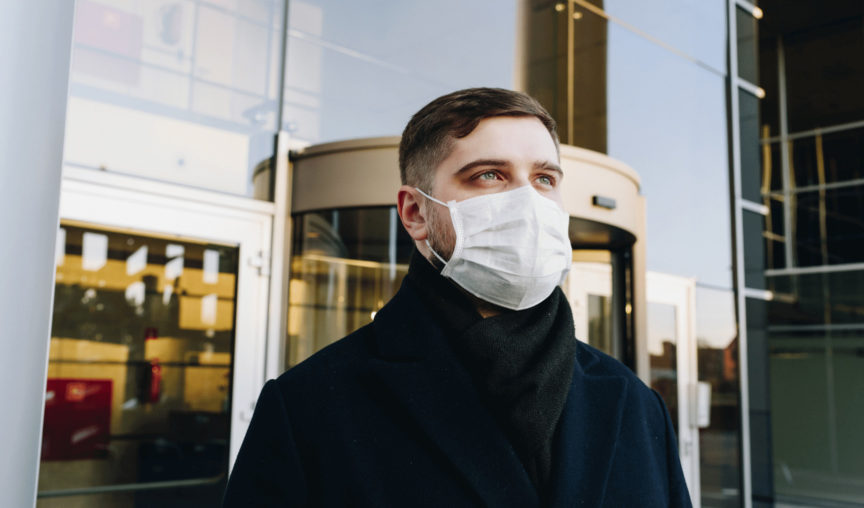 It's hard to know how to respond when something you've been dreading becomes a reality. As is always the case with Covid-19, one day you're feeling like this whole thing might finally be coming to an end, the next day you're thrown back into the pit of deep and unnerving uncertainty.
Bad news travels rapidly, and it can turn our anxiety into a runaway train. With so many unknowns, how can we face the possibilities of yet another concerning Covid-19 variant? Especially when we've been burned before.
Like many people, I was caught completely off guard by the spread of Delta. At the beginning of 2021, I laughed at the possibility of another lockdown. We were out of the woods and on the up, there was no way that we would be facing further restrictions. I was just starting to pick up the same sentiment heading into 2022.
With the emergence of Omicron, many people will feel thrown around yet again, and this anxiety will seep into our working lives. Employers and workplace leaders should, as best they can, be up-to-date on the current situation and provide a supportive space for employees that will feel overwhelmed by the news.
Disclaimer:While due care has been taken in preparing the document, no responsibility is accepted by the author for the accuracy or suitability of the information contained. All liability is expressly disclaimed for any loss or damage which may arise from any person relying on, using or acting on any information contained therein.
What do we know about Omicron?
The situation with Omicron is quickly evolving. As you read this article, there will probably be updated information available based on continuous scientific testing of virus behaviours.
It's critical for employers to be as informed as possible about the new variant, so that they can respond to their employees' concerns with the latest facts. Bad news such as this can often trigger mass hysteria, but the fact is that we simply don't know the extent of the issue as of yet; we don't know if the vaccine will defend against Omicron, we don't know if Omicron will affect sufferers as severely as the Alpha or Delta strains of Covid-19, and we don't know yet how global governments will respond.
At the time of writing, the World Health Organisation has labelled Omicron as a 'variant of concern'. Researchers in South Africa, where the strain is believed to have originated, and around the world are currently investigating the aspects of Omicron.
At this stage, it is not yet clear whether Omicron is more transmissible or more severe than other forms of Covid-19. Early evidence suggests that there may be an increased risk of reinfection of Omicron, but that vaccines remain important to reducing severe disease and death. No deaths linked to Omicron have yet been recorded.
Many countries have introduced temporary border restrictions in response to Omicron, enforcing quarantine restrictions from those travelling from southern Africa. The Australian government has paused the planned reopening of the country to international students and workers until December 15.
Where can I find the latest information about Omicron?
When searching for the latest information to share with your team, friends and family, you should always seek verified and official sources. News from other outlets – especially on social media – could include misinformation. As we have seen over the last two years, misinformation can have a serious impact on the community.
Below you can find the official sources of news and updates for your country:
Globally: World Health Organisation
Australia: Australian Government Department of Health, ABC's Covid Live Updates
UK: Department of Health and Social Care, BBC News
New Zealand: Ministry of Health Manatū Hauora, 1News (TVNZ)
Singapore: Ministry of Health Singapore, Straits Times
Malaysia: Kementerian Kesihatan Malaysia
How are people responding to Omicron?
As with any bad news, there's a mixed bag of responses in the community to the announcement of Omicron.
Research from July 2021 tells us that one in five Australians reported high or very high levels of psychological distress as a result of the pandemic. In the UK, the BBC reported that mental health impacts from the pandemic are "likely to be profound and felt for many years".
Even prior to the news of Omicron, people across the world have been experiencing anxiety, frustration and a sense of loss or grief. This sense of grief can apply to lost loved ones, but also to lost time and opportunities. "When the losses are so ambiguous and complex, it's really difficult to reach that place of acceptance, so we just kind of get stuck," psychologist Chris Cheers told The Guardian. "Stuck in the grief and stuck in the distress."
How could this new announcement compound these feelings? Anecdotally, we're already seeing a rise in anxiety as people react to this news. The thought of more restrictions is causing people to become stressed and jump to conclusions. Our international holidays will be cancelled yet again, we are going to return to lockdown, we're going to miss out on seeing our loved ones yet again this holiday season. There is nothing to confirm that this will be the case, but the fear is present nonetheless. As I said, we've been burned before.
There also seems to be a sense of deep exasperation at the prospect of another variant. It can feel like all of our progress has been lost, and that we might be stuck in this cycle of virus mutations indefinitely. These feelings can ricochet us into a mental environment of hopelessness, burnout and fatigue.
While everyone has felt the impacts of the pandemic and will have their own reaction to this emerging news, there are some high-risk groups which may be having a harder time coping.
Parents with School-Aged Children: Parents have experienced pandemic fatigue like few other groups over the past two years. Many have had to constantly assist with home and virtual learning, taking on a huge educational and school day caring workload in addition to juggling their own work and the general stresses of the pandemic. Parents in many countries this year have felt immensely relieved at their children returning to school, and many are terrified at the idea of lockdowns returning.
People who have been separated from their loved ones: Everyone knows the heartbreaking story of someone who has been separated from their loved ones for the last two years. It's a huge amount of time to go without seeing your friends or family, especially when you were visiting regularly or semi-regularly prior to the pandemic.
People who have organised travel for the holidays: Many people in the above group will also be in this group. After two years they have organised to visit their loved ones or take a long-awaited holiday, only for their travel plans to be thrown into jeopardy yet again.
How can we support our teams in light of Omicron?
Leaders and employers have a duty of care to provide a psychologically safe environment for employees at the best of times, but it's even more important during stressful and uncertain times.
Consider these tips to help support your staff as they navigate their response to the news of Omicron.
Tip 1: Validate your team member's feelings, but don't validate unhelpful assumptions
There's no faster way to shut someone down than by telling them to 'relax', 'don't worry about it' or by saying 'it will all turn out ok'. But it's not necessarily a great idea either to agree with everything they say, especially if they are spiralling.
This situation requires leaders to walk a fine line. You should welcome and validate your team member's feelings; whether they're experiencing stress, anxiety, fatigue or despair. Be there to listen to their concerns and don't try to minimise their feelings.
At the same time, we recommend that you don't indulge any catastrophizing about Omicron at work. If employees believe that we are returning to lockdown, it's not helpful to agree with them if there is no evidence that it will be. This is why bringing an informed perspective to discussions with your team and colleagues is so important. Gently remind them that while you completely understand their stress, we still know little about the virus, we are yet to know what the outcomes will be. Tell them that whatever happens, you will be there to support them.
Tip 2: Regular check-ins
We often talk about the importance of one-to-one meetings (1:1s) at Employment Hero. They're an incredibly valuable tool to help keep up to date with your team, and can provide a confidential space for them to share any feelings or fears they may have about Omicron.
As we approach the end of the year, it's easy to let weekly meetings like these slip out of your calendar. In light of the current events, however, we would recommend prioritising them more than ever. 
If you're sensing a person is feeling anxious in a 1:1, try asking open-ended questions like "I'm sensing you're feeling stressed out – I'm feeling concerned, how are you going, and what can I do to help you?" This can help bring the walls down between you and the person you're concerned about.
Tip 3: Encourage taking time for mood boosters to alleviate anxiety
Under uncertainty, there are tools that we can use to gain some headspace from our stress. In her chat with our CEO Ben Thompson, Dr Jodie Lowinger of the Sydney Anxiety Clinic shared six "powerful mood boosters" to help alleviate anxiety under uncertainty. 
Breathing and meditation exercises can take the brain out of the 'fight or flight' mode that occurs with anxiety. Slowing the breath with counting can help people quickly regain calm. Share this helpful video to help your team get started.
It's a well known fact that exercise and movement releases endorphins that help boost mental wellness. Can you encourage members of your team to finish work early so they can catch a walk in the nice weather? Or maybe they would like a later start so they can hit the gym?

Achievement, challenge or mastery can give our teams a lift. Is there an opportunity to help them with a small win right now?

Organise something fun. Taking your team bowling or organising a games night can seem daggy at first, but it can give teams some much needed distance from anxious thoughts.

Approach situations with kindness and patience. If your team member seems uncharacteristically short or snappy, it's probably because they're feeling stressed. Take a patient and caring approach.

Connecting with your team, through one-on-one meetings, general discussions or casual messages can remind them they're not in this alone.
Tip 4: Connect your team with mental health resources
This is a perfect time to re-share mental health resources with your team. If your company engages an Employee Assistance Program (EAP), now is the perfect time to remind your team about the program and how they can get in touch. 
Otherwise, share free resources with them like verified mental health helplines or the websites of official mental health organisations. 
How can HR support a business through uncertainty?
HR teams can also make a big difference to businesses that are tackling uncertainty. As people experts, they can support leaders and teams through these rocky periods. 
Keep your team engaged
HR can help teams feel cared for by a business during tough times by keeping them engaged. When staff might be feeling fatigued or flat, HR can help by organising online or in person team events, reminding employees about flexible work policies, and reiterating that team members can take annual leave or personal time off if they need. 
Help employees take action on things they can control
In her webinar with us, Dr. Lowinger stressed that in times of uncertainty, it's important to take action on the things that you can control. She also stated that small wins and achievements can lift our spirits. Helping your team stay focused on their goals by organising training or workshops can keep them feeling anchored, and help them detach from anxious thinking.
Help managers and leaders with consistent communication
Conveying information to a team, especially around sensitive subjects, can be really tricky. HR can give managers and leaders the framework that they need to communicate consistently and effectively. HR should be the second pair of eyes on all company communications, supporting leadership every step of the way.
It's time to support each other.
When we receive news like that of Omicron it can be really easy for our team (and ourselves!) to descend into panic and despair. The one thing that is currently certain about Omicron is that we don't know enough about it to make any conclusions on what will happen over the coming weeks. 
Go easy on yourself and your team, and reflect on the resilience that everyone has shown to get to where we are now. Until we know more about the situation, it's important to remember to just take it one day at a time. 
Learn more about mental health in the workplace with these free resources:
Webinar: Navigating Uncertainty feat. Dr Jodie Lowinger of the Sydney Anxiety Clinic
Blog: Mental Health In The Workplace
Poster: Mental Health Helpline Poster
Poster: Mental Health 'Know the Signs' Poster
Guide: Grief at Work: A Leader's Guide