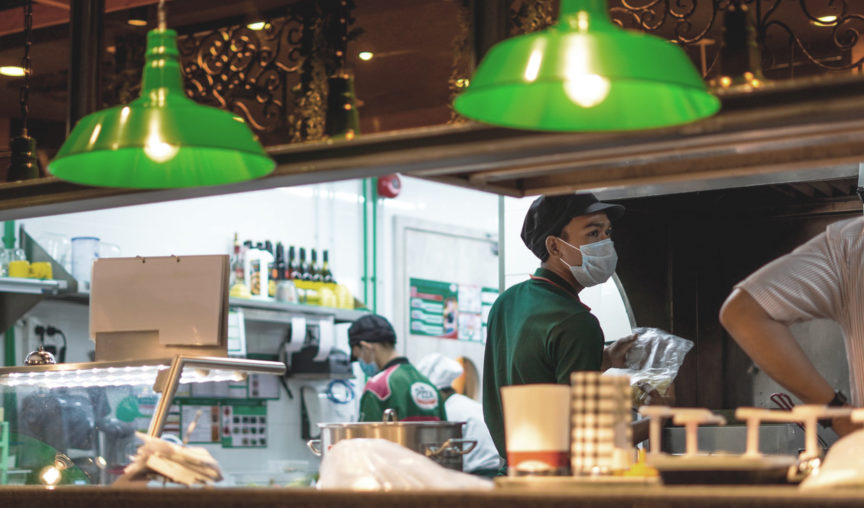 To the small business owners, employees, parents, students and everyone else in Victoria, it's hard for us to be writing this. But we know it doesn't even compare to what you're going through. From Melbourne to Mildura, we know you're some of the most resilient people in the country right now. And we know how difficult it is to believe that this is happening again. To our Victorian team, customers and the wider community – we're here for you. When faced with challenges, it can be difficult and overwhelming to know exactly where to look for support. But, we're ready to help in any way that we can. And you're going to get through this. We've put together this resource to help you navigate what's available to you right now.
Circuit Breaker Business Support Package
To help manage the impact of the ongoing lockdown, the Victorian Government announced a $250.7 million Circuit Breaker Business Support Package to provide support and assistance to those who are unable to operate their business due to lockdown restrictions. As of 2 June 2021, the Government has announced an additional $209.3 million, bringing the total of the package to $460 million. This package is designed to support:
Small and medium businesses
Sole traders
Those specifically in the events industry
Under the Circuit Breaker Business Support Package, small and medium businesses will benefit from:
Business Costs Assistance Program Round Two
This will provide support for eligible businesses located in metropolitan Melbourne by offering a grant of up to $5,000. The Business Costs Assistance Program Round Two is designed to assist businesses that have been financially impacted by lockdown restrictions and are unable to predominantly work remotely during this period.
Who is eligible for the Business Costs Assistance Program Round Two?
Those who are directly affected financially by the lockdown restrictions
Unable to work predominantly work remotely
Fall within one of the eligible sectors
Have an annual payroll of up to $10 million
Eligible businesses must fall within these sectors and these conditions apply to both employing and non-employing businesses in metropolitan Melbourne and regional Victoria.
Those located outside of metropolitan Melbourne who are unable to operate due to restrictions (e.g. nightclubs and amusement parks) will also be eligible for this payment. On 6 June 2021, the Victorian Government announced an additional supplement for the tourism industry. This allows businesses who operate within the accommodation, attractions and tourism sectors to receive up to an additional $4,500. This means that eligible tourism businesses receive a combined grant of $7,000. For more information on the tourism supplement, please visit the Victorian Government website here. For a full list of eligible businesses, you can view the full list at business.vic.gov.au. Are you eligible? Apply for Business Costs Assistance Program Round Two here.
Licensed Hospitality Venue Fund 2021
This is a program designed to support hospitality businesses venues in Victoria. It includes grants of $3,500 for businesses with premises in regional Victoria and $7,000 for businesses with a premise in metropolitan Melbourne. Eligible businesses include liquor licensees operating a restaurant, hotel, café, pub, bar, club, or reception centre that is registered to serve food and alcohol. Applications will remain open until11:59pm on Thursday 24 June 2021. You can find more information about the Licensed Hospitality Venue Fund 2021 here.
Mental health resources
We know you've done this a few times now and have grown resilient. But you're only human. If you're looking for support, please reach out to someone who can assist. If you are in a serious situation and require emergency assistance, call 000 immediately.
Support relating to depression, anxiety and related disorders. Call:1300 22 4636 Hours: 24 hours / 7 days
Assistance providing crisis support, suicide prevention and mental health services. Call:13 11 14 Hours: 24 hours / 7 days
Telephone counselling service for young people aged between 5 and 25. Call: 1800 55 1800 Hours: 24 hours / 7 days
Counselling and mental health services for young people aged 12-25. Call: 1800 650 890 Hours: Telephone: 10pm to 1am Online counselling: 1pm to 1am
A service providing family violence support. Call: 1800 015 188 Hours: 24 hours / 7 days
A service for gay, lesbian, bisexual, transgender and intersex (GLBTI) communities. Call: 9663 2939 or 1800 184 527 Hours: Mon-Thurs 6pm-10pm, Fri – Sun 6pm-9pm
A support service for victims/survivors of past and recent sexual assault. Call: 1800 806 292 Hours: 5 pm – 9 am / 7 days
A dedicated support service for those currently experiencing loss and grief. Call: 1300 845 745 Hours: 12 noon – 3am / 7 days
A free dedicated suicide helpline for those located in Melbourne and Victoria. Call: 1300 651 251 Hours: 24 hours / 7 days
A free 24-hour crisis support and counselling for suicide prevention. Call: 1300 659 467 Hours: 24 hours / 7 days For more services Victorian's can access, please find them listed on the Victorian Health website.
We're here for you.
Victoria, Australia has your back. We hope you can feel the love our country is throwing your way. You've got this. And we know you'll come out of this stronger than ever.
Looking to support your employees? Download our workplace wellness bundle or visit our Covid-19 resource hub.