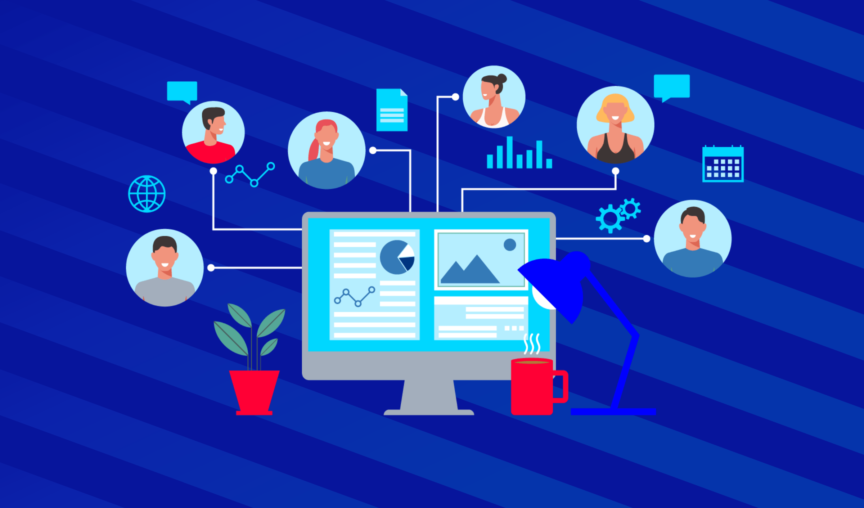 Remote teams have become the new norm for companies and employees desiring greater workplace flexibility. Recent advances in technology have now made it possible for people and businesses to operate anytime, anywhere. Companies such as Zapier, with over 300 people in 28 countries, are running their entire operation remotely. Despite this, information sources on how to coordinate a remote workforce are still few and far between. We've received several questions on how to manage an offsite team, the most common being – what do remote teams need to be successful? Today we hope to share some helpful tools and advice the team at Employment Hero have picked up along the way.
Finding the right software
As teams transition to the virtual world, success is dependent entirely on selecting the right software for them to use. For example, HR teams require software that focuses on simplifying standard HR processes such as onboarding, inductions, payroll and employee records. Testing and selecting platforms that cater to your business' needs and budget will ensure your company is set-up for optimal online performance. Virtual teams present several challenges compared to those onsite. However, with the abundance of software available today, remote work has never been easier.
Communication platforms
Collaboration and communication are an integral part of any robust work environment. With virtual teams lacking the opportunity to meet, brainstorm and discuss in person, finding the right platform that allows for open and flowing dialogue is a must. Companies with remote teams must have a robust communication tool that allows employees to collaborate ideas, provide feedback and update one another on any relevant material. Try introducing software that allows for both team and company-wide channels. Slack is undoubtedly our virtual office of choice here at Employment Hero. Not only can you talk between the whole company, but it also enables person-to-person direct messaging for those working collaboratively. https://www.youtube.com/embed/EYqxQGmQkVw Implementing a communication platform doesn't just keep your team updated on important information; it also allows for them to catch up on each other's lives and develop strong relationships with their peers. By feeling comfortable and familiar with each other, you will notice a positive impact on your team's ability to collaborate successfully.
Significance of video conferencing
As a business owner or leader, you need to rely on more than writing as a form of communication. As helpful as email can be, we often lose touch of tone, expression and non-verbal cues that make interacting face-to-face so valuable. Written correspondence also makes it hard to coordinate a quick brainstorming session or allow team members to provide each other with timely feedback on a new idea. Choosing the ideal conferencing tool for your team is essential, especially since you want to get the most value out of meeting via video. Two tools we highly recommended are Zoom and Google Hangouts. Both platforms allow for multiple guests and provide useful features such as screen sharing if you wish to share a presentation or perhaps a demo with your team.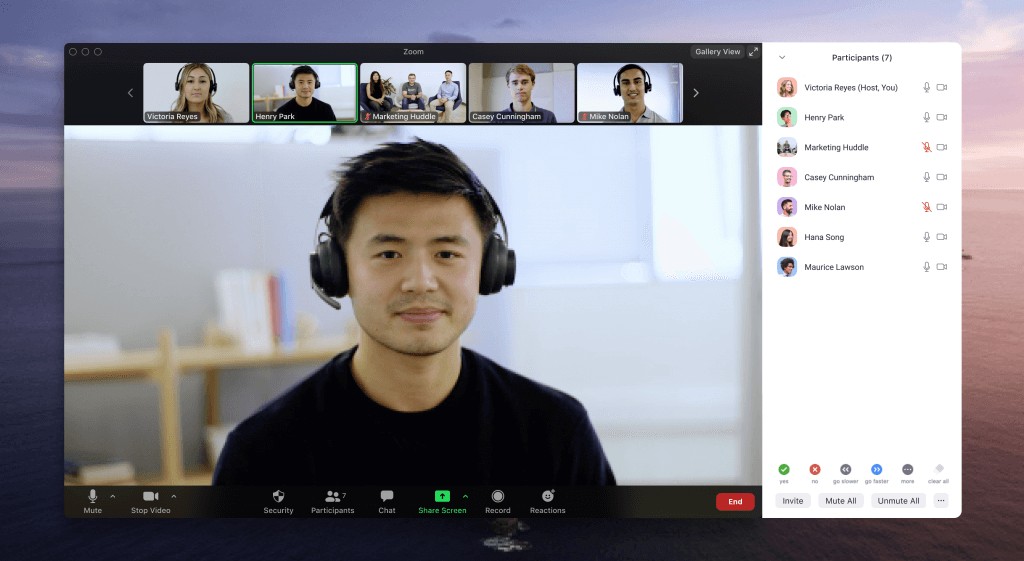 Image source: Zoom Blog
Develop a communication strategy
When it comes to moving your operations online, it's important to note that frequent communication doesn't always mean better communication. That is why we recommend implementing a communication strategy that clearly articulates when and how you plan on meeting. Establishing a meeting cadence such as a daily stand-up call will provide your team with the necessary guidance to kick start a day of solid hard work. If you want to read more on remote communication, check out 5 Communication Tools for Remote Working.
Task management
If your company is one with teams spread across various time zones, it can be tricky for them to coordinate who is responsible for each project. If they're working with deadlines, this can become a real issue if there are no task management tools in place. As a team leader, your role involves creating a project or task, delegating it to the right person, setting expectations, and then monitoring progress. With the right software in place, managing all this can be a walk in the park. Useful platforms such as Trello or Asana allow you to share project information across multiple devices. Here your team can keep track of tasks and monitor their performance to ensure they are reaching goals.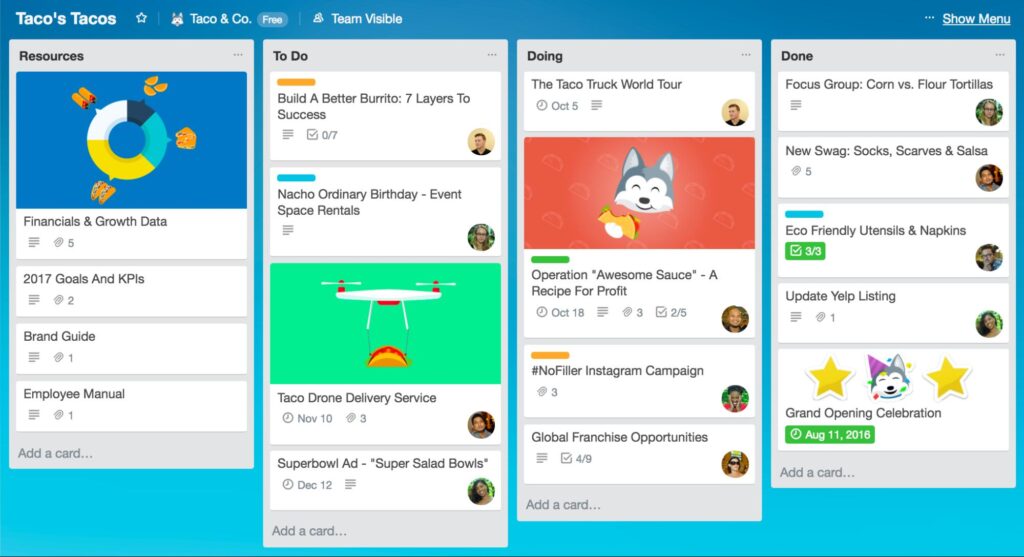 Image source: Trello
Employment Hero also has a similar function called 'Tasks' that helps employees keep track of the different tasks that have been assigned to them, as well as the tasks they've assigned to others. If you're interested in learning more, get in touch with us today to book a demo.
File storage
If you want your remote workforce to operate successfully, having a stable and secure location to share files is paramount. Luckily today, cloud-based technology allows for data to be created, shared and stored across multiple devices. Tools like Google Drive can help you and your team collaborate and manage content simultaneously. If a file is adjusted, it is immediately synchronised and updated to reflect any changes. Another useful benefit of using Google Drive is that it allows you to control who can view and edit documents. Google Drive is an excellent way for your teams to work together on completing tasks. Not to mention it provides a secure location for storing important company files.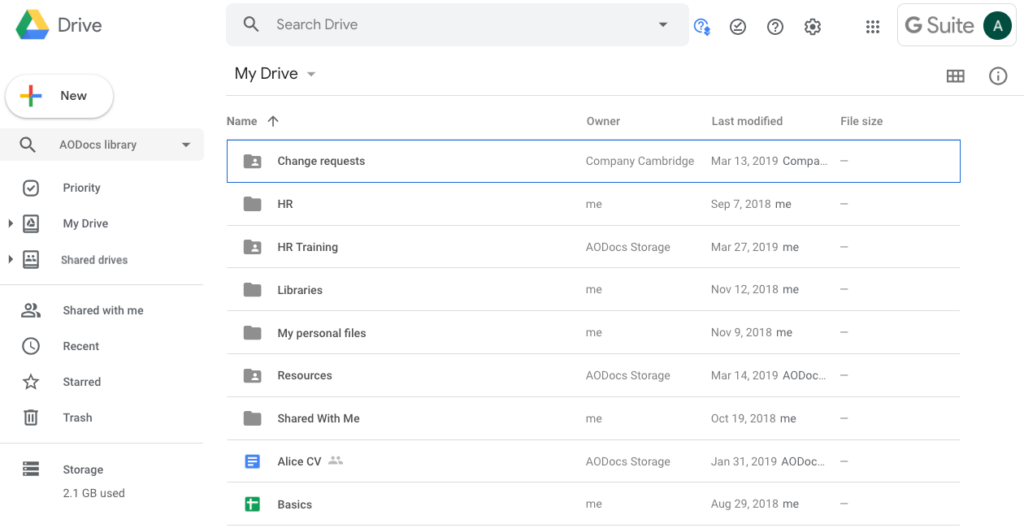 Image source: AODocs
Security and passwords
Those working remotely are often faced with a number of logins and passwords for each service used by the company. It can be a grueling task for remote workers to request access for all required software. Managers are also responsible for ensuring company assets are secure and protected. Try using a password management software that provides remote teams access to company resources while encrypting passwords. 1Password is a great platform for providing security within. With 1Password, teammates can have approved access to a particular service without ever having to know the login credentials.
The wrap-up
If your team have only recently transitioned to remote work, try not to worry if their performance has slightly declined. It's normal for people to need a bit of time to adjust to their new working conditions. Despite this, we have discovered several key ingredients for an effective remote set-up. By providing employees with the necessary tools for distance work, you can ensure a productive and successful team, regardless of where they are in the world.