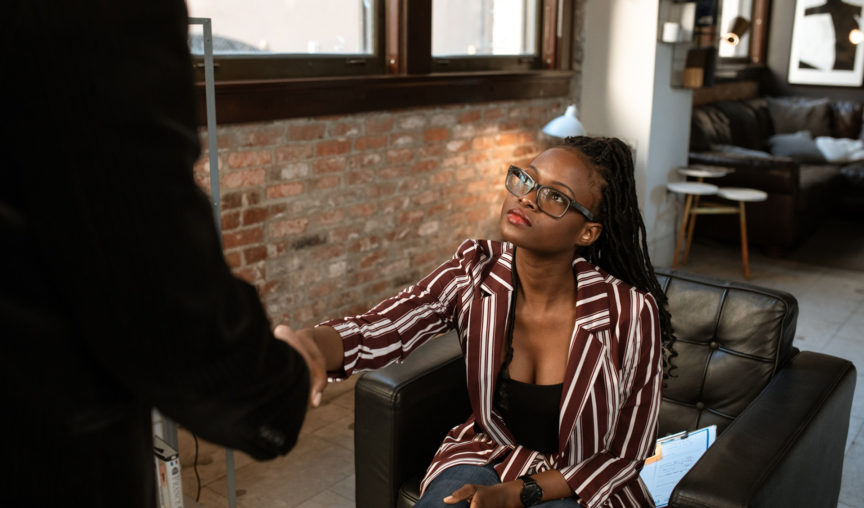 You've got a new role open, and have written a crackin' job ad that's going to attract lots of amazing top talent – now what? How and where do you actually start promoting your job ad to ensure it gets to as many potential candidates as possible? Luckily for you, we know a thing or two about promoting your job ad and getting it out there to the world as quickly and as widely as possible. So without further ado, here are our top tips on how to start promoting your job ad and get it seen.
#1 Advertise on job listing sites 📌
Job listing sites should be your first port of call when advertising your job ad. At Employment Hero we use a mixture of job boards whenever we have a new role open. We asked our resident recruiter Charlotte, about her strategy. Charlotte said "Our main job board is SEEK which is our paid platform, as well as LinkedIn. We also post on free platforms including Indeed, Glassdoor and sometimes Facebook jobs." With our Seek platform, we also get a funky feature that makes sure our job ads appear further up the list in certain search results. If you have the budget, look into your paid platform options to see what could work for you. Charlotte also shared one of her top tips with us! "When posting on Seek, make sure you get the settings right as it can make a massive difference to where your job will appear. For example, the job needs to be placed in the right category. If you are posting a BDM role, make sure you've highlighted the sales category as this is where salespeople will be searching. Another great example is that even though Employment Hero class as a tech company, I make sure the category is set to the HR industry as well, to cover people interested in tech and human resources." If you are hiring for a particular niche role, there are also specialised job boards which may give you a better range of candidates. For example, if you are recruiting for roles within cybersecurity – there are some popular job boards specifically for Cyber Security jobs that will attract that kind of candidate. If you don't have a big budget to spend on job ad platforms, there are various free job boards you can also utilise like Glassdoor, Indeed or Facebook Jobs. Take a look around and find the right fit for your job role and your budget.

WATCH OUR EMPLOYER BRANDING WEBINAR
#2 Social media is your new best friend 🤝
It's a highly competitive world out there, and while online job boards have the potential to reach a large audience, there is no guarantee your job ad will be noticed by the type of candidate you actually want to attract. So, another way to effectively promote your job is by taking it to where the people are, and one of those places is social media. Facebook, LinkedIn, Twitter and even Instagram can all introduce your job advertisement to a far wider, and potentially more relevant audience than by just using online job boards. Use the companies or your own personal LinkedIn account to share your job openings and encourage your connections and employees to share it too. If you have a large number of connections, posting a link to your career site will definitely help you to get some applications. Top tip: Ask senior members of your team, who probably have a large network, to include a post featuring the job ad on their personal Facebook or LinkedIn page. It can be a way of reaching suitably qualified candidates. Or ask them to write an article on LinkedIn about the company, how great it is to work for, and mention available roles with links to the job advertisements. Having a strong presence on social media overall is key to building candidate familiarity and general interest. It ensures you're also making space to showcase your company culture so candidates can get a peek inside before applying.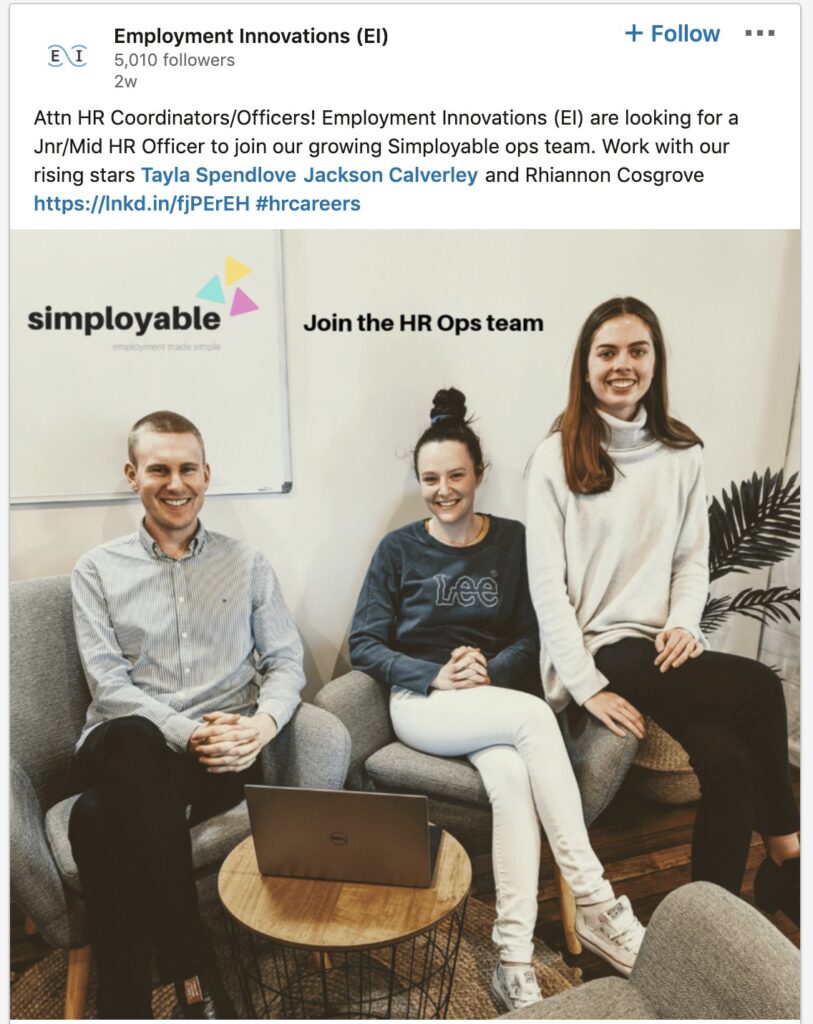 Above is a great example from our friends at Employment Innovations. They've included a friendly team shot of the people the candidate would be working with, and show a bit of the office decor to show the office environment. 👏
#3 Promoting your job ad through website traffic 🖥️
Another great way to get your job ad seen is to use a website careers page. Creating an engaging, on-brand careers page is a very valuable asset in acquiring the best talent. There are plenty of benefits to investing in a careers page:
Branding opportunities are endless: projects a consistent brand to prospective job seekers. As well as showcasing the company value and mission from the offset.
Career pages reduce the cost of hire: using recruitment companies cost money, as well as 20% of an annual salary fee. Job posting sites can also cost anywhere from $100 – $500 per post!
Reduce the time to hire cycle: online recruitment allows for immediate and real-time interaction with candidates.
SEO benefits: you'll be your digital marketing teams best friend if you suggest building a careers page for SEO benefits. Between 13-15 million people are searching for jobs each month. Creating an evergreen careers page will help get your brand out there as well as increasing your organic reach. Your careers page will get indexed by search engines, making it easier for job seekers to your job openings organically. (Free advertising for everyone!)
Below, you'll see some great examples of careers pages that we've seen and loved recently.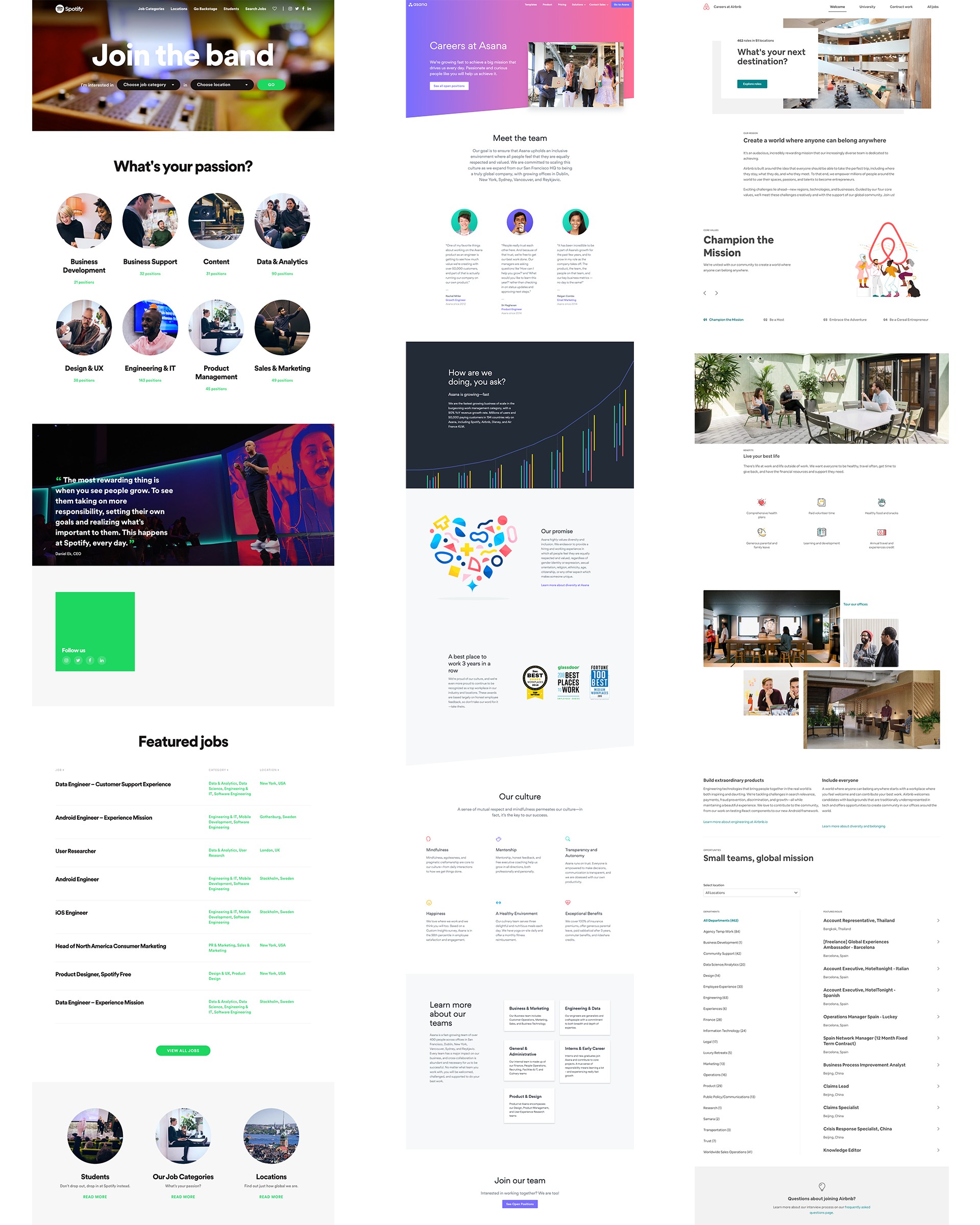 What we love:
This careers page is very on-brand throughout
They introduce some of the key players in the business at the beginning, along with quotes from them about why others should work at Asana
Tells potential candidates about the company and how well they are growing as a business
Introduces the company culture early on by showing that they've been nominated as one of the best places to work three years running
What we love:
The cool video in the header which showcases the brand very well along with branded CTAs like 'Join the band'
This page shows the main teams within the business to give a good overview of the different departments within the business
An inspiring quote from the Spotify CEO, showcasing a good sense of company culture
Airbnb has a whole separate domain on their website just for careers – a mini website within their own website! What we love:
On the first page, Airbnb showcase their company values, mission statement and culture. All whilst being on-brand with CTAs like 'Explore' and 'Tour'.
They showcase all the different benefits their employees receive if they work at Air BnB, this is a great thing to display early on to show you're a business that cares about rewards and recognition
List of office locations and different departments within the business. This not only shows diversity but also how big of a company they've become
Having well-formatted careers pages like the three examples above makes it easier for potential candidates to get to know what your company is like as an employer. Career pages are a must-have for brands that want to attract heaps of top talent and promote their employer brand to the world. Even if you do not have any job openings, a careers page should be set up to communicate your employer brand to any potential future candidates. You could even set up a notification system that alerts potential candidates when a new role has opened up. Just having a careers page helps people to always have you in mind when they might look for a job in the future.
#4 Seeking help from your current employees 👔
If you've got a company culture to be proud of, the best brand ambassadors around are your current employees. Therefore, they are the best people to help you promote your current job opening as they can put a more personal spin on things and explain first hand why your business is such a great place to work. If you have employees sharing with their friends, colleagues, family about their (hopefully) great experience at your company, most of the recruiting is getting done for you. Employees are such a powerful job promotional tool and overall advocates for your brand when it comes to recruitment, we would suggest an incentivised referral program to encourage more of your employees to promote the job ad. For example, offering your employees a monetary reward if their referral is a success and passes their probation period. Having an incentive like this one will make sure your employees are thinking hard about who would be a good fit for the business and the specific job role. So, there you have it, four tips on how to get your job ad seen by as many people as possible! You can thank us later. We hope you find the perfect candidate for your business to become an even bigger success! 🚀