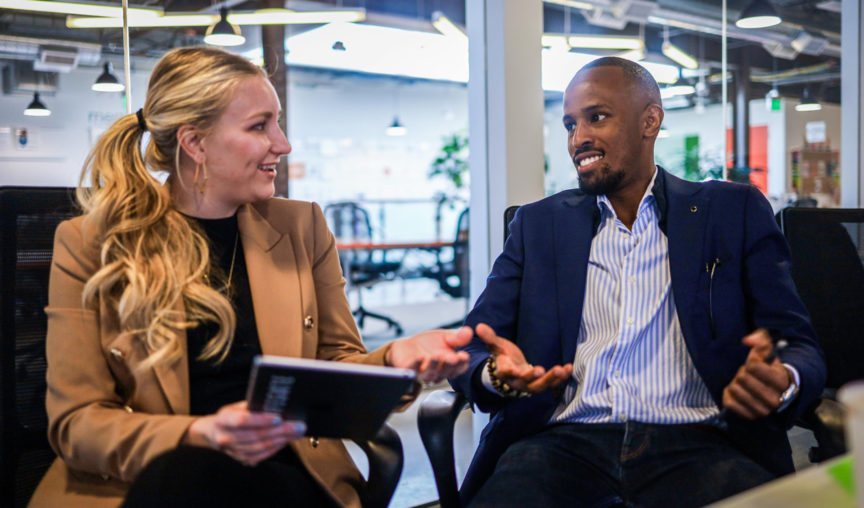 Progressive performance reviews are a traditional method of eliciting feedback, but problems can arise when this is the only feedback employees get. Proven success is shown to result from using both methods of ongoing feedback and annual performance reviews.
Frequent one-on-ones, where both sides provide open and honest feedback is one way to create a system of ongoing feedback.
Frequency builds trust and openness between manager and employee. When you introduce regular coaching and development within these meetings, you are building a culture where the employee feels supported and is more likely to open up.
The annual review then becomes a culmination of all ongoing feedback given throughout the course of the year. This is mainly used as a way to review salaries. Formalising the process gives the Finance department a solid point of reference and place in time to review the financials.
The shift to quarterly reviews
As well as on-on-ones, another way to provide progressive feedback is to establish a quarterly performance review.
Working in addition to annual reviews, quarterly reviews (which our performance review system allows) enable more frequent feedback and discussion, and give more opportunity for timely recognition of wins and high performance.
Annual reviews in isolation are also known to create stress and anxiety for employees. Annual reviews that ask long questions requiring essay-like responses are being scrapped in favour of shorter questions in quarterly performance reviews. This style of progressive performance review creates less stress and elicits a better response from employees.
Another way to further reduce stress around progressive reviews is to use words instead of numbers in assessment scales. For instance, replace a ranking of 10 with the word "outstanding!".
Tracking performance
When it comes to tracking performance, time-based goals or KPIs are essential. They ensure that a review is less subjective – less focused on the mistake that happened last week. Instead, progressive feedback is more focused on the employee's overall performance and commitment to their role.
But don't struggle over these yourself if they aren't naturally coming to you. A few hours with an HR consultant or a business coach will see some strong, measurable goals introduced.
HR consultants can also help you create a system to assess behaviours against values. HR software is invaluable in helping businesses facilitate the progressive review process. Each employee can have set goals and KPIs tracked regularly within a system, so that it's not lost in messy paperwork. When employees have clear goals outlined to them and planned progressive reviews, the experience is actually enjoyable as opposed to feeling like a chore.
A company doing progressive reviews – the right way
As one of the first companies to make a move to more progressive employment reviews, Adobe famously ditched its traditional employee progressive reviews in favour of a check-in model.
In their new model, managers set clear expectations for employees and give progressive feedback at a time that suits the employee and the role they perform. This allows managers to make micro-adjustments to employee performance right throughout the working year.
In the first year of this shift, the software giant estimated it saved 80,000 manager hours, the equivalent of 40 full-time employees. At the same time, the company was able to demonstrate higher employee engagement and retention.
A systematic and streamlined performance review
A major factor in introducing a progressive feedback loop that works is that it doesn't create more work for you. In fact, it should minimise it. A continual approach, punctuated with a periodic full review has to be systematised and streamlined.
Progressive performance review software can help you make ongoing performance management a natural fit for your business. With features that help create and support personal and company goals, you can empower employees and managers to have meaningful, ongoing performance and career-related discussions.
With a cloud-based HR system, you have access to a full suite of annual progressive performance review documents, and a place where you can record ongoing discussions with the employee about their performance and career aspirations. You can document all check-in discussions, which you can easily access to review and ensure it's all on track.
Such software also helps you keep a running log of notes on an employee throughout the year. This will help you paint a complete picture about the individual's performance over time, so that your annual review is a culmination of all your ongoing feedback.
Time for change?
It's important to remember that giving feedback to employees on how they are performing is as important as ever. When employees are recognised, they become happier and ultimately more productive.
Making performance a natural part of how you work means employees will speak up when they're struggling or seek help earlier in the process. This proactive approach is more beneficial than waiting until the formal review process comes around.
Get reviews right and you'll have:
Motivated employees with a clear understanding of their individual goals, and how their role ladders up to company goals.

Top performers who feel recognised because their progress has been tracked objectively against performance goals.

Reduced employee turnover and increased engagement.
A manager's guide to performance reviews.