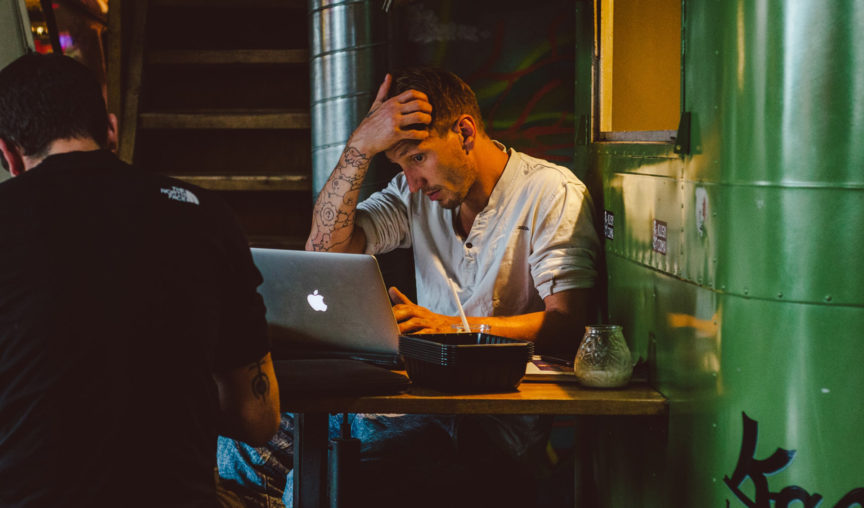 The bad news cycle is endless. Work is changing, every day. Daily routines are a thing of the past. Undoubtedly, COVID-19 is making an impact on our mental health.
When the world is in such a state of anxiety, how can we protect our mental health? In periods of instability, it is normal to experience sadness or worry, but that doesn't mean our mental health needs to suffer.
There are plenty of practical tools and healthy coping mechanisms that can help keep us afloat. We're going to share some simple mental health dos and don'ts. You can remain productive and keep healthy in this time of uncertainty with these tips.
Don'ts
Distract
What's the first thing we often turn to when we feel overwhelmed? Distraction. If we experience an uncomfortable emotion, we push it down and distract our mind. Sometimes, this looks like a Netflix binge or emotional eating.
Don't get us wrong, distraction isn't bad in and of itself. Taking your mind off things can be helpful. But it shouldn't be your first or most regular coping mechanism. During this time of uncertainty, it's important that we learn to sit with our emotions and process them.
If you begin to feel anxious or upset, don't instantly dive for the TV remote. Instead, find somewhere quiet and take some time out. Ask yourself, 'what is this that I'm feeling?'. If you're an external processor, you might find talking about your feelings helpful, as you try to identify them.
Once you've identified your emotion, accept or take action on it. Admittedly, this takes a lot more work than simply distracting yourself—but your mental health will thank you.
Overstimulate
The news is at our fingertips. It's on every device, 24/7. Here's a tip to protect your mental health—be selective.
Limit how often you're checking social media. Unsubscribe from some email newsletters. Watch only a small amount of television news each day.
There's a huge difference between being informed and being drowned. Your brain can only process so much information, especially if that information is distressing. This is especially important for those of us trying to keep the #hustle up while working from home.
Be kind to your brain. Switch the TV and radio off while you're working. Don't scroll through your timeline and your emails at the same time. Do one task at a time to avoid overstimulation.
Lose rhythm
For many of us, the last few weeks have changed our daily routine. You're working from home. Meetings have been cancelled. Kids are home from school. All this change can be problematic for our mental health.
There's plenty of research that suggests our brains thrive on routine. For the sake of your mental health, choose routine over chaos.
Wake up and go to bed at the same time, each day.

Eat proper meals, 3x per day.

Build new traditions and habits in your changed circumstances. Everyone home? Why not work on a puzzle together and do a bit each day? Or, take some time out each day to practice a new skill or hobby: learn a language or a musical instrument!

Keep some normality in your exercise routine. Bust out those Youtube workout routines.
Dos
Be kind to yourself
This is a hard time. It is inevitable that some days will feel tougher than usual. Whether you're already living with mental health issues or you're feeling their effects for the first time – take it easy on yourself.
Show yourself some kindness. Be sure to flag any mental health concerns with your employer, so they can look after you too.
'What advice would I give to a friend?'. This is a great question to ask yourself. When your mental health is taking a toll, think about what you'd do to love a friend who was feeling similarly. Then, treat yourself likewise.
Can I stop what I'm doing and take a break?

Can I have a nap or some quiet time?

Who can I talk to about how I'm feeling?

What mood-boosting food, entertainment or activities can I invest in today?
Seek community
Social distancing and closed office doors has left many of us feeling a little isolated. This is bad news for our mental health. We are social creatures. To protect your mental health, seek community.
At work
If you're working from home, make the most of technology. Staying in regular contact with colleagues is important. Sure, you could have that conversation via email . . . but why not video chat? Working from home means organic lunch-break conversation won't happen. So, you'll need to go out of your way to check in on your colleagues. In such a time of uncertainty, this couldn't be more important.
At home
Living in the same home doesn't automatically equal genuine connection. Sometimes, our families and housemates need a little nudge in the right connection. Suggest a board game night or simply eat dinner together at the table rather than in front of the TV.
In the neighbourhood
The current COVID-19 crisis is forcing some of us to seek community in different places than usual. Start a text group for your local area and get to know your neighbours. Or, find a social media community based on your interests or hobbies.
Healthy body = healthy mind
Nowadays, this probably seems like a no-brainer. If you want to keep your mind healthy, you need to care for your body.
Our psychological state is intrinsically linked to our physiological health. Especially in times of increased stress, like the one we find ourselves in now, practicing self-care is essential.
Our mental health is hugely influenced by what we fuel our body with. So, be mindful about what you're eating and drinking.
Hydration is important for brain function and therefore for mental health. Make sure you're drinking enough throughout the day. On the other hand, alcohol doesn't help us in periods of poor mental health. Watch your alcohol consumption.
In terms of food, aim for wholesome and filling. Lots of veggies, mixed grains and protein. Avoid tonnes of processed or sugary foods. We get it, sometimes a bowl of ice cream is exactly the antidote to a bad day. Just don't let that become a bowl of ice cream every day.
Out top tip? Make sure you're munching enough Vitamin C. In a clinical trial, Vitamin C was found to reduce mood disturbance by 71% and psychological disturbance by 51%. Sounds like it's worth a try!
We're in this together
The full impact of COVID-19 is as yet unknown. One thing we can be sure of—we need to protect our mental health.
In times of such uncertainty, it's especially important to take care of ourselves. The situation is unprecedented and we're all in the same boat. One day at a time, one step at a time.
Let's look out for ourselves and those around us. It's time to change some unhelpful habits and pick up a few healthy ones. By being mindful of our situations and emotions, we can adjust our routines to best protect our health.
Workplace wellness bundle