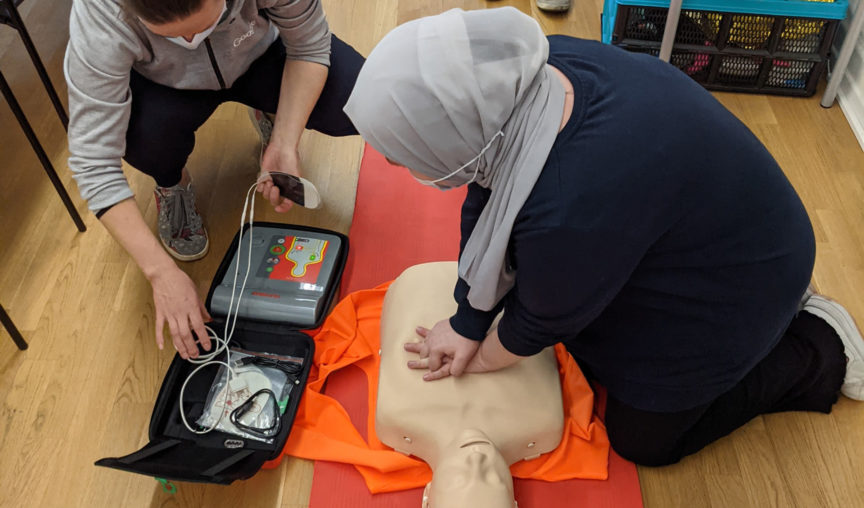 The dos and don'ts of being a good neighbour during COVID-19.
When we see our community struggling, we want to help. It's a natural – and wonderful – part of being human. We want to look after those around us, especially when we're all going through something difficult. But, perhaps you've found yourself asking, 'What can I actually do?'. Chances are, you've probably never been through a pandemic before. So, what does being neighbourly look like during COVID-19. Here are some easy dos and don'ts to help you get your head around helping your community in this time.
Don't
1. Have face-to-face time with neighbours
Social distancing is crucial, if we're going to keep that curve as flat as possible. So, as much as you'd love to offer a lonely neighbour some company, you need to be careful. Don't just knock on their door and invite yourself in. Don't host a street party or offer babysitting. Keeping your distance is the actually the first and foremost way you can help your local community.
2. Encourage community fear talk
It's important to share our struggles and create safe spaces to express how we're feeling. But, it's all a balancing act. When we're looking to help our local communities, it can be easy to fall into the trap of fear-talking. Whatever initiatives you invest in, be sure to focus on positive support – not fear mongering. We don't want to heighten the sense of panic. Instead of focusing on the problem together, try and focus on solutions.
3. Forget to ask what people really need
Everyone's needs are different. Families, singles, unemployed, overworked, elderly, immunocompromised, carers, students, business owners . . . COVID-19 impacts people in a wide variety of ways. What is helpful for one person might not be helpful for another. For example, an elderly neighbour who is feeling lonely might really appreciate a daily phone call but an exhausted healthcare worker may feel burdened by that arrangement. Think carefully about who you want to help and what they need. If in doubt, ask.
Do
1.Make contact with neighbours
The chance to get to know our neighbours is one of the silver linings of social distancing. You may not even know your neighbour's names. Well, now is the perfect opportunity to change that. One small but significant way you can help your local community through COVID-19 is simply by making connections. You never know who is feeling alone. You never know who might need a helping hand or a listening ear. Write your name and contact details on a slip of paper and pop it under your neighbour's door. Offer to start a neighbourhood Facebook or Whatsapp group. Make your community a real community.
2. Deliver frozen meals
Yes, it's okay to deliver home cooked meals. The chances of spreading or contracting COVID-19 from frozen and reheated meals is very low. Just be sure to practice good hygiene. Wash your hands before, during and after the cooking process. Use new and clean disposable containers. Only deliver food which has been cooked and is intended to be reheated (the reheating process ensures it is totally virus-free).
3. Shop local
This is key. Perhaps the best way you can help your local community right now is by shopping local. Keep buying coffee from your favourite cafe (take away, of course!). Keep buying groceries from your local store. Continue supporting local charities and initiatives. Find creative ways to support local business owners. If your gym or yoga studio has closed – ask around for a local instructor who can give you training sessions over Zoom. Choose one night a week to eat takeaway from a local restaurant. In the coming months, where we choose to spend our money will really matter. Use your wallet for the good of your local community.
4. Donate blood
People still need blood. And, many regular donors aren't making the trip to the blood-bank. This is a big problem for many Aussies who rely on blood donations. You can make a difference, straight away. Book with Lifeblood and donate. You could save someone's life literally.
5. Keep supporting local culture
Concerts have been cancelled and festivals canned. Clubs are shut and gigs are called off. This spells disaster for many performers and entertainment industry workers. But, you can make a real difference to the arts scene in your community. It's as simple as this: don't unsubscribe. Keep supporting your local theatres and cultural spaces. Many performance spaces and companies have started great digital initiatives to keep you entertained in lock-down. Make the most of those. The artists in your community need your support, now more than ever.
6. Follow instructions
Australians have, by and large, responded incredibly well to COVID-19 restrictions. And, as a result, we've saved many, many lives. Keep going. The best way you can support your community is by following instructions from authorities. Encourage your community to remain vigilant. Set a good example and be someone who plays it safe, for the sake of others. Together, we can get through this.
Helping others helps you
The isolation blues are real. Helping those around you could be just the thing you need. Humans are community minded, naturally. Let's use this time to focus on small but significant ways to help our local communities. Look around at your community. What can you do? Offer a phone call? Deliver a frozen meal? Become a loyal customer? Look around, and do what you can. We can't think of a better boredom buster than some good old fashioned community service.