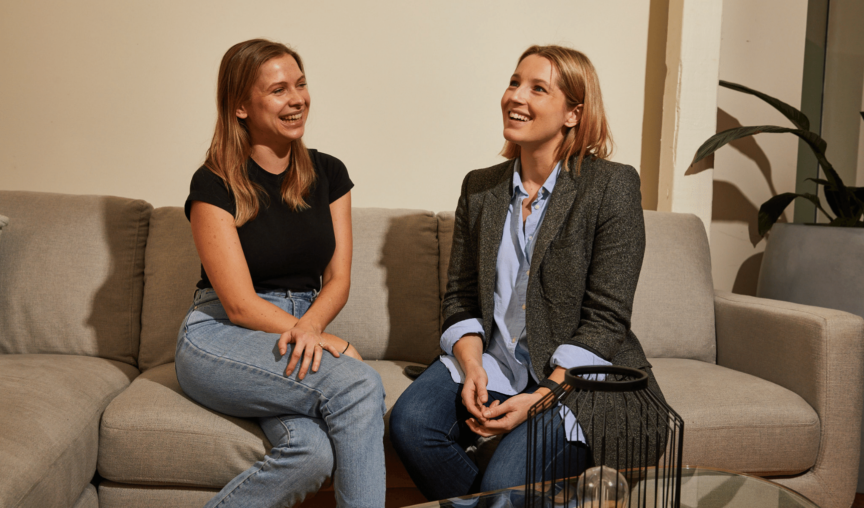 Do you believe that first impressions count?
Even though most employers would probably say they do, onboarding is an often-neglected part of the employee experience. Getting it right does so much more than streamline your HR admin; implementing a great employee onboarding process can set the tone for a wonderful working relationship.
What is an employee onboarding process?
Onboarding is so much more than paperwork. It's the process of helping new hires adjust to their new jobs quickly and smoothly by managing the early stages of their employment.
Onboarding covers every part of the employment process, from the point the employee accepts the job offer with your business, right through to the end of probation. A great onboarding process will help the person transition from the recruitment pipeline to being a member of the team seamlessly.
Why is efficient onboarding important?
When onboarding admin is done right, it will have just as many benefits for the existing team as it will for the incoming team member. Onboarding can often be a clunky and time-consuming process, which is difficult enough as it is if it were just one team member. If you're onboarding several people at once – which your awesome company probably is – it can easily become confusing, with overwhelming manual admin for your hiring and HR teams. Efficient onboarding will significantly reduce this pressure on your existing teams, as it will remove the bulk of admin and help streamline communications.
An efficient onboarding process can also be transformative for your new employees. It will provide your new starter with everything they need to know, and set a clear pathway to get started within their role. It sends a message that the business is organised and conscious of its team's time. It sets a tone of employee care and consideration.
Without a functional onboarding process, new team members can be left feeling isolated and confused about what they're meant to be doing. It's a bad way to get started with the business and, worst case scenario, can leave them questioning if they made the right choice in joining the team.
Reinventing employee onboarding through automation
A functionality that's changing the way businesses think about employee onboarding admin is automation, enabled through HR software (like Employment Hero). Automation creates a new onboarding process flow that can relieve HR teams from admin and reduce human error.
At its core, automation alleviates the headache of organising and completing new hire paperwork. It works by triggering a series of actions when you enter a new employee into the system. When your employee accepts their job offer, they will be sent a link to create an employee profile on the platform.
From there, they can access their digital employment contract which will be stored on-platform, and be able to begin uploading their personal HR and payroll information. They'll also be instantly assigned policies, training and more. All information is then stored securely on the platform.
Why employees love Employment Hero's onboarding process
Employment Hero's mission is to make employment easier and more valuable for everyone, and that starts from the word go. We've created the easiest onboarding process ever, and I should know – we are our own customer, and I was personally onboarded via the platform just over a year ago. So, here's the insider's scoop on what the entire process looks like from the employee perspective.
From the second that I accepted the job offer, I was directed through a process which streamlined onboarding; it didn't leave me guessing for one moment, as I had with other new jobs. Once I received the call to say I had got the job, it was shortly followed by an email from the Employment Hero team to welcome me and get me set up with an account. I was able to do this right away from my mobile app.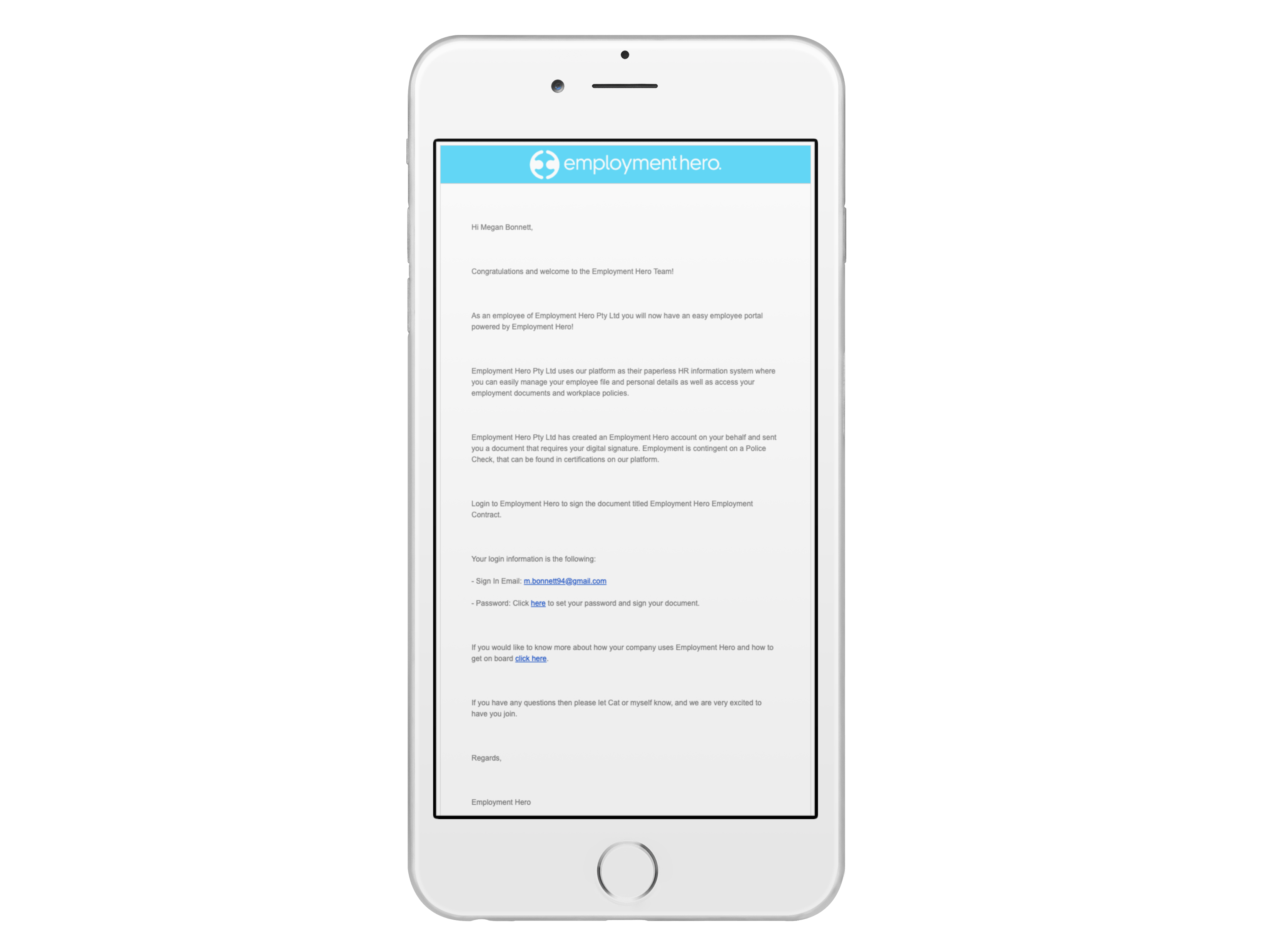 I received another email soon after to let me know that my contract had been uploaded to the platform, and was ready to view. Keep in mind, this is happening the same day that I accepted the offer; once I had used an electronic signature to acknowledge my contract, I was able to resign from my previous role that same afternoon. Most employees have had the experience of having to delay their resignation while they wait for contracts from their new employers; it was refreshing to avoid that experience.
After signing my contract, I was prompted to log onto my Employment Hero account and fill out my personal information including my contact details, bank and superannuation information as well as tax declaration statements and my work eligibility and visa details. It's comforting to know that I have control over my own information and I can update it at any time.
I was also notified about policies that had been assigned to my account that I needed to read through, acknowledge and sign. The whole process from contract to policies took me under an hour.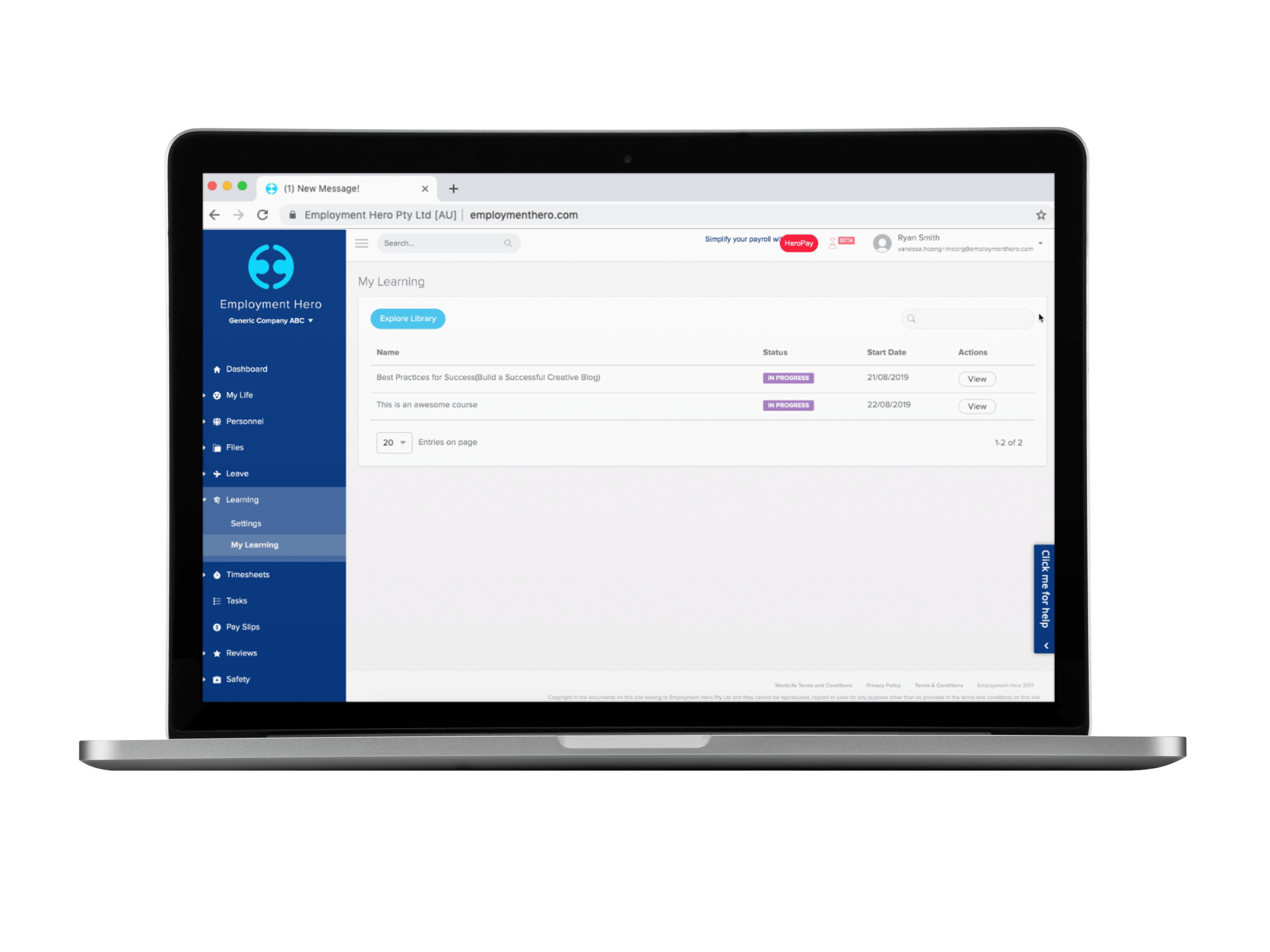 I was also notified about policies that had been assigned to my account that I needed to read through, acknowledge and sign. I was able to complete the whole process from contract to policies in an afternoon, and felt so confident knowing that all my important paperwork was done long before my start date.
From an employee perspective, the onboarding process that Employment Hero offers is seamless and gives new starters a great entry to your business. It removes the anxiety of having so much admin on your first day, when you're also feeling conscious of meeting so many new people and becoming familiar with your role.
But how about from an employer or HR manager's perspective? We checked in with our People and Culture team to talk us through the two (yes, two!) steps that you'll need to do to get your starter onboarded.
Step 1: Entering Your New Starter's Hiring Details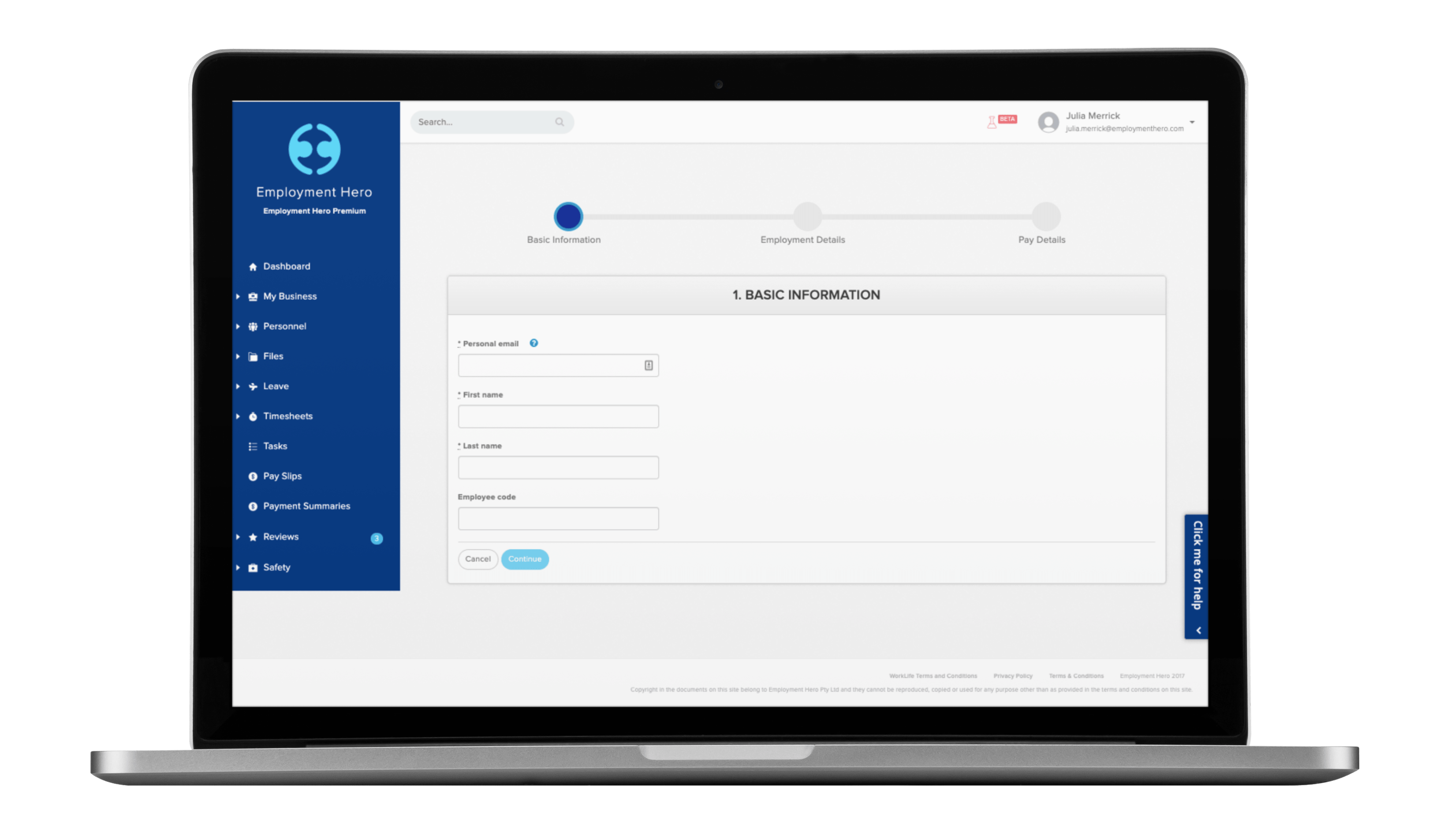 For the first step, all you need to do is enter the new starters first and last name and employee number.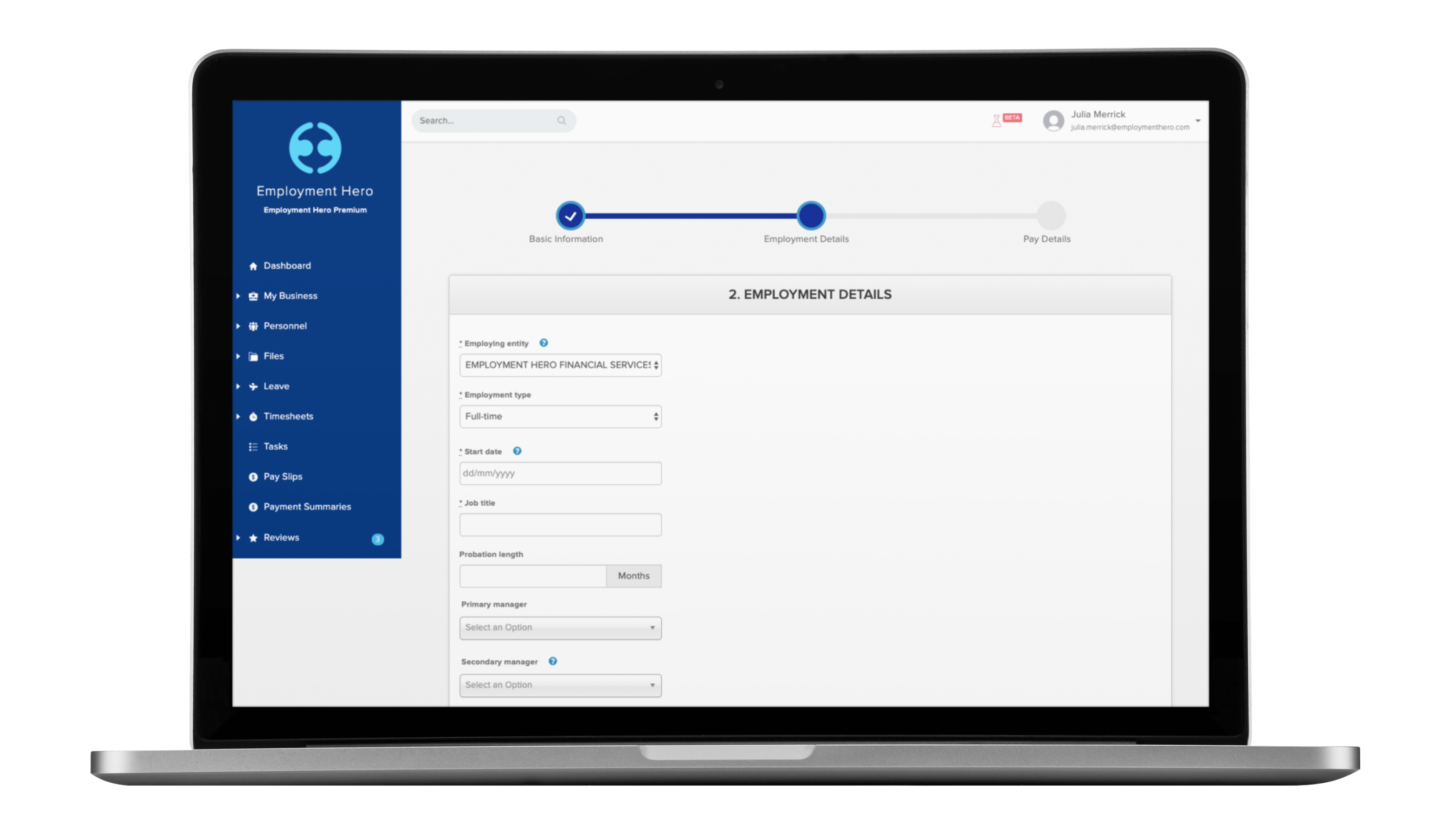 You'll then fill in their employment details such as their job title, employment type (e.g. full-time, part-time, contractor etc), probation period length and who their manager will be.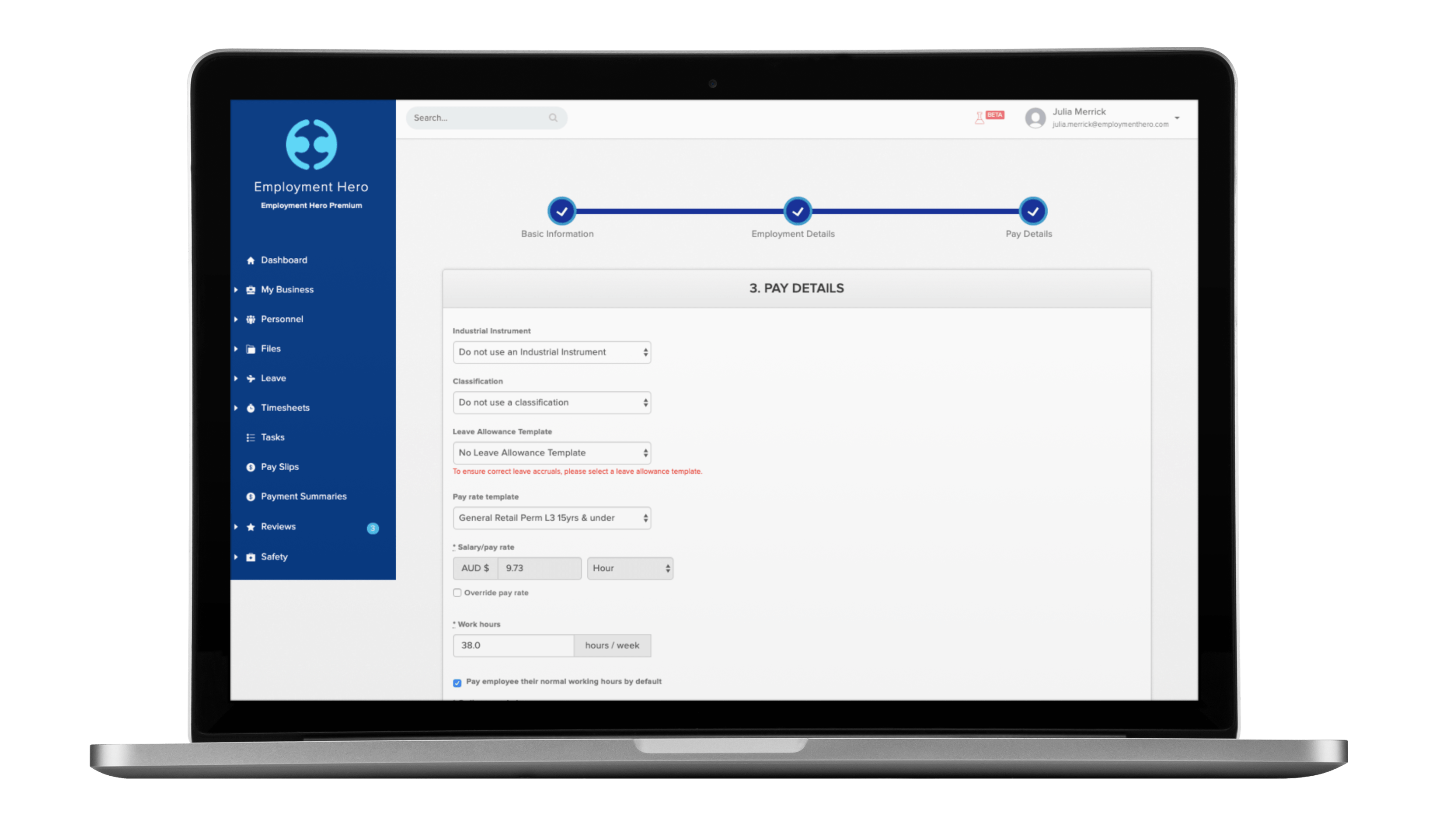 Then you'll enter their payment details in Payroll. This includes the corresponding Award (if applicable), their leave allowance, pay rate and salary. If you're not using Employment Hero Payroll, you can then synchronise these details with your integrated payroll system. And that's step one, done!
Step 2: Creating and Sending a Contract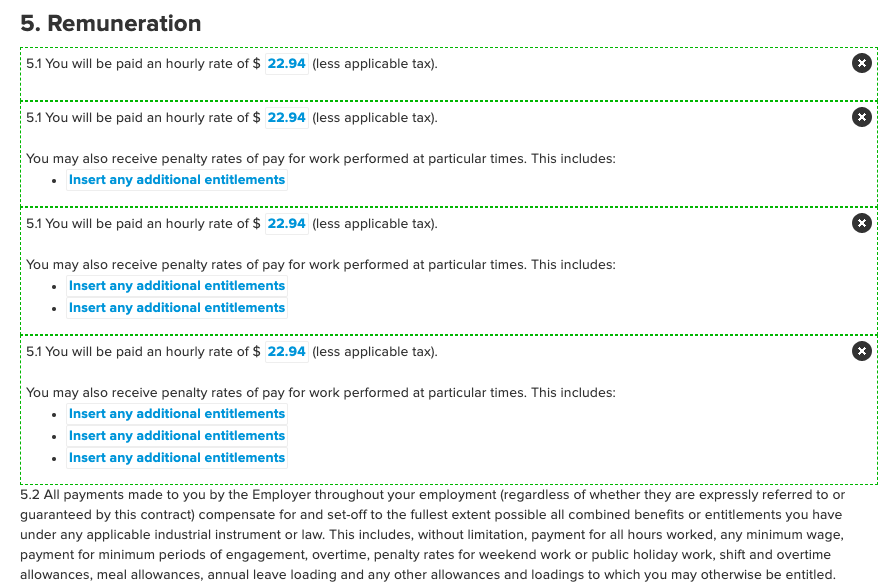 Now your new employee is all set up on the system, you can create and send them a contract through Employment Hero. When you create the contract you will see multiple fields for the same clause. This allows you to create a personalised contract depending on the employee and their job type. You can see here, for example, that for 'Remuneration' there are 4 possible options for the '5.1' clause. You can review them all and delete the ones that aren't applicable to that particular employee.
Once you've edited the contract and reviewed everything, you can save the contract, sign it and send the contract over to your new starter. That's it. You now wait for your new starter to review the contract, sign on the dotted line and send it back to you. You'll be able to see a progress report on your Employment Hero dashboard so you can easily see where you are in the onboarding process.
Once the contract is signed by the employee, policies that should have already been set up on the system will be sent off to them as well, to be reviewed and acknowledged.
Curious to learn more about policies? As an Employment Hero admin you'll have access to all of your company policies in the 'Content Management' tool. From there you can assign policy documents depending on department or job type, and these are automatically sent off as soon as someone new in those categories joins the team. Talk about win-win.
If you need any more reasons to believe that you can create an onboarding process that everyone loves with Employment Hero, check out these facts.
New starters are generally 75% onboarded when they come in on their first day by using Employment Hero
Onboarding new employees using Employment Hero will cut admin time down from days to hours
Seamless and low-touch onboarding can scale with your growing business
We've onboarded over 250,000 employees through our platform – and counting!
Employment Hero's onboarding process is fully remote-friendly. Your new employees can begin their role without ever stepping foot in an office (or near a filing cabinet).
Employee onboarding admin, covered.
Can you already feel the weight lifting off your shoulders at the prospect of employee onboarding admin disappearing?
When admin is no longer an issue, you're free to welcome your new employee with open arms. You'll have more time to take them through the more fun side of onboarding; your company values, introducing them to your company culture, and getting them settled into their new role.
If you'd like to learn more about onboarding, download our free ultimate guide to recruitment and induction, or book a demo with one of our business specialists to see the Employment Hero employee onboarding progress in action.
The ultimate recruitment and onboarding guide