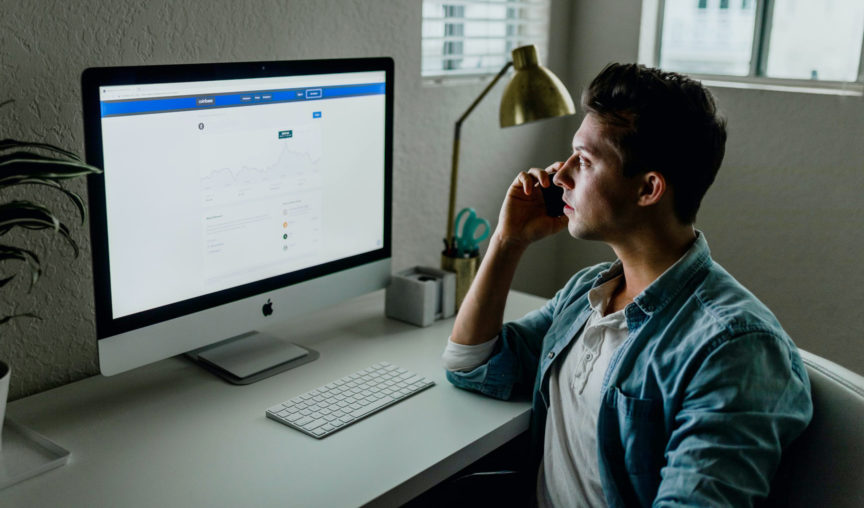 Use this hiatus to prepare yourself for the post COVID-19 world.
Whether you're working from home or you're between jobs, this is the perfect time to upskill. With social events cancelled and life rhythms changed, we've got months of 'downtime'. How often does this opportunity come around? Let's use it.
A whole new world
COVID-19 has accelerated change. Digitisation has rapidly expanded across education, work, social and entertainment spheres. When our everyday lives and behaviour is significantly impacted, change is inevitable. Certain industries have suffered major disruption and others are booming. Some of this change is temporary – presumably toilet paper will once again be readily available! But, some of it is likely to be long lasting or even permanent.
With in-person meetings canned, your workplace has discovered just how much can happen online or via email.

Your whole organisation is working from home.

Your kids are at school . . . at home.

All universities are functioning entirely online.

We're spending our money differently. Instead of Saturday brunch we're

buying flour to cook our own bread.

The healthcare sector is changing before our eyes; telehealth has emerged and

hospitals are preparing for an unprecedented burden.

We're live streaming entertainment and social occasions.

Families are spending more time together.

We're emitting far fewer greenhouse gasses and using less petrol.

Our import and export patterns have changed significantly.
These are just some of the many changes rippling across society. And, all of them will have an impact on the future of our job market. Economic, social and technological changes demand new skills, new jobs and new ways of working. Especially if you are currently between jobs, you'll need to have the skills needed in the new job market. It's important to be prepared. That's why now is the perfect time to upskill.
Your job will change
If you are fortunate enough to have a stable job despite COVID-19, you can still benefit from upskilling. The changing world will impact your job – even if your job title and salary remain unchanged. Now is the perfect time to upskill, in order to continue doing your job well. How might COVID-19 impact your job?
Tighter budgets
The economic recession of COVID-19 is likely to remain for some time. It will mean tighter budgets; from clients and companies. If clients have less to spend, you still want to be able to deliver high quality work. That requires upskilling and rethinking. If your employee has a tighter budget, it may mean less working hours for you or a smaller team. Especially if the latter option is true, your capabilities may need to broaden. Could you do someone else's job, if you had to?
New ways of working
If you're not used to working from home, now is the time. Entire organisations – even those with more traditional structures and policies – are now working remotely. It will be hard to come back from this point. Even if there is a post COVID-19 push for face-to-face contact, employees and employers alike now know the practicality of working from home. They have invested in systems and policies to make it work. So, even after COVID-19, your job may involve far more remote work. Are you equipped?
New demands
Trends and needs will change, thanks to COVID-19. No matter what industry or sector you work in, COVID-19 will leave its mark. Your job description might shift accordingly. Do some research into your industry. How is COVID-19 impacting it? How can your industry serve society best in this time? There may well be entire new services, products and jobs which pop up during and after this crisis. That means, it's time to upskill.
What skills should I focus on?
The changing world and your changing job mean now is the ideal time to upskill. But, what kind of skills will be needed in a post COVID-19 job market? It's hard to say with certainty or specificity. You should spend time looking at the news and trends from your industry. But, we'd love to share some general upskilling ideas with you. If you've got some spare #isolation hours, here's where to focus them.
1.Soft skills
These days, soft skills are key for employability. Employees want creativity, resilience, problem-solving, time management and people skills. We already knew this. COVID-19 will simply make these skills even more critical. Industries will change and jobs will emerge at a rapid pace – and those in demand will be team players with soft skills. You can find some free soft skill courses here. Or, Open University offers heaps of awesome courses which help you level up your soft skills.
2. Digital skills
COVID-19 social distancing policies mean our need for digital connection is more obvious than ever. Now is the time to better your digital skills – for the sake of your current position or your future job. From digital design and development to social media management, coding and digital security; whatever your profession, there is room for you to improve. You can search this database for some digital upskilling courses.
3. Health care skills
The healthcare industry is obviously at the frontline of COVID-19. We've already seen retired healthcare workers be called back into action to help fight the virus. In the coming months, we could see a huge demand in this industry. Plus, in a time like this, who couldn't benefit from a bit of extra medical know-how? So, if you've got spare time on your hands, invest in some online healthcare training. Whether you just want to brush up on first aid or jump into a degree, this is a skillset which could serve you and others well.
Take your chance
In reality, there are literally hundreds of skills you could focus on. You could learn a new language, improve your accounting or get some public speaking training. Whatever you choose, think ahead. What will your job, community, country and world need in coming months and years? Isolation can be frustrating and unproductive. Or, it can be a unique opportunity to upskill. Tafe NSW is offering a selection of free online courses to help you upskill during this time. Plus, here at Employment Hero, we have a bunch of amazing online courses to equip you. Most of us have a few extra hours these days. You're not going out tonight – so why not sit down and do some planning? If there is an area you've always wanted to improve in, now is the right time. COVID-19 presents plenty of challenges and difficulties. But, it also presents a chance to reassess our skillsets. Let's gather the tools we need and get to work! Make isolation count. Any advice in this article isgeneral advice only and does not take into account your particular circumstances, objectives and needs. Before acting on any advice on this website you should assess or seek advice on whether it is appropriate for your financial situation, need and objectives.