Times are pretty tough for Australian businesses right now. Many industries have had to close their doors for the foreseeable future, while others are doing their best to adapt. What does adapting look like? Some businesses are pivoting their operations to support different audiences, like Wild Brumby Schnapps Distillery in Thredbo producing their first hand sanitiser. Others are redeploying their staff to work in different functions, like moving sales teams to customer support. Many are working at reduced capacity, like our local cafes and restaurants running takeaways and deliveries, or fitness studios running virtual personal training sessions via Zoom.
If your business is lucky enough to find itself in the latter category, you're not alone. Off the back of the government's business stimulus package, many businesses are looking for new ways to keep things going in the midst of a global pandemic. And we take our hats off to them. And whilst developing a brand new business model is probably taking up most of your energy, there's something else you need to consider; now more than ever, your people management processes need to be up to scratch. To respond to the impact of COVID-19, we've been hard at work on developing the Employment Hero JobKeeper Wizard. The JobKeeper Wizard allows employers to send, collect and report on the nomination form. If you'd like to find out more about how the Employment Hero JobKeeper Wizard can help streamline your JobKeeper application process,get in touch with one of our small business specialists today.
A walkthrough of the Employment Hero JobKeeper Wizard
  Here are the top five reasons why you should be introducing Employment Hero now.
1. Focus on what's important (AKA not HR admin)
If you've got people to manage, let HR admin be one less thing you need to worry about. Even with reduced staff, how much leave do your employees have? How will they submit leave? How will this affect your pay run? Are employees still submitting timesheets? How? What about salaried employees? Are they still recording their time as per the new annualised salary provisions? If you are still taking on staff, how will they be onboarded? If your employees qualify for the Job Keepers subsidy, the reporting function is your best friend. You'll need employee details like employment type, DOB, start and termination dates and who is on a work visa. Finally, people still need to be paid. Even if they're on reduced hours, they're still to be paid in accordance with the relevant modern award. Automatic award interpretation and automatic pay runs take the hassle out of paying your team, so you can focus on adapting your business model.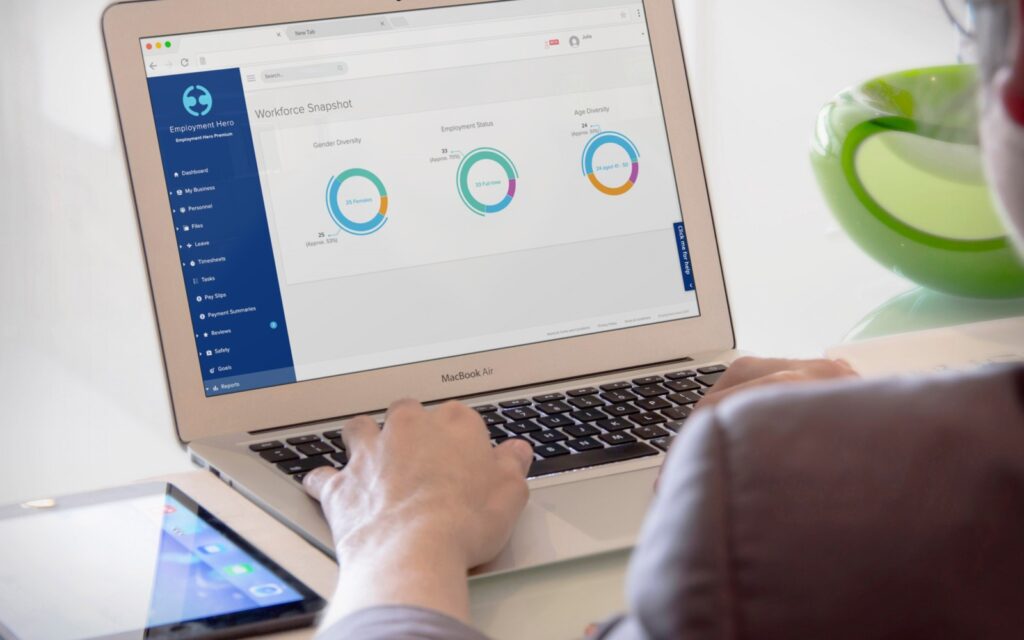 2. The Fair Work Act still applies
No matter how uncertain the employment landscape may be, the Fair Work Act still stands. Electronic timesheets and automatic award interpretation will ensure you're paying your team fairly, but with things changing so quickly, you need to protect your business from other types of non-compliance. Just because your team is WFH, doesn't mean you don't have a duty of care; is their set up WHS-friendly? Do they have access to the relevant policies for things like expenses, social media use and privacy? If not, your business might not be protected from things like unfair dismissal or workers compensation claims. Employment Hero doesn't just supply you with the templates for these policies (plus contract policies), you can also run audit reports to see if and when these have been acknowledged.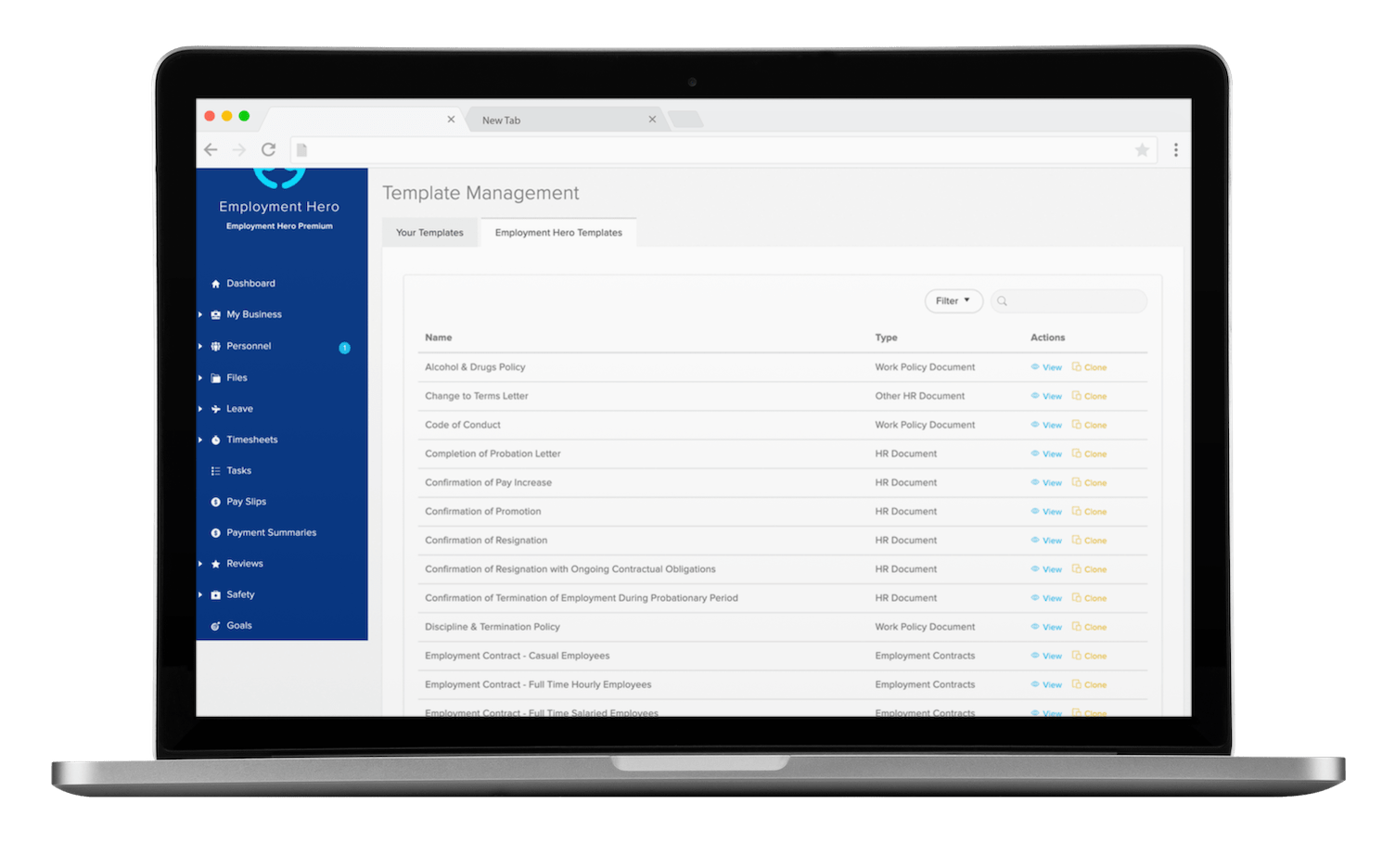 3. Time
We'd hazard a guess and say that for most of you, those open positions won't be getting filled any time soon. In fact, most of the tasks on your to-do list have probably taken a backseat in the last month. In between deciphering the latest government announcements and updating the team, you might find that you have more time to implement a new HRIS than you did before. You wouldn't be the first either; many of our customers in implementations have found they're launching much sooner than they expected.
4. Change amongst change
Though you're likely still suffering some whiplash from the last couple of weeks, humans are by definition the kings and queens of adapting. Times of change are incredibly disruptive to day-to-day processes, we all know that. But they're also a great opportunity to bite the bullet on other changes you might have been putting off. If done right, companies can leverage this time to implement new changes. Your employees are already undergoing one of the biggest disruptions to their jobs; introducing a new HRIS is just one more thing your employees will adapt to during this time.
5. Connecting remote workforces
Finally, Employment Hero doesn't just automate HR and payroll admin; it empowers and connects people to their workplace—even when they're working from home. If your company has never had to rely on remote working, you're probably wondering how to align your staff and improve accountability. With access to Platinum for the next 3 months, our Goals module will provide all your employees visibility over your company's new roadmap. What do you need to achieve in the next month? 3 months? How will you get there? Who will contribute? And what does success look like? With Goals, you'll streamline this process. Employee engagement is also a huge part of what makes remote workforces productive. Remote working is incredibly isolating; does your business already have processes in place for them to connect and collaborate? Using the company feed, employees can share announcements either one on one, to their team or with the company. They can also reward and recognise each other, share the wins and focus on what's coming up next.
Still not convinced? Watch this.
"Let's look at this third group which is where we're finding the most successful businesses coming from. These are the businesses that are saying, 'look I know there's a lot of uncertainty at the moment, but there are a lot of certainties.' And if you look at the certainties, they are [for most businesses] business as usual work will be decreasing, so the amount of time that their people will have will be increasing – they're finding themselves in this one in a hundred year situation. You've got a business that has lots of people with lots of time being under-utilised. The really smart businesses are the ones who are saying, 'right let's actually use this as an opportunity and let's use our excess time and resources to work on projects that have otherwise been sitting on the shelf that we just never have the time to do because we didn't have the time or resources.' Invest in products, services and tech stacks which actually future proof a business (and something they've been focusing on) and that's where we've seen a lot of success."
– James Keene
Want to learn more?
If you would like more information,please get in touch with one of our small business specialists. Alternately, if you'd like to learn more about the JobKeeper Payment, you can download our comprehensive guide below.