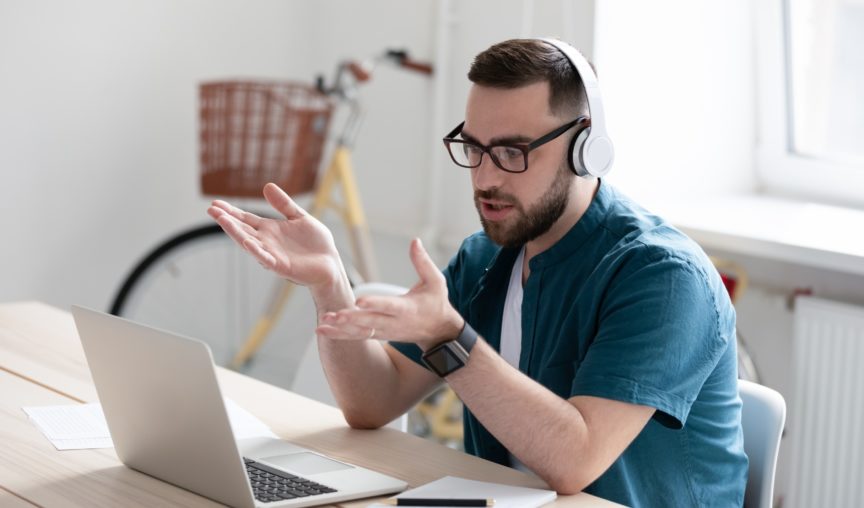 The impact of rolling lockdowns and growing Covid-19 cases is having a huge impact on Australian workers.
Unlike last year's lockdowns, we're faced with the uncertainty of how long it will be until restrictions are lifted, with millions of Australians struggling with their mental health while living under heavy restrictions.
Employment Hero and Go1 have partnered up to support our users during this period with free access to 20 mental health and wellbeing courses. These courses are free to all Employment Hero users, and we encourage everyone to make use of them during these challenging times.
If you are an existing customer and would like instructions on how to access this content, please email info@employmenthero.com. For new customers, reach out to us today to get access to these courses.
---
1. Stress, Anxiousness and Anxiety
When we hurt ourselves in the office, we find our friendly first aid officer who has a helpful kit full of band-aids, wraps, ointments, and remedies.
But what about the pain caused by anxiety? Unfortunately, no such kit has previously existed — until now.
The ViaUp Mental Health First Aid Kit will teach you:
How anxiety is different from stress and general anxiousness
The steps you can take to support your mental health
How you could support a colleague who is suffering.
2. Mindfulness Module
Focused on living in the present moment, mindfulness is a form of awareness which, over time and with a bit of practice, can improve an individual's physical and mental wellbeing as well as boost their performance at work.
This course explores what mindfulness is, how it forms part of our everyday lives and the benefits it brings individuals in both their personal and professional lives.
In addition to a high-quality video, this module features expanded learning content blocks and a short quiz to check your understanding.
3. Healthy Living Module
With increasing pressure on our health services, it's more important than ever to take responsibility for our own health and wellbeing.
This course explores the importance of a healthy diet, exercise, and sleep and the influence each of these has on an individual's health and wellbeing, as well as offers suggestions for you to follow.
In addition to a high-quality video, this module features expanded learning content blocks and a short quiz to check your understanding.
4. Changing Behaviour Video Plus
Changing behaviour or habit can often seem to be a daunting process, making us resistant to the idea. Yet it's only through change that we can grow and evolve, becoming more productive both in our personal lives and at work.
By the end of this course, you'll have a better understanding of the scientific processes behind changing behaviour as well as how to establish new habits of your own.
This Video Plus course contains a high-quality video and short quiz, perfect as a handy refresher or for learners who are pushed for time!
5. Psychological First Aid
In the following course, you will learn how to provide psychological first aid to individuals in acute distress using the Lifeline 3R model: recognise, respond and refer.
6. Personal Resilience: Small Steps to Big Changes
Would you like to be calmer in the face of adversity? Some people seem to remain on top of things when they go wrong, while others just don't cope so well. Personal resilience means the ability to deal with challenge, change and high demand without being fazed or stopped in your tracks.
It may be in a particular situation where you'd like to respond differently or that you'd like to cope better with more general stress and pressure. This course shows you the six qualities you need to develop in yourself to become more resilient and how to adjust your habits in ways which will boost your resilience.
You'll learn about what makes highly resilient people resilient and the five things you absolutely must avoid to protect yourself and stay on top of your game.
You will learn:
The resilience recipe in life and work
Why resilience can protect you and improve your performance
How resilience relates to health, wellbeing and performance
How to begin boosting your resilience today
Why resilience is "a way, not a solution"
The building blocks of personal resilience
The seven habits of highly resilient people
Five things that can damage your resilience
7. Wellbeing 101 from Mind Tools for Business
This interactive self-study e-learning course provides an introduction to wellbeing. Using a range of realistic examples, scenarios and challenges, it is the ideal starting point to begin building wellbeing strategies.
Wellbeing 101 is for anyone looking for a clear, easy-to-understand introduction to wellbeing. It is part of Mind Tools for Business' 101 Suite, designed to help you build your personal effectiveness as a manager or leader.
By completing Wellbeing 101 you will be able to:
Articulate why it's important to build wellbeing strategies
Detail what good wellbeing looks like
Reflect on the skills you need to look after your wellbeing effectively
Practice your wellbeing management
Develop an action plan to take your well
8. Movement and Exercise from the Everyday Wellbeing Series
Eating a nutritious and balanced diet is a major component of wellness, but it's not the only component. Maintaining a healthy diet and regular physical activity are equally essential to improving your health.
Don't worry if you're completely new to fitness; there's a wide range of exercise activities you can do to start working toward your health goals today. The best part? Exercise provides you with lots of benefits that go beyond weight loss.
This course will show you how to get moving today to improve your overall wellbeing.
In this self-directed course, you'll learn about the importance of exercise, as well as some ways to move toward a more active and healthy lifestyle, through concise content and beautiful illustrations. The course culminates in a 10-question final assessment.
Movement and Exercise is the sixth module in the Everyday Wellbeing series from Maestro, a 10-course curriculum that teaches you the well-rounded habits that make up a healthy lifestyle, including hydration, nutrition, exercise, and sleep.
Everyday Wellbeing introduces the basic science of these wellness principles and provides clear strategies for how to integrate them into your life right now.
Principles of Healthy Nutrition
Nutrition: Hydration, Carbs and Fiber
Nutrition: Proteins and Fats
Nutrition: Planning and Selecting Healthy Foods
Nutrition: Frequency, Quality & Quantity
Movement and Exercise
Sleep, Rest and Renewal
Measuring Heart Health
Lasting Lifestyle Changes
Your Personalized Action Plan
9. Coping Strategies
In this topic, you will learn about coping strategies. Coping strategies are a core element when managing your mental health. Coping strategies done consistently and proactively are very effective and powerful tools when building your mental health resilience.
This topic will provide you with our evidence-based coping strategies and our P.E.A.R.L.S. which are tried and tested and will improve your mental health.
What you'll learn:
How to understand coping strategies
Not all coping strategies are bad
Learn to deal with mental illnesses better
10. An Introduction to Emotional Intelligence: Navigating Workplace Relationships
The modern workplace is an evolving landscape in which employers are interested in more than your qualifications. Gone are the days when technical skill alone could get you the dream job and allow you to keep it.
Now, you need more than just the skills to do your job. You also need traits such as empathy and the ability to work with others by understanding your emotions and those of the people around you.
11. Everyday Energy Module
Our everyday lives can be very demanding and, therefore, sustaining energy levels can be quite a challenge. This course explores the four key areas of energy: physical, emotional, mental, and spiritual.
It also looks at how these energy levels can be increased and maintained. In addition to a high-quality video, this Module features expanded learning content blocks and a short quiz to check your understanding.
What you'll learn
The four key areas of energy how they impact our wellbeing.
How to increase your physical, emotional, mental and spiritual energy through your behaviour and attitude.
12. Mental Health and Wellbeing by Lifeline
Mental Health and Wellbeing is an evidence and practice-informed mental health awareness course that defines and explains current concepts and thinking around staying mentally healthy and the factors that support wellness.
It highlights the importance of managing stress and building resilience and how to put that into practice, equipping participants with the tools to work towards taking responsibility for their own wellbeing.
13. Creativity in the Workplace
Creativity has a reputation for being ephemeral or intangible. It evokes visions of the muse visiting the suffering artist. But the truth is, everyone can be creative.
The ability to think creatively, to take a fresh approach, and to innovate with new ideas that create efficiency are increasingly valuable and sought-after skills that will continue to increase in value.
14. Leadershift
Leadershift helps leaders and would-be leaders develop the ability and desire to make the changes in their leadership that will positively boost not just their growth but that of their organisations.
It shows how, with the right mindset and the most up-to-date thinking, we can all achieve great things as leaders.
15. The Power of Habits
Setting a goal is one thing, but actually doing the work to achieve that goal is a totally different endeavour. If you want to hit your targets and make lasting changes in your life, join author and psychologist Art Markman, Ph.D., to learn what it takes to build and maintain healthy habits that will last a lifetime.
This course won't serve up superficial self-help tips; instead, you'll dive into the latest cognitive science behind behaviour change. You'll learn how to build new, positive habits and break the cycle of existing negative ones.
You'll explore what it takes to sustain healthy habits over time and increase your chances of maintaining new habits by empowering your friends and family to make positive changes, too.
16. The Mental Health Mentor
Across 10 topics you will gain the knowledge and skills to proactively manage your mental health.
The Mental Health Mentor will help you to build resilience and support yourself and others through any life change, challenge or adversity, as well as how to recognise and manage stress and struggle in yourself and in others and how to lend support to family members, friends and coworkers.
17. Physical Fitness for Creatives (Session: Physical Fitness for Creatives)
Watch sports performance pioneer Kelly Starrett discuss his CreativeLive class, Maintaining Your Body with Chase Jarvis. Kelly and his Ready to Run co-author, T.J. Murphy, will join Chase for a candid conversation about what working creatives need to understand about maintaining their own bodies.
During the original Maintaining Your Body broadcast, Kelly helped students rethink movement and strength training through his unique mobility paradigm.
In this follow-up event, Kelly will talk with Chase about techniques creatives can use to become stronger, more flexible, and more resilient – no matter where you are starting from.
You'll also get an introduction to Kelly's forthcoming book, Ready to Run, co-authored with marathoner and five-time Ironman finisher T.J. Murphy.
If you want to revisit the MobilityWOD principles and hear from the man who started a movement, you won't want to miss this special session.
18. Full-Body Yin (Restore and Rejuvenate)
Before you can truly tap into your creativity, you need to clear your mind of all the noise and chatter of the surrounding world. A restorative yoga sequence helps you reach a level of calm, quiet and introspection so you can free yourself from the daily grind and explore the deepest parts of your psyche.
In this restorative yoga for beginners series, you'll learn how to:
Implement your own self-care routine
Counterbalance the hard, intense physical work you do every day
Release tension, increase mobility and relieve pain from overused muscle groups in your hips, legs, arms and shoulders
Reset and unwind to reduce stress, improve mood and help you sleep
19. Full Body Sweat Session (Powerhouse Yoga)
Spending long hours sitting, standing, bending or crouching in service of your creativity requires a strong body. In fact, creators can benefit greatly from exercises that strengthen their core and improve their posture.
Powerhouse Yoga is Pilates and yoga combined, designed to activate and strengthen your "powerhouse," which is the core group of abdominal, lower back and pelvic muscles that are the foundation for all movement.
These classes will help you:
Create a dynamic, full-body workout
Improve your posture, body alignment and stability
Unlock newfound strength
Develop heightened control over core muscles
Build an understanding of the most connected part of your body
20. Food for Mood
"You are what you eat". Research supports this old saying" demonstrating that the food we consume has a direct relationship not only on our physical health but our minds as well.
What you'll learn:
Learn how your mood is affected by what you eat
Learn how anxiety and depression are linked to what you eat
Learn what food habits can help alleviate anxiety and depression
Access these mental wellbeing courses today
If you are an existing customer and would like instructions on how to access this content, please email info@employmenthero.com.
For new customers, reach out to us today to get access to these courses.