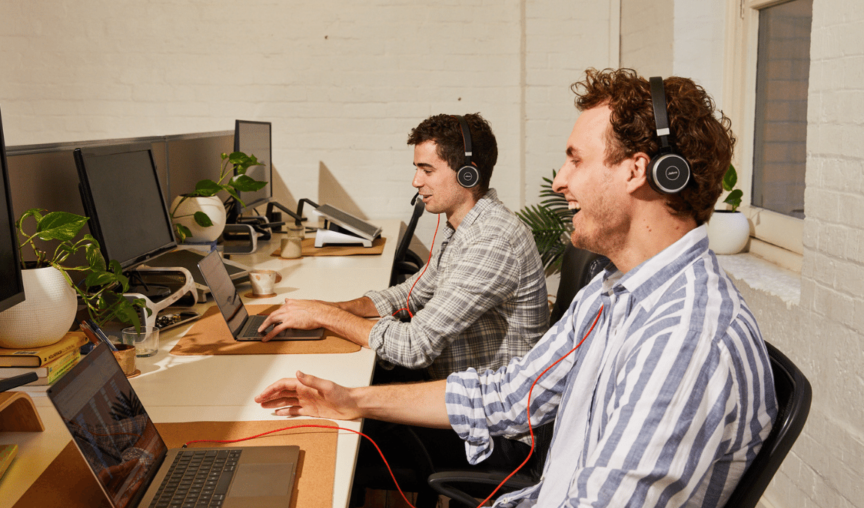 2021 was not as much of a learning year as it was just a keeping afloat year. With huge amounts of pressure throughout the last 12 months (and the last 24 months, really), no one would blame an employer for not making employee learning and development the number one priority.
Smart employers and HR managers will, however, shift gears quickly as we head into 2022 and business confidence improves.
Learning and development has always been an essential part of employee engagement, but in the current climate, its relevance is even more prominent. At this one point in time, we're globally encountering the Great Resignation, with a record number of employees leaving or planning to leave their jobs.
To avoid being caught up in this massive incoming wave of turnover, it's more important than ever that employees feel valued and invested in. There are few better ways to do this than by dedicated resources to their professional and personal growth.
Instead of turning to old hat methods to do this – put down the dusty handbooks and step away from dry learning modules – instead, look to the emerging learning and development trends of the coming year.
What areas should we be upskilling employees in?
The World Economic Forum estimates that by 2025, 85 million jobs may fade into obscurity due to technological advancements. However, 97 million more may emerge to meet the demands of future tech. So, as we approach 2022 (can you believe it!), learning isn't just a nice-to-have, it's an absolute essential in creating a viable workforce for the future.
What are the skills that employees need to be trained in quick smart? We've done a complete exploration of six essential upskilling areas earlier this year (read it here), but for a quick recap:
1. Creativity and innovative thinking
Human creativity is not just reserved for artistic industries. Creative thinking is at the core of innovation across the working board. It's a powerful business tool that will become even more important as technology advances and automation takes over methodical tasks.
2. Complex problem solving
Complex problem solvers will be able to; clearly define an issue, take into account various factors and perspectives, and deliver solutions that will be favourable by all stakeholders. It's a complex skill that takes organisation, consideration and strong articulation – and that's why it will be so valuable in the coming years. Being a complex problem solver also lends itself very well to adaptive thinking, an essential skill for the ever-transforming workplace.
3. Analytical Reasoning
Businesses of all sizes are gaining increasing access to analytics that give relevant insights on their customers and audiences. Whether a small company is pulling numbers from Google Analytics, social media or an e-commerce platform, these numbers can help shape any business strategy for growth. The access we have to this insightful data is growing, but this means little without having the right person to evaluate it.
4. People management
Forget the dowdy HR function of yesteryear, HR is a dynamic field that allows innovative individuals to align and inspire companies to perform at their very best. Now very much a strategic role, HR is critical to ensuring that companies can achieve their goals, influence a positive culture, connect with great talent, and continue to grow. They will also be essential in facilitating the very upskilling we're talking about.
5. Negotiation
Negotiation is one of those soft skills that's sometimes overlooked. In some ways, this skill goes hand-in-hand with analytical reasoning. You may have the most compelling numbers possible, and you may have even drawn great actionable items from these numbers. But without the negotiation skills to leverage these numbers for change, you can't achieve much.
6. Tech literacy
This is one of the most obvious but also the most important skills on the list. With Covid-19, we've been exposed to the difficulty of not being prepared for digital-based work. A huge mistake would be to think that this is going to become less important as we return to normal.
Tech literacy is essential for most roles, and this will only become more pervasive over the next few years. Staff should be across digital communication channels, task management systems, cloud HR software and more.
What will influence learning and development in 2022?
So what's different about 2022? There are a few elements at play that will influence how we learn.
Remote Working
Almost two years from the beginning of the pandemic, remote working is now far from a temporary, emergency response. We'd go so far as to say it's a new way of life; and it's definitely the preferred way of working for the majority of employees. This means that every learning and development strategy will need to work around this new model.
A new generation
According to the World Economic Forum, by 2025, Gen Z will make up 27% of the global workforce. As the first generation to grow up with mobile internet, they learn in a very specific way.
Workplace Wellness
People's mental health has suffered under the pandemic conditions of the last 12 months, with Australia's emergency mental health hotline Lifeline receiving a record number of calls in August. Developing soft skills is a crucial part of workplace mental wellness, which needs to be a focus now more than ever.
What are the learning and development trends of 2022?
Virtual peer-to-peer learning
The ol' lunch and learn is getting a virtual makeover.
Each employee in your company has a rich history of skills and experiences, so why not leverage that for a fun and engaging virtual lesson? As each 'teacher' has a personal connection with others in the team, it's not only easier to impart knowledge; it creates a positive atmosphere for a two-way virtual conversation throughout the class.
Once a month, seek out the experts you have in-house and ask them to run an informal lunchtime training session over your chosen video calling program. Don't forget to incentivise this one. Reward your expert colleagues for their time, effort and generosity.
Asynchronous learning
When you work asynchronously, you work on a different time schedule to the rest of your team. It's a hallmark of modern remote working; your employees don't only work where they want, they also work when they want. This is especially relevant if you're working with teams across multiple time zones.
Asynchronous working is why it's great for at least a portion of your learning and development strategy to be on-demand. Instead of having set times and lessons, give your employees the flexibility to pick up skills on their own timelines, when it best fits around their work and lives.
One of the best ways to organise asynchronous learning is by connecting your employees with a Learning Management System (LMS). Our LMS Learning Plus has thousands of on-demand courses with a huge range of topics, and you can even upload your own. You can also keep up with your team's learning progress asynchronously, see which modules and courses they have completed anytime on the Employment Hero HR platform.
Microlearning
Can you make a habit of learning? We think so. Microlearning is a development strategy that has quickly gained traction in the professional world.
"…Microlearning is a short, focused learning," writes expert Saurabh Kumar for entrepreneur.com. "It can often be completed in three to six minutes, and it is usually designed in rich media formats to meet a particular learning result. Microlearning is a great way to provide a focused response to a single problem or question."
Kumar explains that microlearning is cost-effective and agile, often coming in the form of video, audio podcasts, presentations, games, quizzes and assessments; all based online. It's the best way to integrate learning into the everyday.
Mindfulness
Mindfulness has been having a moment for the last few years, and it's easy to see why. Mindfulness meditation has been proven to lower stress and anxiety, and can often boost focus, productivity and empathy. When you're operating mindfully, you're fully present in the moment. You're not distracted by devices, notifications or stressful thoughts; instead, you're consciously present in the here and now.
Mindfulness is such a powerful force for good at work that a whole new concept has been conceived; mindful leadership. According to the New York Times; "For executives who manage teams or organizations, mindfulness can be particularly impactful, helping leaders stay honest, make tough choices empathically and inspire confidence."
So, teaching your staff mindfulness – by supporting them with meditation app subscriptions, supplying videos or by offering virtual meditation sessions – can improve their mental health and help them become better teammates and leaders.
Want to refresh your L&D strategy in the new year?
Having a robust learning and development strategy is absolutely essential heading into 2022. If you'd like to freshen up your approach, download our free comprehensive guide on how to coach and develop employee potential now.