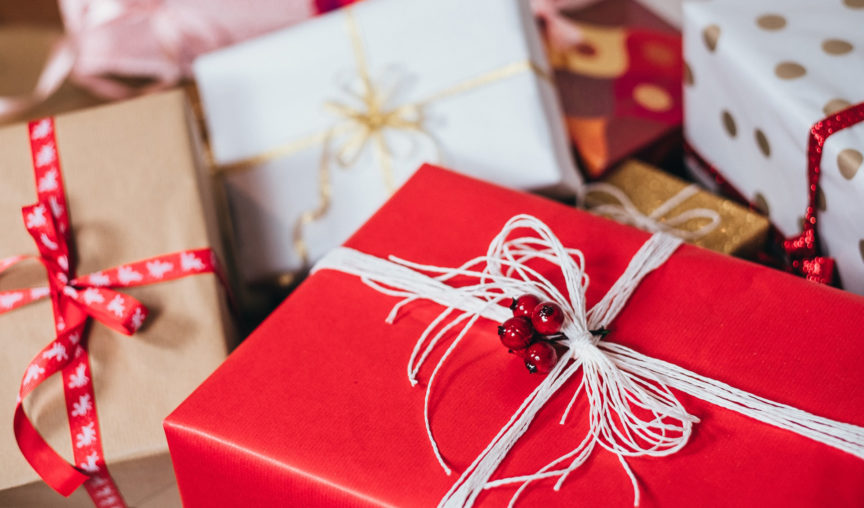 For some people, the joy and delight of Christmas festivities comes from the act of gift-giving. For others, it can be one of the most stressful times of the year. Secret Santa is becoming more common among families, friends and co-workers. It is a great system to ensure everyone gets a little something for Christmas, while sticking to a reasonable budget. But, Secret Santa can be riddled with unknowns. What do you buy if you don't know the person that well? What if the budget is hard and you can't find anything within it? What do you buy the person who has everything? Where do you find anything?! Well. Take a breath. Relax. We're here to help you—and just in time too! This is a list of gift ideas that would be suitable for almost anyone, no matter their age, gender or interests. The list is broken down by budget. Most Secret Santa gift exchanges stay around the $10-15 price point but can range up to $50. So we have three sections: under $15, under $30 and under $50.We can almost guarantee you'll find a gift or at least some inspiration from this list.
Gifts for Under $15
1. Volcano Microwave Cleaner – $14.99 from Yellow Octopus A fun and practical gift! This cute little volcano is so easy to use. Simply fill it with water and vinegar up to the designated lines, add a scent of your choice, and put it in your microwave on high for five minutes. Then sit back, relax and let your little volcano steam and clean! Wipe out the microwave when it's done and Mount Fury will have done its job. Bonus Points: It's dishwasher safe! So place it in your normal load and it'll be ready to use again in no time.   2. World Tour Travel Trivia – $14.99 from Yellow Octopus Test your knowledge about every corner of the planet with this fun and cheap trivia game. With 80 questions ranging from Game of Thrones film locations, to the cultural history of the oldest civilisations, there is something for everyone! Bonus Points: Is your Secret Santa more of a foodie than a traveller? There is a trivia game for that too – same price, same place.   3. Grow your own Venus Fly Trap – $12.99 from Booktopia This grow-your-own kit comes with all you need to make your own carnivorous friend! If you're interested in the science behind how a plant can move and eat without muscles, there is a book that details all the wonders of the Venus Fly Trap. It also has tips on how to grow and look after your planet, including how to source your flies…   4. Treat Dreams Cookies & Cream Chocolate Bar – $12.99 from Flora & Fauna Everybody loves chocolate! This 70g cookies and cream bar is soft, creamy and delicious. It's also trade-sustainable and vegan friendly, as are all of the products at Flora and Fauna. So, if you are looking for ethical products for your Secret Santa, that's the place to go   5. Personalised Beer or Stemless Wine Glass – $12.99 from Fabness Whether they prefer beer, wine or water, everyone loves some personalised glasses! Fabness has many different products you can customise to make a fun gift with a personal touch for your Secret Santa. They also have christmas options if you want even more of that festive spirit.
Gifts for Under $30
1. 100 Books to Read Before You Die Scratch-Off Poster – $22.99 from Catch.com Is your Secret Santa a bookworm? Then they'll love this scratchable poster of 100 books they need to read. It includes all of the classics, both new and old, and reveals a graphic cover once you scratch it off. It comes in a beautiful box and makes a gorgeous art piece during and after you use it.   2. Light Up Bluetooth Speaker – $23.70 from Amazon This funky, little light speaker is so versatile and great for any place in the house. It has so many features: six different colours, 10 hour battery life and bluetooth connectivity to almost every device. Use it outdoors, while you're in the shower or as a fun night light, you choose! Bonus Points: It has voice prompts for when the battery gets low so it won't just spontaneously go flat and ruin the mood.   3. Apple Peeler, Corer and Slicer – $24.99 from Yellow Octopus Another more practical gift, these 3-in-1 fruit gadgets are also known as apple slinkies! This is because when they slice and core, it turns into a curly, twisty string of fruit! It makes eating your three-a-day portions much more fun. Use it with any fruit or whatever else you want to experiment with.   4. Random Harvest Chilli BBQ Condiments with Carry Case – $29.99 from Myer This three piece condiment kit is perfect for any budding chef or BBQ-lover. It includes a fireball chilli mustard, tomato mango & chilli bruschetta, spicy chilli tomato chutney and a wooden spatula spreader. If BBQ condiments aren't your thing, there is an infused oil pack or salad dressing pack for the same price! Bonus Points: Random Harvest has heaps of condiments, herbs and spices so if you want to bump the luxury up, they've got packs for that too!   5. Personalised Pocket Multi Tool – $27.99 from Etsy Everyone should have a multi tool lying around somewhere. They are useful in so many ways, and this one has the bonus of adding a personalised message to the beautiful wooden body. The tool has a bottle opener, screwdriver, knife, saw, scissors and more! You never know when you'll need it…
Gifts Under $50
1. Name a Star Gift Set – $49.00 from Gifts Australia Want to make your Secret Santa feel like they are the centre of the universe – or at least close to it? This very affordable and gorgeous star gift set lets your Secret Santa own a little piece of the night sky. It contains all the information to register, locate and learn about the celestial body unique to the individual. It is probably the most magical gift you could give!   2. L'Occitane Dreamy Bath Collection – $49.00 from Gifts Australia This lush four piece gift kit has everything to help your Secret Santa feel pampered and relaxed over the Christmas break. Lavender is well-known to have soothing properties and each of these luxurious soaks are beautifully scented with it and other essential oils. It includes a silky bath soak, foaming bath soak, milky soak and baths salts to top it off.   3. Personalised Favourite Song Lyrics Vinyl Record Print – $50.00 from Blim & Blum One for the music lovers! This customisable music print lets you pick your favourite song and lyrics in the shape of a vinyl record. You can personalise the message in the middle, choose the type of canvas and the size as well. The unique piece is the perfect classy wall covering – you just have to know your Secret Santa's go-to song!   4. Cloud Storm Glass Weather Forecast Station – $35.00 from Gift Monkey Tell the weather the old fashioned way with this stylish but accurate weather station. Factors such as air pressure, temperature and humidity affect the chemicals in the liquid of the station. This means the crystalline structures and opacity of the liquid will change, indicating certain weather patterns. Not only is this a fun way to tell the weather, but it also looks beautiful on its own. Bonus Point: They come in different shapes- not just a cloud. There is a water drop, skull and diamond available, to name a few.   5. Tap-to-pay reusable coffee cup – $39.95 from Frank Green Convenient and full of caffeine? People will love this! This innovative coffee cup is made from fully-recyclable materials and is insulted to keep your hot beverage warm. But the best part? The bottom of the cup is powered by Visa Paywave, allowing you to tap and pay for your order – no card needed! Bonus Points: It can be monogrammed to be personalised for your Secret Santa and comes in a great variety of colours!   This list is only the beginning of many Secret Santa gift options out there. Hopefully you've been hit with a wave of inspiration or possibly found the perfect idea right here! If not, there are plenty of Secret Santa orientated websites with budget and interest filters that have many more ideas for you to explore and helpful tips and tricks to take the stress out of Christmas.