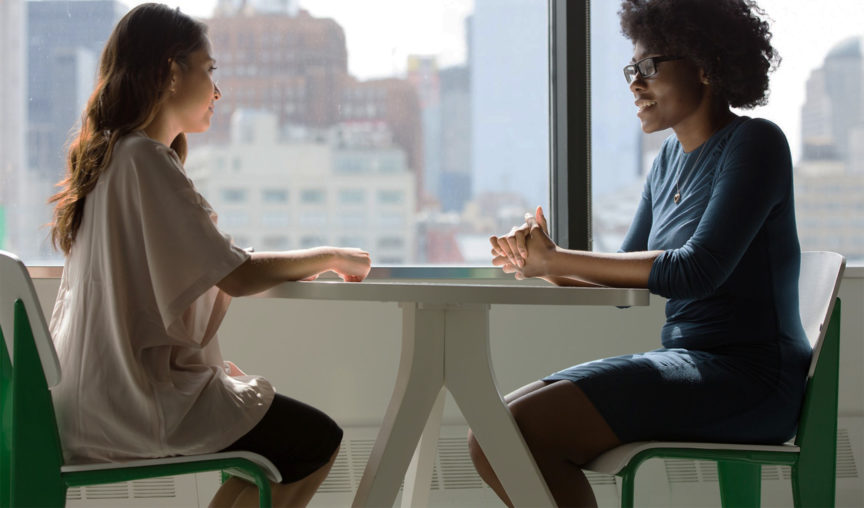 There's a plethora of information online about how a candidate can ace an interview, with job interview tips from how to dress to how to shake hands. But what about a business's role in this scenario? In an increasingly competitive job market, it's equally important to make a good first impression as a business. From experience, we know smaller businesses face added challenges in this area. Salaries on offer aren't as high and resources and expert advice are limited. Therefore, businesses who want to create a great first impression sometimes just don't know-how. That's why we teamed up with SEEK to host the webinar, How To Ace Your Job Interview….As A Business! Full of top job interview tips for the interviewer. Employment Hero's Chief People Officer, Alex Hattingh, and SEEK's National Client Training Manager, Hamish Couts, got together to share expert tips and tricks on how to impress top candidates through each stage of the recruitment process.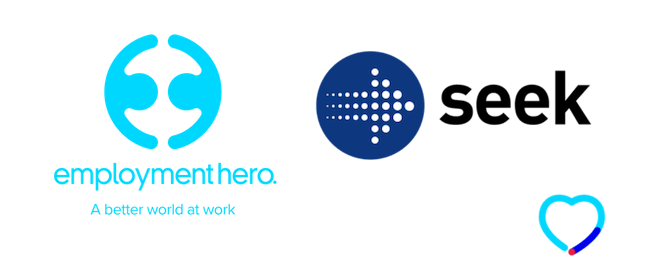 Hamish spends a lot of time educating people on how to best use the SEEK platform and he works hard to bridge the gap between candidate feedback and client needs. Alex has vast experience in HR and people management, working in big companies like Google, as well as smaller startups like our humble selves. Both Alex and Hamish bring a wealth of information to the table and had a lot of advice to dispense! CLICK here to listen to the recording of our webinar on job interview tips for the employer. Or, read through the highlights of the Job Interview Tips webinar below.
1. The way a job is advertised can impact a candidate's impression of a company. What's the best way to advertise a job vacancy?
According to Hamish, the way you structure a job ad makes a big difference to the success of an ad. SEEK has uncovered the anatomy of a great job ad.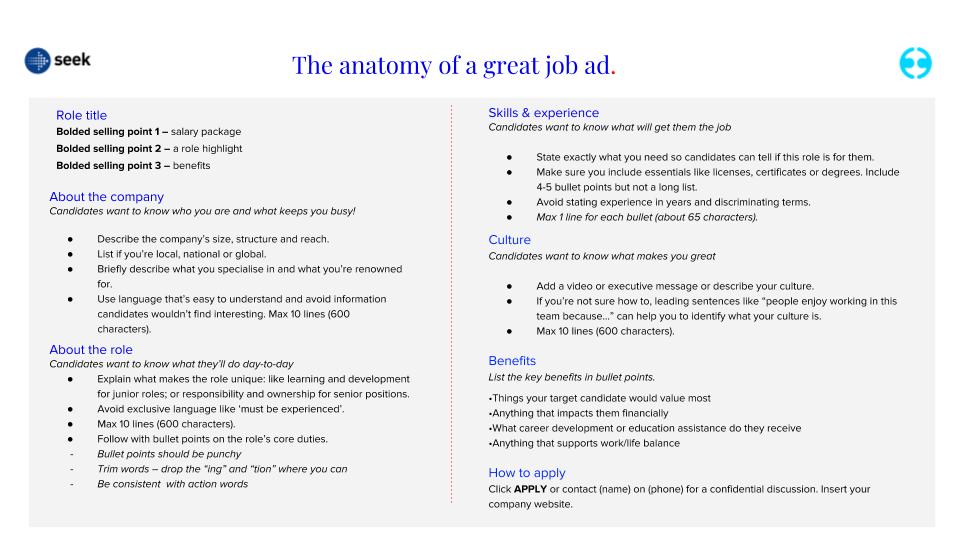 It starts with something as simple as the role title.
Does your job title make sense

?
Does the job title you have chosen make sense within your market? Does it accurately reflect the role you are hiring for? Will it make sense for candidates when they are doing an organic search? Is it algorithm friendly? Platforms like SEEK use algorithms to pull job ads and remarket them to the right people. SEEK has over 4 million searchable profiles in their database and they spend a lot of time remarketing job ads to potential candidates– passive and active. It all relies on a job title making sense. Sometimes job titles are over complicated or use internal jargon. Call a spade a spade! If the job is for a data analyst, call it a data analyst. Don't add special characters or work locations to your job title, either. This will help optimise the ad for algorithms.
Sell yourself and tailor each job ad for the role
Put bold selling points under a job title (refer back to the Anatomy Of A Job Ad slide.). Make sure bolded selling points are well-thought out, as they'll impact who clicks through. SEEK enables a short description to be added for each job ad. Do not copy and paste the same short description for every single job ad you post. Why? Candidates will think it's the same job in different clothes. Ensure your short descriptions are tailored to the job and make sense.
Use bolded subheadings
Break up information by using bolded subheadings. It makes it easier for people to read and scan the job ad on mobile devices. Over 60% of job ads viewed on SEEK are viewed on a mobile device and about 30% of applications come through on a mobile device. With mobile screens 5 x smaller than a desktop, breaking up information makes life much easier for mobile viewing.
Talk about your company and include contact details
Many job ads tell candidates everything apart from information about the hiring company! Don't rely on a candidate doing further research right away, include relevant information. Remember, you want candidates to be able to self-select OUT as well as entice the right people to apply. Information plays a crucial role in this process. Candidates love to reach out and ask questions and this is why contact details should always be added to a job ad. It's a win-win because even if they aren't the right fit for the role, you can add them to your talent pool should a relevant role arise in the future. LISTEN to the webinar for more expert tips from Hamish. If you want to know more information about how to write the perfect job ad, Employment Hero have 13 practical tips to help you out. OR Check out SEEKs good and bad example of job ads.
2. It's all about a consistently good experience. What are some tips for a smooth candidate experience from start to finish?
Both Alex and Hamish agree that the recruitment process has definitely become a two-way street. It's not just about the candidate impressing hirers, a business needs to shine too! There are two big job interview tips to be mindful of here.
Keep candidates informed
First, close the loop. Candidates get disillusioned when they don't know what's happening. Many times candidates are not informed about the shortlisting and interview process, what time frames are involved, how far along they are in the process and so on. It's best practice to keep candidates up to date with where they are in the interview process. For example, imagine a situation where you have a massive amount of job applications and as a result, shortlisting is going to take 2-3 weeks longer than planned. The ideal response would be to send out an email to let candidates know about this. Similarly, if you have secured the perfect hire, don't leave everyone else hanging. Close the loop!
Your candidates could be your consumers
Never forget your candidates could be your consumers or clients! It's very important to recognise this. Ensuring a candidate experience is positive is just as important for your brand image. Treat your candidates like your best customers and you'll always be on the right track.
3. It's important for candidates to have a good understanding of an employer's brand and story. How can businesses relay these messages in an authentic way?
Cultural fit is very important and so it's imperative you are transparent about your culture and the way your company runs. That way the candidate knows what they are in for. It also helps someone who may be the wrong fit to opt-out of the process. If a new hire is not a good cultural fit, you are setting them up for failure and they will probably not be a long-term employee. It's always best if you can tell your brand's story and history and discuss your company purpose during the interview process. This should begin from your job ad (remember the Ad Anatomy above!) and continue all the way through to the interview process. Hamish says that at SEEK, there is a lot of talk about "cultural add". SEEK wants team members to bring their whole selves to work and add to their company culture. During recruitment, time is spent discussing where SEEK has come from, where they are now and where they want to go in the future. During your interview process, paint a picture of the future, discuss the challenges and the competitors your company faces. Overall, be more vulnerable in the process and feel confident in talking about risks, challenges and setbacks. This will help ensure you get the right person on the team!
4. How can businesses best showcase their culture during the recruitment process?
Both Alex and Hamish agree using video is a fantastic way to do this. In your job ad include videos that celebrate your wins, showcase your staff and talk about your company. Using video will also help break up text in your job ad, something we know is advised for better mobile viewing (and readability in general). Another idea is to invite candidates who are deep into the process to have a coffee with a current staff member. This allows the candidate to get a different perspective of your company and ask questions they might not ask hirers. Office tours and inviting candidates to team meetings are also great ways to showcase your company culture. LISTEN to the recording for more tips.
5. Small things can matter immensely. Candidates do their best to impress prospective employers. What small things can employers do to return the favour?
It's all about making the candidate feel at ease and small gestures can make a big difference. Here's what Hamish and Alex agreed on.
Tip for making a candidate feel at ease
Offer a beverage.

Give them space at the beginning of an interview to get their head in the game. Use this time to talk about the role and your company.

If a candidate is interviewing with more than one person, do not structure the space so it is like an interrogation!

Be friendly, crack a smile and make small talk!
Another important tip is to use structured interview questions. If you are looking to assess certain skills, the best way to do this is to ask every candidate the same set of questions. This ensures everyone is given an equal chance.
6. Let's talk about the p-word, PAY! When and how should money come into a conversation with a candidate? Any faux pas to avoid?
Hamish says that SEEK statistics reveal candidates like having salary information included in a job ad. It helps them decide whether or not the job is of interest to them at an early stage. Small business might feel like they can't compete with large corporates in terms of salary, but that doesn't mean they should shy away from including one. Benefits like flexible work are becoming increasingly important to candidates. If you include relevant information about cultural benefits in the job ad, you will still get applicants applying! Alex recommends confirming pay and whether it's negotiable in first round of the interview process. At Employment Hero, our first interview is usually done via video and pay is confirmed at this point.
Q&A on job interview tips from the audience:
We had some great questions come in from our attendees. Some of the questions asked were:
How can I tell if a job ad is performing well?

How can I woo a top candidate who is on the fence?

Should there be different styles of advertising depending on the type of job (part-time, casual)?

What are the benefits of using SEEK over specialised job boards?

Is it a good idea to link to your own company job site from a SEEK ad?
CLICK here to listen to the answers from Alex and Hamish on top job interview tips for the employer.